Seiko Prospex SRPC41k1 Review: PADI Mini Turtle
Seiko has established itself as an expert in making qualitative dive watches. Whilst Seiko offers dive watches at a wide array of price points, it is particularly Seiko's affordable and mid-level dive watches that are the most popular.
Seiko has designed and developed dive watches for many decades, and today, there is a great interest from collect's in Seiko's vintage dive watches.
With that said, Seiko really knows what they are doing when it comes to diving watches. If you are looking for a high-quality robust, and reliable dive watch at a reasonable price, Seiko is definitely a brand worthy of consideration.
Over the years, Seiko has launched many different dive watches in many different styles. Some of these have come to get nicknames, and the same is true for the SRPC41k1. Also known as "Baby Turtle", this watch has a design that is similar to the classic and standard size of the Seiko "Turtle".
Without further ado, let's look at what makes this watch so popular and what it has to offer.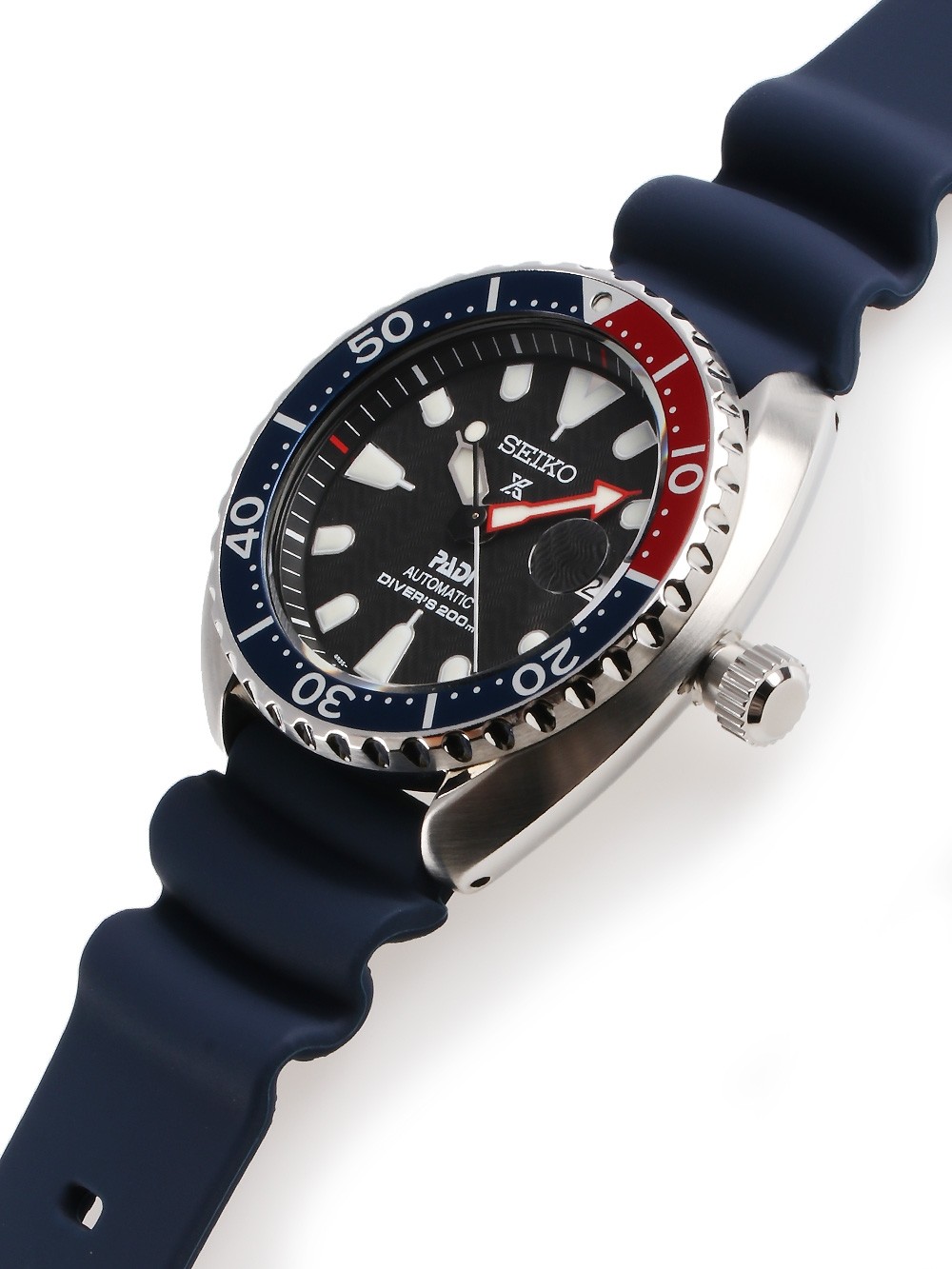 Seiko Prospex SRPC41k1 Review
As an Amazon Associate, we may earn from qualifying purchases, at no extra cost to you.
Firstly, the SRPC41k1 is, as the name reveals, a "Prospex" watch. Prospex stands for "Professional specifications" and simply means that the watch is built according to the needs and wants of professional divers. In other words, it is built to last.
In addition, the SRPC41k1 is also known as "Baby turtle" or "mini turtle". This refers to the case design/shape of this watch which derives from the Seiko "turtle" name because its shape is reminiscent of a turtle. The reason this is called "baby" turtle is that it is smaller than the standard turtle.
Oh, and let's not forget this watch is also a "PADI". In case you are not familiar with PADI, it stands for "Professional Association of Diving Instructors". This is a diving organization with which Seiko has a long history with. And obviously, what better partnership for a dive watch than with a diving organization with professional divers who will test and use the watch for what it is actually made for?
With that said, the Seiko turtle is a case design used in some of Seiko's most serious dive watches. The turtle is sporty, robust, durable, and built to last.
In this article, we are reviewing and looking closer at the Seiko Prospex SRPC41k1.

Seiko Prospex SRPC41k1 case
As mentioned, the Seiko Prospex SRPC41k1 features a "turtle" case. The backstory behind this watch is that in 2016, Seiko presented the Seiko's SRP77x "Turtle" which was a reissue of the Seiko diver reference 6309. The SRP77X was a watch that was very well-received and which received a lot of praise. The catch? It has a size of 44mm, which means it certainly isn't for everyone. And feedback this watch received from many people was that whilst they enjoyed the design, it was too big.
Fast forward a bit and Seiko showed that the company had been listening to the prayers and feedback. The answer? The Seiko Prospex SRPC41k1, of course! Finally, those who can't pull off 44mm-sized watches can enjoy the beauty and charm of the Seiko turtles.
With that said, the watch is presented with a stainless steel case with a diameter of 42.3mm. The iconic cushion-shaped turtle design is still there, but the size of the case has been scaled down. The case has a thickness: of 13mm.
Since this is a serious dive watch built according to professional specifications, it of course has serious water resistance. This watch offers a water.-resistance of 200m/660 feet which means it is suitable for swimming, diving, and practically any other type of watersport. To ensure its water resistance, it has a solid screw-down case back and not a see-through case back.
Unlike on the standard-sized Turtle watches, the crown is positioned at 3 o'clock which comes as a surprise. One of the reasons Seiko uses the 4 o'clock position of the crown is to improve comfort when wearing the watch so it doesn't dig into the wrist, but perhaps Seiko didn't see a huge issue with this considering its reduced size. But there are still a lot of people who would have preferred to see the crown placed at 4 o'clock on this one too.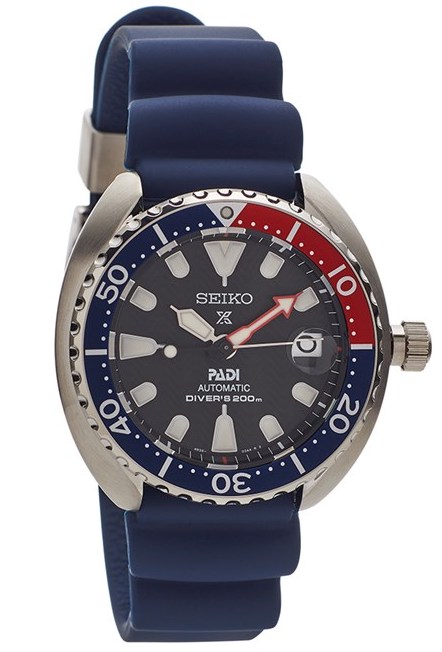 You'll still be able to see a clear Turtle inspiration in the case, but it is by no means identical. For example, the edges on the case are not as sharp, and the shape of the sides has been refined too. The case is still quite nicely finished. The top of the lugs are satin-finished, contrasted by polishing on the inside of the lugs. In addition, the sides of the case are polished too.
As a dive watch should, it is equipped with a unidirectional rotating bezel with a 60-minute graduation scale. Like all PADI and Seiko collaboration watches (Seiko has done plenty of them), the bezel has a blue and red insert, which are the signature colors of PADI. The blue and red color combination, also known as "Pepsi" is very bright and appealing. It certainly makes for a very unique and distinct look. The insert is made of aluminum and has a slightly matte finish. The first 15 minutes are painted red the rest is painted blue. To help with legibility, it has a luminous dot at 12 o'clock. The markers on the bezel are made in silver color.
On top of the case, Seiko uses a Hardlex crystal.
Seiko Prospex SRPC41k1 dial
Just like with the case, you can see a lot of similarities between the standard Turtle and this one, but there are a number of noticeable differences. What perhaps stands out about the watch is that it uses softer lines that are not as aggressive as the Turtle.
With that said, let's start out with the background, which is black and has a very intricate wave pattern which is a stunning detail that makes it so much more vibrant. A black dial is more or less what you would expect in a dive watch as it ensures optimum contrast and thus legality (which is crucial).
The dial has large hour markers which are raised, but not applied. These markers are applied with luminescent material (and a generous amount of it too). This means they will glow exceptionally long and bright.
At 3 o'clock, it has a date window with a white background. Sitting on top of the crystal is a cyclops that helps enlarge the date and improve the legibility. It's interesting to see that this one only has a date considering that the standard Turtle has both day and date windows.
The watch has all of the PADI/Prospex dial printing you would expect, which includes the Seiko logo, Prospex logo, PADI logo, Automatic printing, as well as depth rating.
It uses the classic sword and arrow hands design and as a nice touch to match the bezel, the minutes hand has been painted red. The hour hand is a bit shorter and has a satin metal finish.
Around the outer edge of the dial, there is an angled chapter ring on which the seconds are printed. For each 15 seconds, the marker is printed in red.
Seiko Prospex SRPC41k1 movement
A sturdy watch needs a sturdy movement and this one has it. The SRPC41k1 is equipped with the Seiko in-house automatic caliber 4R35. This is an improvement from Seiko's most affordable automatic movement as it features both hacking seconds and manual winding functions.
The movement offers a power reserve of 41 hours and beats with a frequency of 21600 beats per second. This movement has proven to be robust and reliable, and as a workhorse, it will continue to tick for years with little to no maintenance required.
Seiko Prospex SRPC41k1 strap
The watch is presented with a blue silicone strap. Silicone goes very well together with dive watches both in terms of look, but also due to its water-resistant properties.
Since the strap is of course adjustable, it fits well on the wrist but can also be worn on top of a diving suit.
Specifications
Jewels: 23
Water resistance: 200m/660 feet
Diameter: 42.3mm
Thickness: 13mm
Strap: silicone
Power reserve: 41 hours
Frequency: 21600 BPH
Movement: Seiko in-house caliber 4R35
Crystal: Hardlex
Conclusion
All in all, the Seiko Prospex SRPC41k1 is exceptional news for everyone who enjoys the Seiko Turtle but donät have wrists big enough to wear a bulky 44mm watch. The SRPC41k1 is the answer to a lot of people's prayers
This watch offers everything we have come to expect from the Turtle watches, including great water resistance, solid build quality, and actually great value for money.
As a nice touch, this particular watch is made in collaboration with PADI and therefore has an appealing use of colors too.