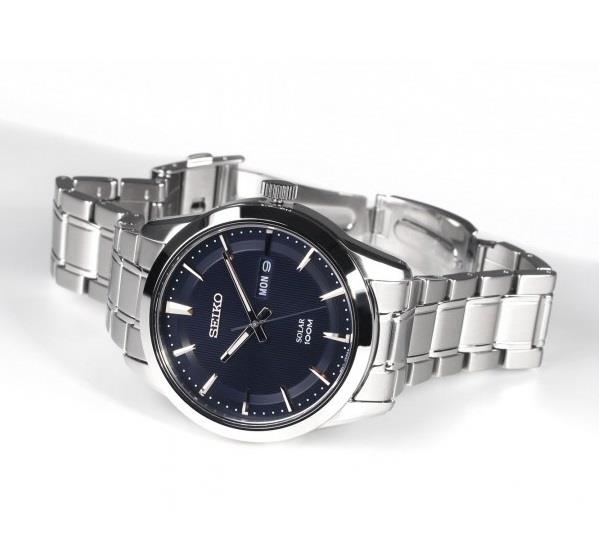 Seiko SNE361 Solar review & Complete Guide
Seiko is, amongst many other things known for its great affordable watches. There is a difference between cheap watches and affordable watches because cheap watches often tend to be low quality and break easily. Seiko's affordable watches, on the other hand, tend to punch well above their own weight and offer great value for money.
The Seiko Solar SNE361 is one of these watches. Priced at about 200 USD, we cannot expect too much, but the fact is that it offers both quality, innovation, and a beautiful design.
In this article, we are reviewing and looking closer at the Seiko SNE361 Solar.
Seiko SNE361 Solar review
As an Amazon Associate, we may earn from qualifying purchases, at no extra cost to you.
On the surface, this watch looks like a nice watch. But as the name reveals, there is something special about this watch. In fact, hidden inside it is an impressive technology. This makes it something more and something special. Something that adds to its appeal.
Let's go into detail about what this watch is all about and how its technology works.
Seiko SNE361 Solar case
The watch is equipped with a 43mm stainless steel case in diameter. The lugs have a bandwidth of 21.6 mm and the case has a thickness of 10.7 mm.
As its design reveals, this watch is more on the dressy side and this is why it is equipped with an elegantly finished case which makes it appear more of a dress watch. The bezel is polished as well as the sides of the case. As a contrast, the top of the lugs is brushed.
The lugs are relatively short and due to its quite thin bezel, it allows for a big dial that is easy to read.
The watch has a water resistance of 100 meters. This is enough for handling water splashes and carefully swimming with, but not diving. However seeing this is meant to be an elegant watch that works for both casual and dressed-up occasions, the water resistance should be enough. After all, it's not a sports or dive watch.
A nice touch that really enhances the perception of quality is the fact that the lugs have bevels. This is something we normally see on far more expensive watches, so, therefore, it really gives a feeling of quality (apart from looking good).
At the back, there is not much to see. We have a solid metal case back with the Seiko logo on it.
Sitting on top of the case is a Hardlex crystal. This is not as durable and scratch-resistant as sapphire crystal, but it has proven to be more durable than regular mineral glass. Positioned at 3 o'clock is a push/pull crown, and the fact that it is not screw-down is an important reason why it does not have better water resistance.
Seiko SNE361 Solar dial
The dial is the star of the show, not to mention the technology hiding below it as well.
The SNE361 has a mesmerizing navy blue dial with a beautiful texture and finish which adds to the appeal and makes it so much more interesting. Around the outer edge of the dial, we have white printed dots which indicate the seconds. At each 5-minute marking, there are applied polished metal markers with "bevels" create lovely angles. This means that when the light hits the markers, they reflect the light beautifully and give a stunning sheen. The markers also improve the perception of the quality of this timepiece.
The outer circle of the dial is blue and has a slight sunburst finish. Moving closer to the center, we find another circle around the dial consisting of small rings. And inside this circle, we have a vertical striped pattern. The way of making this dial is an interesting one from Seiko. It's not the most common dial design, but the use of different textures makes it much more appealing and also allows it to reflect the light in a stunning way. This ensures you'll never get bored with this dial.
Positioned at 3 o'clock, we have a day and a date window with white printing. The dial text is kept at a minimum with an applied Seiko logo at 12 o'clock and the text "Solar" and "100M" at 6 o'clock.
The hands are quite simple and clean. They do, however, have luminova applied to them for legibility in the dark. If you look closely, you can also see that some of the markers also have lume.
It is the technology that is hiding behind the dial that makes this watch truly special….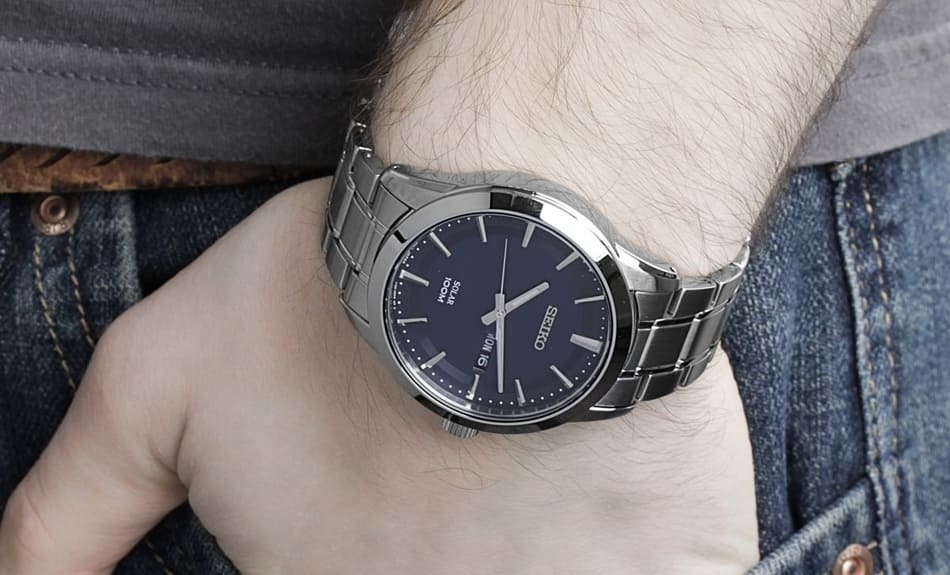 Seiko SNE361 Solar movement
The watch is equipped with the Seiko Caliber V158 which is a Japanese quartz movement. It is the solar power function that makes this watch special but how does the technology work?
As the name suggests, this movement is solar-powered, through the dial. But what is interesting about this solar technology is that it doesn't only need direct sunlight, but it also charges via regular fluorescent light as well. The movement Is powered with a manganese titanium-lithium rechargeable capacitor. This means it is not a regular battery. The benefit of this technology is that you don't have to replace the battery every other year or so, but can just wear the watch as normal and it will charge the watch with energy.
Seiko claims that this movement will have an accuracy of +/- 15 seconds per month at normal operating temperatures.
Seiko SNE361 Solar bracelet
The watch is fitted on a stainless steel bracelet with a width of 21.6mm, featuring a fold-over with a double push-button release clasp. The bracelet is generally the part of the watch that is compromised with the most when it comes to affordable timepieces, and the same is true here.
While the bracelet looks quite good and goes well with the design of the watch, it does have some rattle and doesn't feel completely solid.
Specifications
Diameter: 43mm
Lug width: 21.6 mm
Thickness: 10.7 mm
Water resistance: 100m
Movement: Seiko caliber V158
Conclusion
The Seiko SNE361 Solar is a watch that definitely packs a lot for about 200 USD. Not only does it have a clean and elegant design with a striking dial, but it also has interesting and innovative technology which is actually highly practical for everyday use. Yes, there are some areas of improvement, but at this price, you definitely get great value for money. This is a perfect casual yet classy everyday timepiece that also works as a dress watch.