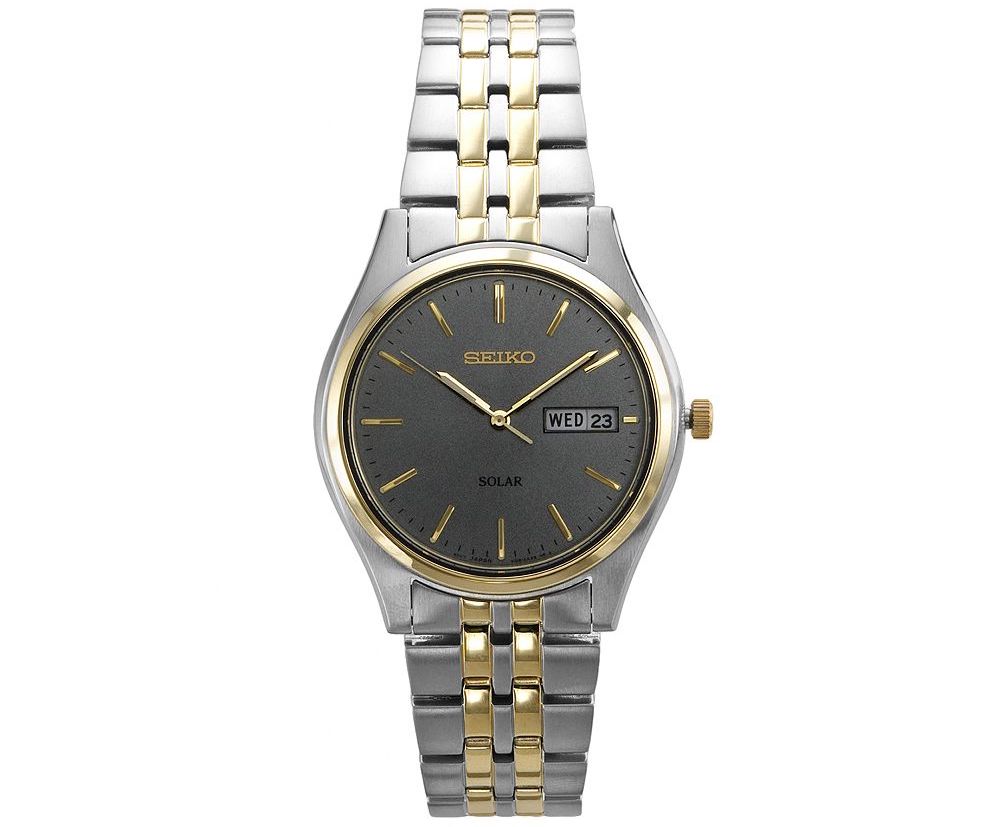 Seiko Solar SNE042 Review & Complete Guide
If you're looking for an affordable yet elegant timepiece, Seiko has a lot to offer.
This is a simple yet classy and classic elegant timepiece that works just as great for everyday wear as on formal occasions. This is a watch that doesn't have a lot of functions or a lot going on. It's just clean and refined. We'd call it simple elegance.
The watch is very affordable for a Seiko watch, available at around 100 USD, but despite this, it still has a lot to offer. The watch is equipped with some very interesting and practical solar technology, and in addition to this, it is also quite well-built and finished for the price.
In this article, we are reviewing and looking closer at this timepiece, the Seiko Solar SNE042.
Seiko Solar SNE042 Review
As an Amazon Associate, we may earn from qualifying purchases, at no extra cost to you.
The Seiko SNE042 is presented with a gold and steel theme with a beautiful charcoal dial, contrasted by yellow gold accents. The watch also has a size to match its elegant everyday purpose which makes it sit discreetly and elegant on the wrist.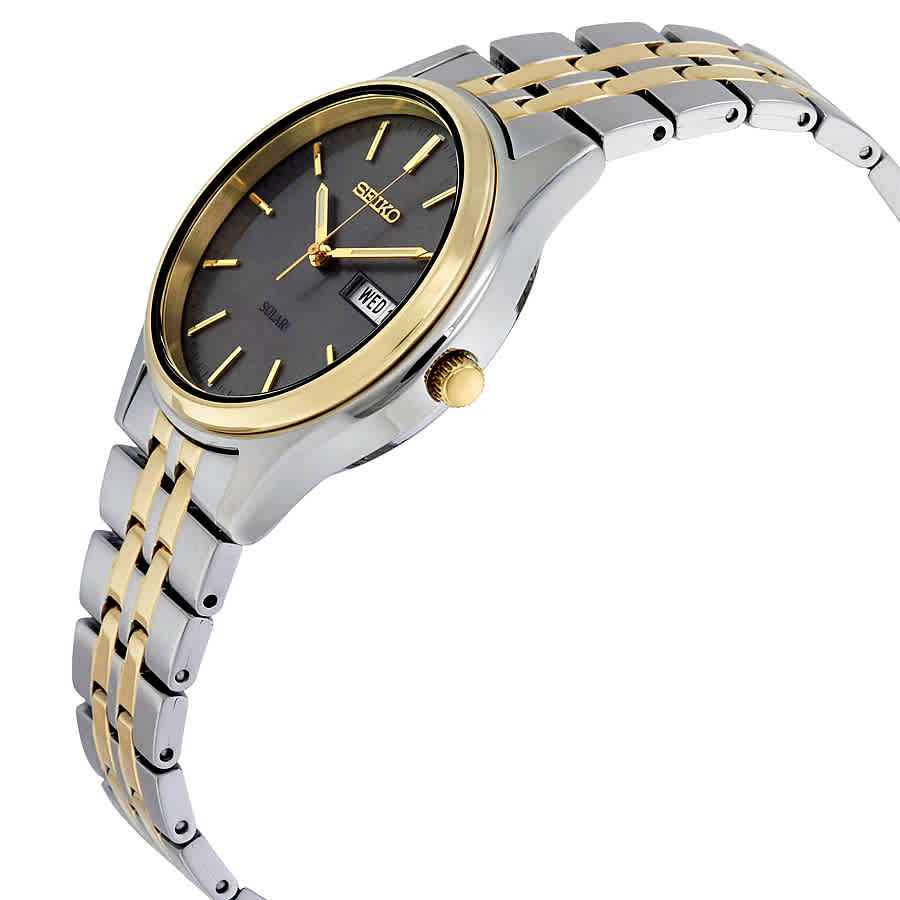 Whilst it has yellow gold elements, these are incorporated into the design in such a way that the watch is still discreet and not "in your face".
As mentioned, this watch also uses interesting technology which is a solar quartz movement. We'll go into this further on, but what this means is that it uses solar and ambient light to charge the battery, thus removing the need for replacing the battery.
Seiko Solar SNE042 case
The watch features a stainless steel case with a diameter of 37mm. The thickness measures 10mm. With that said, it is a rather small watch that will sit neatly on the wrist. This watch will slide under a cuff without any issues. And thanks to its low weight, you may even sometimes forget that you are wearing it.
With that said, it is a good size for those who enjoy smaller watches that are not chunky on the wrist.
The case is simple and clean in its design and is satin-finished on the top, contrasted by polished sides. For added elegance, the bezel is fixed, thin, polished, and finished in yellow gold. The lugs have a squared-off design.
The crown is positioned at 3 o'clock and is also gold-colored. As we can expect, the crown is a push-pull.
It offers a water resistance of 30 meters which essentially means it is resistant to water splashes, but not submersion. In other words, its water resistance is enough for what you will probably subject this type of watch to.
On top of the case, we have Seiko's proprietary Hardlex crystal, as can be expected for a Seiko watch in this price range.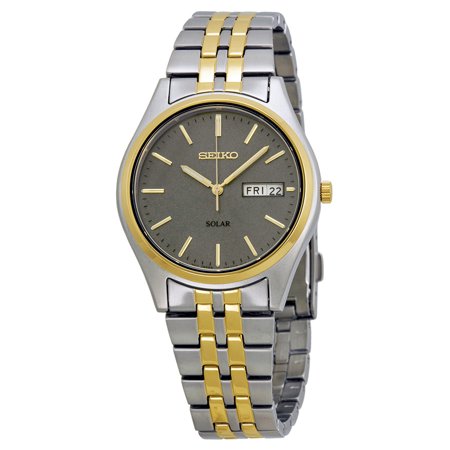 SNE042 dial
The dial is another part of this watch that is elegantly executed. It has a lovely charcoal grey color and a matte finish which gives a nice toned-down appeal and matches the yellow-gold accents excellently.
The matte finish prevents reflections but gives it a really nice depth and vibrance.
Applied to the dial, we have rectangular yellow gold colored hour markers, and on the outer part of the marker, it has dots with Lumibrite luminescent material to help with the legibility in the dark, although, of course, the glow isn't the best.
It uses sword-shaped hands which are also yellow gold colored. The hands have applied Lumibrite which works together with the dots next to the hour markers.
Positioned at 3 o'clock, we have Seiko's signature day and date window which is a really practical function for an everyday watch like this one. In everyday life, this is a function that can be truly helpful.
All in all, the dial is clean, simple, and just very appealing to look at.

SNE042 movement
As mentioned, this watch is powered by the Seiko Solar Caliber V158 Quartz movement. This is a solar quartz movement that is powered by ambient and solar light.
Apart from this, the movement has a power reserve of 10 months, which is if it is never charged via the solar panels, of course. The benefit of this clever quartz movement in a watch built for everyday wear is that it is reliable and durable, and will be able to tick for years to come without any need for maintenance or service.
Many watch enthusiasts may prefer mechanical movement, but remember that this watch is all about everyday practicality, and for that purpose, it does the job very well.
Bracelet
The watch is presented on a stainless steel bracelet with a satin-finished, contrasted by polished yellow gold middle links. The bracelet matches the design of the watch and gives it an elegant yet sporty, everyday appeal. The bracelet has an integrated design, whilst not integrated which gives it a distinct look.
Now, as we can expect from a watch in this price range, the finish and quality of the bracelet aren't the best. It rattles and does not feel 100% solid. But it does the job, and it looks rather good whilst doing so. The bracelet has a folding clasp with a deployment buckle.
The bracelet is obviously a downside, but the good news is that if you want, you can easily change the bracelet to a strap of your choice, which also gives it a different look.
Specifications
Crystal: Hardlex
Water resistance: 30 meters
Movement: Seiko Solar Caliber V158 Quartz (solar-powered)
Diameter: 37mm
Thickness: 10mm
Case back: screw-down
Clasp: Deployant holdover
Bracelet: gold and steel
Power reserve: 10 months
Conclusion
All in all, it's safe to say that the Seiko Solar SNE042 is a watch that offers exceptional value for money. This watch is well-built for its price, has a nice finish, and is powered by a long-lasting durable quartz movement with interesting and practical solar technology.
This watch is priced at around 100 USD, and if you are looking for an affordable watch in this price, range, you'll soon notice that for a robust yet stylish everyday watch with an elegant appeal this watch offers great value for money.