Seiko Solar SNE529 Review & Complete Guide
When it comes to affordable and classy timepieces, Seiko has a lot to offer.
Seiko's watches are durable, stylish, and long-lasting. But with that said, there is a lot to choose from.
In this article, we are looking closer at one of the brand's timepieces, the Seiko Solar SNE529. This is a classy and stylish timepiece and is a great addition to any man's collection.
It strikes a perfect balance between elegance and sportiness and is equipped with some really interesting technology, namely solar technology.
Without further ado, in this article, we are reviewing the Seiko Solar SNE529.
As an Amazon Associate, we may earn from qualifying purchases, at no extra cost to you.
Seiko Solar SNE529 case
This watch is built as an elegant and classy everyday watch, and therefore it has a case size that supports that. The case has a diameter of 40mm, a thickness of 10mm, and a lug-to-lug of 47mm. This is more or less a "standard" size which means it is very versatile. Not too big and not too small. Its balanced case size makes it suitable for both formal and casual occasions.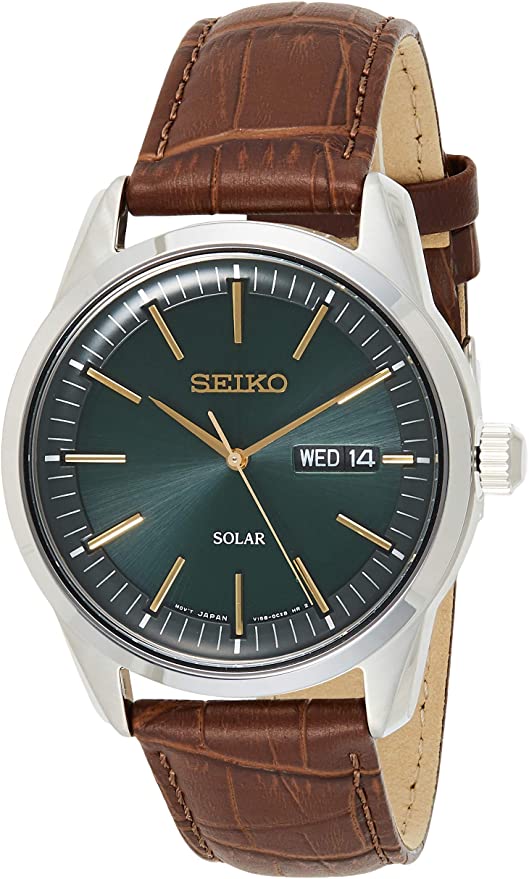 Speaking of the case, it is made in stainless steel and has a combination of brushed and polished elements. The sides of the case are brushed, the bezel is polished, but the part that ensures this is not just a boring and standard case is its lug design. The lugs have a "twisted", or beveled design where the inner part of the are brushed and the beveling is polished.
For a clean and refined look, the bezel is fixed and has a polished finish.
The crown is positioned at the standard 3 o'clock position and is a push-pull. With that said, the water-resistance isn't the best, but for this type of timepiece, it doesn't have to be. After all, you're probably not going deep diving with this watch anyway.
The watch has a water-resistance of 100m/330 feet which means it is suitable for swimming or showering. This should be more than enough.
Overall, it's just a nice and clean case design that works for any occasion.
The case back is made in stainless steel and screwed down to the case. It is flat which allows it to sit slim on the wrist. 
A great value proposition of this watch is the fact that it is equipped with a scratch-resistant sapphire crystal. Most Seiko watches in this price range use hardly crystals, so having a sapphire crystal is a big deal.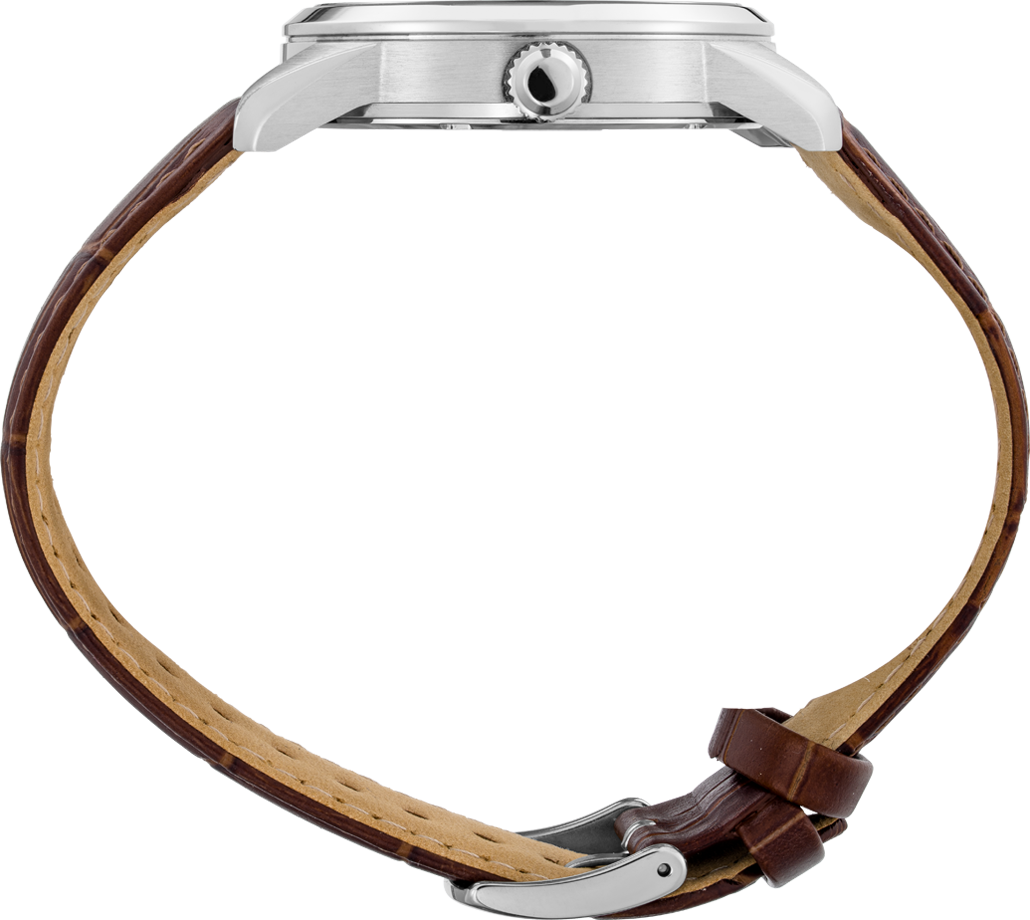 Seiko Solar SNE529 dial
The dial is definitely the part of the watch that makes it stand out from the crowd and which makes it truly special.
The watch is fitted with a lovely emerald green dial with a sunburst effect which catches the light beautifully. The brushing is textured and quite deep. Another nice detail about the dial is its yellow gold accents. The dial has rectangular yellow gold hour markers and long sword-shaped hands, also colored yellow gold. The hour and minutes hand have bevels that allow them to reflect the light beautifully.
The yellow gold accents match the green color of the dial and create a really beautiful appearance. It's classy, it's elegant, and it is truly timeless. Seiko has really done a great job with the execution of the colors.
Around the outer edge of the dial, it has an angled chapter ring which is made in a lighter green tone which is grey/white towards the very edge. Another nice detail of the dial is that the hour markers have "parking slots" into the chapter ring which looks great. All of these things are nice details that give it depth.
Positioned at 3 o'clock, we have Seiko's signature day and date window. It's nice to see that Seiko chose to make the background in black since it blends into the dial better than if it would have been white.
As we'll go into detail about further on, this is a solar watch, as printed on the dial, but despite this, it's so discreetly made that it is impossible to tell by looking at it.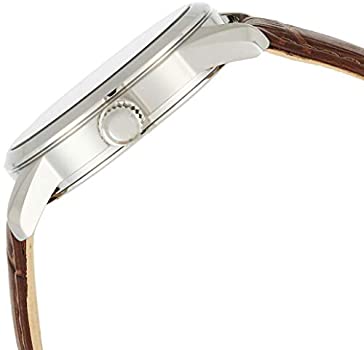 SNE529 movement
Inside this watch is the Solar-powered Seiko in-house caliber V158 Solar Quartz. As the name suggests, this is a solar quartz movement which means it is powered by solar energy. This is a really convenient piece of technology which makes it suitable for everyday wear. Solar technology solves the need of having to replace the battery when it has run out of energy. In addition, the movement has a power reserve of 10 months which keeps the watch powered when it is not being charged by solar or ambient light.
Being a quartz movement, it is also extremely light.
Some people will obviously gravitate towards mechanical movements, but quartz movements do have some practical benefits. Namely, they are far more accurate than mechanical movements, and in an everyday watch, this can be really nice,. Furthermore, they are affordable and easy to maintain and can usually continue to tick for years without needing service or maintenance (in this case not even a battery replacement).
Strap
The watch is presented on a brown embossed leather strap with a tang buckle.
A leather strap for an elegant and classy watch is to be expected, and it goes really well with the watch for giving it a dressy look. It's comfortable, sleek, and stylish. And of course, if you want, you also have the opportunity to change the strap for something else.
Specifications
Water resistance: 100m/330 feet/10ATM
Movement: Solar-powered Seiko in-house caliber V158 Solar Quartz
Lug to lug: 47mm
Thickness: 10mm
Diameter: 40mm
Crystal: Sapphire
Strap: Brown leather
Lug width: 20mm
Clasp: Tang buckle
Functions: date, day, hour, minute, seconds
Power reserve: 10 months
Crown: Push-pull
Dial: Green sunburst
Conclusion
To conclude this review, the Seiko Solar SNE529 is a watch that offers great value for money. It has a perfect balance between sportiness and elegance and is equipped with tons of details that ensure you will never get bored of it.
The emerald green color of the dial blends in perfectly with the yellow gold details and makes for a truly beautiful dial. Furthermore, the sunburst finish makes it even more vibrant and appealing.
The solar quartz movement is another interesting detail about this watch as it removes the need for replacing the battery. The most devoted watch nerds may be scared away by the fact that it is not mechanical, but at the same time, the quartz movement is practical for everyday wear thanks to the accuracy and long-lasting durability it offers.
This timepiece is sure to complete any man's collection for anyone who is looking for a versatile timepiece that looks just as great on casual occasions as on formal occasions. And if we consider the price, this really is a great value proposition.