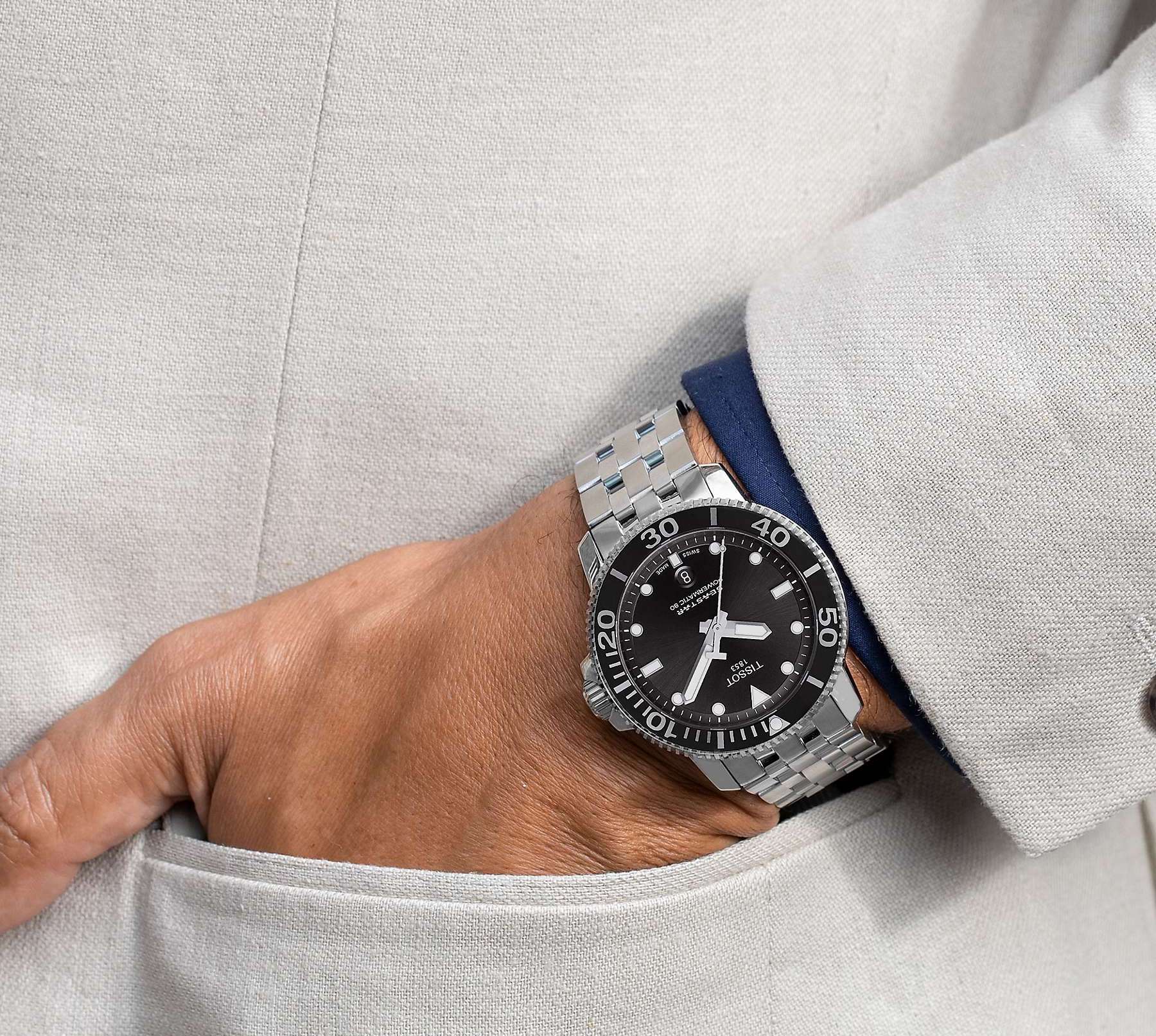 Tissot Seastar T1204071105100 Review & Complete Guide
If you are looking for a high-quality Swiss-made dive watch with a durable and reliable automatic movement, that is manufactured by a well-respected brand, look no further.
Tissot is an appreciated and well-respected brand in the watch world due to its long and rich history, being originally founded in 1853. Tissot's watches are made in Switzerland, but the brand still focuses on making affordable to entry-level timepieces. This makes Tissot a popular brand for those who trust the quality of Swiss-made watches but don't want to pay tens of thousands for a luxury Swiss watch.
Tissot's collection of watches is huge in order to serve every taste and preference. A new collection from Tissot that was released recently is the Seastar 1000 Powermatic 80. This consists of a number of different timepieces in different designs, colorways, and iterations. And in this article, we are going to look closer at one of them.
Tissot Seastar T1204071105100 Review
The name Seastar, whose full name is Seastar 1000, comes from Tissot's collection of modern dive watches.
In their own words:
"The Tissot Seastar 1000 merges style and performance without compromising either. The diving inspiration shapes both the appearance and the functionality of this watch. It maintains its performance to a pressure of 30 bar (300m/1'000ft), combining underwater sports and a preference for a sophisticated Swiss timepiece."
The Seastar 1000 is a watch with a clear dividing theme with features such as a unidirectional bezel, exceptional legibility, water resistance, durability, and more. In addition to this, the Seastar collection is completely new, and not a re-issue or vintage-inspired timepiece. Instead, Tissot has worked to create something new. Perhaps something that can prove to be iconic further down the road. Who knows…
The Powermatic 80 name simply refers to the movement which powers these watches. Tissot invested heavily in the research and development of this movement and is very satisfied with the outcome, so it's no surprise they also promote it heavily in their marketing.
With that said, let's look closer at the black version of this model, the Tissot Seastar T1204071105100. After all, does it get any more classic than a monochrome dive watch? This is a classic dive watch with modern technology and modern design.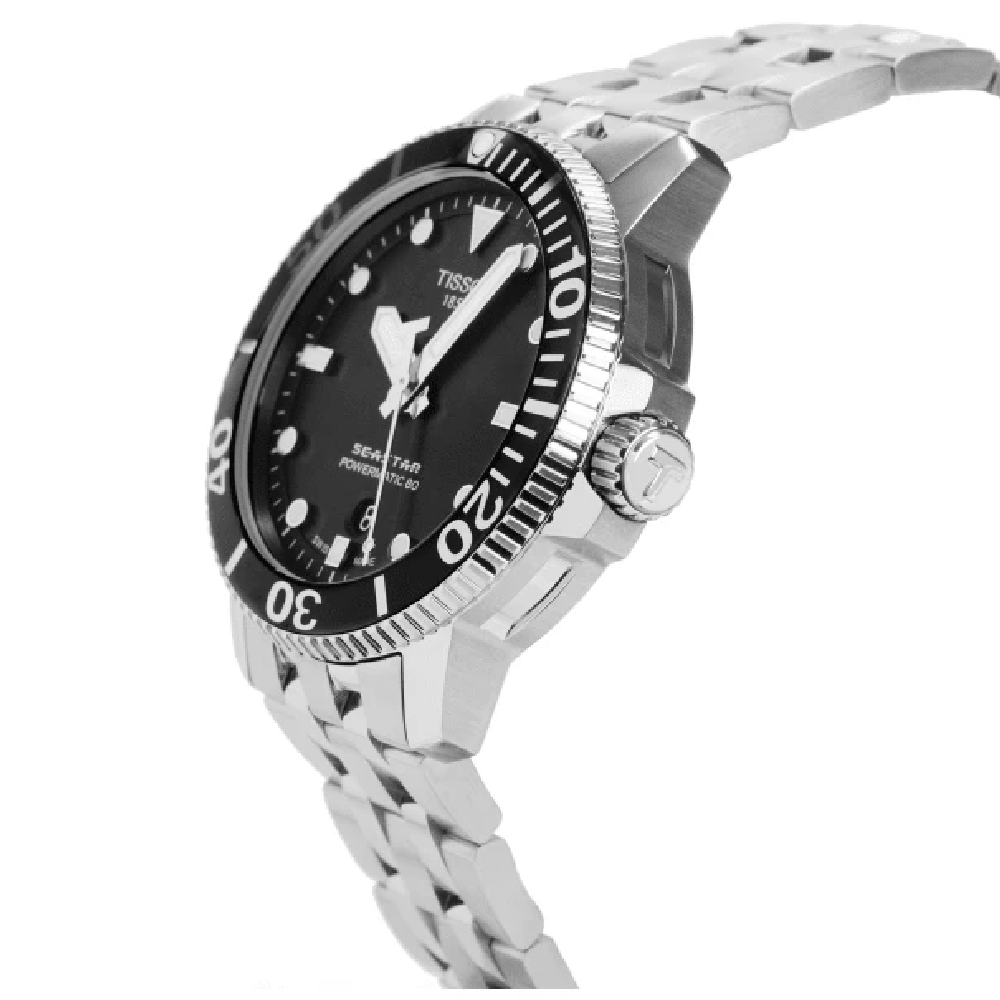 Tissot Seastar T1204071105100 case
The T1204071105100 is presented with a 316L stainless steel case with a diameter of 43mm. The lug-to-lug measures 49.6mm and the thickness is 12.7mm. As we expect a sporty dive watch to be, the watch is relatively big and has some presence on the wrist. But it is not huge. Whilst the diameter is relatively large, for comparison, the Rolex Submariner 116610LN has a lug-to-lug of 50.54mm and a thickness of 12.5mm.
Tissot has designed the case so that all the focus is put on the dial. With that said, the lugs are quite short and extend straight directly from the case. At 3 o'clock, we have the crown, which sits protected by crown guards. The crown guards extend quite a bit from the case but they ensure that the crown is well-protected. To ensure the water-resistance, the crown is a screw-down. Tissot has opted for an all-polished case which does enhance its elegance, but since you mostly see the dial, it doesn't harm the sportiness of the watch a whole lot.
As a dive watch should, the T1204071105100 is of course equipped with a unidirectional rotating bezel with 60-minute graduations to measure elapsed time.
The bezel has ratches and points out slightly from the case. These two factors help improve the grip for easier operation. The bezel has a black ceramic insert which has the practical benefit of being extremely resistant to scratches. In addition, it also makes the watch appear more modern. At 12 o'clock, it has a luminous dot so you can read the elapsed time even in the dark.
Tissot has opted for a scratch-resistant sapphire crystal for this watch.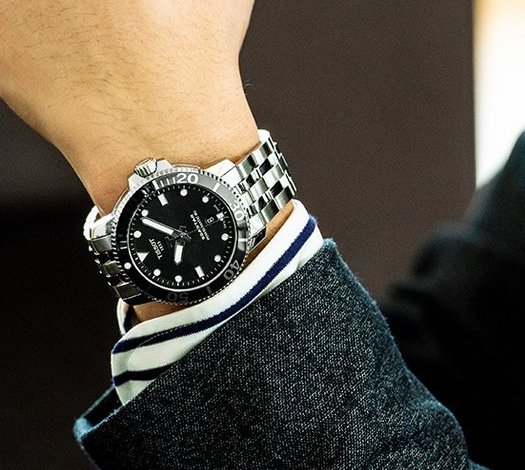 Tissot Seastar T1204071105100 dial
The dial is extremely well made. It's clean, refined, yet beautiful to look at. Around the outer edge of the dial, the watch has a slightly raised chapter ring on which the seconds are printed in white. The dial has a lovely sunburst brushed finish in a black color and thus reflects the light beautifully. This keeps the dial interesting and also makes it change its appearance depending on how the light hits it.
As a dive watch should, it has good legibility. The watch has applied hour markers with polished metal frames around them and generous amounts of luminescent material applied to them. The same goes for the hands. The hands are very broad and provide a great contrast against the black dial.
Just above the 6 o'clock marker, the dial has a circular date window with a black background. The date is printed in white to create good legibility. It blends in rather well but definitely helps make it more practical for everyday wear.
Tissot Seastar T1204071105100 movement
As the name reveals, the T1204071105100 is powered by Tissot's Powermatic 80 movement.
The "80" indicates the movement's power reserve of 80 hours.
The Powermatic 80 was developed together with ETA, one of the most famous movement manufacturers, and this collaboration makes sense seeing that the Swatch group owns both Tissot and ETA. As you can see engraved on the rotor, it has a high-tech escapement. On this caliber, there is no regulator, but instead, the rate is set at the factory with a laser. This means that manual rate adjustments which are normally required by a mechanical watch are not necessary.
Tissot has also made this movement robust and accurate by improving the regulator system. This is, of course, a great thing for a sports and diving watch.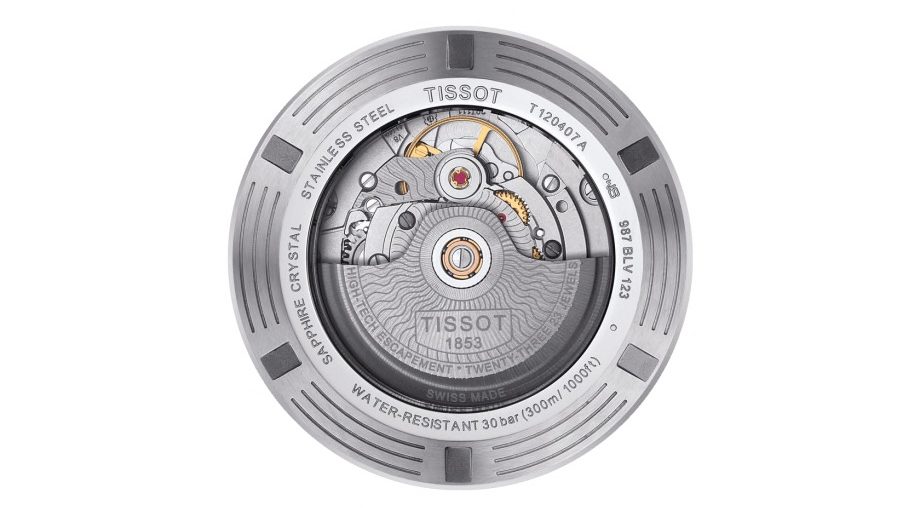 Tissot Seastar T1204071105100 bracelet
The watch is presented on a stainless steel five-link bracelet with polished center links, contrasted with satin-brushed links. It has a folding clasp with safety and diver extension.
It's nice to see that Tissot added some satin elements to the bracelet as it adds some sportiness to the watch and provides a lovely contrast against the otherwise all-polished case.
Specifications
Water resistance: 30 bar (300 m / 1000 ft)
Lug width: 21mm
Diameter: 43mm
Thickness: 12.7mm
Crystal: Sapphire crystal
Movement: POWERMATIC 80.111
Jewels: 23
Power reserve: up to 80 hours
Lug-to-lug: 49.6mm
Frequency: 21600 BPH
Conclusion
To conclude the review of the Tissot Seastar T1204071105100, we can say that this watch is a well-built high-quality timepiece equipped with a great performing movement.
It has a unique and modern design, but still retains all of the classic design features you would expect in a dive watch such as large markers and hands, a unidirectional rotating bezel, and good water resistance. Oh, and don't forget that this watch is Swiss-made and manufactured by a reputable and well-known watch brand.
At this price, we would dare to say that it offers great value for money considering its quality, finish, movement, and being made in Switzerland.