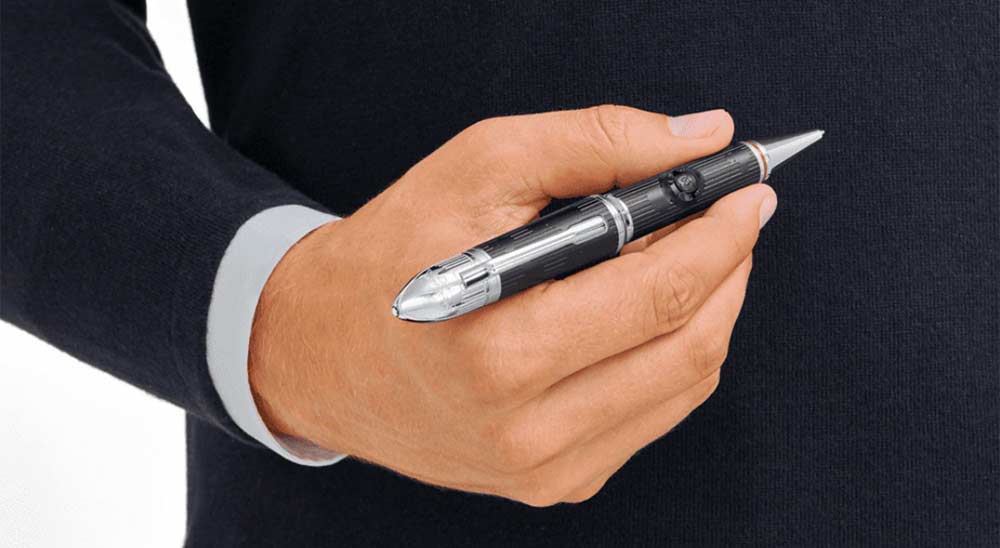 Top 11 Best Montblanc Pens (Review & Guide)
A pen can be so much more than a pen. It can be an instrument, an accessory, and proof that you pay utmost attention to, and appreciate details.
It is said that the pen is mightier than the sword, and with that said, you should treat it like such. There is a big difference between pens and pens, and Montblanc is arguable the most well-known, prestigious, and well-respected brand and maker of luxury pens in the world.
Yes, you can get a regular plastic ballpoint pen for a dollar, but what's the fun in that? By getting a premium luxury pen, you show that you pay great attention to detail, and as a bonus, it also tends to be much more comfortable to use with some heft in your grip. Maybe most importantly, it makes a much better impression by having a premium pen when signing documents if you have a pen of quality, rather than a generic plastic pen.
With that said, when you are signing important documents, it only makes sense that you treat them with the utmost respect. And you do this by having a good pen.
There are good reasons why Montblanc is one of the most respected luxury pen brands in the world. Montblanc's pens are so much more than just pens. They are true works of art, with amazing attention to detail and of impressive quality. And because of this, they can, just like so many other qualitative items, really last a lifetime. In fact, they can even be passed on as heirlooms.
With this in mind, do you really want to satisfy with anything less?
If you have explored the pen collection of Montblanc, you have probably noticed that the brand has a vast selection of pens to choose from. Montblanc's pens range from a few hundred dollars up to several thousand in price and are available in all kinds of shapes and forms. They are available in gold, steel, with engravings, decorations, and much more.
To help make your decision a little bit easier, we have, in this article, compiled those Montblanc pens that have received the highest ratings and reviews, and which have proven to be the most popular.
Not only are these pens extremely stylish, but they are also sure to last a lifetime and make a long-lasting impression. If someone asks to borrow a pen, think about how different of an impression you'll make if you hand over a Montblanc pen rather than a generic plastic ballpoint pen.
Top 11 Best Montblanc Pens
As an Amazon Associate, we may earn from qualifying purchases, at no extra cost to you.
---
Montblanc Heritage Rouge & Noir Special Edition Brown Ballpoint Pen 116553
This pen is part of the Rouge et noir collection and was conceived as a celebration of a 110-year-old pioneering tradition with a vintage design that is iconic and instantly recognizable as Montblanc.
This pen features many of the iconic Montblanc design elements and is therefore made with vintage inspiration. The pen has a tropic brown resin cap and a brown/dark red lacquered body. What stands out about this elegant pen is its golden snake which snorkels around the top and has beautiful engravings. As an additional detail, the snake has two set garnets as the eyes. The top of the watch of course features the iconic Montblanc snowcap finial in ivory-colored resin
The Montblanc Heritage Rouge & Noir pen is perfect for those who appreciate traditional and classic elegance, whilst never compromising on quality. The pen operates with a twist-mechanism, is a ballpoint, and is made in Germany. 
Dimensions:
Retracted length: 125.5mm
barrel-width: 10mm
cap-width: 11.5mm.

---
MontBlanc Meisterstuck Platinum Line Classique Ballpoint Pen Black
There are few pens that are as iconic as the Montblanc Meisterstuck. As the name suggests, it is a very classic and timeless Montblanc ballpoint pen.
It is simple and classy, yet offers everything you would expect from a Montblanc pen. The barrel and cap are made of black resin, and the cap of course has the Montblanc emblem. For added luxury, the pen has a platinum-plated clip and rings.
A review stated "Finest writing instrument in the world. Expensive – heck yeah! But you have never had a better work of art in your hand. Spoil yourself and you will never go back to the 29 cent BIC pen again." And we couldn't agree more.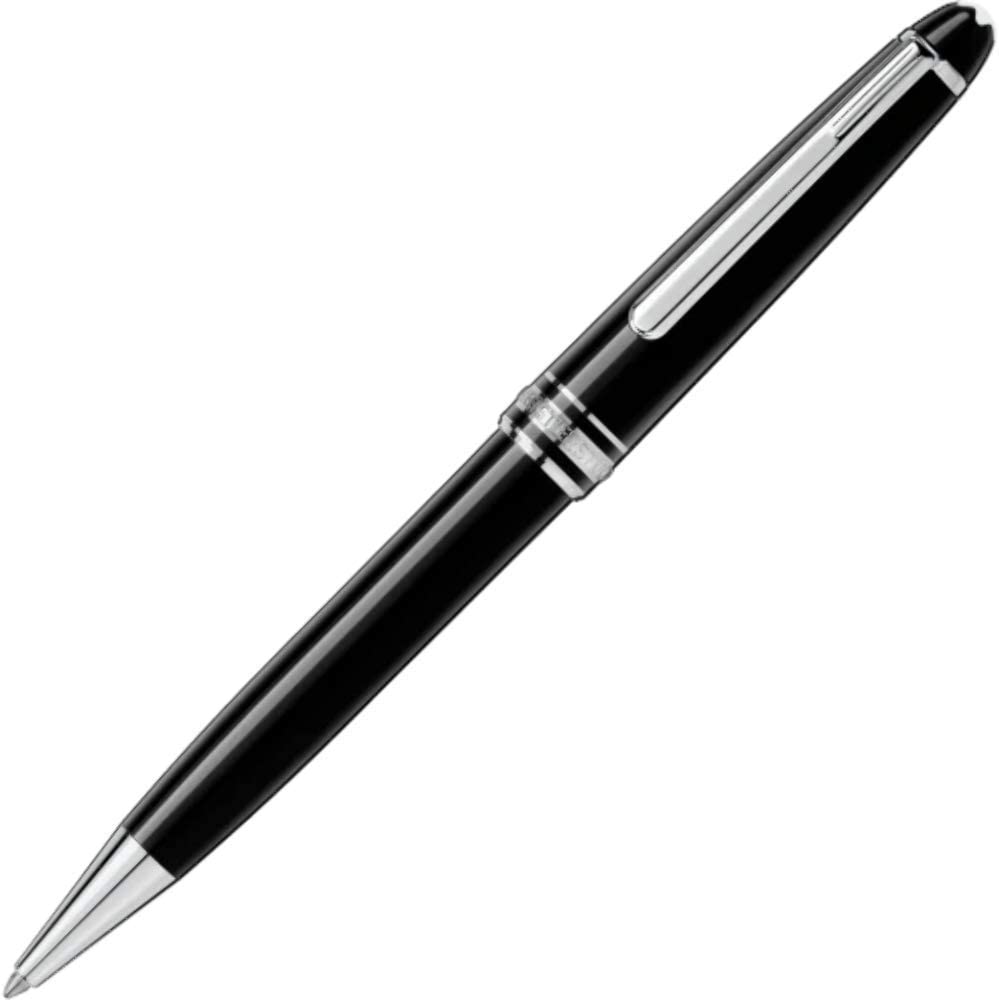 ---
Montblanc Pix Black Ballpoint Pen 114797
The Pix Black Ballpoint Pen 114797 is similar to the pen above but is slightly different in design. The pen is inspired by the German Bauhaus architecture style and has a sleek and elegant design. The pen has a black resin cap and barrel, and for a more elegant look, the barrel and trims are made in platinum.
This is a true classic that you simply cannot go wrong with, and which is a perfect choice if you are looking to get your first Montblanc pen or simply want something discreet yet qualitative and luxurious.

---
Montblanc Meisterstuck Black Ballpoint Pen 10883
Another classic and elegant pen from Montblanc, but this time, it is presented with gold trim and finishes. The pen features a black resin barrel and cap with the signature Montblanc logo at the cap. This pen is perfect for those who enjoy gold, and there's no denying that it gives an even more luxurious appearance than the pens with silver-colored trims. The tip is of course retractable.

---
Montblanc Pix blue ballpoint pen MB 114810 
Like all Pix Montblanc pens, this is designed with inspiration from the Bauhaus architecture, and it is named after the historical Pix trademark.
This pen offers the same quality and finishes that you can expect from Montblanc, but it is presented with a blue resin body and cap, which is a nice touch for those who want some color and not just a classic black Montblanc pen. This is sure to stand out from the crowd, and for added elegance, it has a platinum-coated clip and trims.
This pen is just pure simple and discreet class.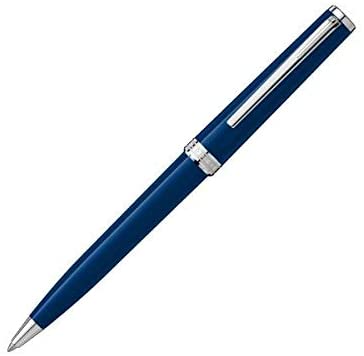 ---
Montblanc Muses Marylin Monroe Special Edition Resin Red Ballpoint Pen 116068
This is a pen that stands out of the ordinary and is true class and elegance. The pen is more expensive than many of the other pens, but this is truly reflected in the details, decoration, and finish.
Firstly, this pen has a red-colored resin body. The pen is elegantly curved and wider at the top and thinner at its tip. The logo on the cap is stamped on top of the clip, unlike most Montblanc pens. As a perfect contrast against the red color, the pen has beautiful rose gold accents and a clip. At the end of the clip, it has a real pearl for added luxuriousness.
This pen is sure to catch attention and make a long-lasting impression. Whilst it is more expensive, it is really a Montblanc pen that is out of the ordinary.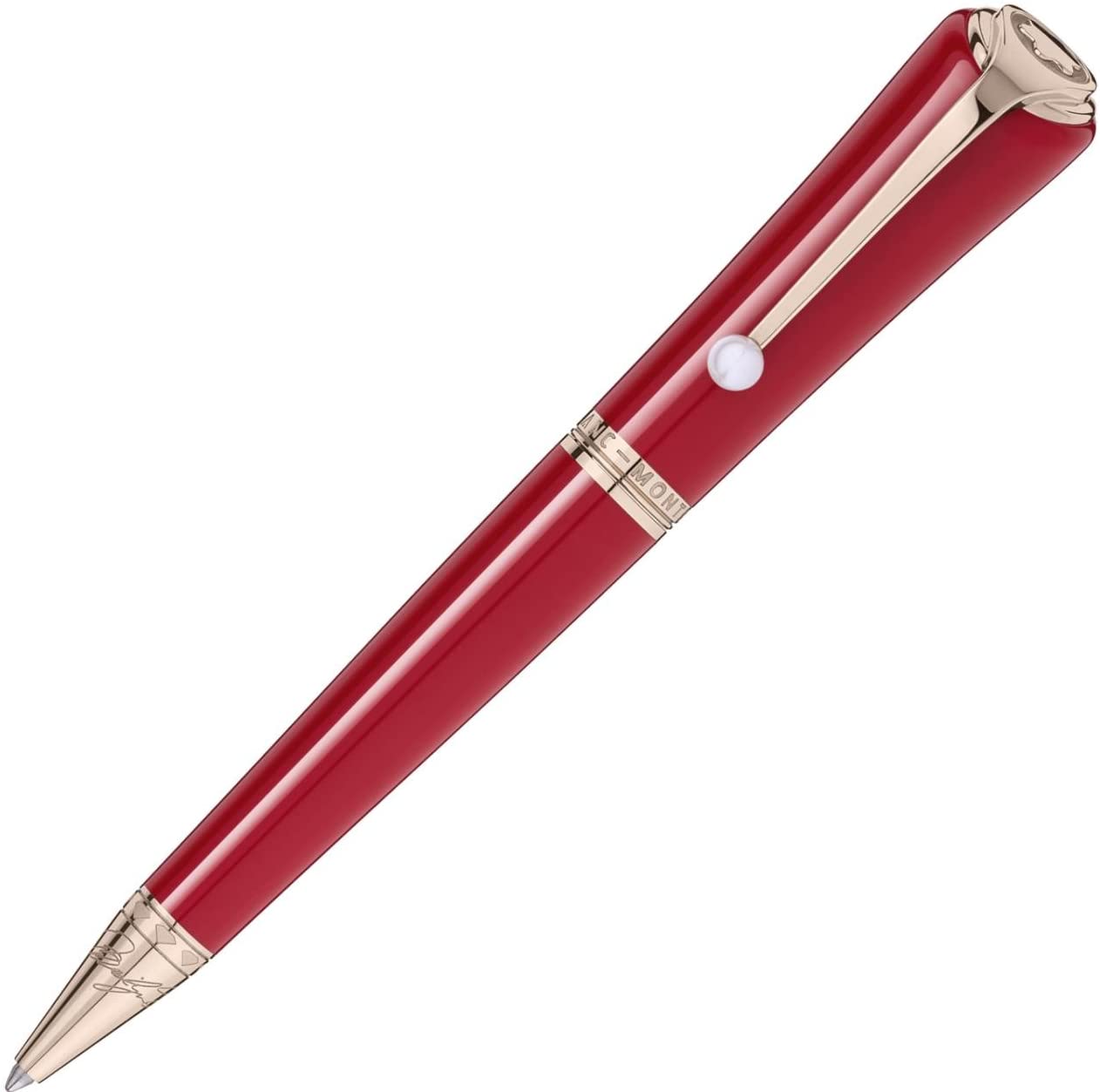 ---
MontBlanc 162  Meisterstuck Le Grand Rollerball Pen Black 11402
This is an elegant Montblanc pen with a classic design, meaning you can remove the cap for protecting the tip. The pen has a black resin cap and body, and as a perfect contrast, it has a gold-plated clip and accents. In traditional Montblanc fashion, it has the black resin inlay with the Montblanc emblem.
The pen is a rollerball, has some heft to it, and is comfortable to use, whilst also featuring a clean, luxurious, and sleek design.


---
Montblanc Starwalker Metal Ballpoint Pen, Midnight Black 105649
This is an interesting pen from Montblanc as it has a unique and modern design that stands out from the classic Montblanc pens. At the top, it has the classic floating Montblanc emblem in a transparent cap-top
The pen has a Ruthenium-plated clip with embossed Montblanc lettering. The body of the pen has a matt ruthenium-plated surface with beautiful shiny diamond-cut lines.
With its dark Ruthenium appearance, it is a pen that is rather masculine. But make no mistake of its beautiful attention to detail, luxurious feel, and of course its long-lasting quality.


---
Mont Blanc Meisterstuck Solitaire Doué Dimension Geometric Classique Ballpoint Pen, Champagne Tone 105987
Go big or go home fits very well when describing this pen. It is a ballpoint pen with a twist mechanism, and what truly makes this stand out its gold accents with incredible attention to detail.
This Meisterstuck Solitaire Doue Geometric Dimension is conceived through the concept of uniting  Montblanc's classic design with unique materials. And Montblanc has succeeded very well in doing so
The pen body is made in black precious resin and has a stunning three-dimensional geometric pattern made in a gold color that matches the black body perfectly. The cap is inlaid with the Montblanc emblem
The three-dimensional pattern on the gold is really something else and is true proof of Montblanc's impeccable attention to detail. If you want to make an impression, or simply never satisfy with anything else but perfection, this is a pen that will make you want to write more.

---
Montblanc Starwalker Doue Fineliner Pen 118872
The Montblanc Starwalker Doue Fineliner is a pen that has a perfect balance between class, tradition, and modern design. This pen was launched in 2019, and it has a distinct and very attractive design.
The Starwalker collection is described as follows: "the collection's new design celebrates the immense emotion, described by all space travelers, of seeing our blue planet floating in the vast expanse of space. The unique StarWalker emblem technology features a blue translucent dome beneath the Montblanc emblem, reminiscent of the Earth emerging above the lunar horizon." and this perfectly describes this pen.
The pen has a black precious resin barrel and platinum-coated fittings. It has a platinum-coated cap, clip with an embossed Montblanc text, platinum-coated fittings, and simply beautiful attention to detail.
The pen looks masculine, modern, and classy.
Weight: 10.4 ounces
Dimensions: 4.72 x 4.72 x 4.72 inches

---
Montblanc 119686 Doué LeGrand Meisterstück Le Petit Prince and Aviator Ballpoint Pen
This Montblanc Doué LeGran Meisterstück Le Petit Prince is a special edition pen that has incredible attention to detail. This is also reflected in its price, but with all of the things you are getting, it is evident that it offers your money's worth.
First of all, it does not have a precious resin body like many other Montblanc pens. The barrel is platinum coated and has a beautiful brushed and etched finish. The engraving is actually a drawing of the desert and the aviator's airplane which is inspired by the story of Le Petit Prince where an aviator, crashes with his airplane in the middle of the Sahara desert.
The cap is made of premium brown leather which is beautifully embossed with the same drawings as on the barrel. The clip has a yellow lacquered star on it. Furthermore, the cap top has a laser-engraved with a sentence from Le Petit Prince.
Being a Le Petit Prince edition, it "celebrates the power of imagination and the importance of transmitting ideas to our loved ones. The collection is inspired by the tender character of "Le Petit price" by Antoine de Saint-Exupery.".
This is a pen for someone who loves details and wants something that is sure to make an impression and stand out from the ordinary.
Weight: 14.4 ounces
Dimensions: 4.72 x 4.72 x 4.72 inches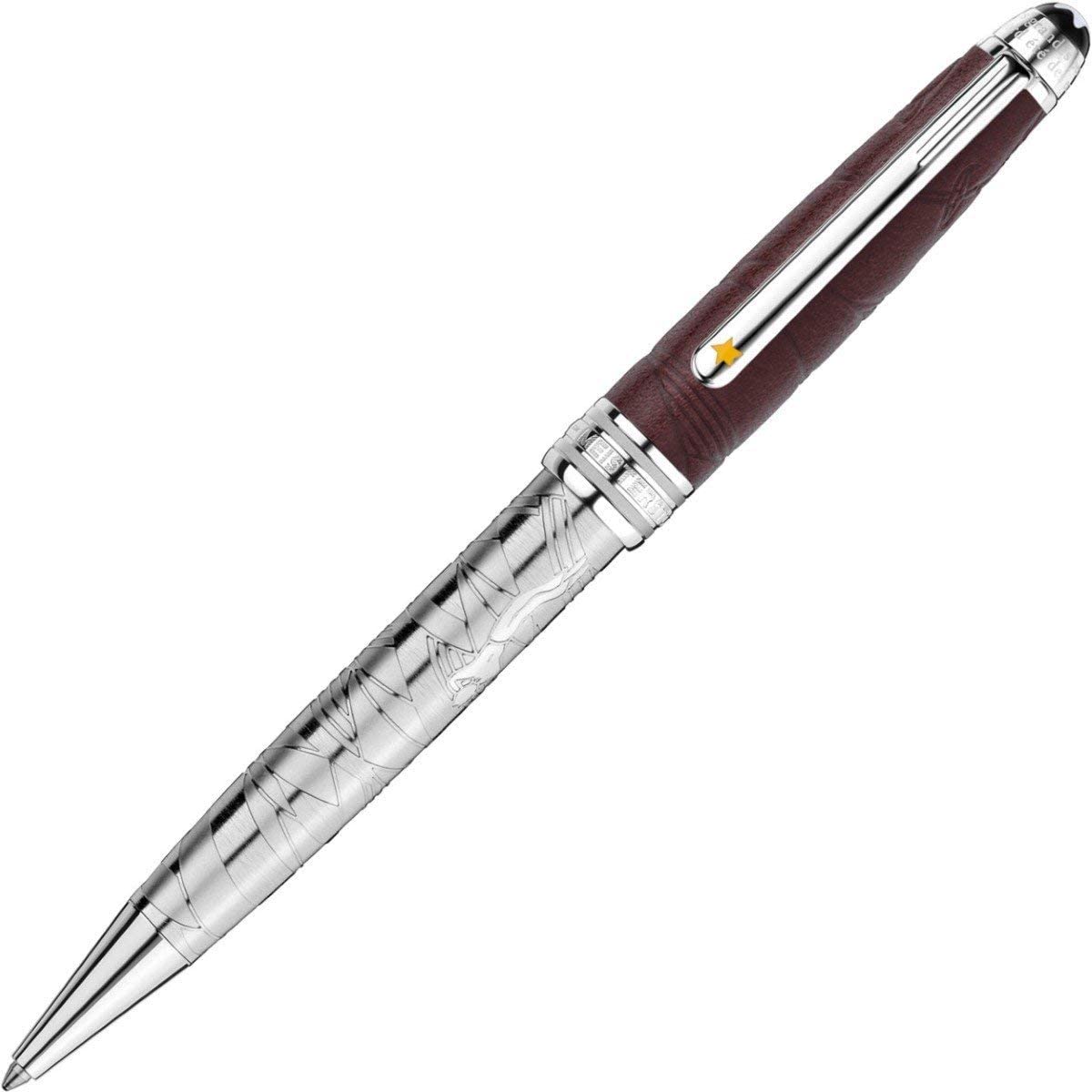 ---
Are Montblanc pens worth it?
The question of whether something is worth it or not always depends on how you perceive value and your own personal preferences. With this in mind, the answer is that it depends. If you just want a pen that you can write with, it is true that a $5 pen can do the exact same thing as a $500 dollar Montblanc pen. But luxury items usually come down to other factors, often tied to emotions and how they make us feel. And let's not forget the appreciation for quality and fine craftsmanship.
Most people would think it is absolutely insane to spend that kind of money on a pen when you can get something for just a few dollars that do the same thing. But oftentimes, when it comes to luxury objects, it's not about function, and it's not always rational. Whilst things like performance and comfort come into play, it's often about how something makes us feel, the joy it brings us, and how much we appreciate something.
Buying a Montblanc pen speaks volume about yourself, your character, and appreciation for quality and nice objects, but there is no denying that the quality, craftsmanship, and attention to detail is essentially unparalleled.
If you fail to see the value that this brings, then no, a Montblanc pen is definitely not worth it. But if you see value in all of these things and satisfy with nothing but the best, there is nothing like Montblanc.
Do Montblanc pens go up in value?
The fact of the matter is that whilst luxury items are extremely expensive in comparison to their affordable counterparts, luxury items often hold their value quite well. Much thanks to the reputation and by making their products so sought-after.
In general, we can therefore say that Montblanc tends to hold their value quite well, but when it comes to the question of whether or not Montblanc pens go up in value, this is usually not the case.
When something goes up in value, it is connected with increasing demand and usually limited availability. With that said, there are limited and special edition Montblanc pens that have proven to increase in value over time. Naturally, things like the condition of the pen also come into play.
In general, Montblanc pens do not necessarily go up in value, but they do tend to hold their value quite well. In the long term, however, there are more examples of Montblanc pens that have gone up in value, partially due to the increased price for new pens.
Why are Montblanc pens so expensive?
There are many reasons why Montblanc pens are so expensive. First and foremost, Montblanc pens are considered "the best" on the market. As such, you are also paying for the prestige and reputation that comes with them. Even though there are many other great alternatives on the market that offer better value for money if you factor in price, a lot of people will still want to opt for the best due to the prestige that comes with it.
As with all luxury products and all luxury brands, part of the price you pay is for the prestige, history, and reputation of that brand. But it's usually not just smoke and mirrors, because luxury items, like Montblanc pens, are often backed up with a long history of expertise, know-how, and exceptional quality.
When it comes to pen enthusiasts, in particular the fountain pen community, Montblanc pens split opinions. Some people absolutely love them, others feel that they are overpriced and that there are other alternatives on the market that offer better value for the money.
Marketing is always an important aspect of any luxury item as well since reputation and prestige are so closely associated with any luxury item. It's safe to say that Montblanc has done a great job of establishing a strong image of luxury and wealth that most other pen manufacturers can only dream of. You rarely see the famous luxury bloggers and similar use something else than Montblanc. This just emphasizes the idea of "the best or nothing" further.
History, prestige, and reputation
First off, Montblanc is a brand that has a long and rich history. Montblanc started out making pens in the early twentieth century and soon built a strong reputation for making high-quality pens. The company has been appreciated by kings and royalty, as well as other prominent individuals. It is the perfect testimony to exceptional products, and being the best in the game.
This contributes to putting Montblanc at the very top, and often the brand that comes first to mind when people think about luxury writing instruments, and that is definitely worth something.
High-quality premium materials
As mentioned, most luxury brands are not just smoke and mirrors. They're often backed by quality, performance, and the use of high-quality materials.
To ensure premium quality, feel, look, and impression, Montblanc puts great emphasis on the materials they use. Naturally, this also reflects the price of its products. Montblanc uses materials such as nitrocellulose and camphor resin and continues to invest resources into improving and refining the materials it uses for its pens.
Furthermore, its most luxurious options will use famously expensive materials like gold, platinum, etc, unlike other most affordable alternatives which stick to more affordable materials like steel or even plastic.
This pickiness of only choosing the best and most qualitative, exclusive materials naturally affects the pricing.
Craftsmanship & attention to detail
This is perhaps the most important aspect. Just like a luxury watch or a luxury handbag, a signature trait of any premium, quality, and luxury object is attention to detail and craftsmanship.
Montblanc puts great effort into the manufacturing process to make sure its products hold the highest possible standard. It's really the details that set average products apart from exceptional products, and this can really be seen in Montblanc's pens.
Montblanc has extremely high manufacturing standards, quality controls, and puts great effort into the details. To make them even more special, Montblanc often incorporates things like hand-engraved details. Montblanc does not just make pens, they make impressive pieces of art in a similar way as luxury watches, where each component works in harmony and is carefully thought out.
Rather than having a mass-produced machine-made pen with no sense of craftsmanship, each Montblanc fountain pen requires numerous hours of manual engraving, polishing, and a number of additional steps to achieve perfection. With this in mind, you're actually paying for something – not just the profit margins of the manufacturer.
How long do Montblanc pens last?
If looked after and taken good care of, Montblanc pens can last for generations. This is the beauty of premium, high-quality and luxury items, in the sense that they are not made to be used and then thrown away. They're meant to last for a long time and to be appreciated for many years.
It is however important to keep in mind that the life length of a Montblanc pen depends on the user. If the pen is taken good care of, you can expect it to last decades or even generations. This special trait in a luxury item like a Montblanc pen is something really impressive, and something that proves how many luxury items are not just unnecessary and superfluous, but also make sure that you are getting great value for money.
It's also important to keep in mind that the life length of your pen does not include the ink. For obvious reasons, your pen will run out of ink, or the ink may dry out, requiring you to change it on a regular basis, depending on how frequently you use it.
In particular, when it comes to fountain pens, maintenance and cleaning are really important to ensure that it is functioning properly and lasts for a long time.
How much does a Montblanc pen cost?
Montblanc pens vary a lot in price depending on the model, materials used, and design. Montblanc makes ultra-limited and highly exclusive pens that can cost more than 4000 dollars. The most affordable Montblanc pens cost around 200 dollars. Regardless if you spend 500 dollars or 5000 dollars, you can always expect quality and craftsmanship from Montblanc's writing instruments. The primary differences are often that the more expensive models use more premium materials such as platinum or real gold. In addition, they tend to have a greater level of attention to detail with intricate details such as engravings. The most affordable Montblanc pen on the market today is the Montblanc Pix, priced at roughly 300 dollars.
How do you store a Montblanc pen?
To make sure your pen lasts long and remains in good condition, you want to make sure that you take care of it well. An important aspect of this is how you store it. The ideal way to store your Montblanc pen is in a cool and dry place. You want to keep it away from extreme temperatures, either cot or hold, and from direct sunlight.
Montblanc advises that you store your Montblanc pen in a Montblanc pouch (but any pouch works) for protection.
How do you fill a MontBlanc pencil?
If you have a ballpoint or rollerball Montblanc pen, you need to replace the cartridge when the pen runs out of ink. Watch the video below on how to change the cartridge of your Montblanc pen.
If you have a fountain pen, it's a bit different (more on this further on).
How to take care of Montblanc fountain pen
Montblanc advises that you should clean your fountain pen approximately every three months to preserve its pristine condition. This is especially important if the ink has dried up as a result of lack of use. When the feeder system is blocked, you also need to clean it.
Montblanc recommends that you only use lukewarm water without any chemical products when cleaning your fountain pen.
You can avoid leakage of your fountain pen by keeping the pen fully filled with new ink and make sure to always store and carry the pen with the nib pointing upwards.
Furthermore, if you do not use your Montblanc pen for a long period of time, you should remove all the ink out of the fountain pen. In addition, if you do not plan to use the pen for a long period of time, you should remove all ink out of the fountain pen.
You can also refer to the detailed Montblanc service guide here.