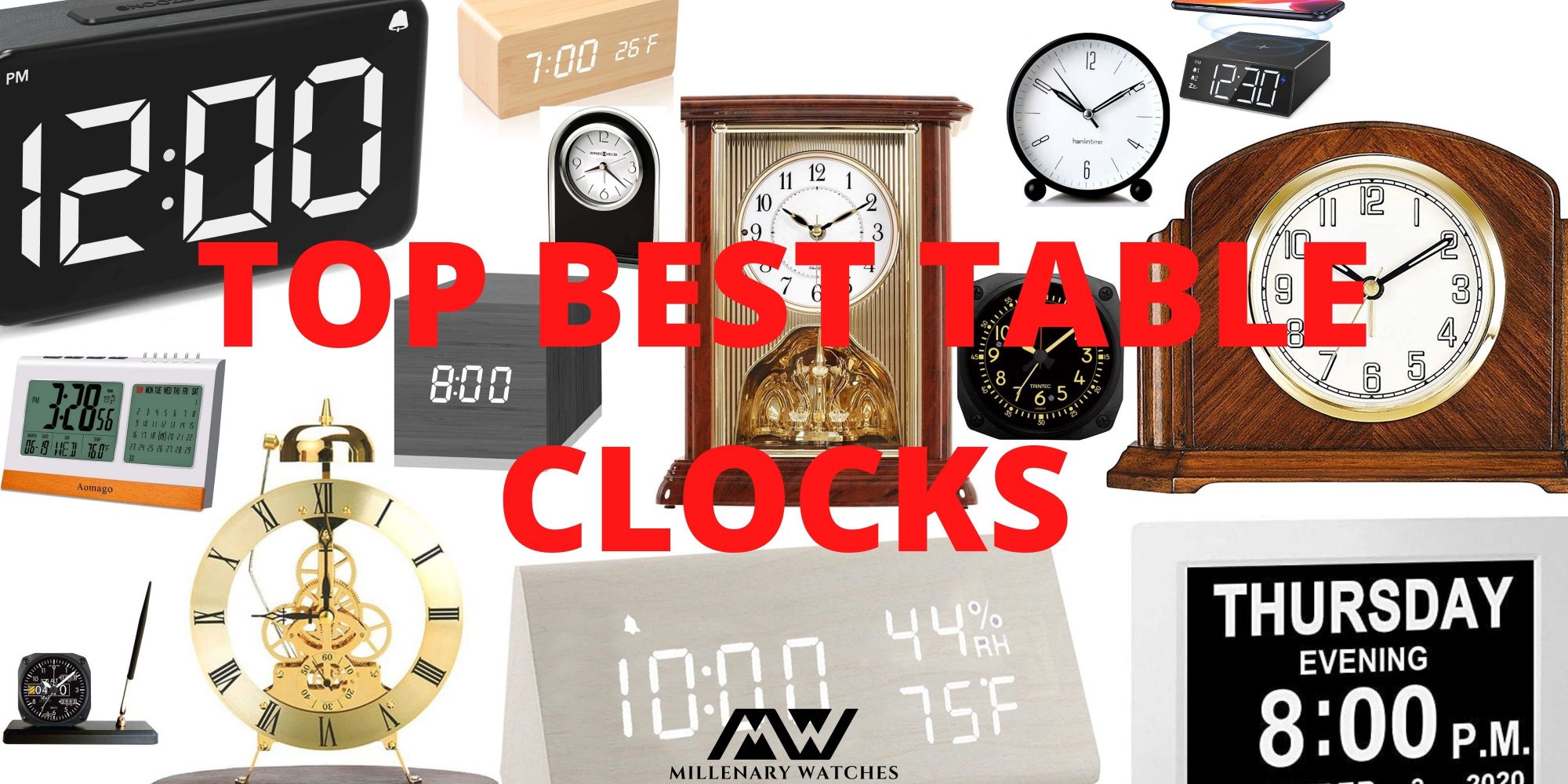 Top 18 Best Desk Clocks [Guide & Review]
Although we are mainly dedicated to wristwatches here at Millenary Watches, everyone needs at least one desk clock in their possession in our opinion. Desk clocks come in all kinds of different shapes and forms and can be a practical or stylish (or both) addition to your home or office.
So in this article, we'll go through everything you need to know about desk clocks, also known as table clocks, and list some of the most popular options on the market to help you find one that you like.
What is a desk clock?
A desk clock is, as the name suggests, a clock that you put on a desk.
The definition of the term "clock" is "a mechanical or electrical device for measuring time, indicating hours, minutes, and sometimes seconds by hands on a round dial or by displayed figures."
Unlike a wristwatch, you don't usually bring your desk clock with you, although there are travel clocks that come in a more compact format.
The benefit of a table clock is that it helps you keep track of time in an easy-to-read format. Table clocks are larger than wristwatches and therefore allow you to easily tell the time with just a glance. Because of the technical developments over the years, a ton of new and different table clocks have come to the market. With that said, you should be able to find one that suits your style, taste, preference, and needs.
Today, there are not only table clocks that display time, but there are also those that are packed with different functions such as alarms and reminders, the ability to connect to your smartphone, and much more.
So regardless of your needs, you should be able to find one for you.
Maybe you only want a simple and classic desk clock, or maybe you want a modern and technologically advanced clock. Or maybe you just want a stylish desk clock that works as a stylish interior detail to your home. With that said there is certainly one that can cater to your needs, and in this article, we'll go through all different types.
Which desk clock should you choose?
With the above in mind, there is literally an endless number of choices at your disposal. To help you find one you like, here are some important questions worth asking:
Do I want a mechanical, digital, or quartz desk clock?
Do I want to focus on design rather than function
Do I want to focus on function rather than form?
Do I want the table clock to work as a stylish interior detail?
What is my budget?
With these points, you'll be able to better define which desk clock suits your need the best.
Top Best Desk Clocks
As an Amazon Associate, we may earn from qualifying purchases, at no extra cost to you.
---
Trintec Aviation Desk Top Travel Alarm
This is a retro-inspired desk clock that is focused on design. It is designed like an aircraft clock which is a nice touch for those who enjoy aviation. The clock is made from a molded polystyrene case and is powered by an American-made quartz alarm clock movement. It is a stylish addition to any home which displays the time analog with classic seconds, minutes, and hour hands. For practicality, the clock also has an alarm function.
Specifications
Alarm function
Made in a polystyrene case.
Stylish retro-inspired aircraft design
Powered by an American-made Quartz Alarm Clock Movement.
Dimensions: 3.5″ x 3.5″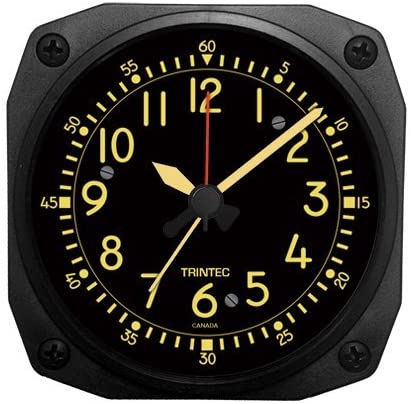 ---
Howard Miller Ebony Luster desk clock
This is a sleek, modern, and classical analog desk clock that displays the time with regular hands. It has a mirrored edge and base as well as a black glass construction. This desk clock also features an alarm function and I powered by a battery-operated quartz movement. This is perfect if you want a table clock that isn't over the top but just has a simple and discreet design that blends into your home. On top of the clock face is a glass crystal.
Specifications
Quartz movement powered by one aa battery
Alarm function
Glass crystal
The clock has a black glass construction
Height 6. 25″ (16 cm)
Width 5″ (13 cm)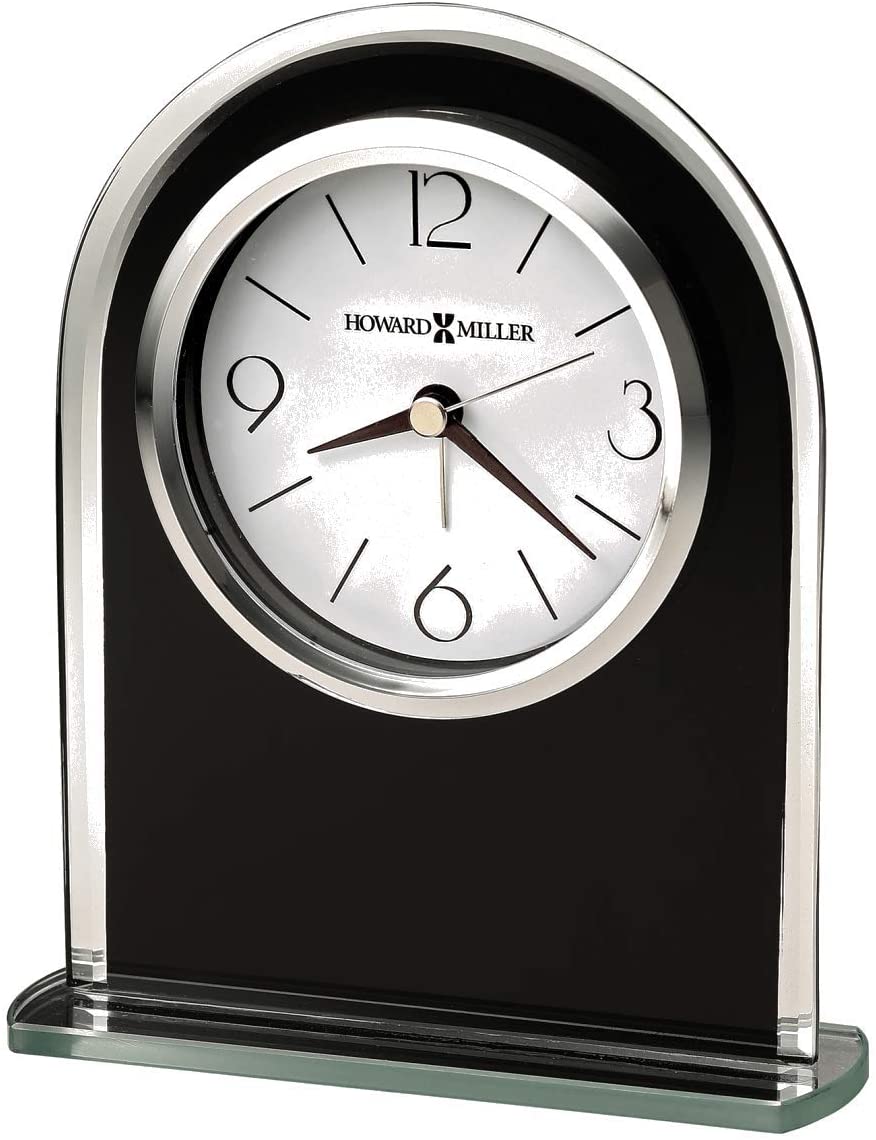 ---
Trintec 2060 Series NV Aviation Altimeter Desk Pen Set with Alarm Clock
This is not only a table clock but a stylish interior accessory for men who love cool stuff and gadgets.
This table clock has an unmistakable aviation-inspired design and appears just like the real thing. What makes it even nicer is that It stands on a stone plate on which a pen holder is attached. This gives it a really luxurious look. Placing this on your office table does therefore not only allow you to read the time in a stylish way, but also to have access to a pen that is elegantly presented for you. It also features an alarm function.
Specifications
Clock made in a polystyrene case
Stone base with pen holder
Powered by an American made Quartz Alarm Clock Movement
Alarm: 3.5 inches x 3.5 inches
Base: 2 1/8 inches x 7.25 inches

---
Digital Alarm Clock with Wireless Charging
The first digital table clock in this article is this wireless digital alarm clock with a LED display and tons of useful functions. This is a table clock that has a lot to offer in terms of functions, not to mention the built-in wireless charging station which charges your phone by placing it on top of the clock. It supports all QI-enabled devices. This is both practical and handy.
The desk clock is very modern and comes with 4 brightness levels which allow you to adjust it according to your needs. It also gives the possibility to turn off the light completely.
It is designed to be easy to operate and therefore only has two buttons. The button at the top of the alarm clock allows you to adjust the snooze, light, and LED light brightness. If you press the snooze button, you get 9 minutes. If you press and hold for 3 seconds, you turn off the alarm. It has a large LED display which makes it easy to read the time.
Regardless if you wish to use this as a night table clock or somewhere in your home, it is a really practical and handy alarm desk clock.
Specifications
Wireless charging
4 brightness levels
2 Alarms
Snooze
light-button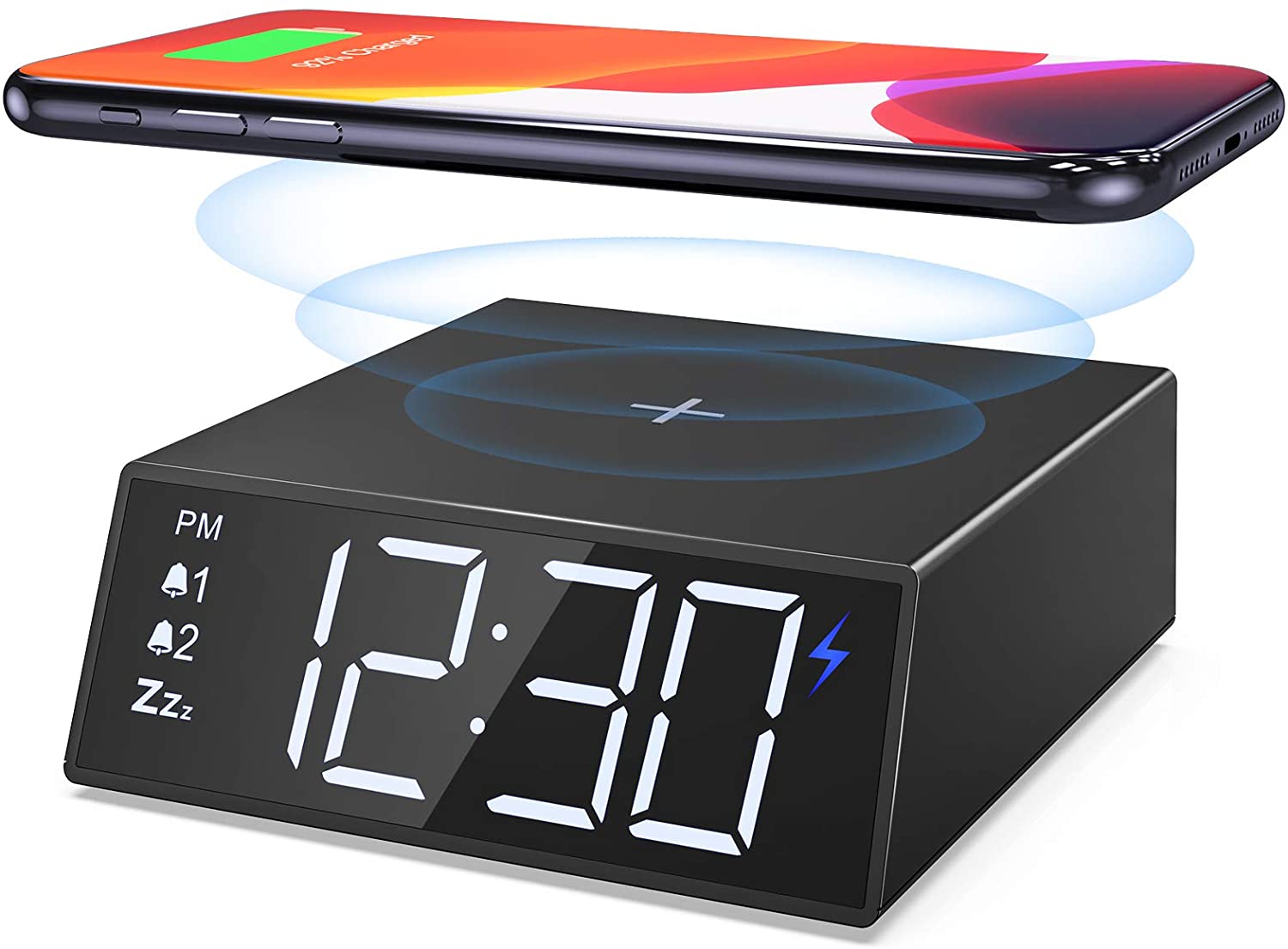 ---
Aomago

Digital Alarm desk clock
This modern digital alarm clock is packed with functions. It has a digital calendar that displays the date, month, and day. It is most popular amongst families or those with a lot going on. Furthermore, it also displays room temperature. The built-in alarm functions are loud and sure to be heard. It is powered by 3 included AAA batteries.
Specifications
date, month, and day display
room temperature
alarms
snooze
temperature indicator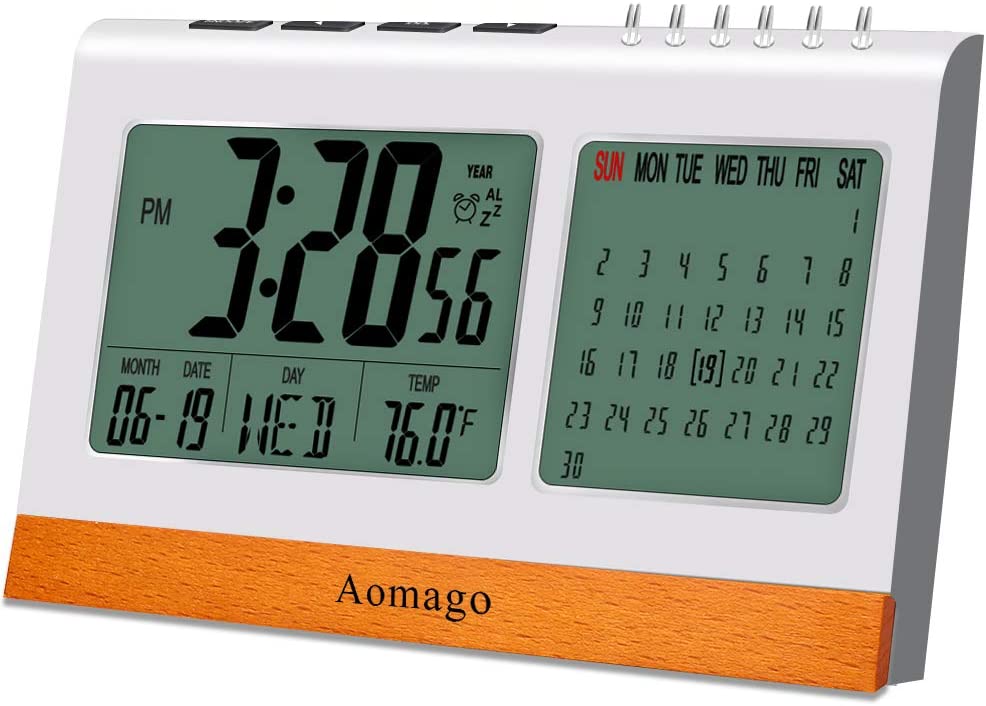 ---
ACSTEP Digital Alarm Clock
This sleek and modern alarm desk clock is not only a functional piece of accessory, but it is also a nice interior detail to a home. Unlike some other clocks, its discreet design blends in really well, and the fact that it does not have an open display makes it even more seamless.
The alarm clock is a multi-function alarm with three alarm clock functions. To set an alarm, you press and hold "SET" for 3 seconds and then enter the setting mode according to your needs. It also has 3 levels of brightness so you can adjust it depending on the time and where you have it. It also has energy-saving functions.
Specifications
Stylish and modern wooden design
3 alarm settings
3 brightness levels
energy-saving functions

---
Digital Alarm Clock with Wooden Electronic LED Time Display Cube Design
For a digital desk clock, this is definitely one of our favorites. It is designed in the shape of a cube and has a wooden finish. With that said, it appears very modern and elegant and will blend into any home. Because it does not have a bright and distinct LCD screen which sometimes can be rather unappealing, it will work perfectly as stylish interior decor.
The alarm clock has 3 alarms with individual settings. This allows you to set weekday mode, so it only alarms during the weekdays. It has adjustable brightness which enables you to adjust the brightness from low to high.
Specifications
Stylish and modern wooden design with a discreetly integrated time display
3 alarm settings
Adjustable brightness
Easy to set up
Powered by a USB or barrel power cord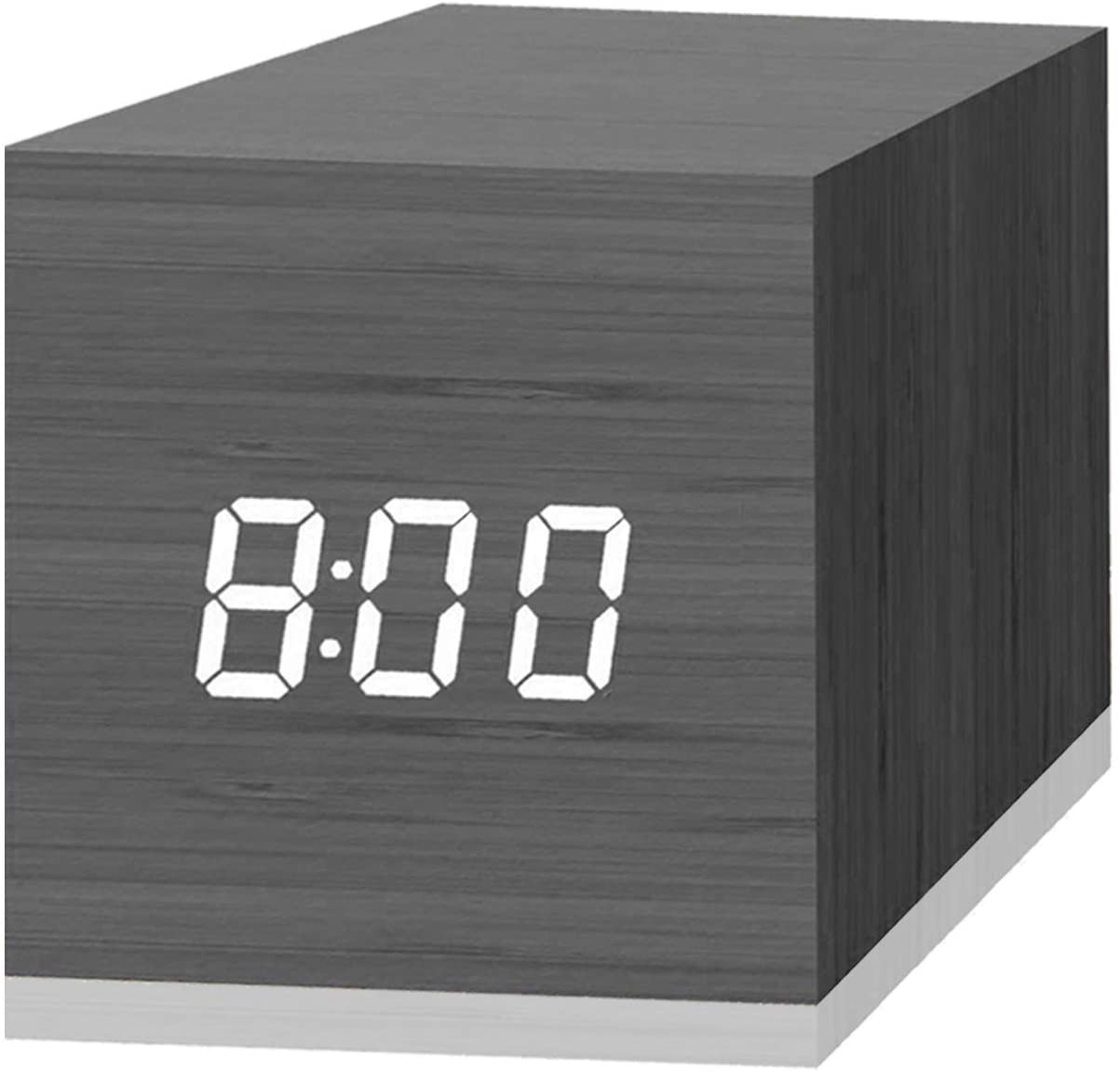 ---
Snifu Analog desk Alarm Clock
This classic and simple analog alarm clock has a simple design that doesn't stand out from the ordinary, whilst still appearing modern with its monochrome look. In that sense, it will work as a complementing interior decor accessory without stealing the show.
It is made in a metal casing and powered by 2 AA batteries. It has a silent sweeping seconds hand and does not have an annoying tick sound that some desk clocks can emit. For convenience, it also has an LED night light for legibility in the dark. The dial lights up by pressing the button on the back and it lights up for 3 seconds. The large hands and markers make it easy to read.
This desk clock has individual alarm & clock time setting knobs and an alarm switch
Specifications
Dimensions: 100*110*50mm
A night light that lights up for 3 seconds for legibility in the dark.
individual alarm & clock time setting knobs
Alarm switch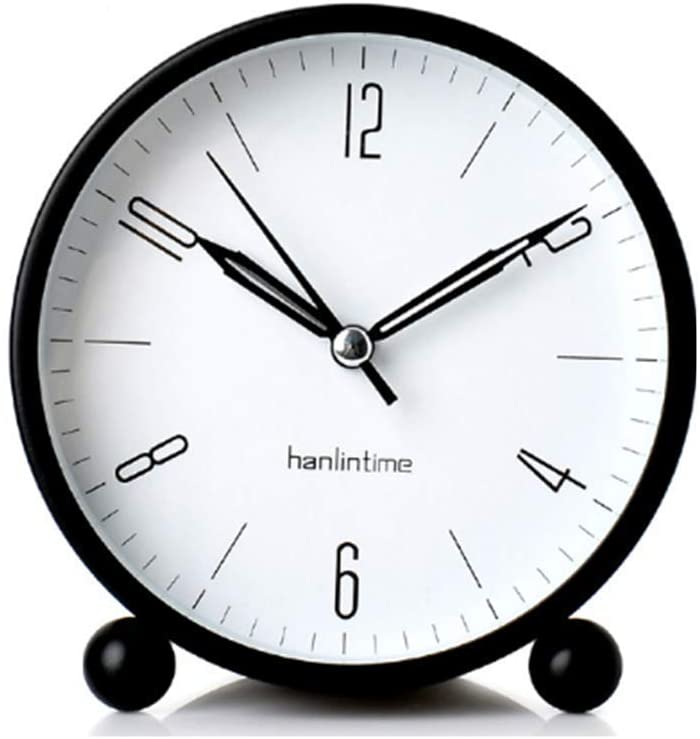 ---
Digital Alarm Clock in wood
This modern digital desk clock has a sleek rectangular shape and is designed to display the time clearly. This is why the digital time display covers the whole front face of the clock. With its refined and clean design without a visible screen, it will blend in very well and looks like a stylish speaker. It has a modern wood grain finish.
It is equipped with a simple alarm clock with intuitive settings. You also have the opportunity to adjust the brightness in 6 levels where the last level is completely off. For easy access, it has a big snooze button at the top. It comes with a snooze function which gives you 9 additional minutes.
Specifications
Intuitive buttons
Adjustable brightness – 6 levels
Big snooze button
Alarm function
Snooze function
Works with both 12/24 H

---
Digital Wooden Alarm Clock
If you are looking for a stylish and modern desk clock that is packed with functions, this is definitely a good choice.
First and foremost, it has a really nice and modern design with a triangle shape, made to appear very minimalistic and refined. It is finished with grained light wood.
The clock has 3 alarm settings so different people can set alarms according to their needs. You can also adjust if it shall be activated on the weekends or only on the weekdays. It has a brightness setting so you can adjust its brightness as well as a very practical thermometer and humidity indicator which are indicated on the screen. Both the temperature and the humidity are detected with the sensor automatically.
Specifications
3 alarm settings
Weekday alarm setting
Brightness setting
Thermometer
Humidity indicator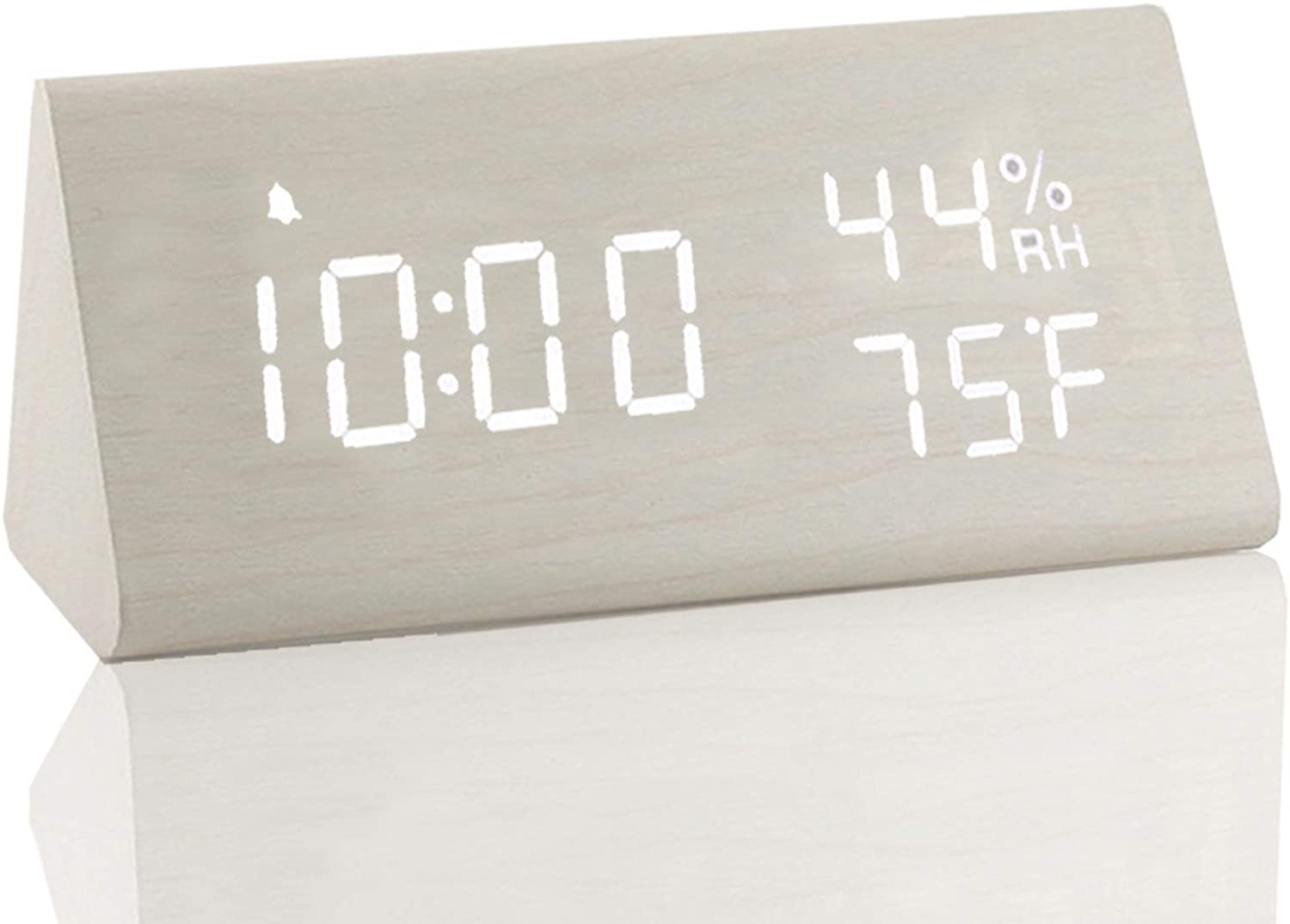 ---
LE'RAZE Grandfather table ClockHand Painted Mahogany Wood
This is not just a desk clock/table clock, but also a beautiful piece of art that will work as stunning interior detail. It has a vintage-inspired design with a pendulum and an analog clock at the top. It is finished in luxurious mahogany wood which gives it a very elegant and refined look. This clock is all about design and looking great inside your home. The gold-colored pendulum and metal decorations give it an exceptionally striking look.
The clock is powered by a quartz movement.
If you want a desk clock that isn't just a clock but also a beautiful home decor accessory, this is definitely a good choice.
Specifications
Dimensions: 15″H 10″W 4″ 4.2″

quartz movement
striking mahogany wood design with gold-colored accents
gold pendulum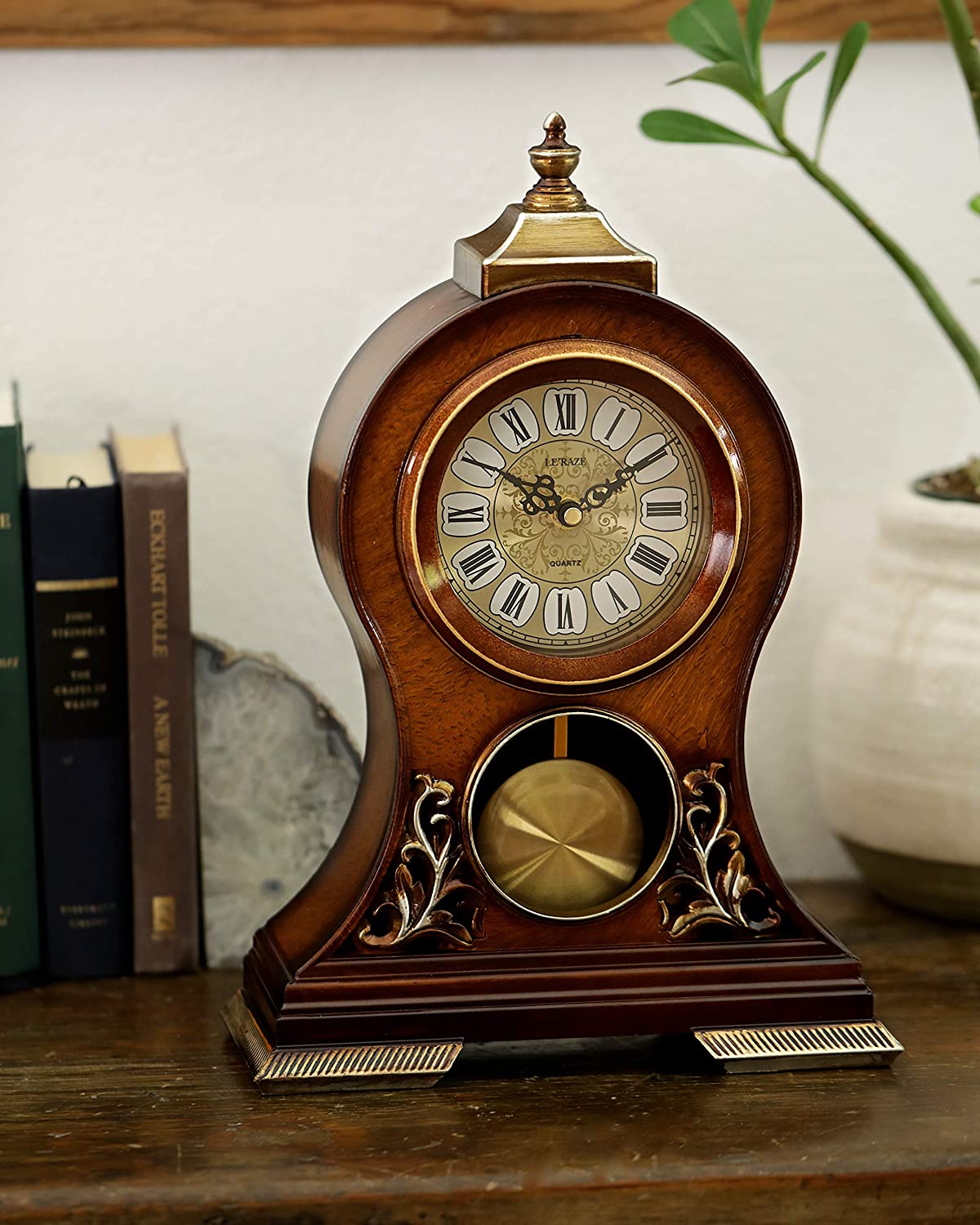 ---
Digital Calendar Alarm Clock
This modern desk/wall clock has a modern design in the form of a large screen display (8 inches) with high resolution. This screen displays the date, month, and time. It has multiple alarms with 2-5 alarm settings available. For convenience, it dims at 7 pm and brightens at 7 am but you also have the ability to turn off the auto-dimming function.
Legibility is key to this digital desk clock and it clearly presents the key information you may need.
Specifications
date, month, year, and time
Auto-dimming function
Large 8-inch screen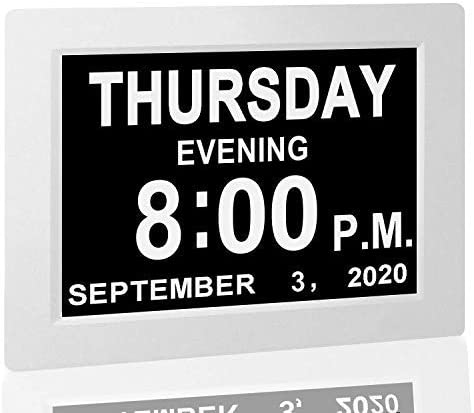 ---
LXD Alarm Clock
This very cool and modern-looking desk clock is presented in the form of a large screen. It has high brightness but also three display brightness modes. This makes it easy to read the time if you are looking for a desk clock that just gives you the most important information easily and quickly.
It is also equipped with an alarm function with snooze.
Specifications
Large screen
Brightness modes
Alarm function with snooze
Diameter: 158mm
Length: 158mm
Width: 77mm

---
Kuku Ornaments Luxury desk Clock
This beautiful desk clock is a favorite among us. It combines classic design elements, premium materials, and an overall very luxurious appearance. It is a real work of art, where should we even begin?
First off, it has a beautiful brass design with a round foot, partially made in real marble. The actual analog clock is elegantly held with a brass-colored metal holder. What is special about the clock is that it has a glass front and back allowing you to see straight through it, but also to see the clockwork inside. It also has a 60-second sub-counter placed on the dial.
All in all, we couldn't recommend this desk clock more, not only because it is practical, but most importantly because of its beautiful design which will truly look amazing in any home.
Specifications
Luxurious materials including white marble
A stunning luxurious design that makes it a true work of art and a perfect interior decoration
Dimensions: 12 * 29cm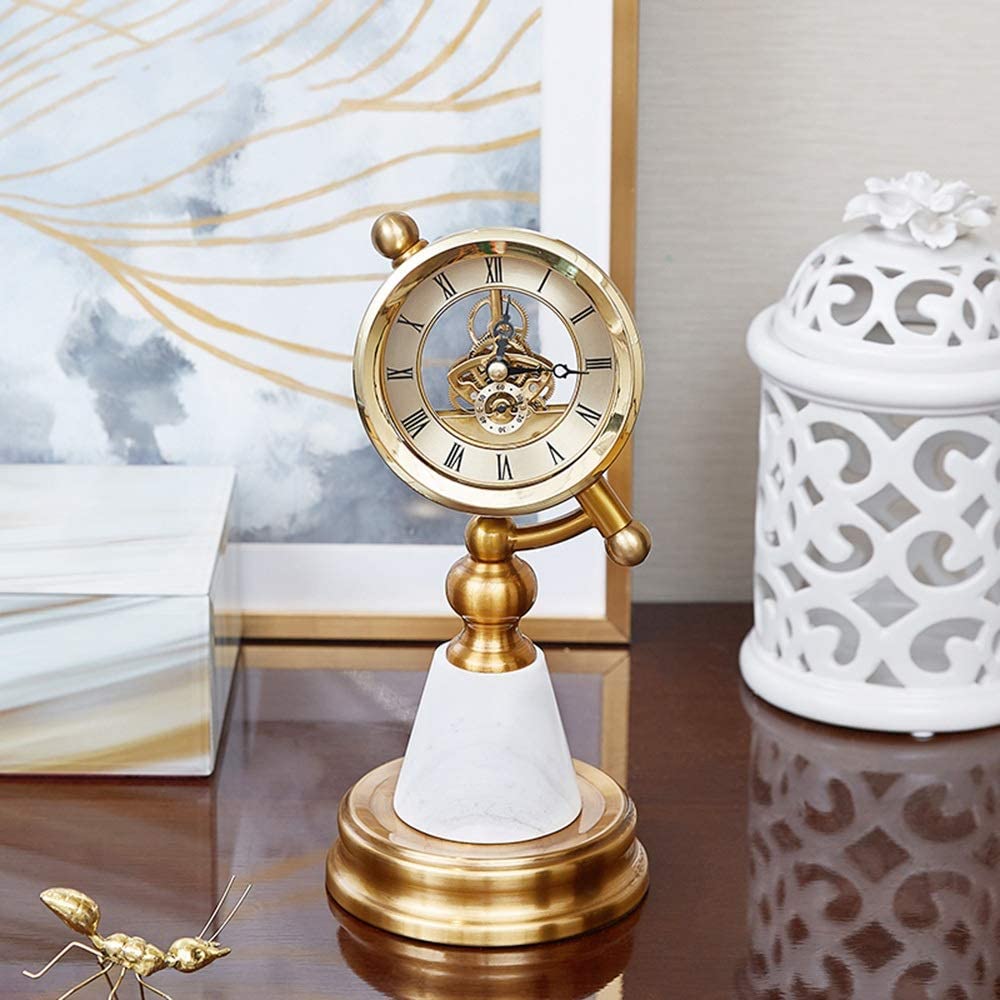 ---
Luxurious traditional desk clock
This is a very interesting desk clock that stands out from the ordinary. It also has a focus on design and elegance which makes it a great interior decoration as well. Finished in a gold/brass design, it appears very exclusive and exclusive. The open construction allows you to see the clockwork inside which is a really nice detail. It is powered by a high-precision quartz movement. The clock on the top is for the alarm, and this is a very interesting (and traditional) way of activating the alarm. For a vintage and elegant touch to your home, this is perfect.
Specifications
Powered by a high-precision quartz movement
Size: 12 inches
Elegant and luxurious design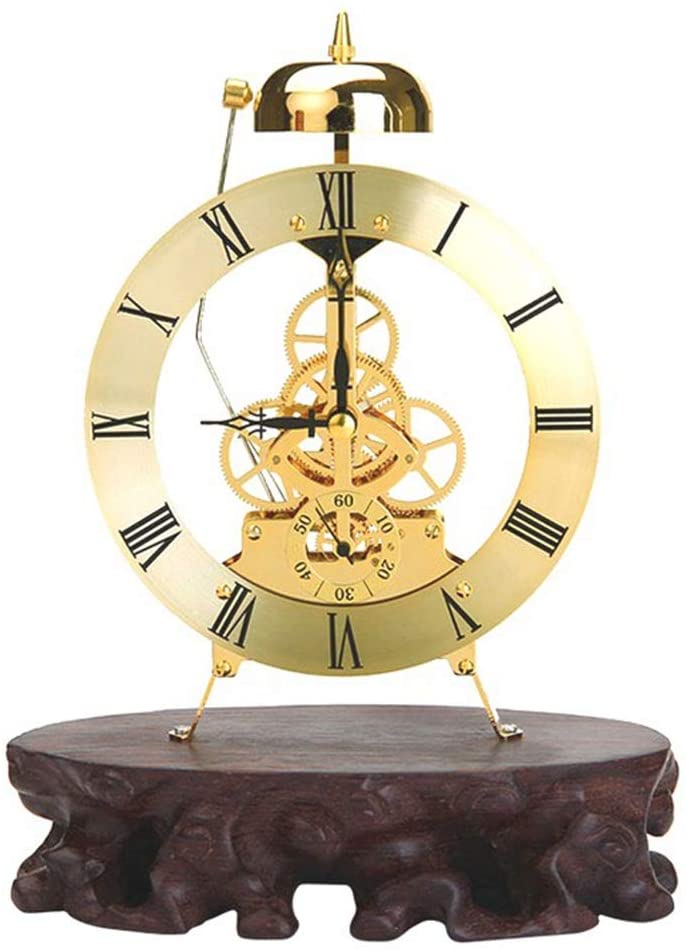 ---
Decor classic desk table clock in wood
Not only is this desk clock extremely beautiful, but it is also practical. First and foremost, it has a traditional design that is extremely beautiful and stands out from the ordinary. This is not only a clock but also an elegant interior decoration. The clock will play ringtones every hour to report the time to you. In addition, with the light sensor control, it can stop the alarm when it is dark. It has 12 music ringtones.
It is sure to catch people's attention and complement your home in a great way.
Specifications
Light sensor control
Beautiful, elegant, and luxurious design
Wood finish
Gold-colored accents
Mirror material: glass
quartz movement
Battery-powered
Frame Material: ABS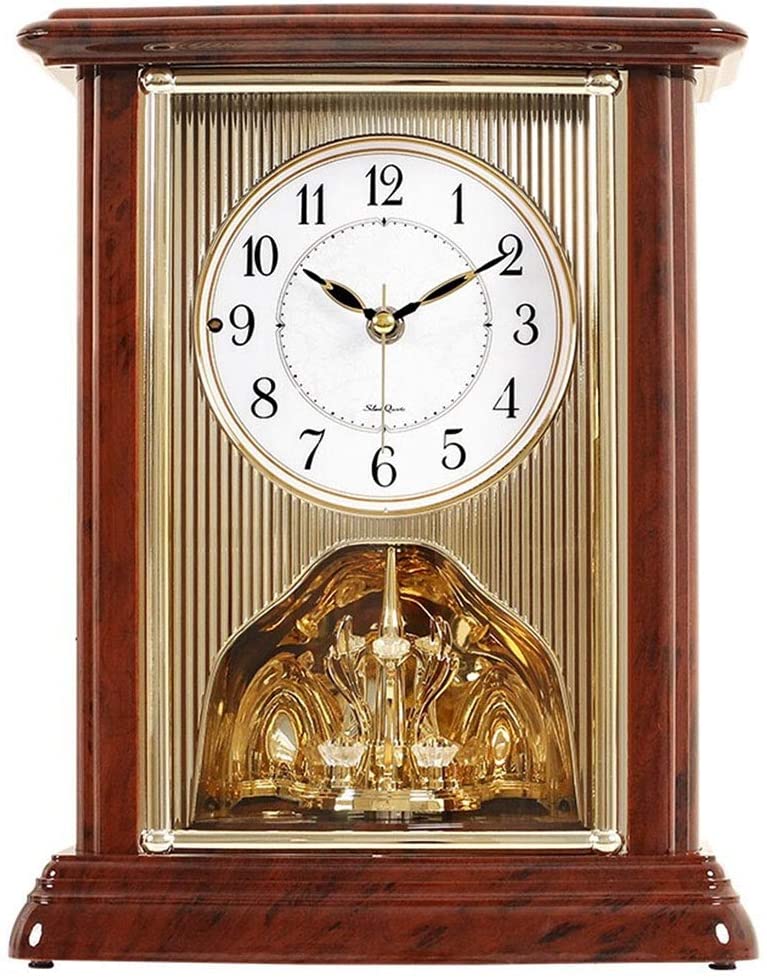 ---
XH&XH Dark Brown Desk Clock
This modern, sleek, and classic desk alarm clock is a stylish interior decoration and a practical tool. Whilst it displays the time and works as an alarm clock, it is a great decoration for any desk and home. The time is displayed analog and has good legibility with a white background and contrasting black hands and markers. You have the possibility to adjust the time and the sound of the alarm.
For improved legibility, it also has fluorescent hands and numbers. If you want a traditional analog desk clock with a stylish design that also works as interior decor, this is a great choice.
It has a classic solid wood construction which gives a robust and vintage look. The additional small hand is for the alarm.
Specifications
fluorescent hands and numbers for improved legibility
Made in solid luxurious wood
dimensions: 12.8 × 18.6 × 5.4 cm
Analog time
Alarm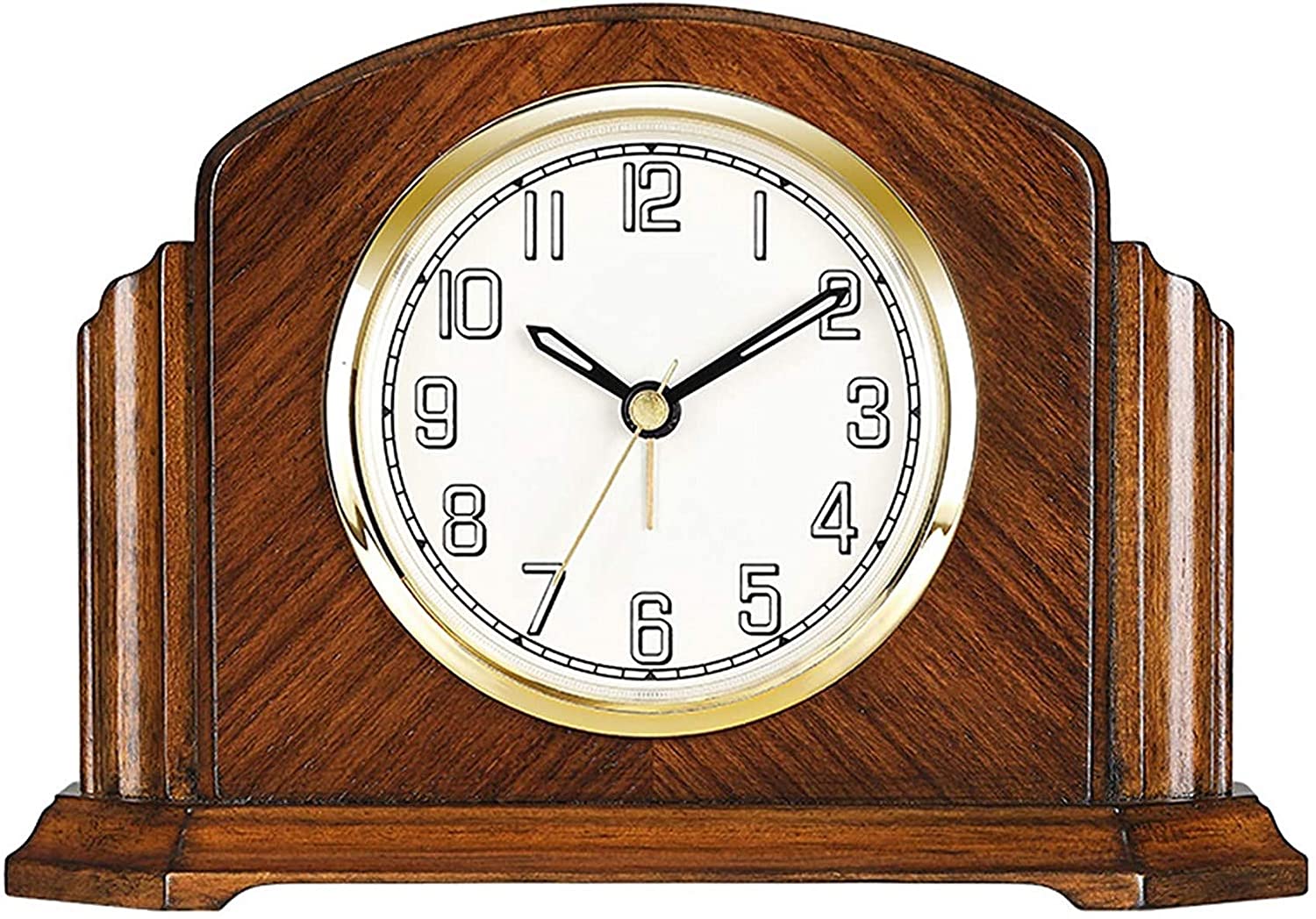 ---
Alarm Digital Wooden Triangle Desk Alarm Clock
This beautiful desk table alarm clock combines elegance and a sleek design with modern lines. It has a modern triangle design and is made in real wood, giving it a luxurious appearance that also blends into any home and works as a nice interior decoration. It is a multi-function clock with alarm settings, humidity, and temperature indicator apart from the regular time display.
This clever clock also has a voice mode so that with noise such as clapping your hands, you can wake it up. The clock has 3 different alarms. Thanks to the brightness adjuster, you can adjust the brightness to 3 levels – bright/medium/dim according to your needs.
Specifications
Dimensions: 15 * 8 * 7cm / 5.9 * 3.1 * 2.8″
Sleek and modern wood construction
Voice mode
3 alarms
12/24 hour time indicator
temperature(℃/℉) display
Humidity display
Brightness adjuster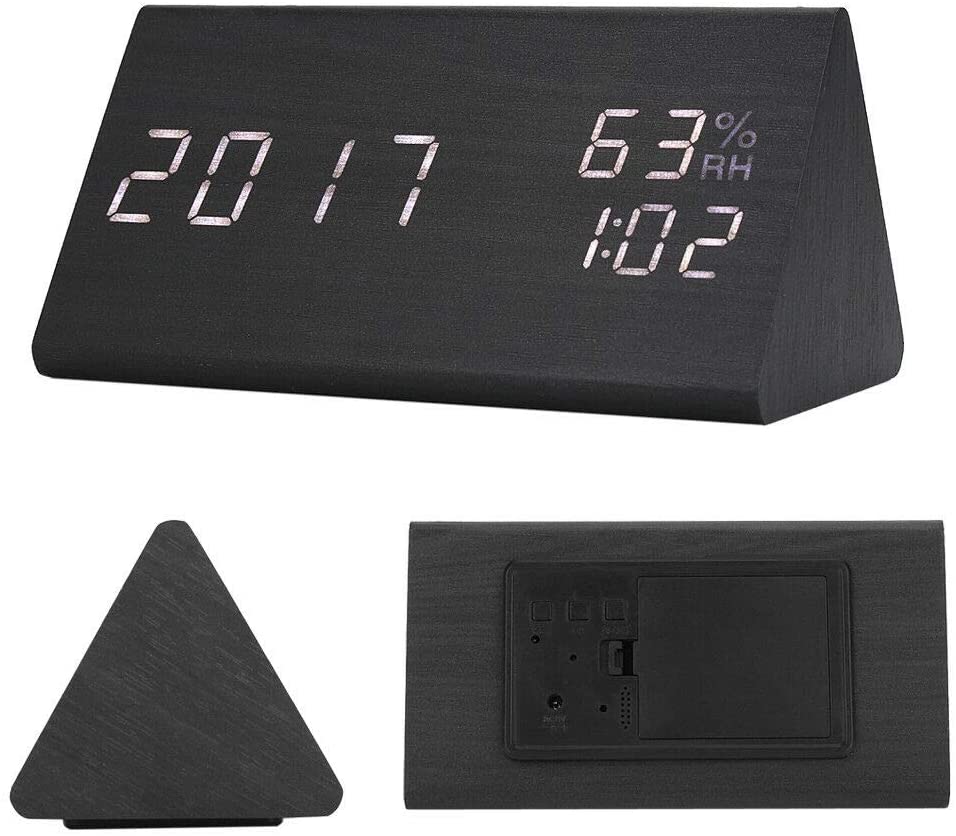 ---
Desk clock buyer's guide
We have already gone through some of the most basic things you need to consider when buying a desk clock to find the one that suits your taste and preferences the best. But let's look closer at what you need to consider when buying a desk clock.
Digital or analog?
There are both digital and analog desk clocks on the market. Naturally, analog desk clocks give a more classic impression than digital, but in general, digital desk clocks incorporate more functions and features. In some cases, it may be easier and more convenient to read the time with a digital clock that glows, whereas an analog clock may only have luminescent material on the hands. Whilst an analog clock may be a better alternative for those who appreciate watches and watchmaking, an analog desk clock may be more practical.
Functions?
As you have seen above, there are desk clocks that come with all kinds of different functions and features. Some are more classic and feature nothing more than time. Others are far more advanced and incorporate phone chargers, alarms, date, day, and much more. With this said, you should think about the functions you want and need in your desk clock. Do you prefer a more simple desk clock with nothing more than the date, or do you need things like an alarm? Defining your needs will help you narrow down the alternatives and find the perfect desk clocks for your needs.
Style and design
When it comes to desk clocks, you have, on one hand, ultra-modern desk clocks, and on the other hand, vintage-inspired classical desk clocks. Both of these types exist for a reason, and which you choose depends on your preferences. To a great extent, a desk clock is a form of interior decor in your home. With that in mind, you want to think about how well the desk clock blends into the rest of your home. If your home has a classic style with old furniture, it will likely make more sense to opt for a more classic desk clock.
On the other hand, if you have designed your home to have a minimalistic, modern style, a modern desk clock with a sleek design will likely blend in better into the overall style. Therefore, in making your choice, your home interior is something that should be taken into account.
Are digital desk clocks better?
As you can see based on what we discussed above, there is no right or wrong answer. Ultimately, it comes down to your needs and preferences. From a functional standpoint, digital desk clocks are better as they have the ability to be more advanced and incorporate more functions. But if you don't care about functions, they're not necessarily better.
Digital clocks do, however, offer some benefits over analog clocks in terms of practicality and functionality, including:
Better legibility
More functions
Additional features
What is the best desk clock?
The same answer applies here. The best desk clock for one person may not be the best desk clock for someone else. It's important to consider things like your home interior, needs, and preferences in order to find the best desk clock for your needs. All of the desk clocks in this list are some of the most popular and thus best from that aspect, but to suit everyone's tastes, we have included all kinds of different desk clocks, both analog and digital.
Why is it easier to read a digital clock?
First and foremost, digital watches are easier to read due to the fact that they are lit up and thus offer great legibility in any condition, including pitch-black surroundings. In addition, digital clocks normally use a 24-hour clock and therefore tell you if it is night or day, unlike an analog clock. Furthermore, digital clocks are almost always more accurate than their analog counterparts.