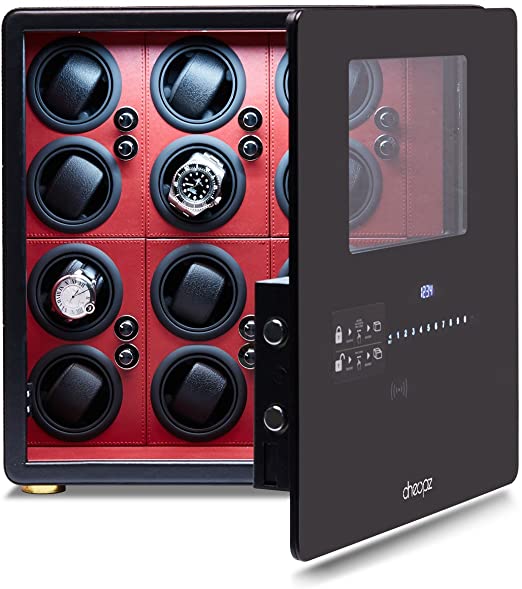 Top Watch Winder Safes (safes with built-in watch winders)
A watch winder is a really handy tool for automatic watches. In particular, if you have multiple of them. An automatic watch is equipped with a rotor inside, which rotates as you wear the watch, which then winds the movement and gives power to the mainspring so that it can operate.
But different watches have different power reserves – often between 24 and 50+ hours or so. With that said, after this, the power has run out, which causes the movement to stop. If you don't wear your watch before it stops, you will therefore have to set the watch when it is time to use it again.
But there is a good solution for this and it is called a watch winder. A watch winder keeps your watch wound when you are not using it, as the pillows rotate and spin, causing the rotor to spin as well. This prevents the watches from running out of power and stopping, so your watches are always ready to go when you want to wear them.
But whilst a watch winder is really handy, you may also want to have a safe to keep your watches protected. Having a safe makes sure your watch is protected and locked in, preventing theft and access from unwanted people.
So what if you could combine a watch winder and a safe so you can keep the watches safe, but at the same time always keep them running? The good news is that you can. And it is called a watch winder safe. Since watch winder safes have both of these things, they tend to be rather pricey, compared to a regular safe, or a regular winder, but the functionality of these is extremely good, and they are really convenient to use. Which means they may just be worth it.
Below, we have listed our favorite watch winders safe that combine the best of both worlds. Safety with functionality.
Top watch winder safes
---
Cheopz Safe Watch Winder Box for 12 Automatic Watches
This Cheopz watch winder safe is both good-looking, practical, and safe.
It offers strong security due to its 18mm explosion-proof glass viewing window, which also allows you to see the watches inside. It has dual door locking bolts & a pry-resistant hinge bar. It is also equipped with an intelligent detector alarm system. The safe is easy to mount to the wall or floor thanks to pre-drilled holes, which adds additional safety.
The safe is also equipped with a watch winder, powered by Japanese motors. It can rotate 12 automatic watches and has foam cushions. The winder has 4 different rotation modes for each watch holder setting.
It has an LCD touch panel and LED light so you can operate the winder with the touch panel on the safe door.
Furthermore, it has a programmable electric lock with a 1-10 digit code which provides easy personal access to your watches. It also comes with 2 override keys.
The watch winder safe is also a nice addition to your home interior as it is handmade with a high-quality black microfiber leather exterior and red microfiber leather interior.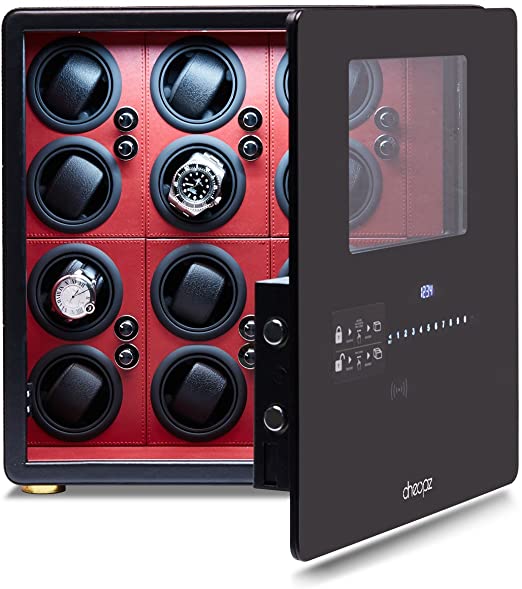 ---
BlumSafe Watch Winder Wall Safe (12 Winders)
The BlumSafe watch winder wall safe is a winder and safe combined. It also features a drawer/base which allows for storing other items as well. The safe is opened with an advanced 500 DPI optical fingerprint with a 4-8 digit code or key opening system.
If you leave the door unlocked, it will alert you to sounds.
For additional safety, it can be mounted to the wall. It is equipped with a BOXY Brick modular winder system as well as a bio-metric fingerprint/keypad lock system.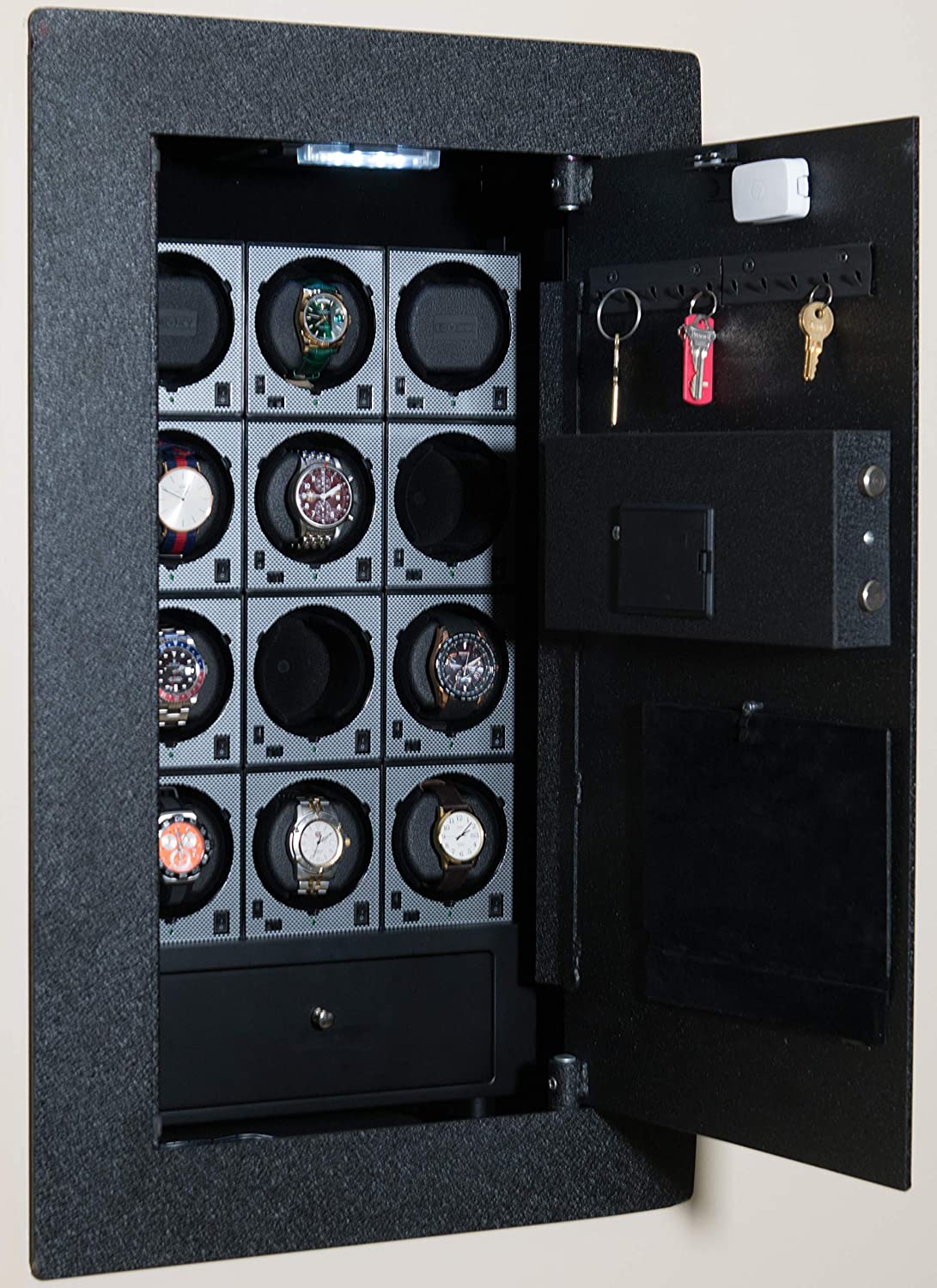 ---
Orbita WallSafe 6 Watch Winder Safe W21700
The Orbita Wall safe watch winder is made in the USA and can wind up to six watches. It has a solid steel construction with a fold-down door. The winder is powered by long-life lithium batteries.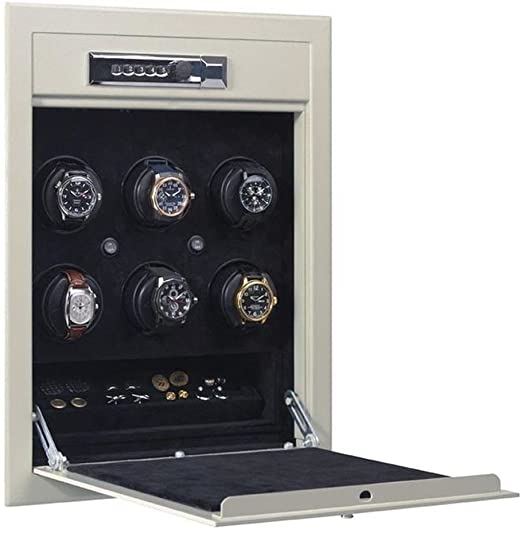 ---
LOEAPEA Automatic Watch Winder Safe Box for 12 Watches
The Loupe watch winder safe is a great choice if you are looking to store and wind a lot of watches since this one can wind up to 12. It has strong security thanks to the solid steel construction and 18mm explosion-proof glass window. The door has dual locking bolts as well as a pry-resistant hinge bar. For additional safety, it is easy to mount to the wall or floor with pre-drilled holes in the safe.
The winder is powered by Japanese motors which operate silently. The LCD touch display allows you to control the winder and its settings. To open and lock, it has a customizable 1-10 digit code and includes 2 additional keys.
The safe is quite similar to the Cheopz watch safe mentioned above but slightly different in design. Therefore, you can choose the one you think looks the best.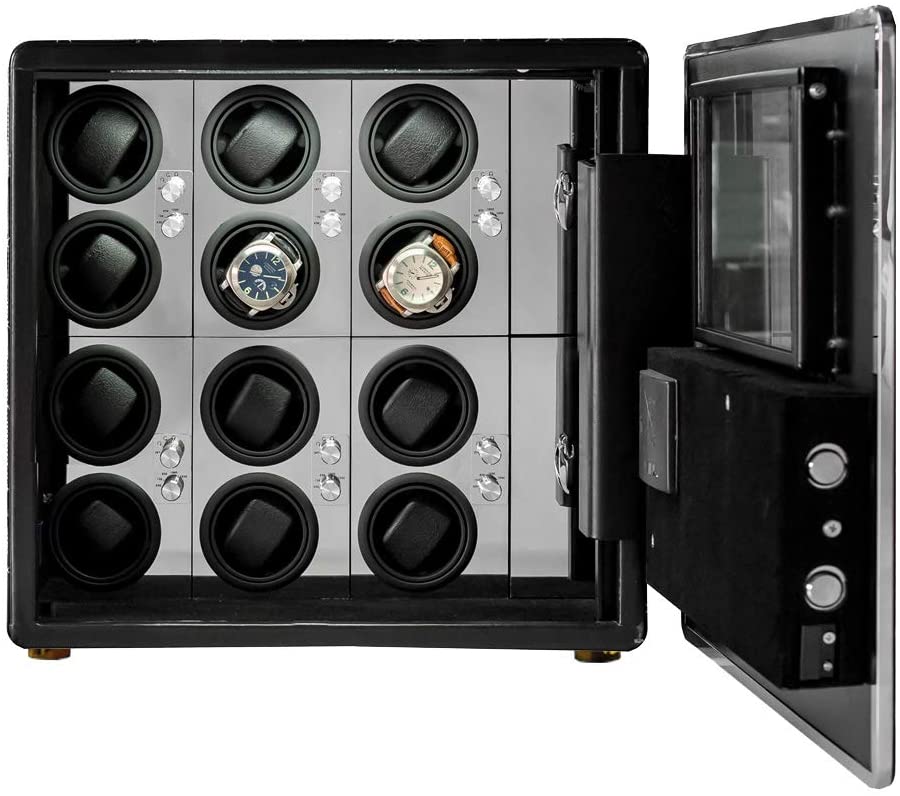 ---
Barrington Automatic Watch Winder Box for 12 Watches
This watch safe winder from Barrington can wind up to 12 watches with its 12 individually programmable rotors. The safe is made from steel and tempered glass but covered in leather-effect cladding which makes for a more stylish and elegant design. The ultra-quiet Japanese Mabuchi motors keep the safe from emitting disturbing noise.
You access it using a 4-digit PIN code and/or electronic access card. For additional safety, it has an alarm for repeated incorrect codes and a motion detector alarm. Barrington is a company that specializes in functional, and stylish watch winders. With that said, you get a qualitative and stylish watch safe and winder that can also work as a great interior detail to your home.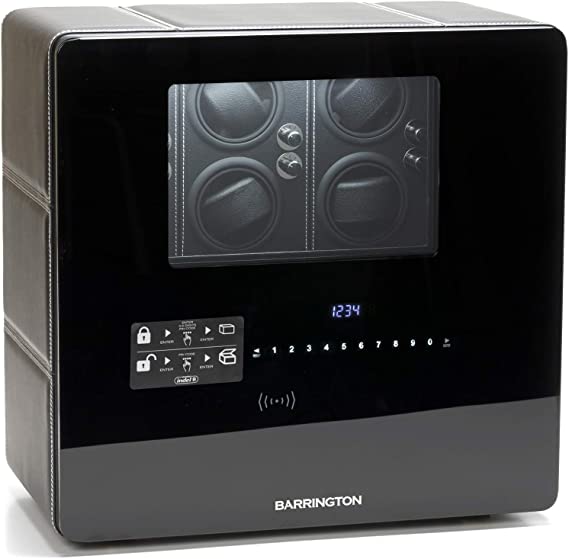 ---
Watch Winder Security Safe for Automatic Watches
This is a watch winder security safe that features two locking bolts, hidden hinges, and a digital lock.
The safe has a LED interior backlight which is automatically activated when you open the door, to allow for better visibility.
The rotors are programmed individually and can be set up for any of the 15 available winding programs. It is operated by the touch control panel, and the LCD screen displays information about the winding program. The safe has PU faux leather detailing for a sleek look.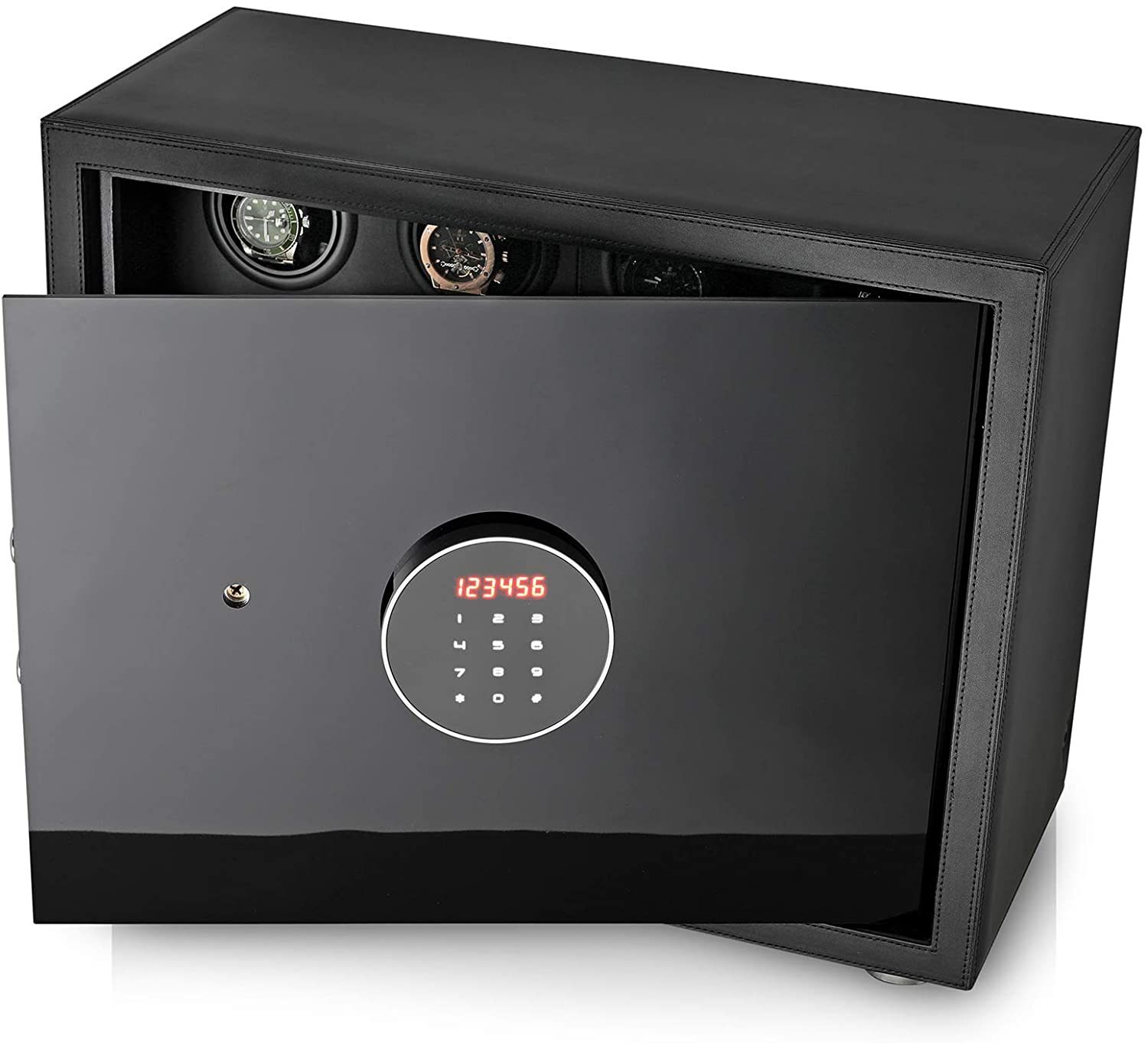 ---
JQUEEN Security Lock Watch Winder Safe Box For Luxury Watch
This Jqueen watch winder is built as a robust safety box combined. It has room for up to 8 winders which are powered by a quiet Japanese Mabuchi Motor with a noise level down to 5 dB that ensures they never disturb.
What stands out about it is its leather exterior with quilting and red stitching. The interior is also extremely nicely done with a red soft velvet interior. The safe features a solid lock bolt for better resistance against attempted break-ins. It also has a double alarm after 3 incorrect entries, but also an external shock alarm.
The winding motors are great too and have 5 winding modes so you can adjust the winding according to your watches' needs.
---
HomeTecho Watch Winder Safe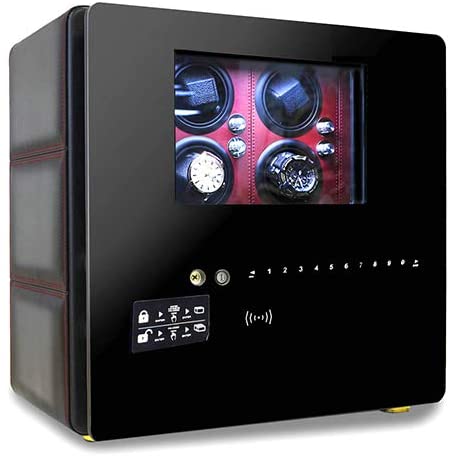 This is a robust yet compact watch winder safe that is constructed with a toughed glass display window with a thickness of 18mm. It has durable exterior construction to make it resistant to break-ins but also has leather details with red stitching to make it more beautiful. It features 12 rotors powered by silent Japanese Mabuchi motors. Each watch winder case back can be removed independently for easy access.
The watch winder has an electronic lock and with a customizable 1-10 digit code as well as 2 override keys. For additional safety, it comes with steel bolts that make it possible to fix it to a wall.