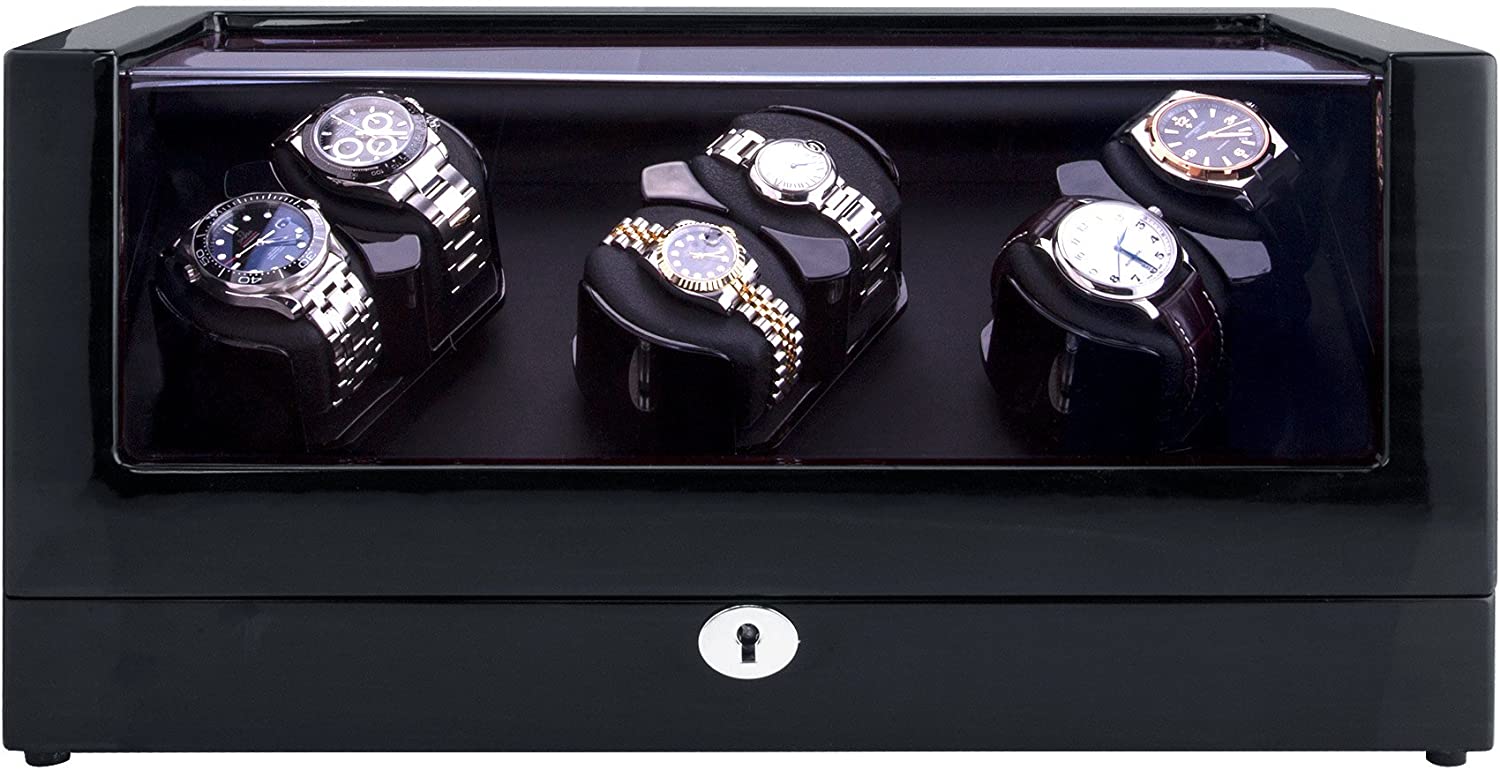 Triple Tree Watch Winder Review [List & Guide]
A watch winder is something that owners of automatic watches can get plenty of use from and find extremely convenient.
But you have probably heard the discussion and debate of whether or not a watch winder is bad for, and can damage your watch. The general truth and advice, however, is that there is a certain level of truth to this. But it is mostly only true for low-quality non-optimized watch winders. When a winder winds your watch, it rotates in order to generate energy to the mainspring of your automatic watch. An automatic watch can only be wound so much, and when the mainspring is fully charged, there is no point in continuing to wind it.
An optimized and high-quality watch winder with a good winding motor will only wind your watch as much as it needs to be wound and offer the according to winding modes and settings. The issue is that low-quality watch winders do not always offer these settings, and therefore, they can overwind your watches and cause unnecessary wear to your movement. In the worst case, it may mean that you need to service your watch earlier as a result of the increased wear and overwinding of the movement. But if you opt for a high-quality watch winder, it is designed in a way that it doesn't overwind your watch, but rather resembles the movement of your wrist.
Since an automatic watch is built to be worn, using a good watch winder for it is certainly not the end of the world for your watch, and it will certainly not result in a disproportionate level of wear.
But what if you want a high-quality watch winder that doesn't damage your watches without breaking the bank? A great alternative for this is Triple Tree watch winders.
Triple Tree watch winders are amongst the most popular watch winders on the market, and they are popular because of their high quality and great winding motors, whilst still being offered at very attractive prices.
There are a few key things you want to look for in a watch winder, and these mainly relate to the winding motors. This is because this is the most important factor for taking good care of your watch. It is also the thing that tends to be the biggest difference between cheap and qualitative watch winders.
Some of the things you want to take into consideration are:
Multiple rotation modes
Anti-magnetic motors
Silent motors. Having a loud winding motor can be very annoying to the point where you don't want to use them.
The good news is that Triple Tree watch winders offer all of these things when it comes to their winding motors, and this is part of the reason why they are so popular, but also why we would recommend them. The last thing you want is a low-quality watch winder that has a negative effect on the health of your watches.
Below, we will go through some of the best and most popular watch winders from Triple Tree.
Best Triple Tree Watch Winders
As an Amazon Associate, we may earn from qualifying purchases, at no extra cost to you.
---
Triple Tree Watch Winder for 6 watches

This stylish Triple Tree watch winder has room for 6 watches which makes it perfect for the serious collector with many watches in their collection.
It is designed with a sleek cube design and has a wood shell with piano paint for a luxurious and elegant appearance. Its stylish design makes it a perfect decoration for any home, and it's safe to say that its design certainly makes it look more luxurious than its price. It has a large acrylic window, made in 90 degrees, which gives a view of the watches both from its front, but also from the top. This provides a nice display of the watches inside.
The watch winder features soft and flexible memory foam watch pillows which makes it easy to fit most watches on them. It features built-in blue LED light which makes it easy to see and access the watches even during the night and in low-lit conditions, such as in a wardrobe.
The watch winder has a dual power supply, which means it runs either on an AC adapter or a USB cable for portable power. The motor has 4 different settings modes in order to provide the best conditions for your watch. The different modes are as follows:
Standby Mode
Clockwise Mode
Counter-Clockwise Mode
Clockwise + Counter-Clockwise Mode
Non-Intermittent Clockwise + Counterclockwise Mode
---
Triple Tree watch winder for 2 watches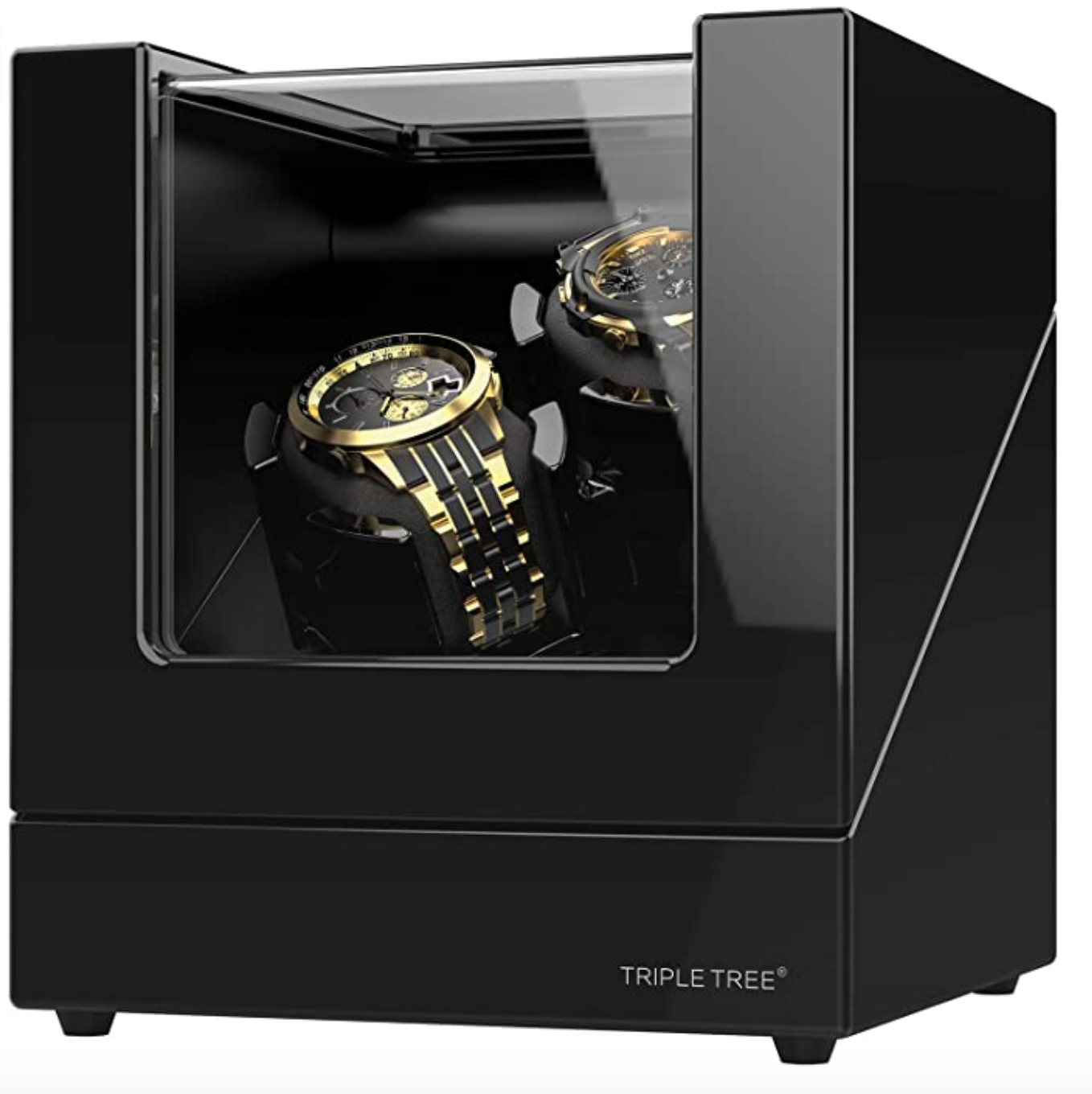 If you only need a watch winder that can store up to 2 watches, this Triple Tree double watch winder is a great alternative. It has a small and compact cube-like design that can easily be stored throughout your home. It has a nice design with a wood shell piano paint exterior and an acrylic glass window which allows you to see the watches that are stored inside.
The interior has ultra-soft and adjustable pillows which can hold most watch sizes.
It is powered by an extremely silent Japanese motor with 4 rotation modes. It is designed to avoid continuous turns to prevent overwinding The four modes are Standby Mode, Clockwise, Counter-Clockwise Mode, bi-directional, and Non-Intermittent Clockwise + Counterclockwise Mode.
---
Triple Tree watch winder 4 watches + extra storage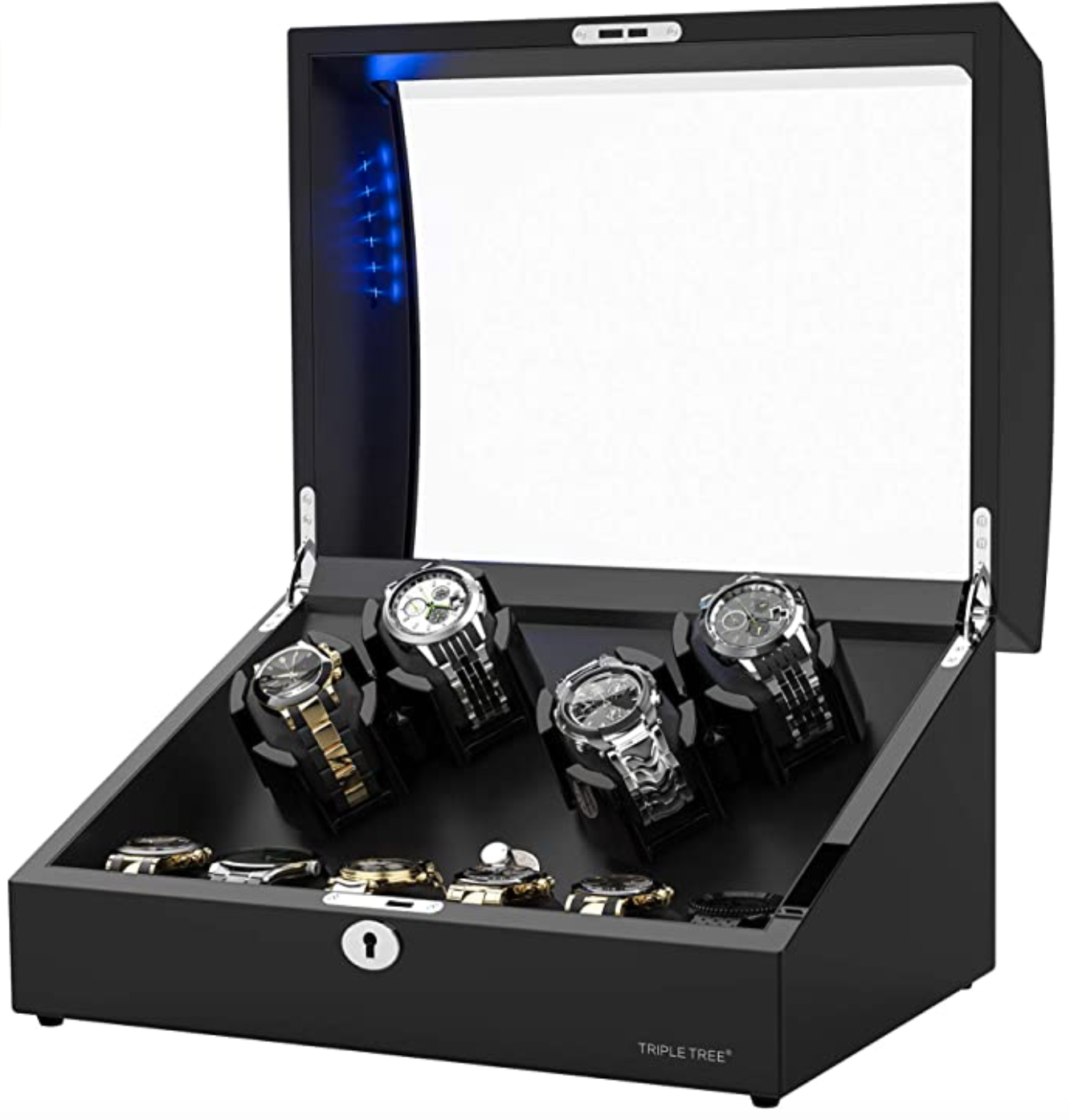 Next up, we have a large watch winder from Triple tree for 4 automatic watches, as well as additional space for an additional 6 watches.
It has a sleek, elegant, and luxurious design with a wood shell and shiny piano lacquer paint. It also has a large acrylic window which provides good visibility of the watches inside. The interior has watch pillows with memory foam and is suitable for watches in all kinds of different sizes.
The winders are powered by ultra-silent motors with 5 program settings and multiple rotation modes. This is a great choice if you want a qualitative watch winder without breaking the bank, and which looks far more luxurious than what its price suggests.
---
Single Watch Winder Cube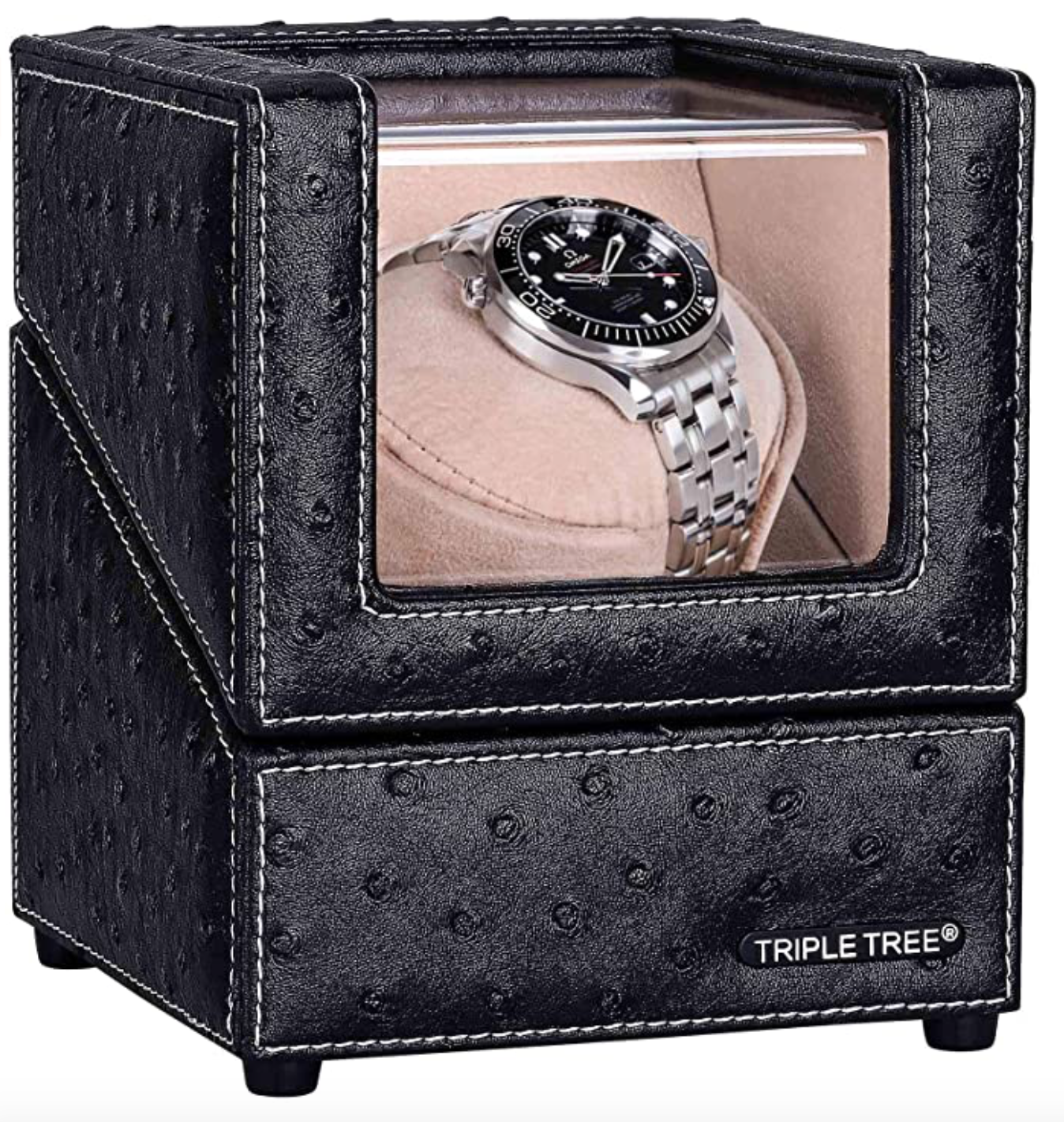 If you only need a watch winder that can hold one watch, this single watch winder from Triple Tree is small, compact, and convenient. It is also available in three different versions, but this one is the PU leather version with an ostrich leather style exterior which gives it an elegant and luxurious look. The winder is equipped with an acrylic window which gives a good view of the watch inside.
The winder is powered by an ultra-silent Japanese Mabuchi motor which is robust and long-lasting. The winder has 4 modes, which are clockwise, counter-clockwise, bidirectional, and Non-Intermittent Clockwise + Counterclockwise Mode.
All of these modes affect the length of the winding cycles as well as turns per day in addition to the direction of rotation. The most important part is of course is that the motor is developed in order to prevent overwinding.
---
Double watch winder with extra slots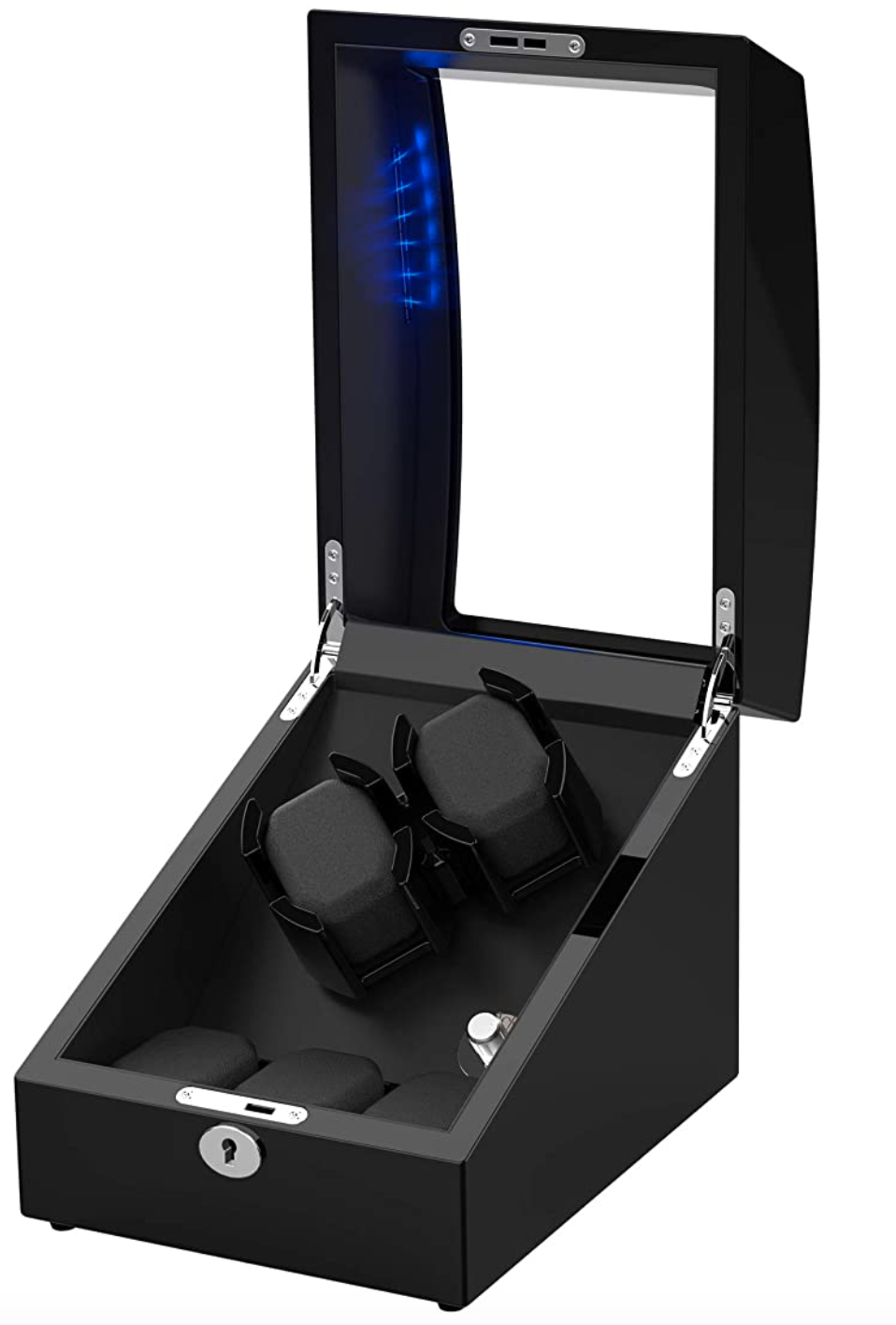 Last but not least, we have this Double Triple Tree watch winder with 2 winders and 3 additional slots for storage of additional watches, which can be convenient if you want to store all your watches in the same place but don't need to wind them all the time.
It has a sleek and modern design, like all of Triple Tree's watch winders, with a wood shell piano paint exterior and a large window which gives a good view of the watches inside.
It is powered by a Japanese extremely silent motor with 4 Rotation modes to prevent overwinding and set it according to each watch's needs.
The watch winder has three power supply sources and is powered by a 100-240v AC Adapter, 2 x D Size Battery, or a USB cable for portable power which gives you lots of options.
For good visibility and beautiful display, the watch winder also has a built-in LED light which not only looks good but also makes it easier to see if you are storing the winder in low-lit conditions, such as your wardrobe.
---