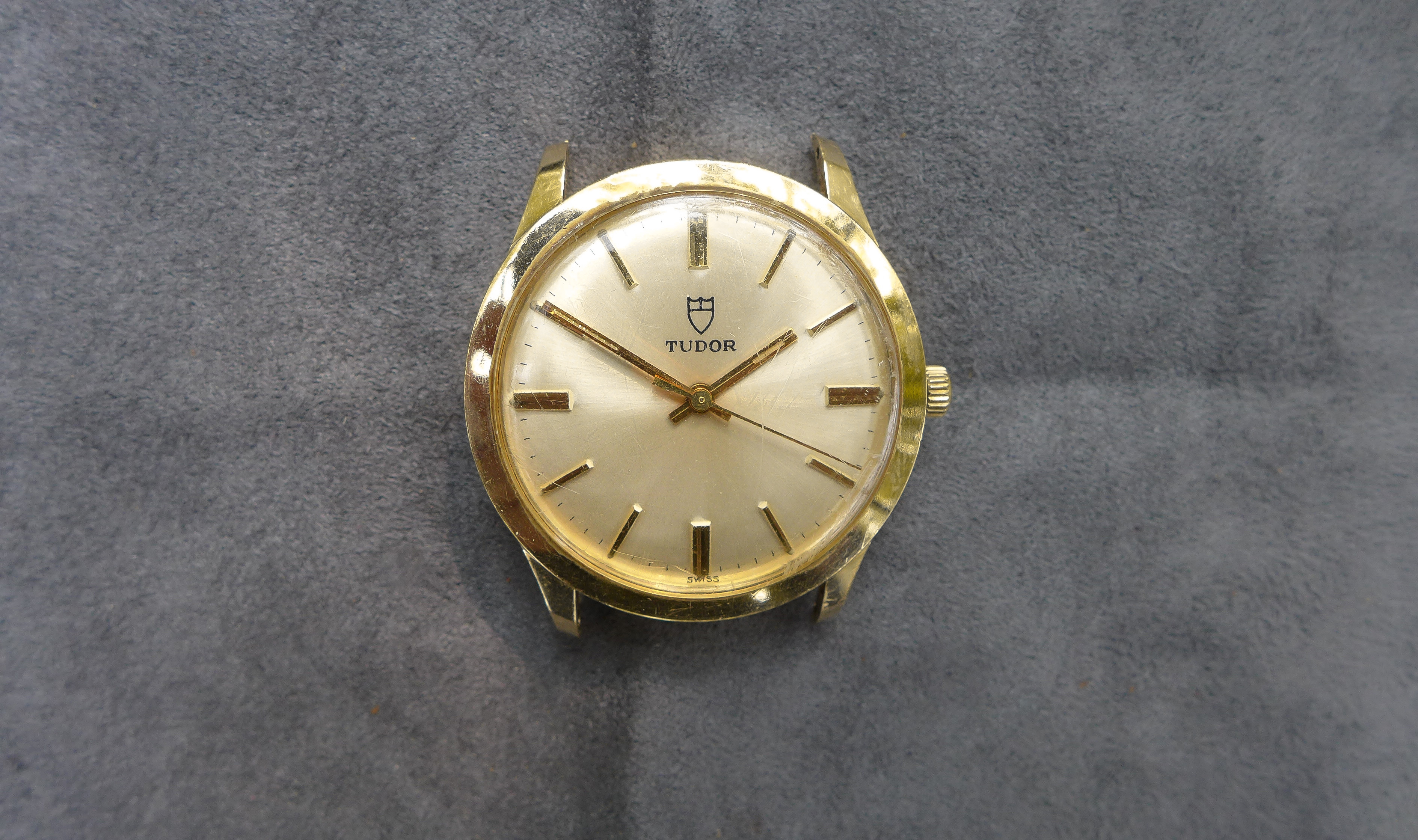 Tudor 14K 7004 – The Story of a Rare Award Watch
Those who start to dip their toes into the world of watches and horology will soon discover that it is indeed a whole world to discover. And what you will also discover is that the more digging you do, the greater the world of watches becomes.
There are countless manufacturers and even more models. But what is more interesting is that when going farther back in history, you'll soon discover little-known references, models, and variants that, oftentimes, whose history and details are little-recorded and researched.
Thankfully, there are devoted watch enthusiasts who do the noble and valuable job of researching and finding information about these watches in order to add to the general knowledge about these timepieces and better record their history, details, and background. This time, we have the pleasure of sharing an article written by a fellow reader of ours, Chris Malcolm, who owns a very special and rare Tudor watch.
When Malcolm became the owner of this timepiece, he was determined to find out more about this model, but soon found out that information about this reference was poorly recorded, and big gaps in its history existed due to its highly limited production. He, therefore, took it upon himself, to find out more about this model by doing thorough research. This watch is the Tudor 14K reference 7004, which is an award watch made in very limited numbers.
Without further ado, let's have a look at Chris Malcolm's findings and his methodology of research.
The story of the Tudor 14K reference 7004 award watch – told by Chris Malcolm
My first contact with an "awards watch" was when a local guy who I occasionally buy watches from texted me. He had a 14K Gold Tudor watch. I called him. He had a 14k, gold-cased Tudor Prince automatic. He said "14K gold" about 5 times during our conversation. He was eager to show me the watch, and I wanted to see it.
Upon arrival at his house, he greeted me, and we went onto the deck behind his house. Masks on! He handed me the watch. I looked it over. I had heard of award watches, and had seen a couple, but never a Tudor, or in a 14k case, and with a stamped ink logo. I suspected that this was an award watch. The dial was in nice shape, as was the case. I believe it had sat, unworn, for most of its' life. The outside case back was stamped "14K Gold". This looked original to the case back. Opening the case, I saw a correct movement, and the inside case back was marked "Tudor". The watch had been serviced and was running nicely. We settled on my trading some of my watches and some cash. I got the Tudor, and a nice 1960s Zenith Automatic. A good deal for me.
When I got home, I began looking closely at the watch, and doing some online hunting. I was starting to get worried about the authenticity of the watch due to the way it was marked. I found the exact same model for sale on a website. I subsequently found a couple of other watches very similar to mine.
I belong to a watch forum, and before I went to look at the watch, I posted some images and questions, asking for opinions. I received one reply, which was positive in nature, though non-committal (the most I could ask for at this point).
These are the differences that I found that distinguished this Tudor Prince from other "regular" Tudor Prince watches.
1. The dial was different from other Tudor Prince's that I had seen. The shield was below the 12, and printed in black. There was no metal shield. Beneath the shield, TUDOR was spelled out. That is all the writing there was, except for "swiss" at the edge of the dial under the 6. The dial was a nice silver-pearl. Gold indices and hands look correct, but I do not have confirmation of this, yet.
2. The case back has "14K Gold" on the outside case This was stamped at the top of the case back following its curve of the flattened area, above the inscription.
3. The inside case back differed from other Tudors. There was "TUDOR, 14K Gold, 7004" stamped into the case, each on its' own line. There were no other manufacturers or makers marks anywhere on the case back.
4. A careful search of the case itself showed no other markings of any kind.
5. Opening the watch revealed an ETA 2776 movement with some slight modifications. The rotor was marked "TUDOR", and underneath, following the curve of the rotor,"25 RUBIES AUTO-PRINCE SWISS MADE". The lettering was in-filled in yellow. The cal. was stamped on the movement. I have seen several Tudor award watch movements from this era, and there is some variation in the wording and level of finish. Interestingly, this movement was also used in Submariners for a time.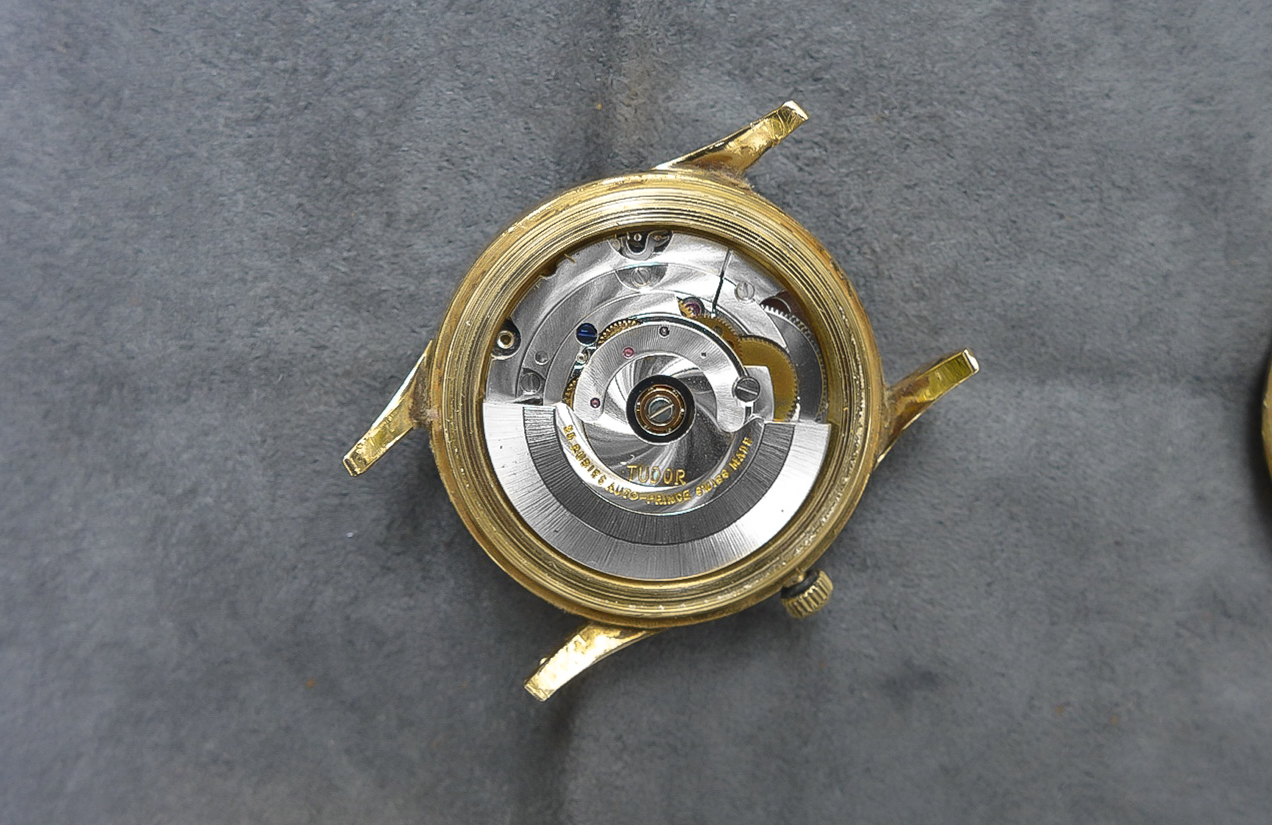 6. The inscription was, "Presented to xxxx xxxxxxx, by Canada Steamship Lines, in appreciation of 25 years of loyal service, 1975" in a nice, cursive font.
Upon returning home, I looked over the watch more closely. I took some pictures and added them to my original post. I received several responses from members with far more experience and vast knowledge of watches. In their opinion, this was indeed am "award watch". With this confirmed, my interest was piqued. I began doing some online searching and contacted a couple of Tudor AD's (authorized retailers). I continued the conversation on the forum. I contacted Canada Steamship lines, who are passing my request on to their archives section for any information about the Tudors of this era.
I contacted Tudor Canada and spoke with a customer service person, and a service technician. The result of our conversation is the following:
The case number 7004 means nothing to Tudor.

It may be a numbering system that CSL used for inventory/catalog purposes (Technician)
Tudor did not make the gold case.

It would have been outsourced (CS)
Tudor does not outsource dials or parts (Technician).

This would have been for award watches, specifically
Tudor would not have the parts necessary to restore or replace any of the parts (on this watch (Technician)
Tudor did not keep records from that time, for award watches (CS and Technician)
So, a bit of information to add to the story.
The Retirement/Award Watch
The idea of a company giving a gold watch, with a personal inscription on the back to an employee, has been around for several decades, and perhaps longer. It was seen as a reward for the employee, who had often worked at the same company for their whole career. This could mean 20-plus years of service. Around the mid-century, gold was cheap, the war was over, and the American economy was booming. A gold watch was seen as an expensive and desirable piece of jewelry.
The personal message inscribed on the back of the watch was a "thank you" for years of loyal service. A cynic may feel that this is a small and impersonal tradition. Perhaps the employee did not particularly enjoy their time with the company, and the watch was a reminder of that. Or, the watch became a treasured item, which was passed on within the family. The watch would often lose any emotional attachment once the original owner of the watch had passed away. These watches were often sold. Some were kept in the family, and become heirlooms.
Another type of award watch was an incentive for meeting a performance objective or sales goal. These watches were customized, usually with a company logo on the dial, in colour.
Each of these watches tells a story. They are a picture of a pastime.
Gold watches are a rarity now (although they have not disappeared), and notwithstanding the price of gold, people want more personal gifts. Usually, the company will find out what activities the retiring employee enjoys, and buy gifts that match those interests.
Update from Canada Steamship Lines. They cannot find any records related to the watch, or awards watches in general from 1975. Too much time has gone by. They will continue looking and will forward whatever is found to me, which I will, in turn, add to this article.
That is what I have discovered so far. I have enjoyed doing this research into my watch. Any errors or omissions are mine alone.