Tudor Original Leather Straps for sale
Are you looking to buy an original (OEM) Tudor leather strap for your watch?
Apart from manufacturing watches, Tudor has also become famous for its leather and fabric straps, which are highly popular.
But getting a hold of original Tudor leather straps is actually quite difficult, as authorized Tudor retailers often have to order them for you, a process which can take many weeks.
Like Tudor's watches, the leather straps hold a very high quality.
Tudor leather straps
Tudor offers its leather straps in an interesting way. On mainly the Black Bay range, you can choose to buy the watch either on the steel bracelet, leather strap, or fabric strap.
But if you want to have an extra leather strap, or just want a different version than the one you got, it can be tricky.
Depending on the model, Tudor makes a number of different leather straps to match the watch it was originally meant for.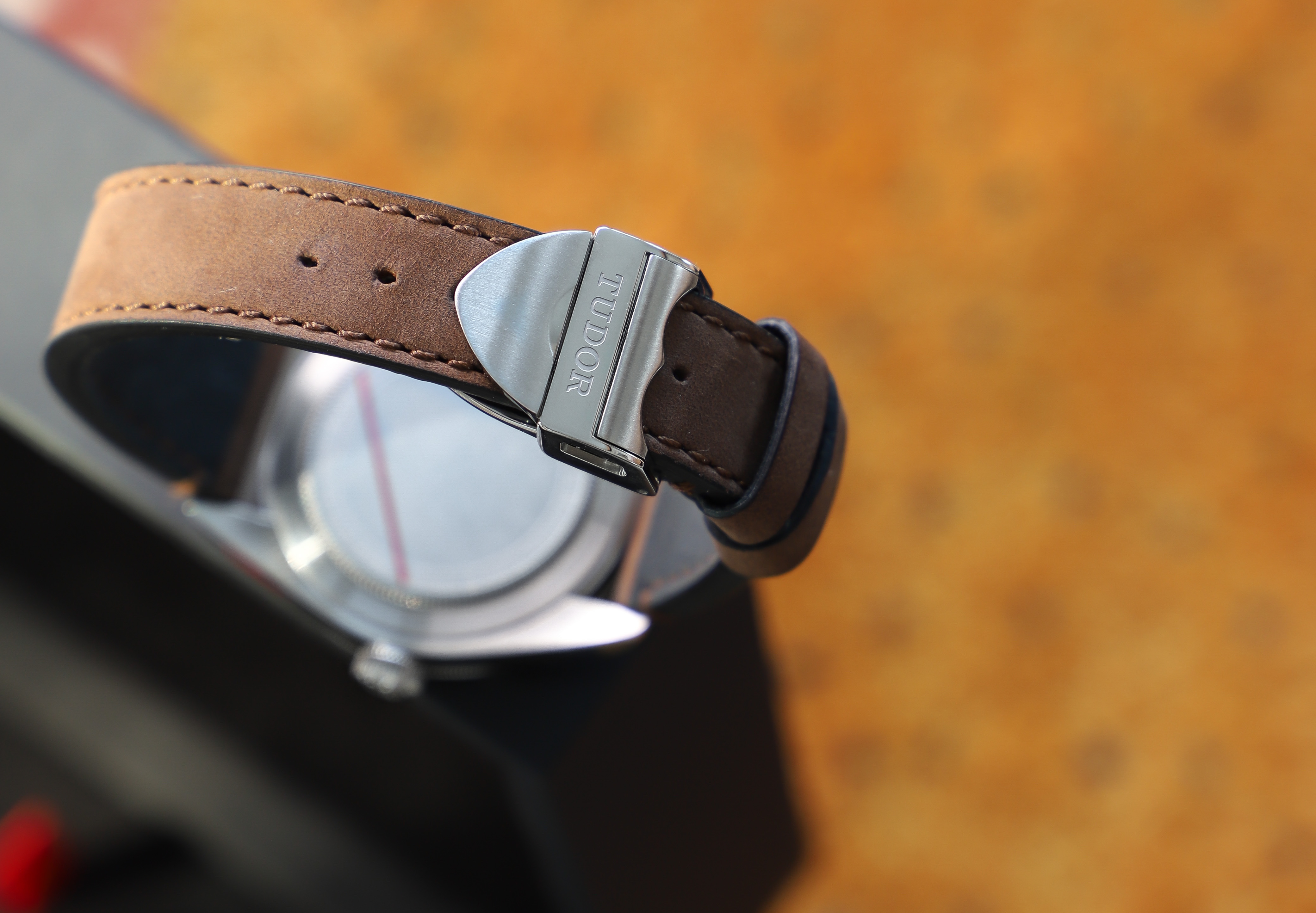 But one of the things that make the Tudor leather straps so immensely popular is the fact that they come on a deployment clasp that makes the strap extremely comfortable and easy to use.
The Tudor leather straps have leather on the outside, and a comfortable suede inside.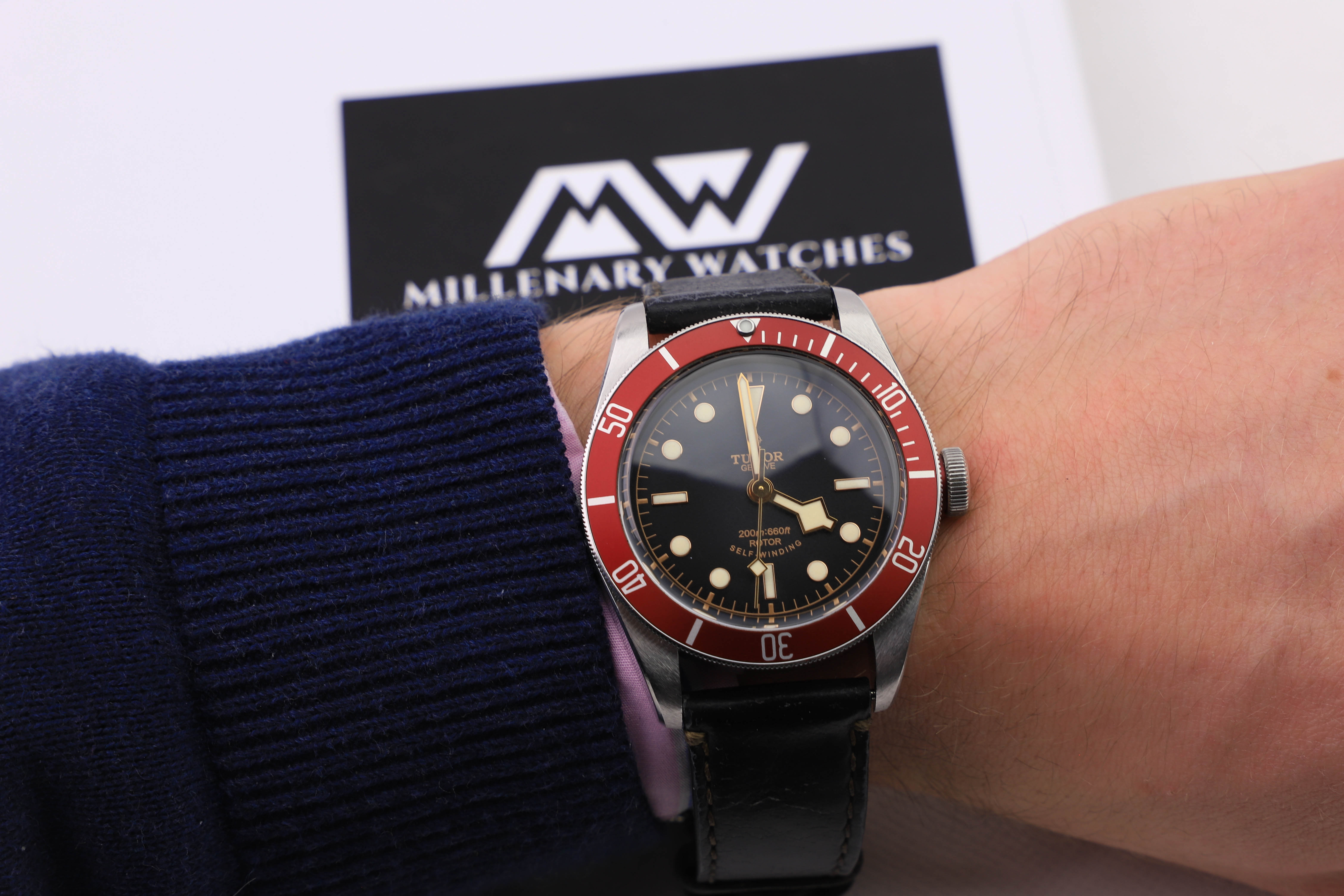 In writing moment, the Tudor watch models that are available on a leather strap are:
Most Black Bay models, such as:
And other models such as:
Tudor North flag 91210
Tudor Heritage Ranger 79910
Tudor P01 (hybrid leather strap – a combination of rubber and leather). Solely available with this strap.
As well as a few lady models.
But the most iconic leather strap that Tudor has is the one featuring the deployment clasp, and not all Tudor watches have that. Take, for example, the Tudor Bronze, this watch has a leather strap, but it does not have the deployment clasp.
Because the leather strap is available on so many different models, Tudor manufactures an array of different leather straps, both in terms of colors and design, but also in terms of size.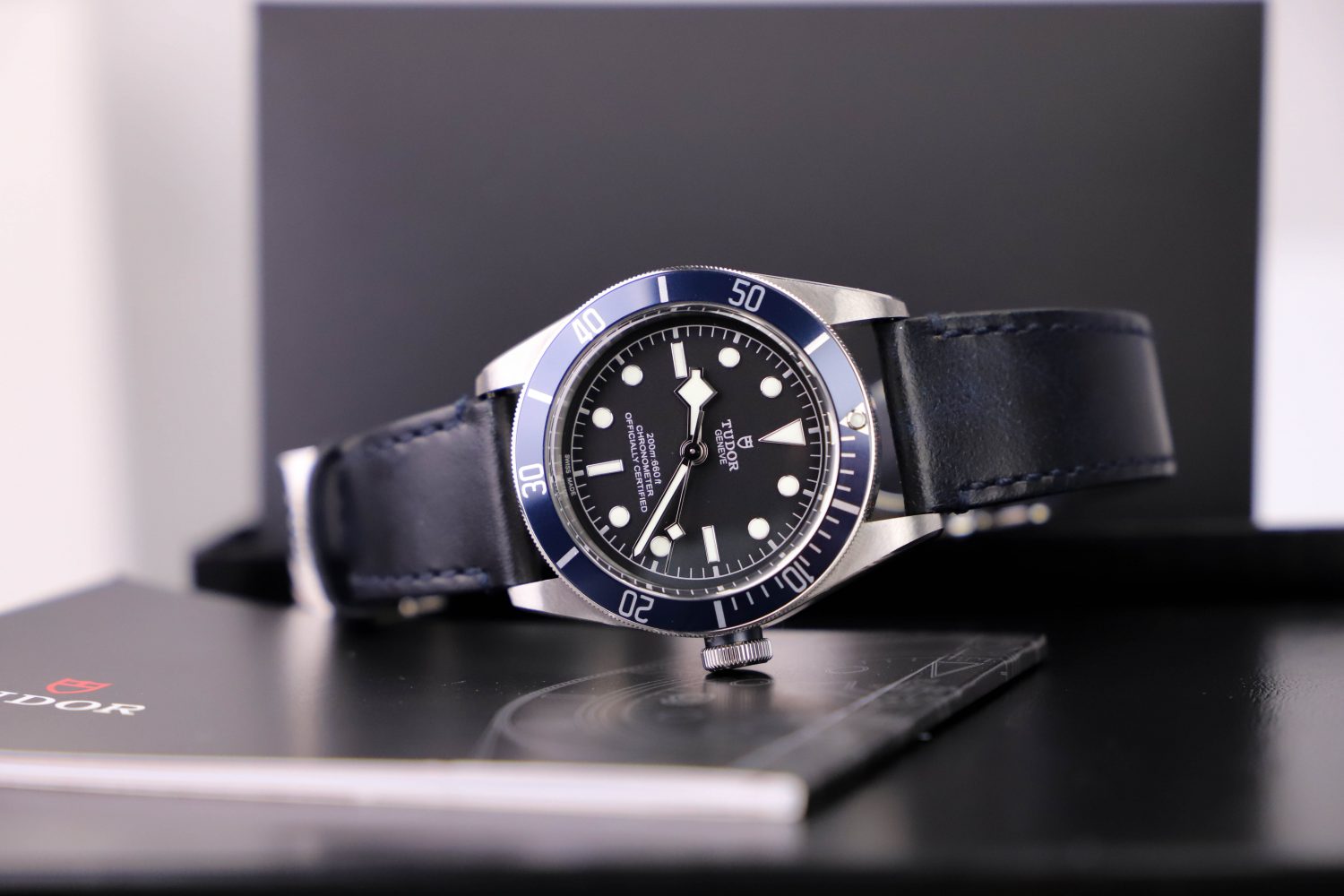 The standard lug width for the Black Bay range is 22mm, so this is the size that is most common. But at the same time, you have models like the Tudor Fifty Eight. The Tudor Fifty-Eight leather strap is 20mm due to the smaller case. 
The Tudor leather straps are interchangeable as long as it is the same lug size. For example, if you like the design of the Tudor Black Bay GMT leather strap you can take that one and put it on your, say Black Bay 79230. Since 22mm is the standard lug width, it's here that you have the most options. For Tudor Fifty-Eight, there is only one watch and thus one strap (in writing moment), and therefore, there aren't any other options.
There is of course the option to buy non-original Tudor leather straps, but it will never be the real deal. Tudor's own leather straps hold an extremely high quality, and their deployment clasp is both beautiful and functional. The clasp is designed with a flip-lock and as the shape of a shield, to resemble the Tudor logo. Many people want to buy an OEM Tudor leather strap, but struggle to find them for sale. But if that is you, you're in the right place.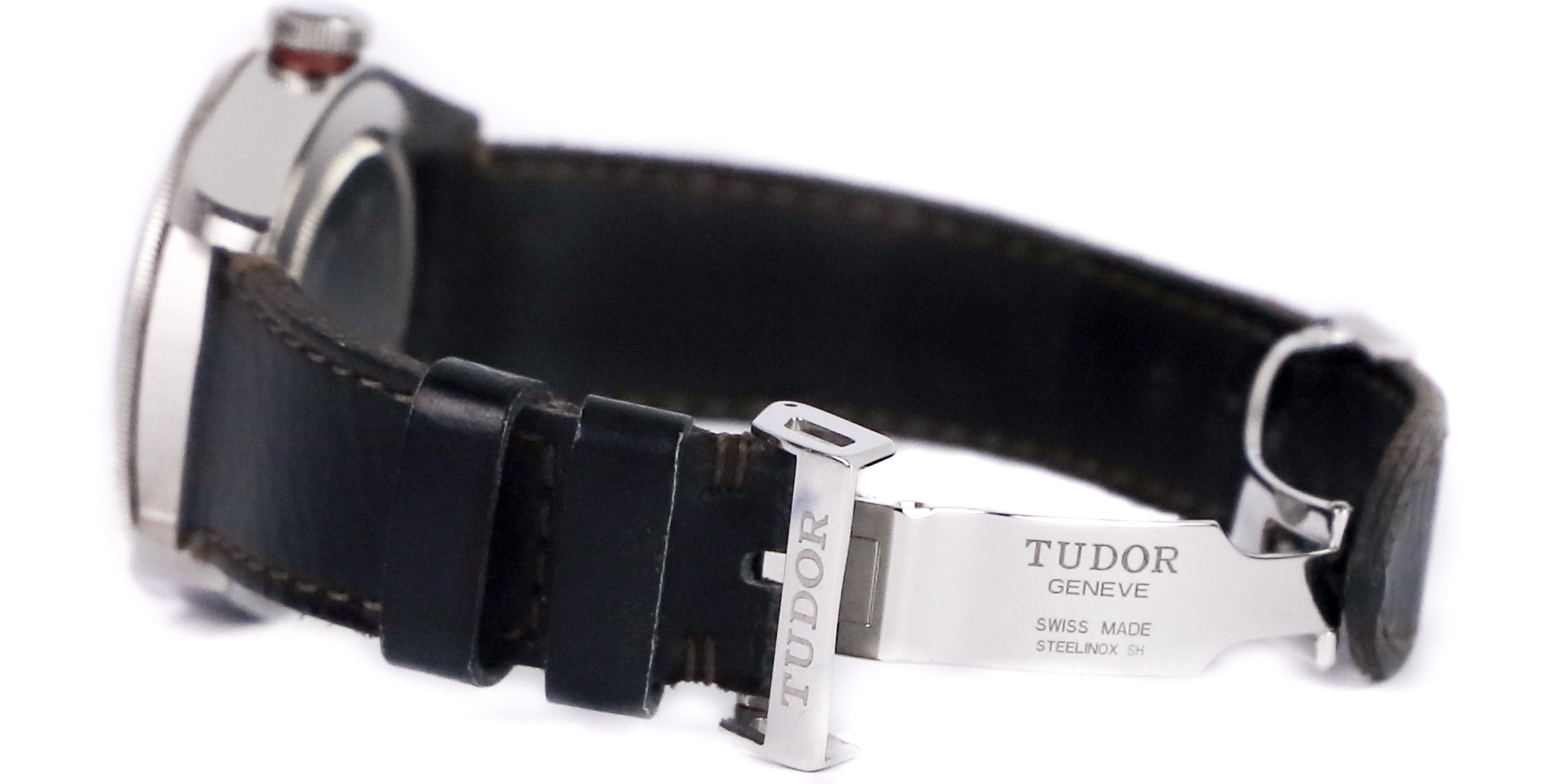 How to adjust Tudor leather strap
What's so great about the Tudor leather straps featuring a deployment clasp is the fact that you can easily adjust the size. This means they can fit essentially any wrist.
Adjusting the size is very easy and can be done in seconds. To adjust the Tudor leather strap size, open up the clasp and push it out from the hole on the side of the strap that has the holes lined up. Then, simply drag the clasp to the hole that will be suitable, and push the small pin down in the hole to lock it in place.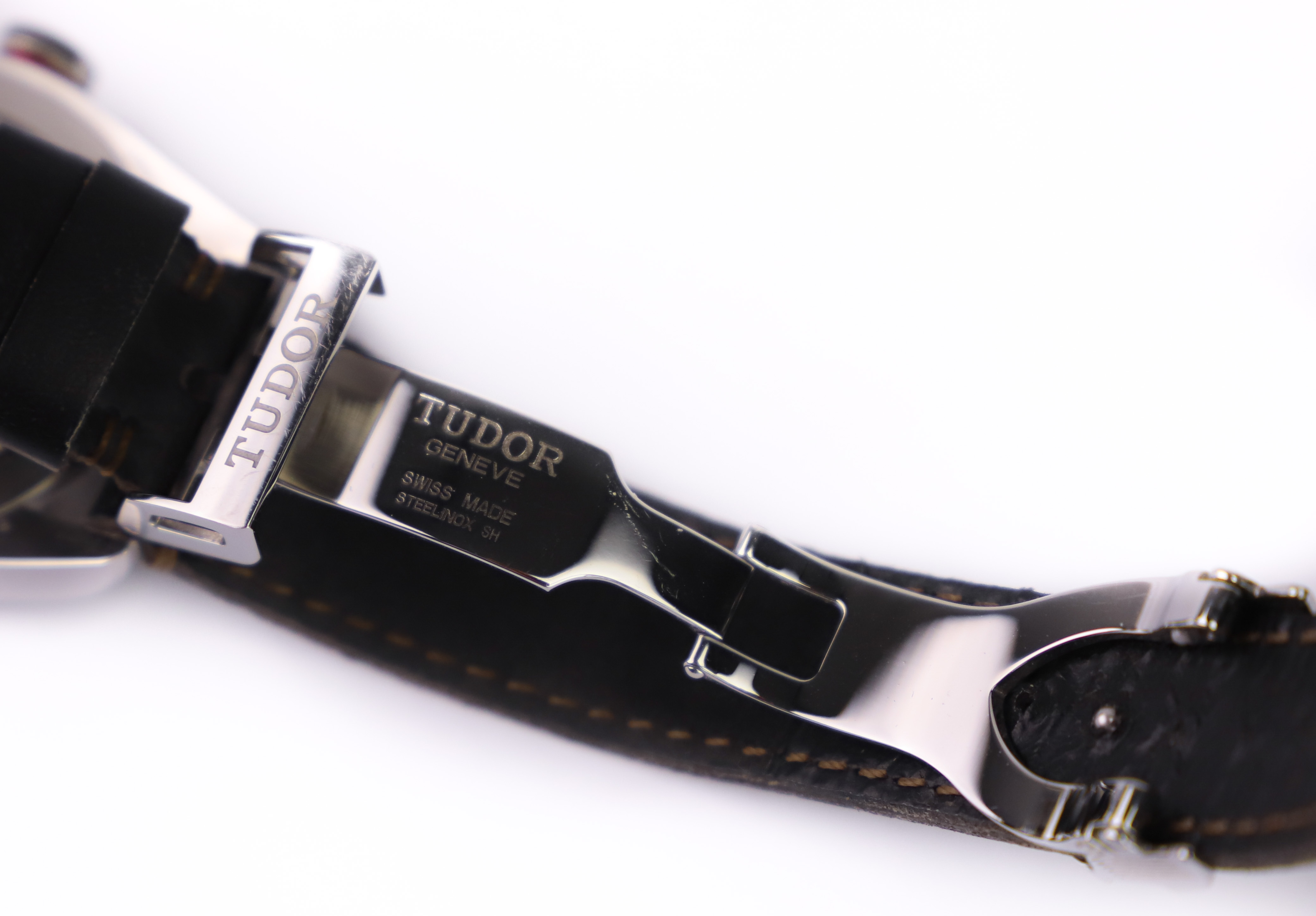 The Tudor leather straps with deployment buckle are also extremely comfortable to wear! The bracelet never lets you down, and if you feel it is too tight or loose, simply move the pin one hole up or down. 
There are not many watch brands that make as functional straps as Tudor. The standard is that you just have a regular buckle with different holes to adjust the size. With this good-looking, functional, and comfortable strap, Tudor really separates itself from many of its competitors.
Buy original Tudor leather straps
As mentioned, getting a hold of a Tudor leather strap can be a really lengthy process.
Many authorized Tudor retailers are not even aware of the fact that it is possible to order them for you, or just don't want to go through the effort of doing so. From others, you may have to wait for many weeks to be able to buy one.

At Millenary Watches, we sell original Tudor leather straps as well as original fabric straps. If you are looking to buy a Tudor original leather strap, have a look at our accessories page to browse our inventory of straps, but also other merchandise and accessories.
We have an array of different OEM Tudor leather straps for sale, and shall we not have the strap you are looking for, then you are welcome to contact us. The most popular straps are the Tudor Black Bay Fifty-Eight leather strap, The Tudor Black Bay 79230 leather strap, and the Tudor Black Bay GMT leather strap.