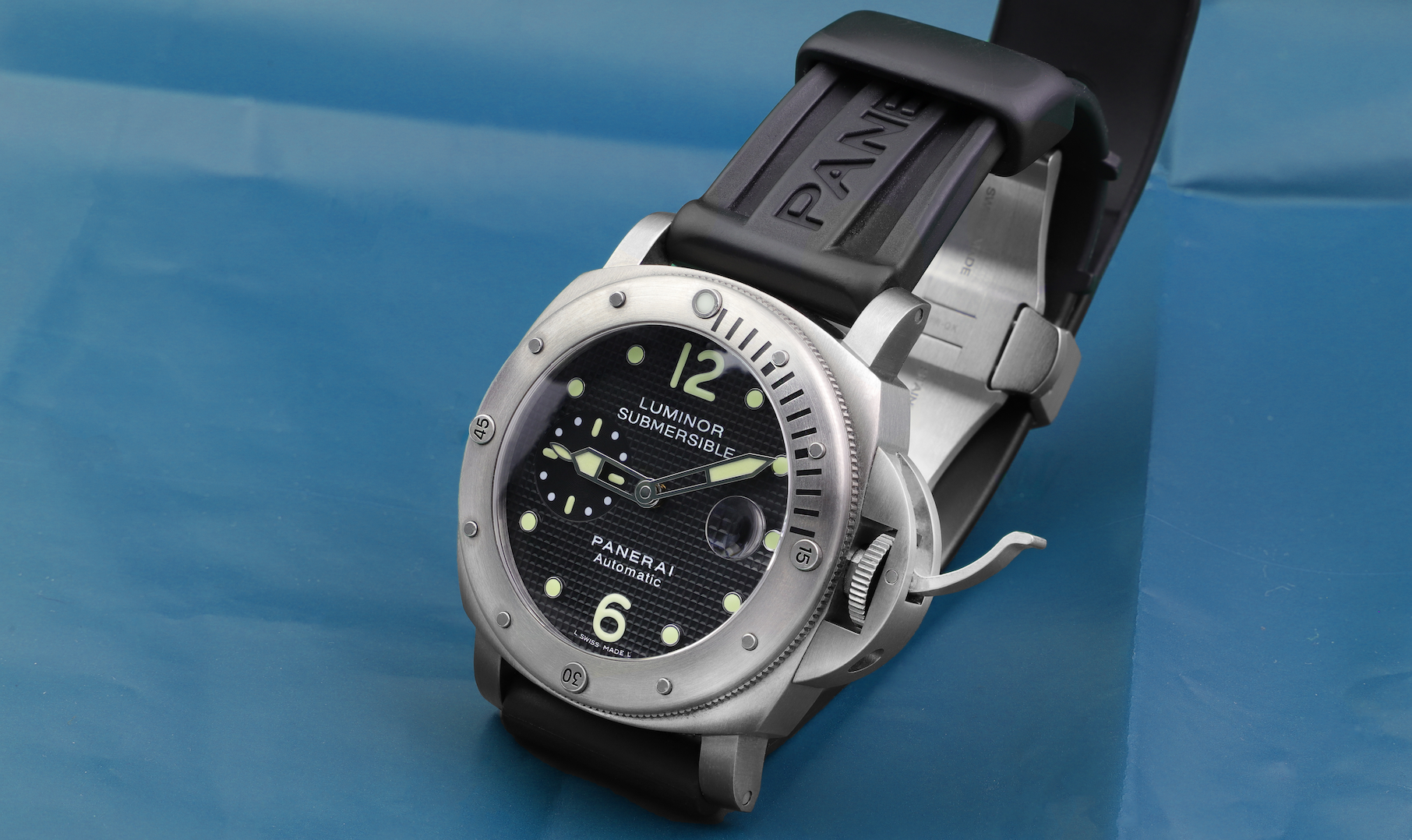 What Is A Panerai Waffle Dial? [Guide & Answer]
Panerai is a brand known for its watches, originally made for the Italian navy.
The looks of a Panerai are very distinctive, and some elements that make their watches stand out are the wired lugs, marina seconds hand, the massive crown guard, or perhaps their different dial designs, such as the "Sandwich" or "Waffle" dial. In this article, we'll walk you through the dial type which commonly is known as a "waffle" dial.

What Is A Panerai Waffle Dial?
It is easy to understand why the dial type commonly is nicknamed "waffle", as the pattern on the dial looks very similar to a Belgian waffle. A waffle dial is the type of pattern used on the dial seen above. However, Panerai themselves call the dial pattern "Paris Hobnail", which is a type of nail used and designed in Paris with a pattern on the hat of the nail, which looks similar to the pattern used for the dial.
Which References Use The Waffle Dial?
Panerai has made the waffle dial for quite some time, and also not dedicated the waffle dial to a specific collection, but has used it for several collections such as the Submersible, Luminor, and the Radiomir collection.
A few references which have the commonly known "Waffle" pattern, are the following:
Panerai Radiomir 1940 3 Days GMT reference PAM00627
Panerai Submersible 44mm reference PAM00025
Panerai Luminor Power Reserve reference PAM00241
Panerai Submersible reference PAM00569
Panerai Radiomir Black Ceramic reference PAM00643
Panerai Luminor Power Reserve reference PAM00028
Panerai Submersible 44mm reference PAM00087
Panerai Luminor GMT reference PAM00535

Can I Choose A Waffle Dial For Any Panerai?
Although when ordering a new Panerai it is possible to order an extra strap of your choice it is up to Panerai to chose which models that come with the waffle dial, as of now, it is not known publically that a request for a certain dial type is possible to order directly from Panerai to a specific model which already doesn't have the waffle dial. Panerai does some special editions with collaborations with certain areas and stores, and whilst developing the Panerai, it might be possible to request for a waffle dial, but it has to come from one in the Panerai team which is working with the development of the watch. If you are in the market for a Panerai which features a waffle dial, the best way to go is to look for a model, for example, any of the listed above, and choose the Panerai model which you like the most.
Are Panerai Waffle Dials More Rare Than Any Other Panerai Dial?
Many Panerai watches use a matt black dial, or a sunburst finished dial, and because of this, it is fair to say that a waffle dial is rarer than any other dial type that Panerai manufacturers. It all comes down to a personal preference, but a Panerai with a waffle dial vs a similar Panerai which does use another type of dial is commonly priced in the same range.
Question!
Are you a fan of the waffle dial pattern used on some Panerai watches?