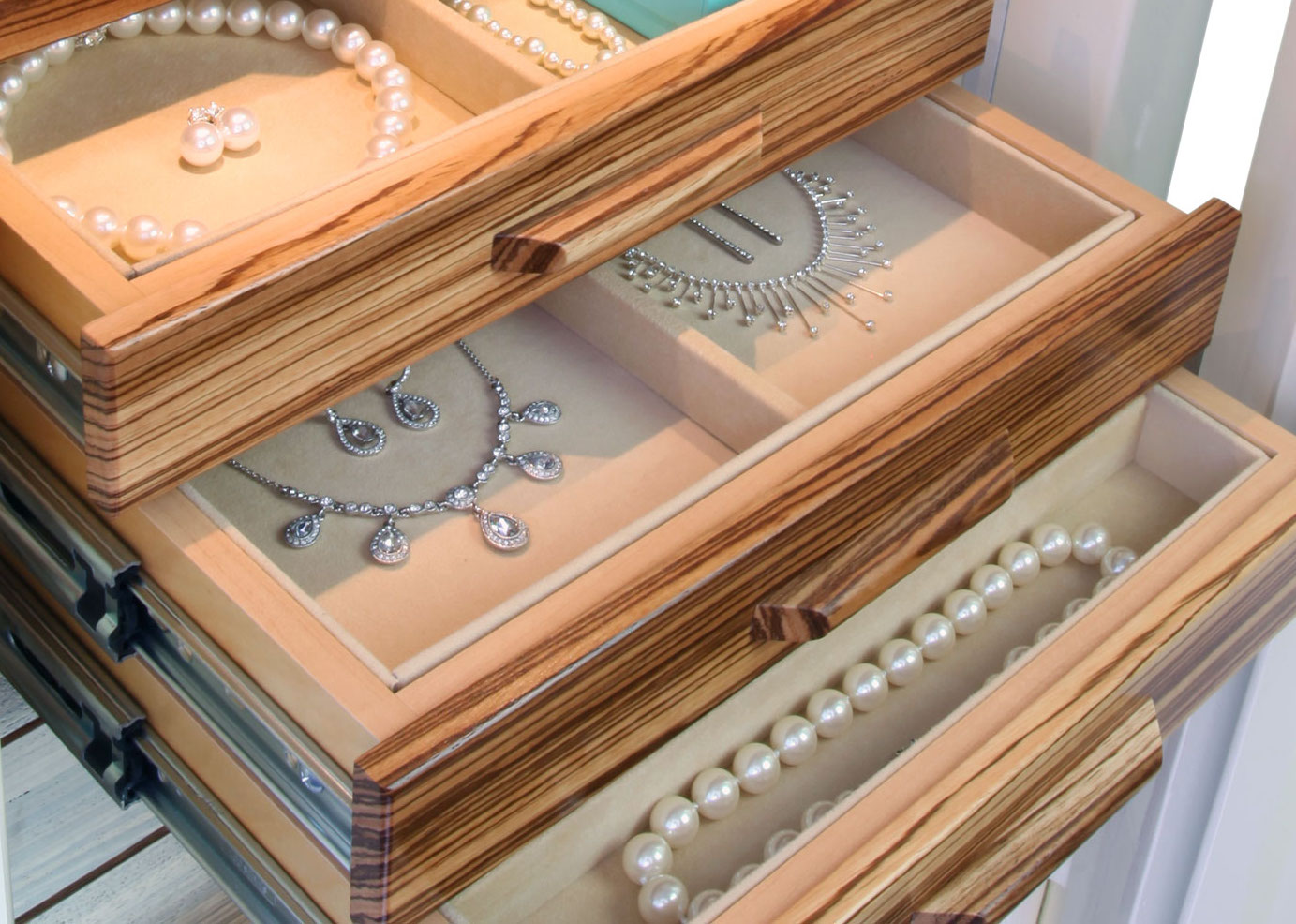 Top 12 Best jewelry safes [List & Guide]
A jewelry safe is a safe in which you store your jewelry. Generally, there is nothing that makes a jewelry safe stand out from other safes since many of them are universal and can be used for a number of different objects and valuables. A jewelry safe may or may not work just as great for storing firearms or documents.
With that said, you still want to find a safe that is appropriate for storing your jewelry and keeping it safe. This is, after all, the purpose of one. Having this in mind, there are a few things you want to take into consideration when choosing a safe for storing your jewelry. In addition, if you wish to make your safe more suitable for jewelry, you can also insert boxes and various storage solutions that help you keep them organized and protected.
In this article, we will go through the best and most popular jewelry safes. Further on, we'll also discuss what you should keep in mind when doing so.
Best jewelry safes
With further ado, let's look closer at the best and most popular jewelry safes on the market.
---
Digital Safe Electronic

The stalwart digital electronic safe is a classic and medium-sized safe which is wall or floor mountable. It has many different usage areas and can be used within an office or in your home.
The safe is equipped with an LED keypad which can be programmed with master and guest codes between 3-8 digits long. It also has 2 manual override keys in case you forget the password. For additional safety, it also has an automatic lock, which means that after 3 incorrect tries, the alarm will go off for 20 seconds. After another 3 incorrect entries, the alarm will sound for 5 minutes.
The safe has a wall thickness of 0.059" and the door (L)11.5"x(W)18. With that said, it is a great choice for keeping your jewelry safe against prying and attempted break-ins.
Dimensions: Exterior:(L)14"x(W)12"x(H)20"; Interior:(L)13.5"x(W)11"x(H)19.5"
---
Golval EF25 Home Steel Security Safe Box

If you only need a safe box and don't have a ton of jewelry to store, the Golval EF25 may be a great option for you. It is constructed with heavy-duty solid steel construction for optimum resistance against attempted break-ins and prying. The safe has protective inner edges as well as a dual deadbolt locking system.
The safe has biometric fingerprint scanning and a touch-activated keypad which allows for quick and easy access. It has the capacity to store 30 fingerprints. The safe also gives you the option to use a password with 3-8 digits to open it for your convenience. Last but not least, it comes with 2 backup keys.
The interior comes with a removable shelf so you can organize your jewelry storage depending on your needs. For additional safety, it has mounting holes for the wall and floor.
Dimensions: 12″ x 9.8″ x 9.8″ Weight: 24lbs.
---
Aegis jewrly Fireproof Electronic Security Safe

This jewelry safe box is constructed in reinforced solid steel and is also fire resistant for 30 minutes with a rated temperature of 1400°F. It is built with removable locking bolts and a tamper-proof steel door with hidden hinges to prevent prying.
It is an electronic safe with an electronic lock that is opened via a password of your choice. It also comes with a spare key in case you forget the code.
The interior has a large capacity which allows you to organize your jewelry and organize your belongings. Another great feature for jewelry is that the interior is wrapped in a soft cloth to prevent damage and scratches.
For additional safety, it has pre-drilled holes which allow you to install it.
---
Cub Safe Security Box Fireproof and Waterproof

This practical jewelry safe is constructed with a triple lock core which consists of 20mm thick solid steel and has a thickened front door making it extremely tough against prying attacks. It comes with 4 mounting bolts which allow you to fix it to the floor or wall.
The safe is also waterproof and fireproof which helps keep your precious jewelry protected in case of flooding or fire.
You also have two unlocking methods with either the password or the key to unlocking it.
The interior has two partitions for easier organization of your jewelry and other valuables.
---
BARSKA Large Biometric Safe

The Barska biometric safe is a highly popular safe with a large interior for lots of space for all your jewelry and other valuables. It is equipped with a biometric scanner which gives you fast and easy access with the use of your fingerprint. It has the capacity to store up to 120 fingerprints. In case you prefer using a key, it also has 1 set of emergency backup keys.
The interior comes with 2 removable shelves for easier organization.
For ultimate resistance, it is built with 100% steel walls and tamper-resistant inner edges. It also has 3 built-in pry-resistant steel deadbolts to give optimal security against prying attacks.
It also has pre-drilled holes which enable you to mount it on the wall or on the floor.
---
SentrySafe SF123ES Fireproof Safe with Digital Keypad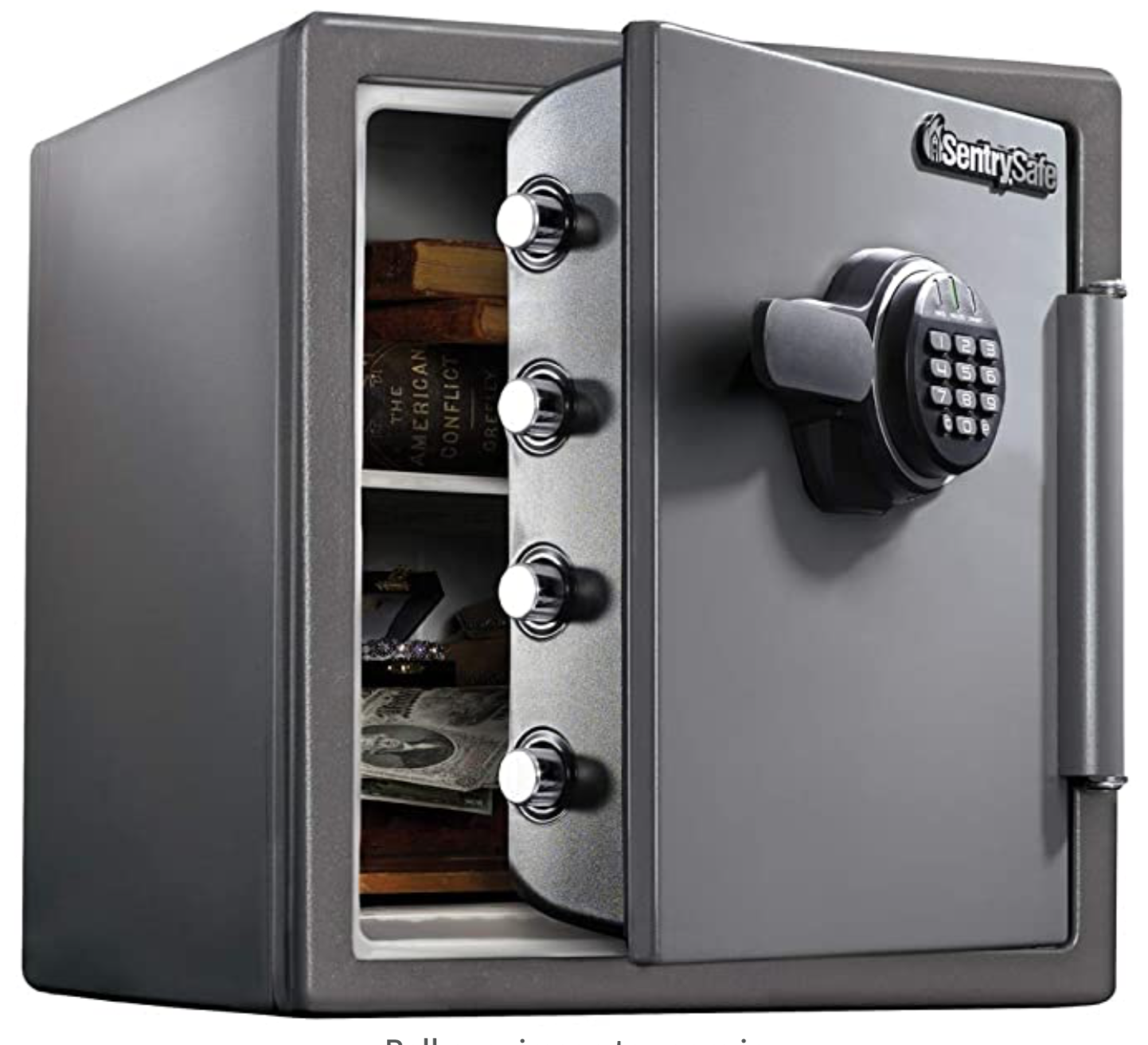 SentrySafe is one of the most popular and reputable brands on the market for safes, and its qualitative products explain why.
This is a fireproof safe classified to endure 1 hour at 1700°F. It is also able to withstand a 15-foot fall during a fire and still remain closed.
The safe is opened with a digital combination with fast and convenient access. You set your own digital combination with a code consisting of 1-8 digits. This is done via the backlit keypad which offers excellent visibility. The door has 4 live-locking bolts made in steel construction as well as pry-resistant hinge bars.
For easy organization, it has a shelf, making it possible to adjust the interior of the safe according to your needs.
Exterior: 16.3 inch W x 19. 3 inch D x 17.8 inch H. Interior: 12. 6 inch W x 11.9 inch D x 13.8 inch H; Large 1.23 cubic foot capacity; Weighs 85 pounds
---
Biometric Fingerprint Safe Box

If you only need a small jewelry safe box, this is one of the best options out there. Despite its small size, it offers strong security thanks to its durable thick steel material. The door is secured thanks to two movable locking bolts with a diameter of 0.8 inches to prevent prying. When locked, the bolts slide behind the reinforced door frame for extra security.
To protect your jewelry and prevent scratches, the interior is covered in cloth material.
The biometric fingerprint lock allows for fast and convenient access to the safe. You can also enter the password or the spare key.
Thanks to its small and convenient size, it is easy to store and hide throughout your home.
Internal dimensions: 16.7 inches x 13.2 inches x 8.9 inches. Gross weight: 14.2KG
---
WASJOYE Jewelry Security Safe

The Wasjoye jewelry safe is a relatively small safe that is built with a high-quality cold steeling rolling plate and has a surface processing with phosphating treatment. The safe has great anti-rust and anti-scratch properties and uses full penetration weld technology. It is also equipped with a built-in moistureproof circuit board.
The safe is built with 3 20mm full steel live bolts and is opened via the digital keypad which is programmable with 3 to 8 digits and has 2 manual override keys. For additional safety, it has 30 seconds warning beeps after three incorrect password entries and the digital keypad will be locked in 2 minutes. It also comes with four mounting holes and 4 included expansion screws for floor or wall installations for additional safety.
---
ETE ETMATE Safe Security Box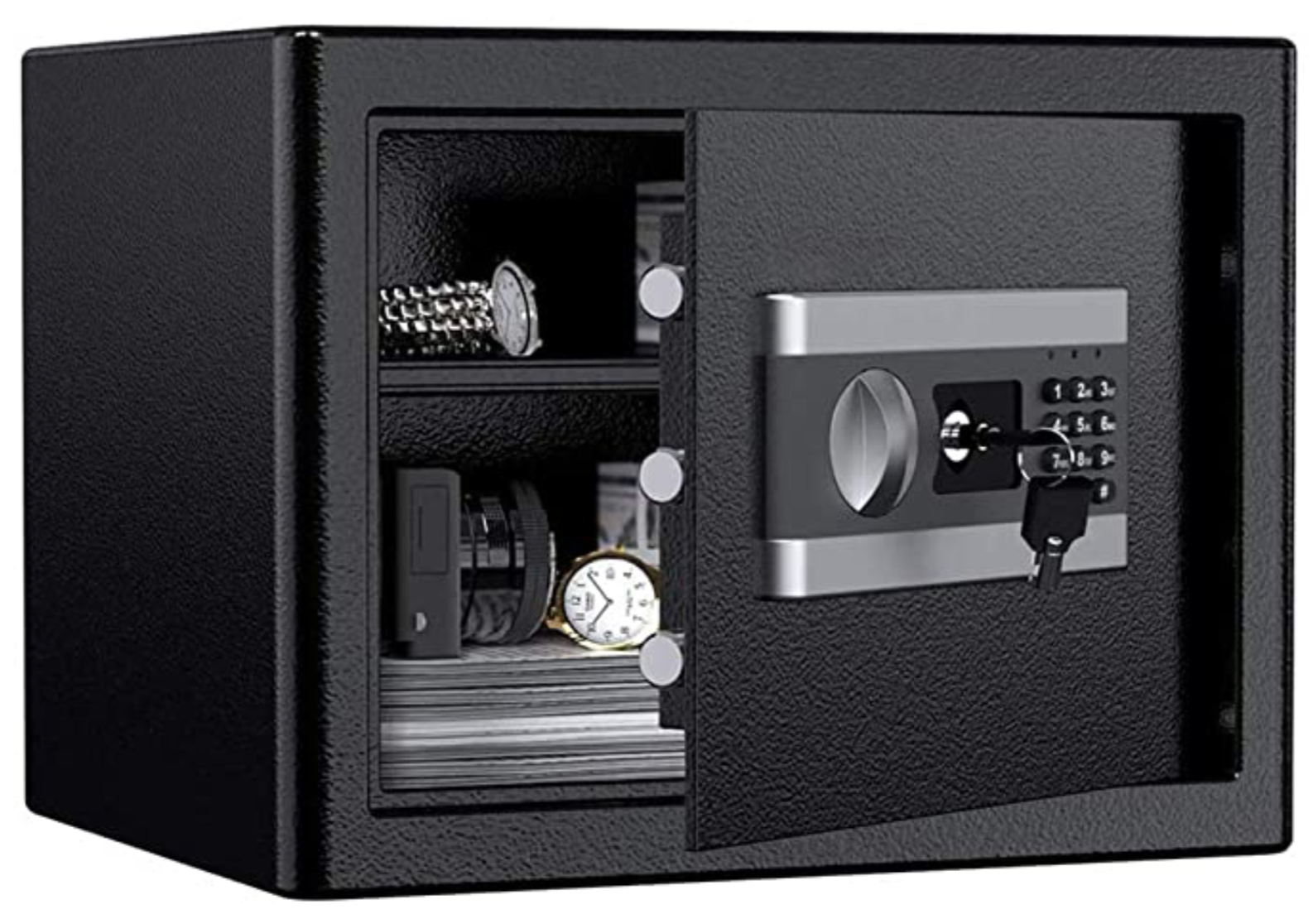 The ETE Etmate jewelry safe security box is built with a triple solid lock core with 20mm thick steel and a thickened front door for resistance against prying attacks. It has 3 broken bolts.
It offers two unlocking methods with either the password or the hidden master key.
The jewelry safe is also fireproof and waterproof to protect your valuables even in the event of a fire or flooding. It comes with pre-drilled holes for wall or floor mounting which is a great way to add additional safety.
---
Amazon Basics Small jewelry safe box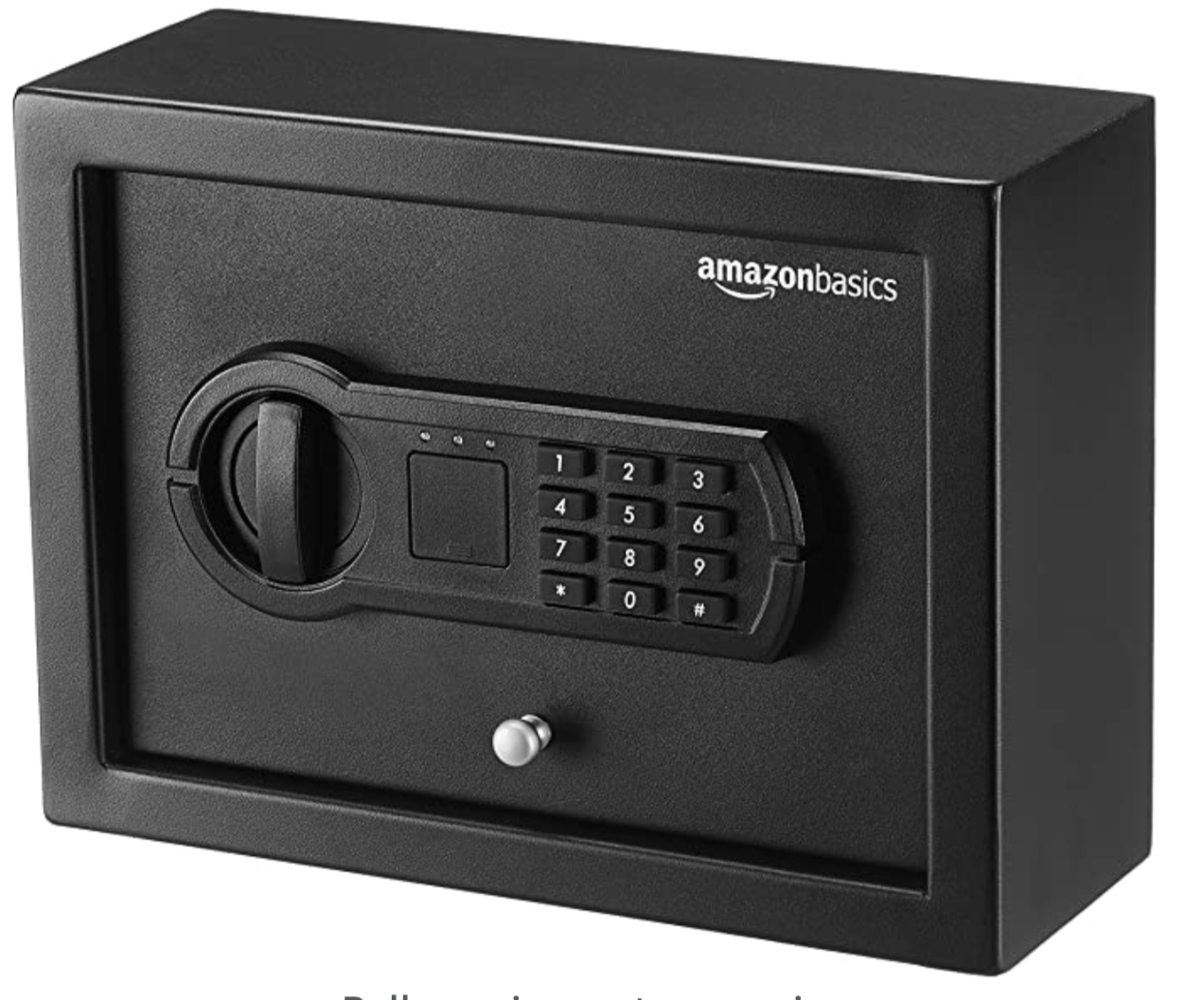 Amazon basics is a popular choice for jewelry safes if you're looking for something affordable yet robust. This safe has a slim size that fits conveniently in many different places in your home. It is equipped with a programmable electronic keypad for easy operation, as well as an emergency backup key.
The safe is protected via its 2 live-door bolts and pry-resistant concealed hinges. For additional safety, it has pre-drilled mounting holes and hardware included. A Downside of this safe is that if the door slams shut, the batteries may fall out, so be careful. The door is not spring-loaded either, but despite this, it's still a great affordable option.
Exterior measures 11.8 x 8.6 x 4.4 inches (LxWxH); interior measures 11.7 x 8.5 x 1.7 inches
---
Amazon Basics Keypad Safe

If you want a larger-sized safe than the one above, but still want an affordable and reliable safe, this is a great option.
The Amazon basics safes are popular choices for keeping jewelry safe without breaking the bank.
This 1.52-cubic-foot home safe is appropriate for jewelry as well as other valuables. It comes with a programmable electronic keypad for fast and easy access as well as a manual backup key. It is constructed by heavy-duty carbon-steel construction and has an 8-gauge steel door and 14-gauge steel body. For safety, it features 2 live-door bolts and pry-resistant concealed hinges.
You also have the ability to mount it to the wall or floor thanks to its pre-drilled mounting holes and hardware.
Exterior: 13.8 by 13 by 16.5 inches (L x W x H); interior space: 13.6 by 10.6 by 16.4 inches (L x W x H).
---
Tigerking Electronic Security Safe Box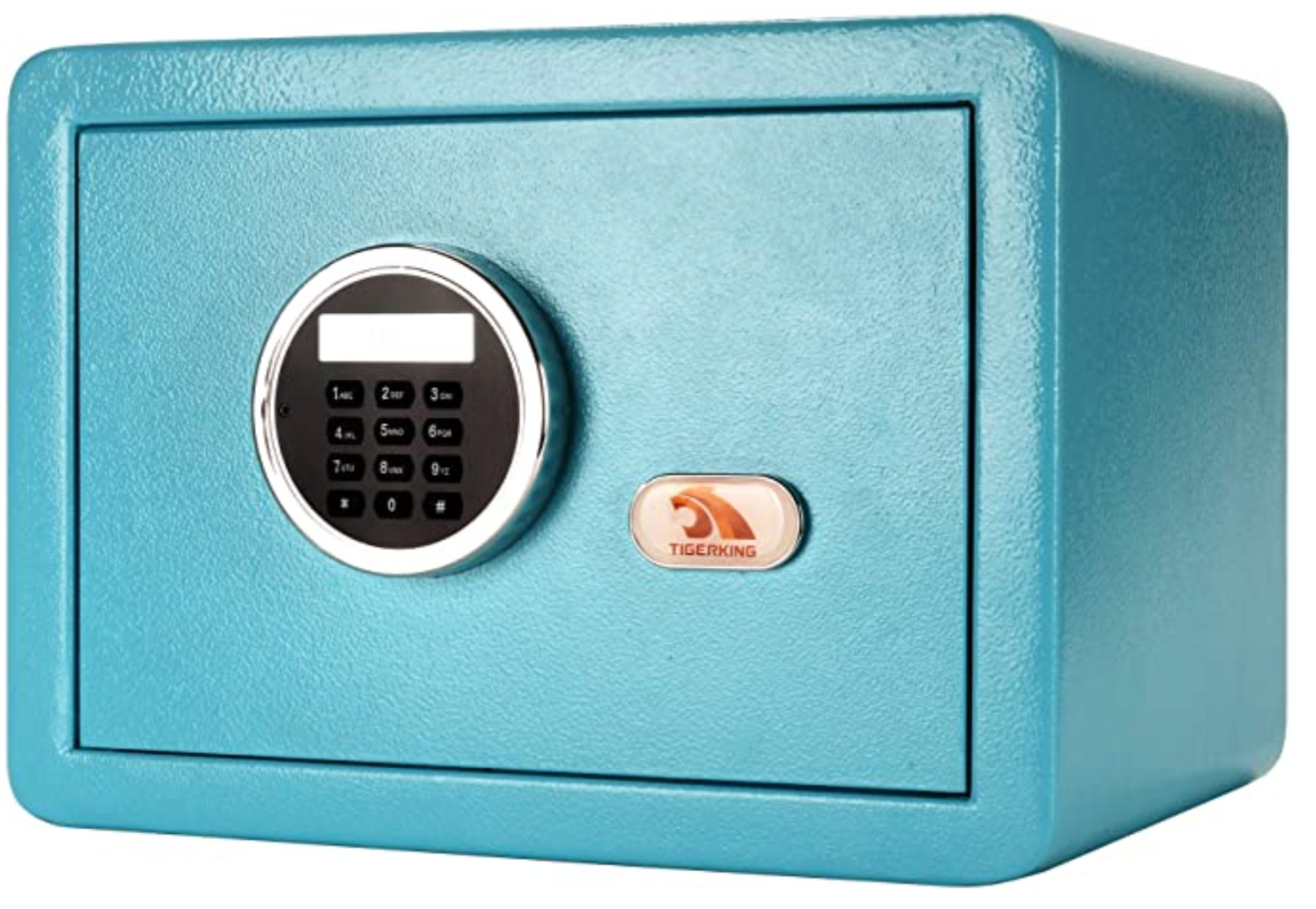 Last but not least, we have the Tigerking jewelry safe. Tigerking safes are known for being more robust and qualitative than many other options on the market.
This safe offers strong security thanks to its thicker steel plate and 24.2 pounds net weight. It features two solid steel live-locking bolts with a diameter of 0.8-inch. It is operated via a highly secure keypad locking system which allows for quick and easy access. The keypad can be programmed with 3-8 digits and has master and guest codes. It also comes with 2 manual override keys.
The safe has an inner size of 13.5IN. (W) X 10.6 IN.(D)XH9.5 IN.(H). For convenience, it also has a built-in LED light which makes it easy to see your valuables even in low-lit conditions.
Another safety feature that Tigerking has incorporated is its dual alarm system which alarms after violent vibration
Last but not least, it comes with 4 pre-drilled holes in the back and bottom, making it possible to install it on the wall or floor.
---
Choosing a jewelry safe – buyer's guide
A jewelry safe should be appropriate for storing your jewelry. There are many ways to go about doing this, but as a starting point, it is always helpful to choose a safe with organizable shelves so you can store your jewelry conveniently. However, this isn't always necessary if you, for example, have jewelry cases and boxes in which you store them. In this case, you may just want to have a safe that is large enough to hold your boxes to keep them safe.
The main goal with a jewelry safe is obviously to keep them protected from thieves, but perhaps also other people such as children or family members. Some safes are also fireproof and waterproof, and this is a great feature to have in case of a fire or flooding, but it's not a requirement for everyone when choosing a safe.
Therefore, begin by considering what your needs are before you buy your jewelry safe.
Here are some additional things worth keeping in mind:
Consider the size
The size of your safe obviously depends on what you will store inside it and how much jewelry you have. If you just have a few pieces of jewelry, it may be enough with a small safe box. However, if you have several boxes with jewelry and a large collection, you will need a larger safe to fit everything. Also, different safes have different interiors. Some come with customizable shelves whilst others do not have any shelves. When storing jewelry, it can be convenient to have drawer customizability, but in some cases, this may be possible to customize later on, regardless of what safe you buy.
Our suggestion is to first buy a jewelry safe, and then buy a jewelry box in which you can store them. This is usually the most convenient and easiest way to store your jewelry as you can simply open the safe and take out your boxes when you need something. This keeps them organized and gives a good overview of what you have.
Electronic or key lock
Another consideration for your jewelry safe is whether you want a key lock or an electronic safe. Electronic safes are more convenient and practical since they allow you to open them with a key code, and some even with your fingerprint. With a key lock safe, you need to keep your key safely stored and keep track of it in order to open it. Some electronic safes also come with an additional backup key, meaning they are electronic and also feature a key lock opening. This is of course the best of both worlds.
Digital safes are appreciated because of the convenience they offer. You simply enter your code and get access to the safe. There are even biometric safes that are unlocked using your fingerprint.
Fireproof and waterproof
As mentioned, there are both fireproof and waterproof safes available on the market. But keep in mind that not all safes offer this. Think about whether or not you need this feature, but keep in mind that it can be extremely useful in the case of a fire or flooding for keeping your jewelry protected.
How much does a jewelry safe cost?
It entirely depends on which safe you choose. The good news is that safes are available in all price ranges, so regardless of your budget, you can keep your most precious jewelry safe. The factors that affect the price of a jewelry safe include:
Size
Quality
Manufacturer (which is obviously related to how qualitative a brand's products are)
Locking mechanism
Additional features
Design
The most affordable jewelry box can cost around 200 dollars, but if you want a large and extremely robust safe for ultimate security, there are those that cost tens of thousands. Most people do not however need the most expensive and robust safes in their homes. If you have a limited budget, an affordable jewelry safe is still a wise investment that will help keep them safe.
Jewelry safes – Quality
As you may know, the quality of different safes varies a lot. The most affordable safes are generally built with a relatively thin metal layer and can be cracked open with enough force, the right tools, and some time. But thieves are generally strapped for time and often don't attack locked safes since it is time-consuming and usually very difficult.
The more expensive versions, on the other hand, are usually constructed with thick solid steel doors and walls, providing exceptional protection against an outside force, making it nearly impossible to pry them open. And trying to cut them open with various saws and tools will simply take too long.
Keep your jewelry safe hidden
This is especially important if you only have a small safety box that is possible to carry with you. The best security is to bolt down the safe and keep it in a hidden place in your home, but for small safety boxes, this is generally not possible. In this case, the best advice is to keep the safety box in a hidden place where no one will look.