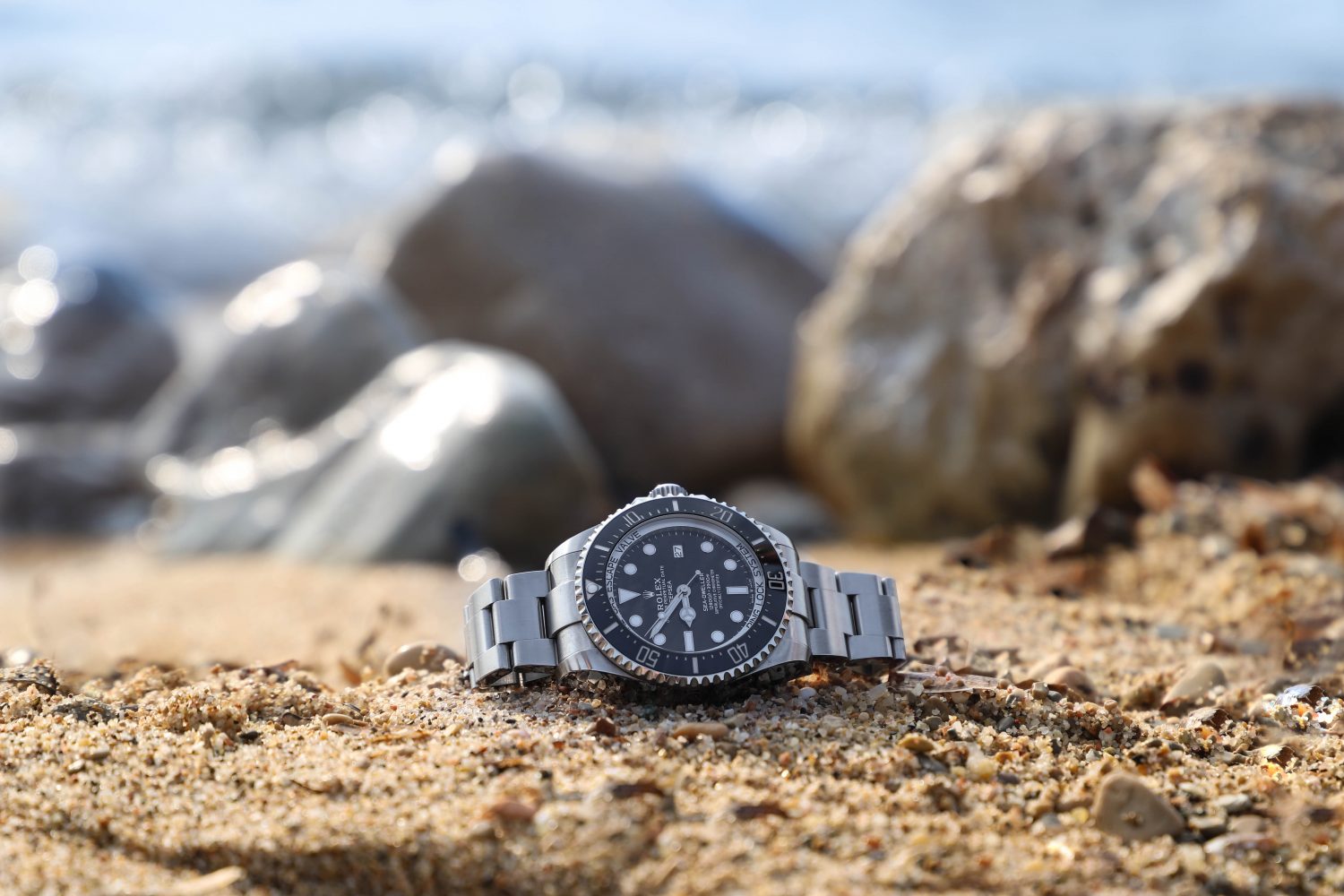 Can you Wear a Rolex to the Beach? What you Should Know!
If you are going to the beach, you might be wondering if you can bring your precious Rolex watch with you. It's no news that Rolex watches are extremely tough and durable, so it would make sense that you can wear a Rolex to the beach.
Can you wear Rolex to the beach?
The short answer to the question is yes, you can wear a Rolex to the beach, but just because you can doesn't always mean that you should. And if you do decide to wear it to the beach, there are a few things you should have in mind. And that's exactly what we will go through in this article.
Rolex says the following:
"Water is the natural element for a Rolex with a metal bracelet, including the salt-water of the sea and ocean. All Rolex wristwatches are waterproof to depths of at least 100 metres for Oyster Perpetual models, and 50 metres for Cellini models. All you have to do after diving or a day at the beach is simply to rinse your watch with fresh water to remove any salt and sand deposits: wearing your watch while showering at the end of the day should do the trick."
When you are at the beach, there are a few factors and elements that you subject the watch to. Firstly, you have the heat, secondly, you have water, and thirdly, you have sand (if you are at a sand beach).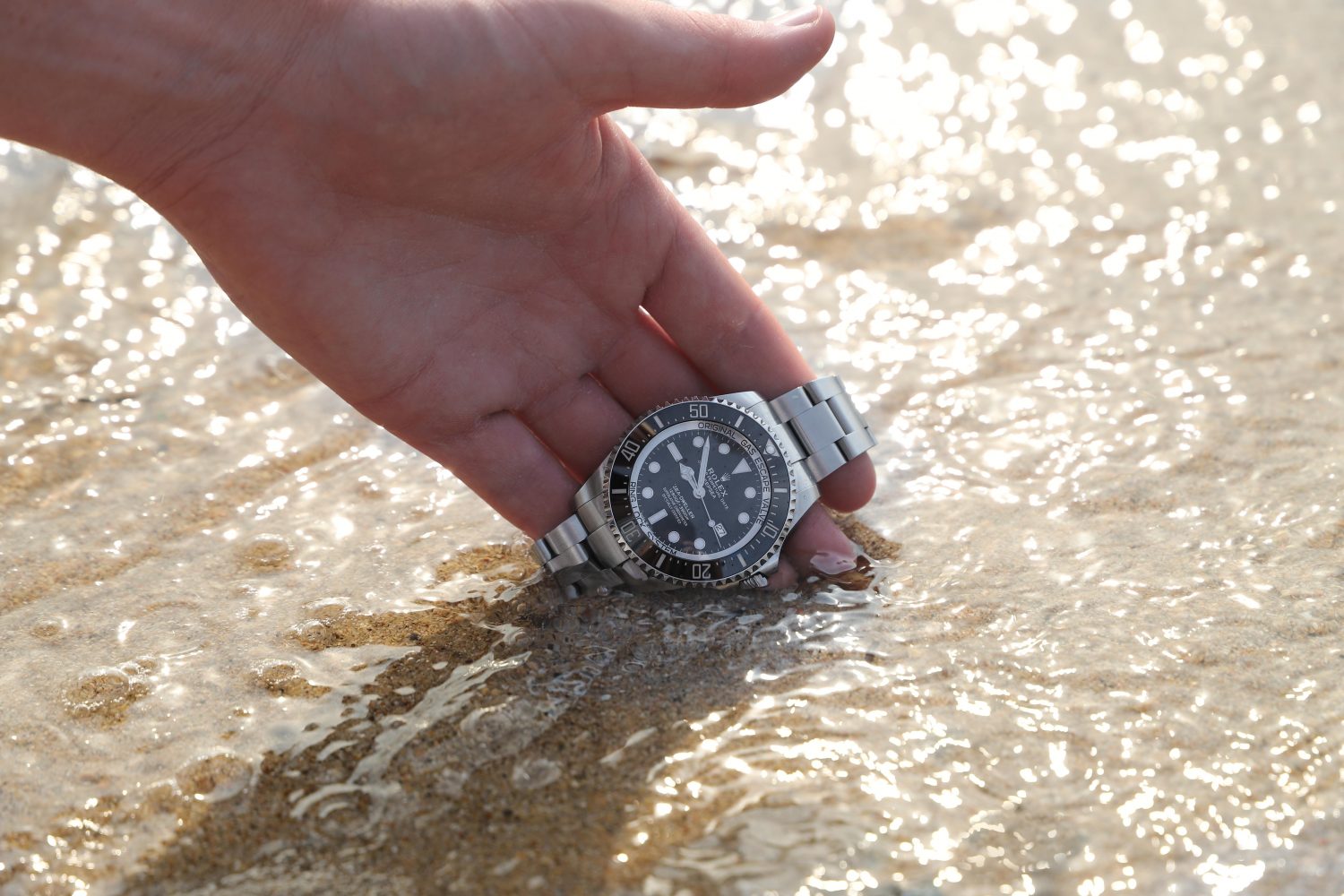 Rolex watches are extremely robust and durable, but there's a difference between being able to withstand something, and whether or not something is actually good for the watch. Any extreme environments and conditions, albeit no problem for a Rolex, will cause more wear and tear and may result in premature wear. Generally, if you subject your watch to harsh environments every now and then, it will be no issues, but if you frequently and regularly subject it to these situations, it may lead to more frequent service needs. Of course, if you are aware of this, then you'll just take your watch for service when it needs it.
Here are some things you should keep in mind:
Extreme temperatures
Chances are, you'll go to the beach on warm days when the sun is shining. If you have touched metal objects that have stood in the sun all day, you know that they can get extremely warm. The same of course goes for your watch. The first issue to bear in mind is that this can cause discomfort on your wrist if you are in direct sunlight for a prolonged period. At worst, the watch may risk burning your wrist. This can of course be resolved by frequently jumping into the water and cooling off when you need it.
Secondly, whilst Rolex watches are built to withstand extreme temperatures, the prolonged heat can cause more wear on the movement. Moreover, the rubber gaskets inside the watches can deteriorate faster. We have gone into detail about wearing your Rolex in the sun in this article.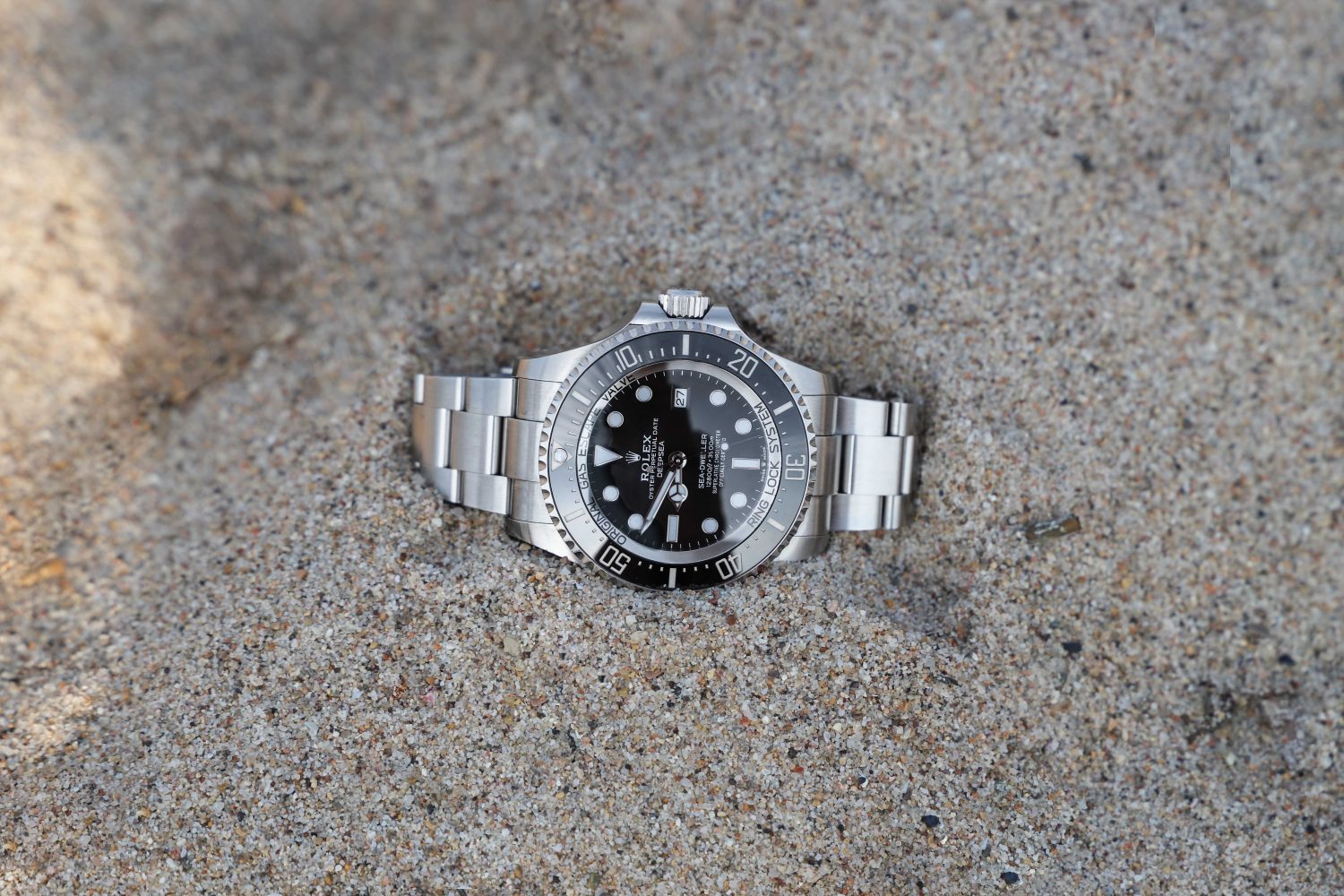 The bottom line when it comes to the heat and sunlight is that Rolex watches are built to withstand it. But even if they are built to handle extreme temperatures, they may cause premature wear. Another factor is heat builds up into the movement when subject to extreme heat. And this pressure has nowhere to go in your watch. Whilst the risk is very low if you are at the beach (since the temperatures are rarely high enough), it may, in the worst case cause the crystal to pop.
Wear only watches with metal or rubber bracelets
It goes without saying but if you are going to the beach, you should make sure to wear a bracelet that is suitable for the water, sweat, and sand that it will be subject to. We're specifically talking about leather straps as something you should avoid. Wear a strap that is water resistant and can withstand sweat, sand, and water.
In Rolex's collection, the straps you should look for are therefore rubber (Oysterflex) or metal. You of course have the option to change the strap on your Rolex watch to a third-party strap such as a NATO strap as well. But leather is not a good option for the beach. it will deteriorate, be destroyed by the water and sweat, and start to stink.
Related: Rolex bracelets: complete guide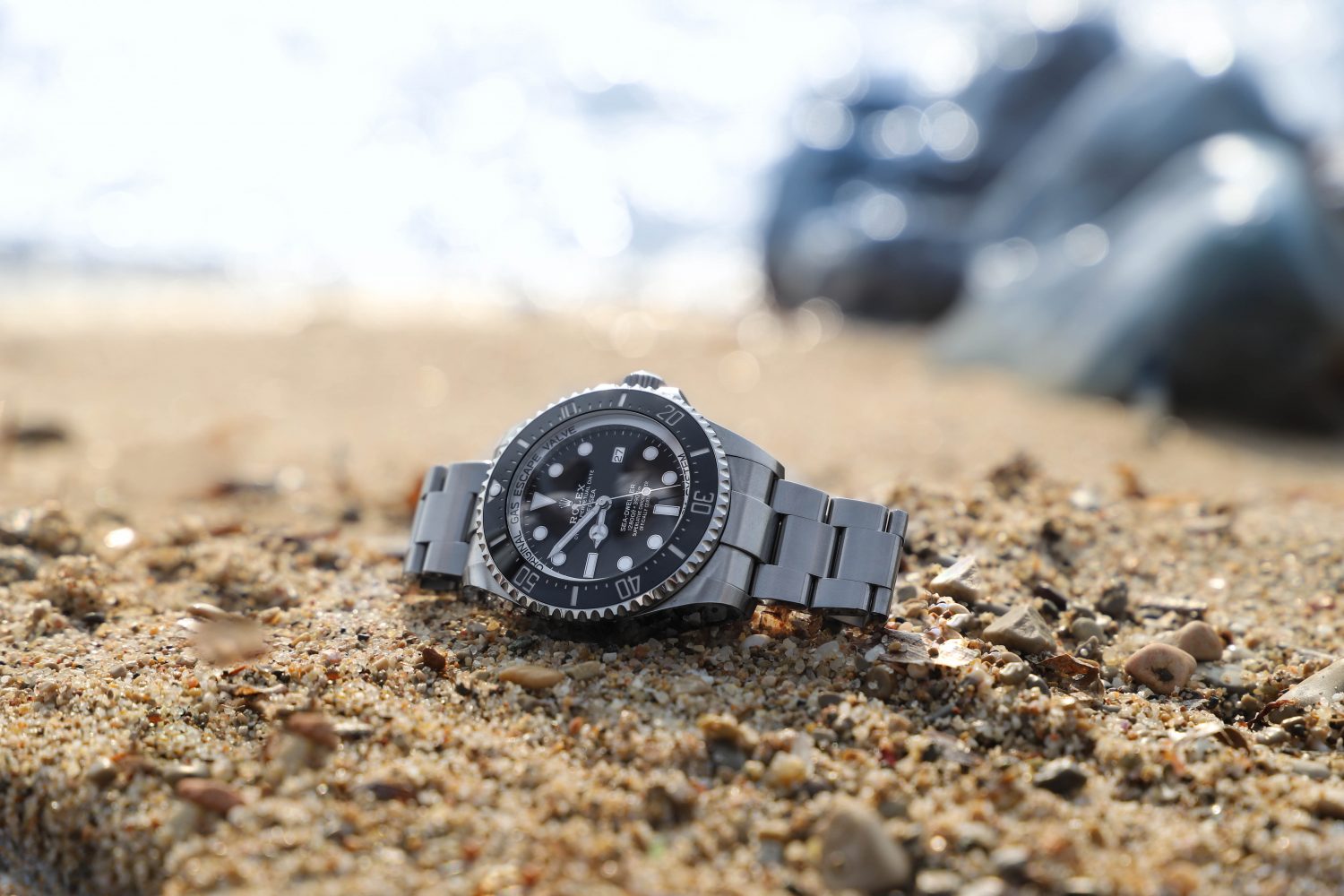 Be aware of the sand
If you're going to the beach, chances are you are going to a sand beach. Sand is abrasive and can scratch your watch. Moreover, the sand can find its way into different parts of the watch, specifically if you have a rotating bezel, or between the links of your metal bracelets. Be mindful about this to avoid putting the watch directly into the sand, for example.
This brings us to the next point…
Rinse your watch
After you have been to the beach, make it a habit to always rinse your watch. Firstly, rinsing your watch in fresh water ensures that you get rid of any sand that is on your watch. Sand will scratch and damage your watch, but it can also find its way into the rotating bezel if you have one. This can cause big issues when rotating it.
Second, if you have been swimming in saltwater, your watch will have salt residue on it. This makes the watch lose its sheen, but it is also not ideal to have on your watch. When the water dries, the salt creates salt crystals that can dry inside your rotating bezel (if you have one) and make it impossible to rotate.
Related: Can Rolex go in saltwater?
Moreover, rinsing your watch ensures that you get rid of any dirt such as sweat or sunlotion.