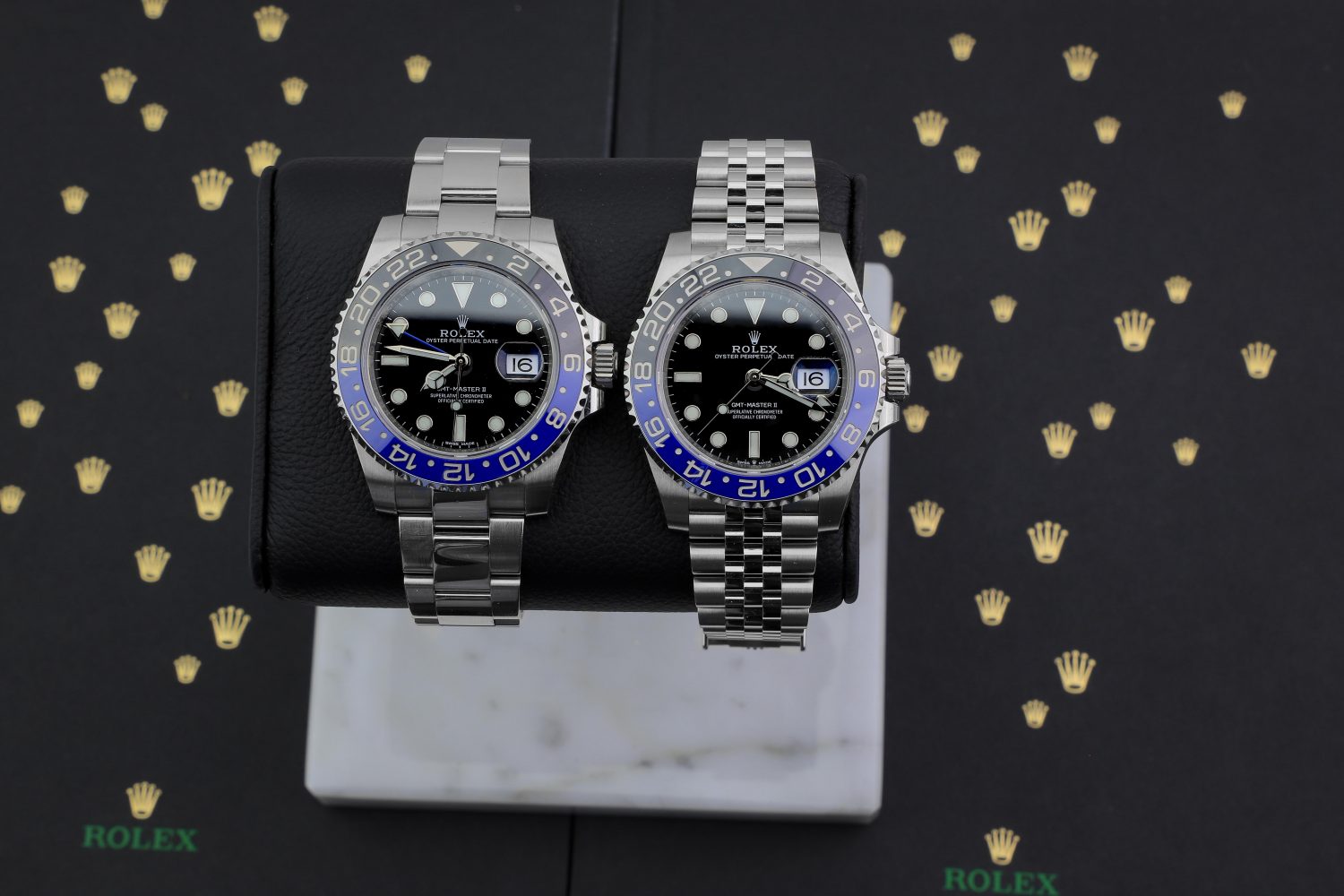 Top 41 Facts About Rolex – Interesting Things you Must Know!
Rolex is unarguably the most powerful and most influential luxury watch brand of this era. It has established itself as the most famous luxury watch brands in the world and has become a symbol of precision, quality, and luxury. Rolex has long been known as a horological status symbol, not only among those seeking for a beautiful accessory but equally so for the pickiest and passionate watch connoisseur.
Known worldwide for its quality timepieces, Rolex is the go-to watch brand and the first brand that comes to most people's mind when thinking about luxury watches.
But what is it that has contributed to Rolex's immense worldwide success, and how has the watch company evolved throughout history?
In this article, we're listing the top 41 most interesting facts about Rolex.
41 most interesting Facts about Rolex
---
1. What does Rolex mean?
Most watch brands have been named after their founders, such as Patek Philippe and TAG Heuer, but not Rolex.
Because the founder hasn't gone into too much detail about what Rolex means and how it came about, it has given birth to a number of theories.
The most common story about the Rolex name is the fact that the founder was looking for a name that could be pronounced in any language, looked good on a watch face, is short, and memorable. This seems to be the most accurate theory as it is one that has been admitted by one of the founders.
Another story is that the name derives from the French for exquisite clockwork (horlogerie exquise, where the H is silent- "hoROLogical EXcellence"). This is, however, not something that the founders have confirmed nor denied. Another theory about the Rolex name is that, according to the founder, the word rolex sounds like the sound of a watch being wound.
There are misconceptions that "Rolex" is a word in some language, but there is actually no language which has the world Rolex in its lexicon. In Spanish, however, reloj, means clock and both Rolex and reloj sound similar. Since Spanish is the most spoken language in the world, it's possible but unlikely.
---
2. Rolex started using 904L stainless steel in 1985
From 1985 and onwards, all Rolex watches are made of this alloy.
Most watch companies make their steel watches in a type of stainless steel called 316L.
Rolex calls its alloy "corrosion-resistant superalloy", and corrosion is a problem with stainless steel watches. The reason is that the watch is attached to the wrist, and this combined with moisture and other corrosive substances, such as salt water can make the watch rust and corrode.
The 904L steel is more expensive than the 316L and much more complicated to make. There are other steels that are harder and more resistant to scratches and marks than the 904L steel, but for a tool watch, especially when it comes to Rolex's dive watches, it's crucial that the cases are waterproof, and corrosion can compromise this if the threads that hold the crown and the case back corrode.
That Rolex uses 904L steel is just one of many facts about Rolex that sets the brand apart from its competitors.
---
3. All Rolex watches are handmade
Even in the industrial era we live in where machines that can do most tasks, Rolex's watches are still handmade. Rolex watches are meticulously and carefully crafted and put together to make sure they meet the high standards that Rolex is looking to keep.
Essentially everything for the Rolex watches is made in-house. The most complicated and lengthy process is for a watchmaker to assemble the advanced movements that are fitted inside of a Rolex watch. To make sure they meet the high demands, they are lastly independently tested.
---
4. All movements by Rolex are assembled by hand
The skilled watchmakers of Rolex assemble each of their movements by hand. Back in the days, Rolex bought movements externally for some of its models, but today, they are all made in-house, which means that all movements used in Rolex's modern watches are made by Rolex themselves.
Considering the high volume of watches that Rolex produces, it's hard to believe that each of the movements is assembled by hand, but it is certainly a proof of the immense quality and attention to detail that goes into making these watches.
---
5. Rolex makes about 800,000 to 1 million watches a year
It is estimated that Rolex makes about 2000 watches a day, but Rolex doesn't release information about how many watches produced yearly, and this is why the numbers are estimates.
---
6. All Rolex watches are photographed with at the time 10 past 10
If you look at all the Rolex watches photographed, you'll notice that all of them are set to 10 past 10 and with the second hand at 31 seconds. This is known as the official "Rolex time". If the watch has a date function, the date is always set to the 28th, and if it has a day function, such as in the Day-Date, the day is always set to Monday.
The reasons for this is simple. First off, it becomes a trademark and iconic trait of Rolex's watches, but most important is the aesthetic look that it gives. The hands are set to a position where they are symmetrical and at the same time perfectly frame the logo which can always be found at 12 o' clock.
---
7. It takes about a year to make a Rolex watch
This is according to a Rolex advert. With that in mind, the cost of a Rolex doesn't seem too high at all. This fact is only partly true, though, because it takes one year to manufacture all the various components that go into a Rolex, but once that they are manufactured it takes 4 hours to put them together.
---
8. Rolex was founded by Alfred Davis and Hans Wilsdorf
Hans Wilsdorf was the brother-in-law of Alfred Davis.
---
9. Rolex was founded in London, England in 1905
The company didn't start out as Rolex, though. The company first started out as Wilsdorf and Davis.
---
10. Rolex started out as a company which assembled watches
At first, Rolex didn't make watches, they merely assembled them. The company purchased movements Hermann Aegler's Swiss movements and put the movement into cases which were made by Dennison as well as other manufacturers. The watches were then sold to jewelers.
---
11. The early wristwatches of Rolex were marked W&D
When the watch company first began, the name Rolex didn't exist, and the company made watches for jewelers. As such, the watches weren't branded on the dial, in order to allow the jewelers to put their own names on the dial. The watches were marked, however, inside the casebook, with "W&D".
---
12. All Rolex Oyster watches are pressure-tested before leaving the factory
Maybe not the most surprising facts about Rolex, but in order to ensure complete water resistance, Rolex pressure-tests all of its Oyster watches. This process involves a number of steps, including placing the watch in a sensitive air-pressure chamber in order to identify if the case has any air leakage. If this is the case, the watch is removed from the assembly line.
---
13. In 1919, Rolex relocated to Geneva
For a brand that is today known as the top luxury Swiss watchmaker, it might come as a surprise that the company didn't start out in Switzerland, nor that the founders were Swiss.
In 1919, however, Rolex's story as a Swiss watchmaker began, as the company relocated to Geneva, Switzerland due to wartime taxes which were levied on luxury imports – mainly silver and gold.
---
14. In 1908, the trademark Rolex was registered
Wilsdorf registered the trademark "Rolex" and then opened an office in La Chaux-de-Fonds. On the 15th November 1915, the company name and trademark "Rolex" was registered.
---
15. Rolex Is a charity
In 1944, Hans Wilsdorf founded the Hans Wilsdorf foundation was founded in 1944 after the death of his wife.
The ownership of Rolex is now the subject to the foundation, and clear guidelines for how the finances should be handled are set up.
Since Swiss law says that private charities don't need to disclose about their respective charities, the donations of the Rolex foundation are kept a secret. As such, there haven't been any and there has been no information released about whether or not anyone has received a charity from the Hans Wilsdorf Foundation.
---
16. In 1925, Rolex's iconic crown logo appeared for the first time
Today, it is a well-known logo all over the world, but since it was first introduced, it has been slightly reshaped and changed.
---
17. Rolex set all of their hour markers by hand
This goes to show Rolex's impressive craftsmanship and attention to detail. Most other watchmakers complete this process with the help of machines, but Rolex is able to achieve a higher precision with the human hand for this process.
---
18. In 2017, the most expensive Rolex watch sold for $5,060,427…
The watch sold was the Bao Dai ref. 6062 which is the only one of its kind. It was outfitted with a black dial and diamond indexes
The watch was first auctioned in 2002 for $235,000, but 15 years later, it broke that record significantly by more than 20 times the price when it was sold for $5,060,427.
The watch was specially made in 1954 and was commissioned by the last Emperor of Vietnam, Bao Dai.
---
19. ….This record was broken, however, in 2017 when a Rolex Daytona sold for $17,752,500
This sale broke all records and resulted in the most expensive wristwatch ever sold at an auction.
In 2017, the mythical "Paul Newman" Daytona which had been owned by the man of which the model has gotten its nickname from was auctioned out. It was a 1968 Rolex of Reference 6239 Daytona, and when the hammer was dropped in October 2017 at Phillips' inaugural watch auction in New York City, it sold at a staggering price of $17.7m to an anonymous buyer on the phone.
---
20. The first waterproof case for a wristwatch was the Oyster case
The oyster case was made by Rolex in 1926, and as you can imagine, it was a big moment in watchmaking history as it wasn't completely that watches got water damages due to their inabilities of preventing water from entering the case.
The Oyster case, on the other hand, had a patented system of screwing down the bezel, case back and crown to the middle case. This enabled the watch to become waterproof. In 1926, Rolex did not only create the first waterproof wristwatch, but they became the first brand to produce it on a large scale.
---
21. The winding crown of Rolex is made up of 10 different parts
Quite an impressive fact about Rolex which yet again goes to show Rolex's great attention to detail. The 10 different parts are screwed hermetically onto the watch case.
---
22. Rolex makes all of its gold in-house
Talk about in-house manufacturing. In the world of watchmaking, having an in-house movement tends to be prestigious and reflect a great passion for watchmaking, but when Rolex even goes so far to make its own gold in-house, it proves that Rolex isn't like other watchmakers and that it never compromise with quality.
Because of the fact that Rolex makes their own gold, they can control the production and machining of it. This also means that they are able to ensure quality as well as looks of the material. Rolex is the only watch company which makes its own gold and has a real in-house foundry.
---
23. Rolex has been to the top and the bottom – without losing a second
In 1953, the team which was led by Sir Edmund Hillary that reached the top of Mount Everest wore Rolex. The Rolex continued to run flawlessly. Seven years later, in 1960, the US Navy's bathyscaphe Trieste went on a mission to go down 10,916 meters, 35,800 feet deep into the ocean at Mariana Trench. Rolex accompanied the Bathyscape Trieste on this historic mission, and at the bottom, the watch was subjected to a pressure of 14,000 psi, but despite this, it continued to tick without even losing a second. This goes to show Rolex's immense quality and ruggedness.
---
24. Rolex's headquarter has higher security than a high-level security prison
The reasons for this are many, but one of them is the fact that the headquarter holds bars of Everose gold worth $1,000,000. The headquarter has employee fingerprint scanners, bank vault doors, iris scanners, and unmarked armored trucks to move Rolex parts from location to location. Rolex watches sure are sought-after.
---
25. Rolex makes no watches with see-through case backs
Rolex doesn't make any watches with see-through case backs, different from essentially all other luxury watch companies.
There are two exceptions, however, there are two extremely rare Rolex models from the 1930s that did have see-through case backs made of glass.
The reason is that for dive watches, in particular, it doesn't make any sense, nor does it for tool watches. For a dive watch with a see-through case back, the back would have to be thicker compared to steel.
Additionally, and this is the most important reason, Rolex makes high precision movements. They're powerful and extremely reliable, but not visually interesting because Rolex's focus is about quality and precision in first hand.
---
26. Rolex still use IIII instead of IV on its Roman numeral dials
The "IIII is known as the "Clockmaker's four". The reason is that of aesthetics and symmetrical balance.
---
27. Rolex watches haven't always cost as much as today
Today, Rolex is seen by many people as a sign of wealth. And this, of course, makes sense considering that Rolex watches cost quite a lot of money -something that is clearly reflected in the quality of the watch, and which has been made obvious by many of the already listed facts about Rolex.
With Rolex's increased demand came also higher prices – much according to the supply and demand principle, and the goal to make Rolex watches exclusive.
The average cost of a Rolex in 1981 was about $900. In 1991, the average price had jumped to $2350. And even with inflation part of the equation, it's clear to see that the price has increased significantly faster and more than what the inflation has.
---
28. Rolex has been to the deepest point in the ocean
If you thought going to 10,916 during the bathyscaphe mission was a lot, you'll be surprised to hear that a Rolex watch has gone even deeper than that.
In 2012, James Cameron descended into the Mariana Trench on his Deepsea Challenge mission. As he did so, he wore a Rolex Deepsea Challenge, a timepiece which was guaranteed waterproof to a depth of 12,000 meters (39,370 feet).
Through the whole 7 hour journey, the Rolex kept the time flawlessly.
---
29. Rolex have four sites in Switzerland
At these sites/factories, Rolex employs more than 6,000 members of staff.
---
30. Rolex retails in over 100 countries
This is clear evidence and a true sign of world domination.
---
31. The Rolex watch that Roger Moore wore during the James Bond movie 'Live and Let Die' was auctioned off for €178,000
Roger Moore wore a Rolex Submariner 5513 which was made especially for him as James Bond in the 1973 film "Live and Let Die".
---
32. The "Day" wheel on the Rolex Day-Date models is available in 26 languages
The languages available are:
English
German
Arabic
Chinese
Danish
Spanish
Basque
Catalan
Ethiopian
Finnish
French
Greek
Hebrew
Dutch
Indonesian
Italian
Japanese
Latin
Moroccan
Norwegian
Farsi
Polish
Portuguese
Russian
Swedish
Turkish
This is yet another sign of Rolex's immense international expansion.
---
33. In 1945, Rolex made the first wristwatch able to automatically change the date
The watch was the now iconic Rolex Datejust.
---
34. Rolex was the first watchmaker to meet the standards of COSC for a wristwatch
In 1910, Rolex became, with its movement based on a reliable calibre from Aegler, the first manufacturer to meet with the standards of COSC for a wristwatch.
At that time, only pocket watches could meet the COSC precision criteria, but Rolex achieved it in a wristwatch.
---
35. Rolex has its own team of gemologists
The gemologist team of Rolex is working to ensure the highest quality of gemstones in the Rolex watches using gemstones
The gemologists of Rolex buy, test, arrange and set diamonds as well as other precious stones in a number of Rolex's models, which include gemstones.
The Gemologists buy gemstones from suppliers at an astronomical level.
---
36. Rolex was the first watchmaker to release a watch waterproof to 100m
They did so with the 1953 Submariner.
---
37. Rolex was the first watchmaker to make a watch displaying two time zones at once
---
38. Rolex released the first wristwatch with a perpetual rotor
---
39. Rolex released the first watch able to automatically change both day and date on the dial
The model? The Rolex Day-Date, of course. This was with the Day-Date released in 1956.
---
40. Rolex gained immense popularity during World War II
Rolex was known for its high precision, quality, and durability, and this was traits that the military needed from their watches. As such, many pilots in the British Royal Air Force used Rolex watches during World War II. The watches, however, were often taken by Nazi soldiers because they realized just how good and reliable they were. What Rolex did, however, was
something that contributed to its reputation substantially. Rolex offered replacements to British soldiers based only on their word, and when American soldiers, as well as Canadian, Australian, New Zealander, South African and other Allied soldiers found out about it, Rolex became a powerful symbol.
---
41. Rolex is more about evolution than revolution
Rolex is far from being a company known for its enormous revolutionary discoveries and evolutions within the watch industry. Rolex is a very conservative company in a way, still making its Submariner, GMT, and many more models based on models that they launched many years ago, and which still to this day are distinctively similar to the first watches of that model.
Rolex isn't like its competitor luxury watch brands which constantly work to make the lightest, powerful, complex, watch ever created, nor making watches solely based on trends of today.
Rolex is, however, a company which constantly evolves and improves. In fact, Rolex has its very own Rolex Research Laboratory which constantly works with new innovations and inventions, and every year, dozens of patents are registered by Rolex. When thinking about Rolex and its innovation, you could call it discreet innovation. Its innovations are focused on practicality and user-friendly inventions, which ultimately makes their watches more durable, usable, functional, and more practical.
---
Conclusion
It's hard not to be impressed by these facts about Rolex. They show that Rolex hasn't always been what it is today, but at the same time, they make it very clear that very early on, Rolex wasn't like all other Swiss watch companies that it was competing with at the time, and still do today.
The Rolex brand continues to dominate the luxury watch industry and a worldwide icon for precision and perfection, and it continues to evolve and innovate, but in a discreet way.