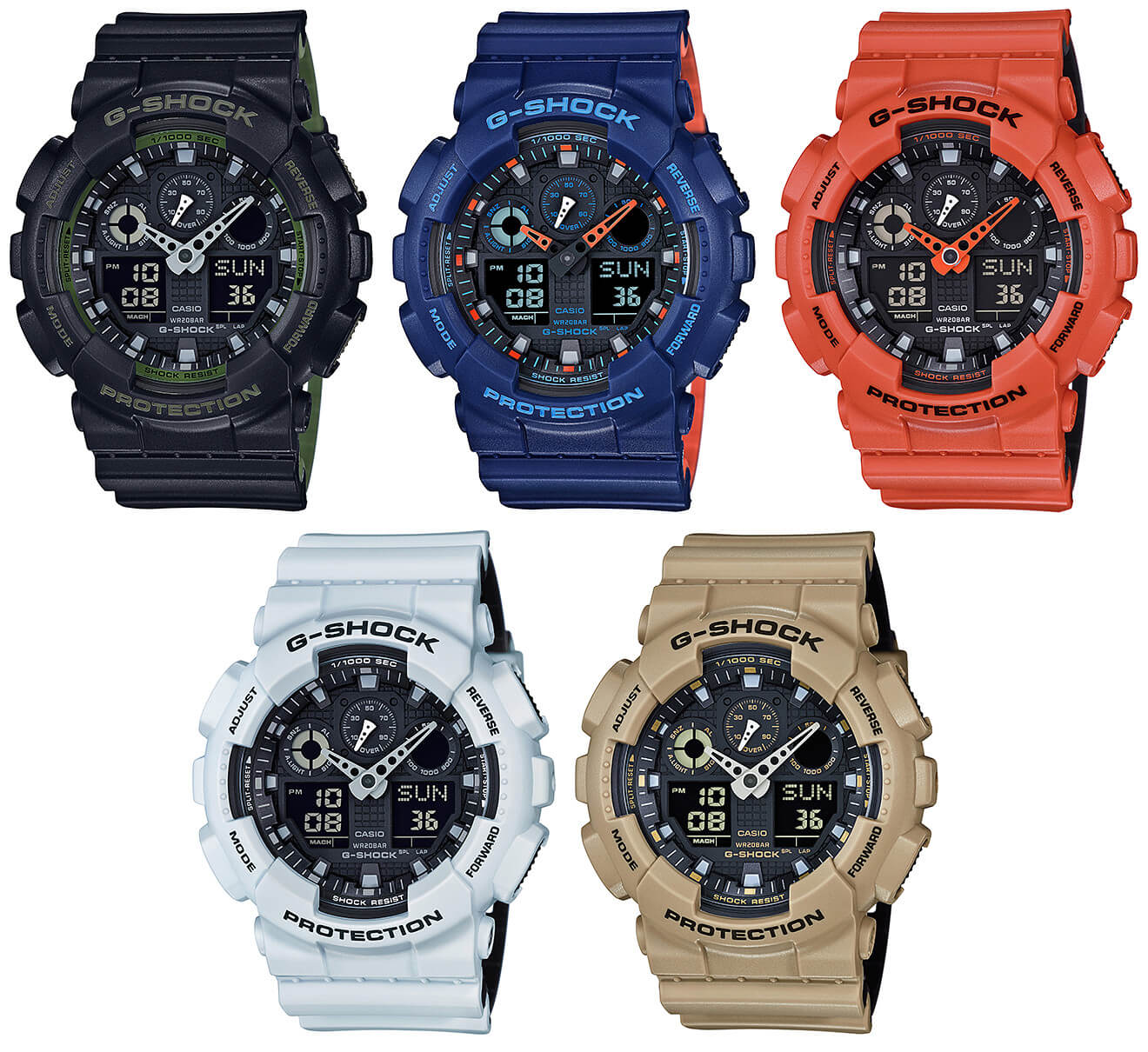 Casio G-Shock GA-100 Review & Complete Guide
The Casio G-Shock GA-100 "X-Large Combi is a G-Shock version that stays true to the ethos and concept of this lineup but presents it with slight design tweaks. This model is, as the name suggests, larger than many other G-Shocks, but in addition to this, it is also presented with an analog display which many people will enjoy since it contributes to making it more elegant and more suitable for those who don't really enjoy digital watches.
Since most G-Shocks are completely digital, this is a great alternative that combines both digital and analog in a nice way.
The name Casio uses is X-Large Combi which is to refers to its large size and combination of digital and analog. In this article, we are reviewing and looking closer at this watch from Casio, so without further ado, let's dig in.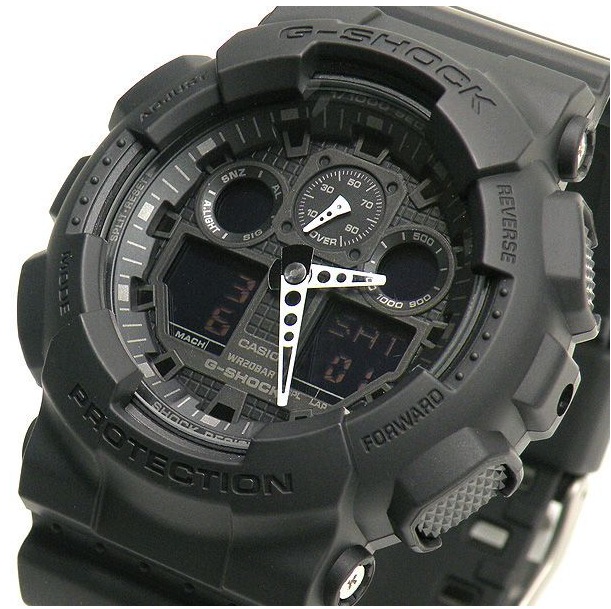 As an Amazon Associate, we may earn from qualifying purchases, at no extra cost to you.
Case
The GA-100 has a design that feels very similar. Despite its larger size and combination of analog and digital, the case design is virtually the same as the classic G-Shock design. It has a black resin case with a bezel that is thick and raised on top of the watch in order to provide maximum protection for the screen and the mineral crystal that sits on top.
This watch is both anti-magnetic and shock-resistant, much of which is contributed by its robust case construction. The sides of the case have "bumpers" which also work as a protection for the pushers in order to improve their shock resistance. Thanks to its resin construction, it can handle shocks very well and also be subject to dirt, mud, and other harsh conditions, and simply be rinsed underwater and look just like new.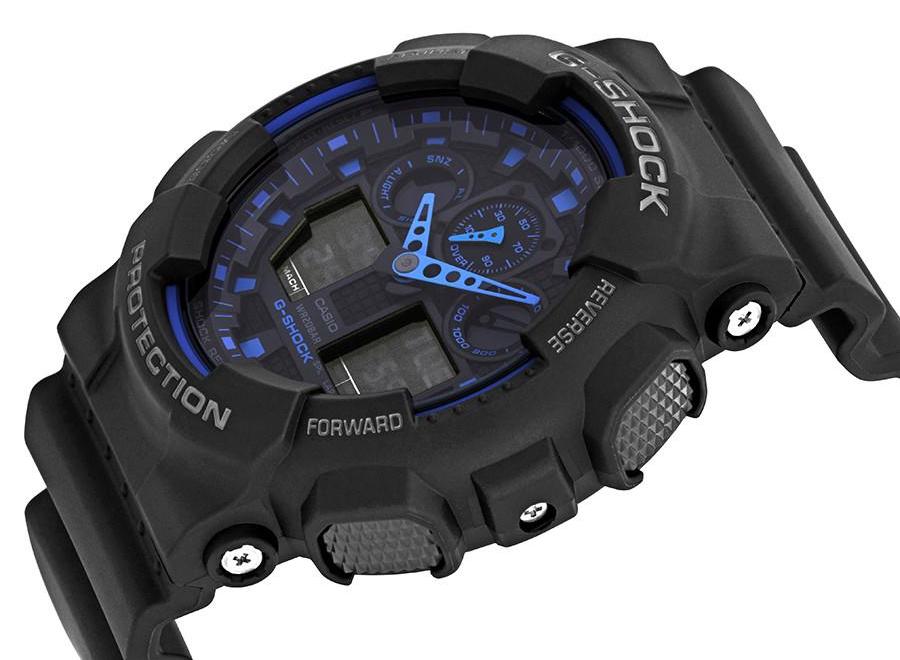 Worth noting is that Casio has made several different iterations of the GA-100 in different colors such as red, blue, and black, so you should be able to find one that suits your taste and preference.
The case measures 51mm in diameter, has a length of 55mm, and has a weight of approximately 70 grams, and with that said, it is a relatively large watch. Naturally, we expect G-Shocks to be large and sporty, so this doesn't exactly come as a surprise. However, this watch actually was smaller than its dimensions may suggest. Whilst the case construction is bulky, the integrated resin strap design makes it wear really comfortable. The strap is secured via double pins. And just like the case, a simple rinse will make it look just like new.
The pushers for the functions of the watch are positioned on its sides, and with their large size and protruding design, they are relatively easy to operate.
The watch has a water resistance of 200m/660 feet which is essentially standard for G-Shocks. In practice, this means you can go swimming or diving with this watch and it won't break a sweat.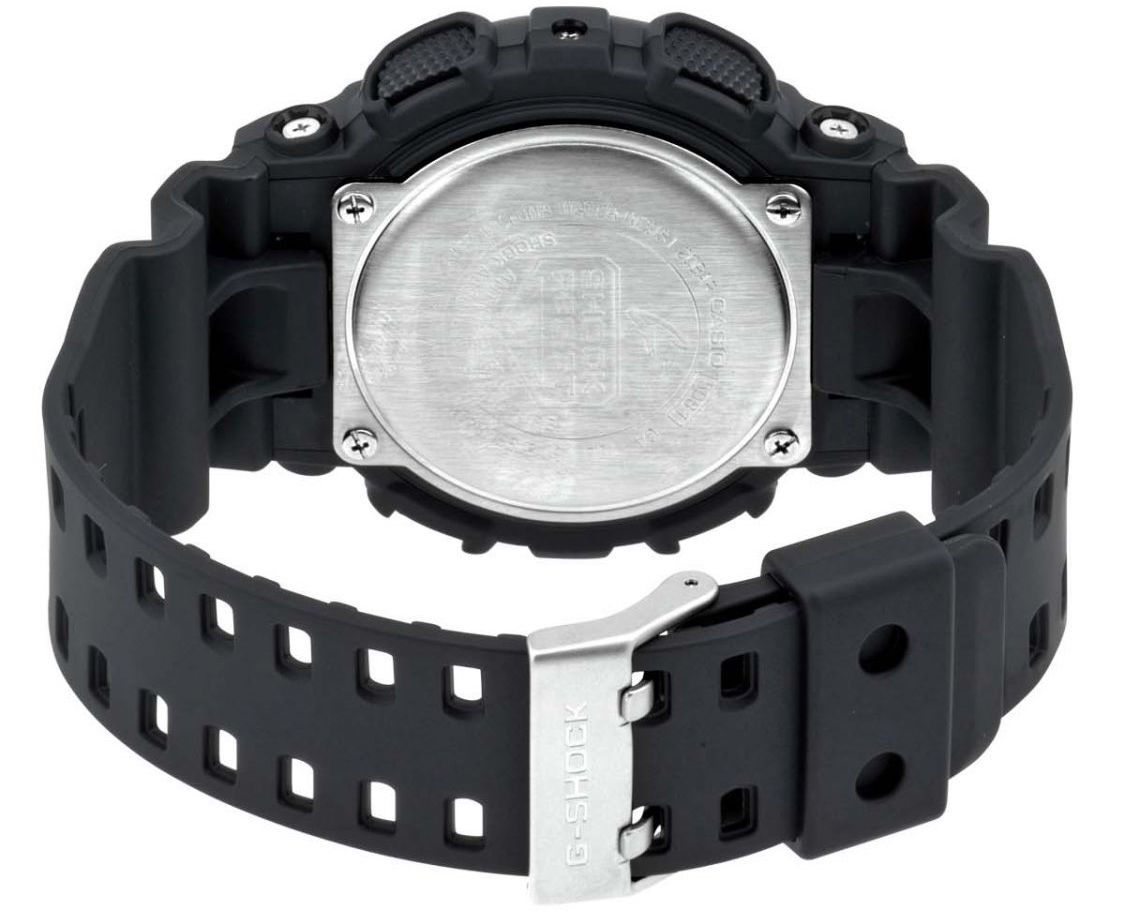 Dial/screen
The watch combines digital and analog, and whilst Casio has released a number of G-Shocks with this combination, it is an interesting one since it helps make it more versatile and suitable for everyday wear. Whilst the watch is just as tough as any other G-Shock, the analog hands simply help in the styling and appearance by removing some of the sportiness.
The hands are made of metal and have a perforated design. In general, the hands offer relatively good legibility. At 12 o'clock, you find a 60-second sub-dial which is nice to have, and which, in most G-Shocks, is digital. In addition to this, you'll find two additional sub-dials on each side of it, and on the bottom part of the dial, there are two small digital screens.
A downside of this watch is that the hands more indices have luminescent material applied to them, which can make it harder to read the time in low-lit conditions but don't worry. This watch is equipped with a backlight, and an LED light that lights up the dial and helps read the time.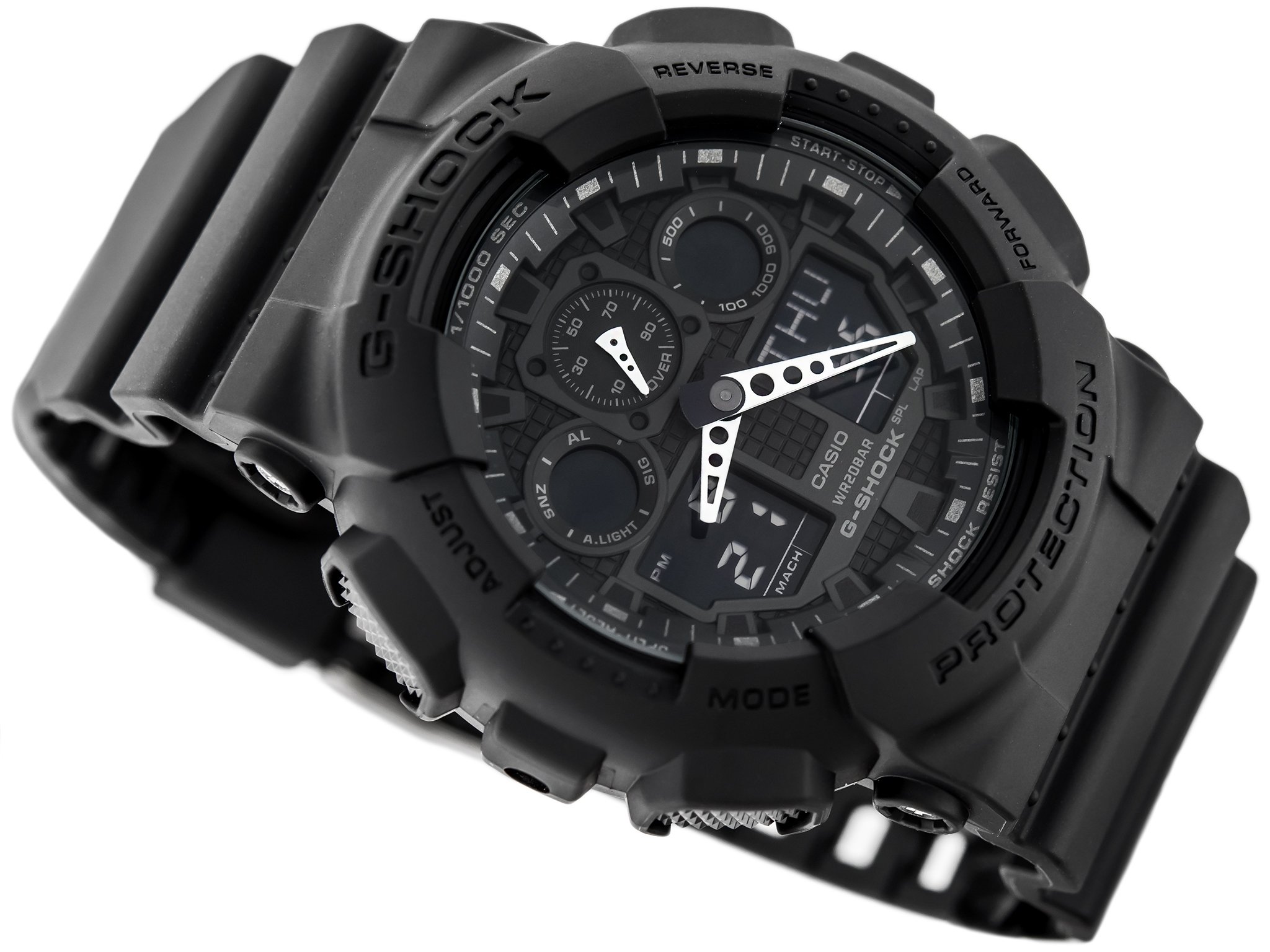 Movement/functions
In terms of functions, this watch has a lot to offer, but it is by no means Casio's most advanced G-Shock.
The Casio G-Shock GA-100 has a 1/1000-of-a-second stopwatch chronographs function combined with a digital tachymeter that allows you to measure the speed traveled. The speed traveled is then indicated on one of the digital screens.
In addition to the analog hands, you also have the time presented on the lower-left digital LCD screen as well. This makes it possible to choose how you want to read the time, depending on the situation of the legibility.
In addition to this, the watch has all of the standard functions that you expect in a G-Shock which are calendar, timer, daily alarms ( 4 daily alarms and 1 snooze alarm), countdown timer, world time, auto LED, split times, and chiming features. Two functions that are not present, however, which you usually find in more expensive alternatives are solar technology and atomic clock radio synchronizing.
Specifications
Weight: 70 grams
Diameter: 51.2mm
Length: 55mm
Weight: 70 grams
Crystal: Mineral glass
Water-resistance: 200m/660 feet
Thickness: 16.9mm
Battery life: 2 years
Conclusion
All in all, the Casio G-Shock GA-100 is a great alternative for people who want a watch that offers durability and performance but does not want a full-on digital watch. This watch combines the best of both worlds by incorporating useful digital functions with a regular analog display for the time. This also helps make it more elegant and suitable for everyday wear compared to a G-Shock that is fully digital.
In addition, for a price of less than 100 USD, we think it's safe to say that this watch also offers great value for money. This watch will never let you down and is suitable for outdoor activities and sports, whilst also working great for many different occasions.
The watch will handle virtually any situation you subject it to, and together with all of its functions, it is a perfect companion.
The Casio G-Shock GA-100 is available to order on Amazon.