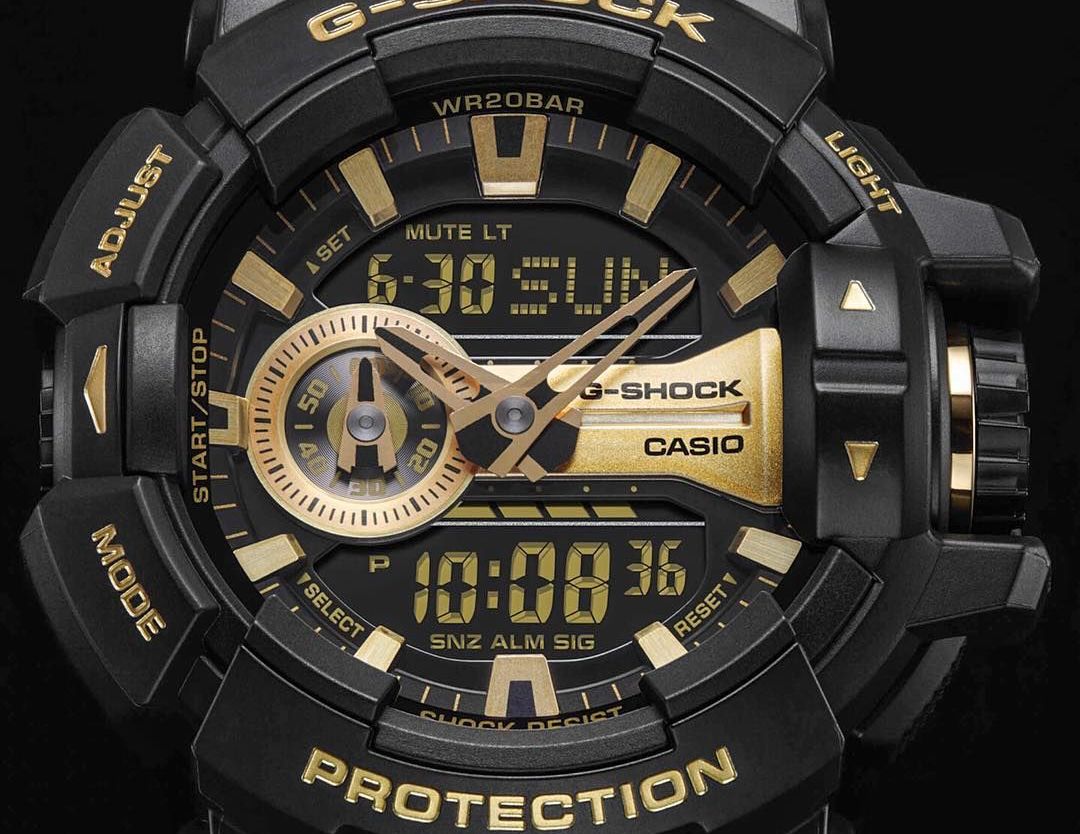 Casio G-Shock GA-400GB Review & Complete Guide
The Casio G-Shock has become one of the most popular watches in the world. It is affordable, durable, and built to last. Because of the huge popularity, Casio has released countless variations and iterations of the G-Shock to cater to everyone's needs and wants.
The G-Shock is known for being a watch that can last for years and handle virtually any harsh condition, and in addition to this, they are packed with different functions and features that may come in handy.
The G-Shock watches are not for everyone due to their sporty and bulky nature, but if you want a watch that offers all of this, then you should definitely consider one. In this article, we are looking closer at one of many – specifically the Casio G-Shock GA-400GB.
This is a watch that stays true to the classic G-Shock in terms of design, form, and function, but has been designed with a twist for a slightly more elegant and refined look.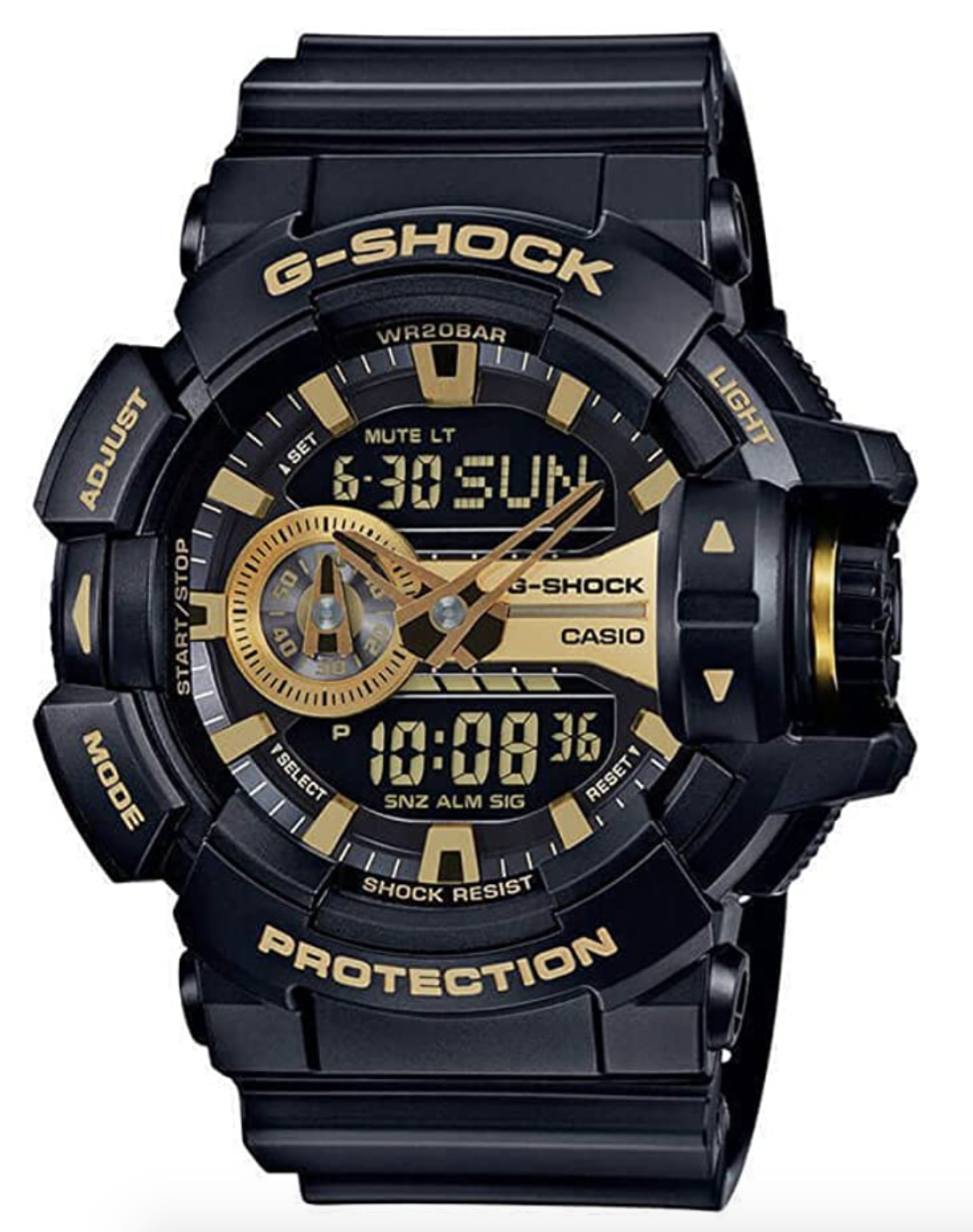 Casio G-Shock GA-400GB case
This watch is presented with a traditional G-Shock case, which is made in black resin, has a rounded design, and is protected by "shock absorbers" around the case. Overall, the case stays true to the design that most people would associate the G-Shock with. At the same time, it has a few visual tweaks.
The resin bezel sits raised over the screen/dial which keeps it protected. On each side of the case, you have three buttons in addition to the crown. Information about what each push button does is printed on the bezel, accordingly: "adjust, light, mode".
Thanks to the resin design, it gets an increased shock resistance but also improved anti-magnetic properties.
A sporty watch of course needs good water-resistance, and this watch has a water-resistance of 200m/660 feet. This is enough for virtually any water-related activity that you may subject it to, including mud but also swimming and diving.
The case measures 52mm in diameter and has a thickness of 18mm. With that said, it is a big watch that is not for everyone. It is most suitable for men with medium and large wrists who enjoy a timepiece that is robust and bulky on the wrist. But at the same time, thanks to its integrated bracelet, it wears slightly smaller than you may think.
Also, a sporty watch like the G-Shock, you expect to be sporty and bulky.
G-Shock GA-400GB dial and functions
What makes this watch stand out from the ordinary is of course its gold accents. The gold details take it from only being a sporty tool watch, to something more elegant and slightly more versatile. And it does this whilst also still staying true to everything that we expect from a G-Shock. This means toughness, sportiness, and durability.
For the screen, it uses mineral glass. This is not as tough as sapphire crystal, but the benefit is that it doesn't shatter the same way that mineral glass does. The watch has an analog time display but also two digital screens at 12 and 6 o'clock. This combination of analog and digital is great because it allows lots of different functions, whilst the analog display makes it slightly more refined and versatile for everyday wear.
As you have already noticed, the hands of the watch are made in gold color, just like the applied metal hour markers and a few of the other dial parts, including the actual digital display digits.
The gold details contrast the black look of the watch exceptionally well and create a sporty yet elegant look. It's safe to say that Casio has succeeded very well with this combination.
The watch has an hour hand and a minutes hand, and these are both made in metal and are skeletonize.
Moving on to the functions of this watch, it obviously has a lot to offer, as you can expect. First off, it has a rotary switch which is used for operating the watch. For improved legibility, it has a LED light that works as a super illuminator. It also has the option to select the duration for the illumination. For keeping track of its power level, it has a low battery indicator which informs when it is low on battery.
The accuracy is +-15 seconds per month and the battery life is approximately 3 years. The watch is powered by the module 5398.
The watch has a world time with 31 time zones and 48 cities. It has 5 daily alarms with 1 snooze so you can set your alarm and also keep track of the time around the world. It is equipped with a countdown timer, a 1/100-second stopwatch with a measuring capacity up to 23:59'59.99''. It can measure elapsed time, split time, and has a countdown timer.
The digital screen presents a full auto-calendar to the year 2099, 12/24-hour format. It can measure elapsed time with split time.
As you can see, it has a lot to offer in terms of functions which may come in handy.
GA-400GB Strap
The watch is presented on a black resin strap which matches the case of the watch perfectly. First and foremost, the resin strap integrates very well into the case and creates a seamless and stylish look. Furthermore, the strap, being made in resin, is durable, resistant against water, mud, and other types of dirt. In addition, the resin strap is very resistant to scratches, meaning it will continue to look good for a very long time to come.
Specifications
Water resistance: 200m/660 feet
Shock-resistant and anti-magnetic
Battery life: approx 3 years
Functions: world time with 31 time zones & 48 cities, 5 daily alarms (with 1 snooze), countdown timer, low battery warning,

 

daylight saving which can be turned on and off, 1/100-second stopwatch, Measuring capacity: 23:59'59.99''. Elapsed time, split time, Countdown timer, Full auto-calendar to the year 2099, 12/24-hour format, Elapsed time, split time, one-touch UTC time zone
Movement: module 5398
Accuracy: +- 15 seconds per month
Crystal: Mineral glass
Case: resin
Strap: resin
Thickness: 18mm
Diameter: 52mm
Conclusion
As you can see, the Casio G-Shock GA-400GB is a watch that has a lot to offer, both in terms of functions but also in terms of build quality and durability.
This is a nice Casio watch that combines sportiness with elegance by adding gold accents and an analog display. Whilst staying true to the core DNA of the G-Shock, it is slightly more versatile than the most sporty timepieces in the collection.
But the conclusion is that this watch offers exceptional value for money. If you don't prefer this exact yellow gold look, this watch is also available with a rose gold finish as well as a steel finish, as seen below: