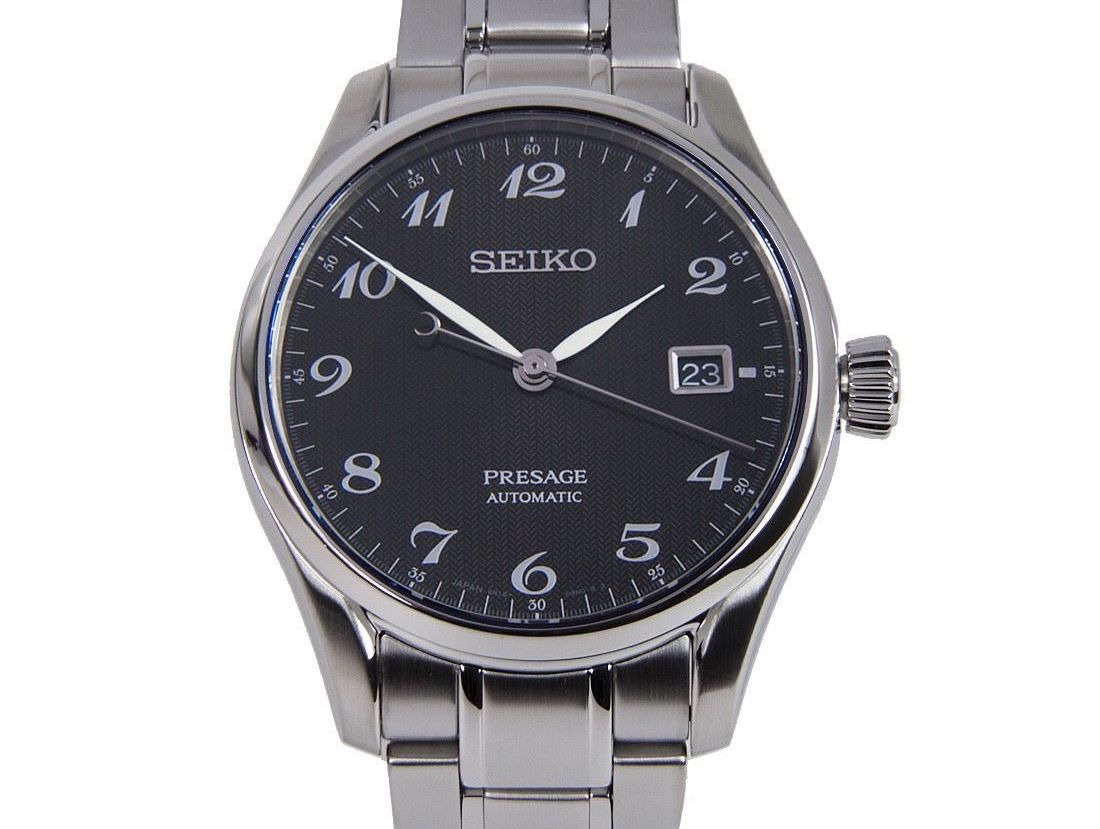 Seiko Presage SPB065J1 Review & Complete Guide
If you are looking for a robust and long-lasting everyday automatic timepiece at an affordable price that can work as a companion for everyday wear and through all of life's events, the Seiko Presage SPB065J1 may just be the watch for you.
This watch combines sportiness with elegance and therefore works as a perfect everyday watch. The watch is sporty enough for casual everyday wear, but at the same time, it is elegant enough for formal occasions.
Seiko Presage SPB065J1 Review
As an Amazon Associate, we may earn from qualifying purchases, at no extra cost to you.
First things first, this watch is part of the Presage collection. Seiko describes the watches with the following: "Presage combines a Japanese aesthetic sense with traditional craftsmanship and Seiko's watchmaking skills in an original collection that offers Japanese beauty, quality, and long-lasting performance."
With that said, this watch is built as a classic, traditional, and elegant timepiece, without compromising on build quality and finish. And as you will find out in this review, that is what the SPB065J1 is all about. This watch is slightly more expensive than Seiko's most affordable automatic watches, but the increase in price is truly reflected in what you are getting. Compared to the most affordable automatic Seiko watches this one is really a step above in terms of finish and build quality. With that said, it is a perfect candidate if you want something more qualitative and with a better finish.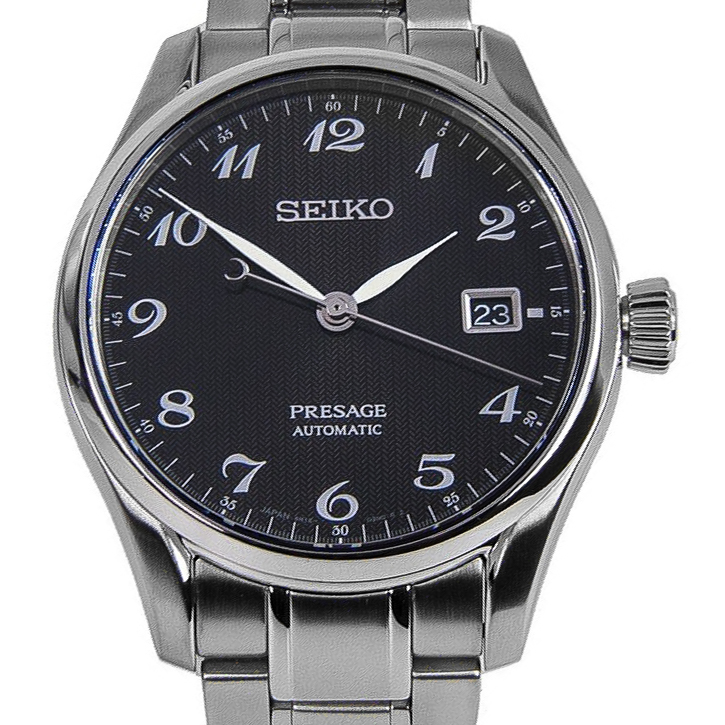 Inside this watch is an automatic movement that watch nerds and enthusiasts will particularly appreciate. In addition, it's a great thing to have if you want a watch to be long-lasting, seeing that Seiko's automatic movements have proven to be long-lasting and durable.
The watch is also known as SPB065. And without further ado, let's review and look closer at what this watch has to offer.
Seiko Presage SPB065J1 case
The case of the SPB065J1 is a real treat. Seiko has not cut any corners with the design and finish of this watch. The case measures 40.5mm in diameter and has a thickness of 13.1mm. This is a nice balance between sportiness and elegance and therefore not too big, but also not too small. The size of the case matches its purpose of it very well. With that said, it should be suitable for many different wrist sizes.
First of all, the lugs of this case have a "curved" design, where the polished tops are contrasted by polished insides and sides. The brushed lugs are a nice touch to the otherwise polished case. It gives a better impression of the finish and shows that Seiko has gone above and beyond.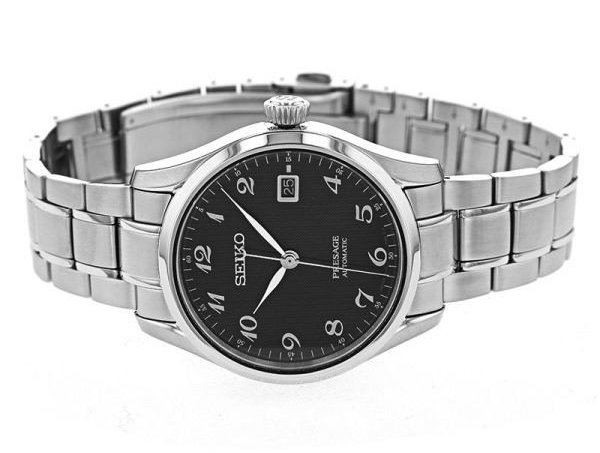 It is particularly the lug design which makes this case stand out from the crowd as it is not just a plain and boring stainless steel case like so many other.
To put all focus on the dial, Seiko has made the bezel thin and given it a polished finish. At 3 o'clock, it has a large crown which makes it easy to operate. Despite being a bit big, it looks really great with the overall design of the watch.
This watch offers a water-resistance of 100m/330 feet which should be enough for everyday activities. The watch is suitable for swimming and showering but not scuba diving.
On top of the case, it uses a sapphire crystal. This is an improvement from the Hardlex crystal which Seiko uses for its more affordable automatic watches. It really enhances the impression of quality.
If you turn the watch around, you'll also notice that this watch has a see-through case back, and we'll go more into detail about this further on.
Seiko Presage SPB065J1 dial
The dial is another part of this watch that stands out from the ordinary.
Instead of making it a plain and perhaps boring dial, Seiko has focused on giving it texture to enhance its impression of finish and quality, and make it more interesting.
The dial is black, which is good for an everyday watch which is meant to be toned down and discreet, but that's not all there is to it. To the black dial, Seiko has added a nice pattern. This allows the dial to reflect the light in a beautiful way and thus change its appearance depending on how the light hits it.
Around the outer edge of the dial, the seconds markers are discreetly marked with white printing, and each 5-minute marking has also been written out.
Note however that this does not have any luminescence which can make it slightly more difficult to read the time in low-lit conditions. However, thanks to the hands and the large markers, the legibility is, by no means poor.
The dial has large white printed numerals made in a traditional design.
Speaking of the hands, they have been made in a leaf-shape designed have been painted white for optimal contrast against the black dial. What has not been painted white, however, is the polished seconds hand, which has a "moon shape" on its opposite end.
Positioned at 3 o'clock, we have the date window which is surrounded by a metal frame. A nice detail is the Seiko has made the background of the date window black which allows it to blend in better with the dial.
SPB065J1 movement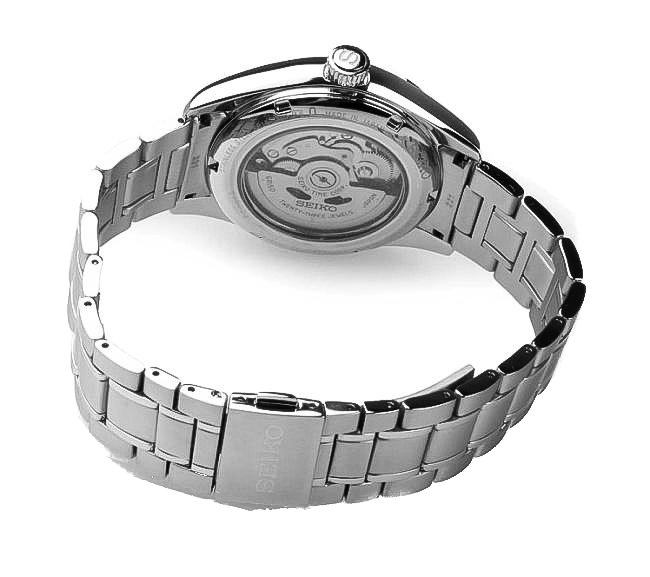 Inside this watch is the in-house Seiko Automatic caliber 6R15. This is a sturdy and durable movement that has proven to be a long-lasting workhorse. This movement can continue to tick for years with little maintenance.
Unlike Seiko's most affordable automatic watches, it has both a hacking function as well as a manual winding function.
For an everyday timepiece that you want to just continue to work year after year, this is a good movement to have which is a great value proposition in this watch.
As mentioned earlier, the watch has a see-through case back which enables you to see the movement inside. This is a feature that watch enthusiasts will especially appreciate. And whilst the movement is not decorated, it is still a nice reminder of what makes mechanical watches so special.
SPB065J1 bracelet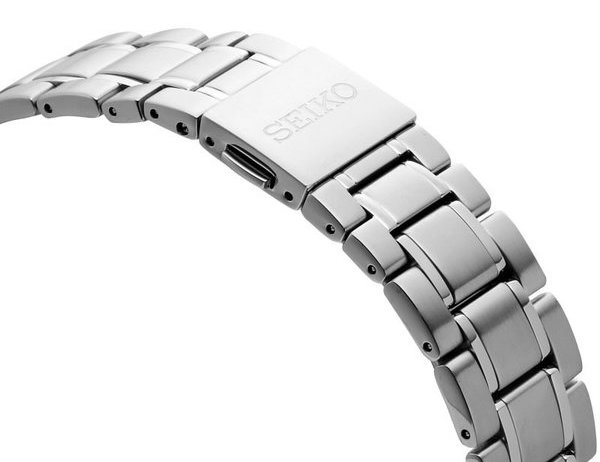 The watch is presented on a stainless steel bracelet with a folding push-button clasp. The bracelet is mostly satin-finished but also has two polished lines to make it just a tad elegant.
The bracelet goes very well with the design of the watch and looks really nice. Of course, considering the watch's price, we cannot expect the most solid and robust bracelet. It does not feel 100% solid and there is some room for improvement, but this is only to be expected.
If it would have been a full-on dress watch, it would likely have been presented on a leather strap, but as mentioned, it is not.
Specifications
Clasp: Deployment
Diameter: 40.5mm
Thickness: 13.1mm
Movement: Seiko Automatic caliber 6R15
Water Resistance: 100m/330 feet
Case back: see-through
Bracelet: stainless steel
Crystal: Sapphire
Jewels: 23
Conclusion
To conclude this review, we can say that the Seiko Presage SPB065J1 is a watch that offers exceptional value for money. For the price, it has an impressive finish, great build quality, and lots and lots of interesting details that enhance its overall appearance, making it feel much more premium than its price.
Inside the watch is also a great automatic movement which has proven to perform really great.
For an everyday watch, this watch really is a great option that you won't be disappointed with. It has a classic and simple design, but it is by no means a boring watch. It simply works really well regardless if you are wearing it with jeans or with a suit.