Casio G-Shock GPW-2000 Gravitymaster Review & Complete Guide
The Casio G-Shock collection has come to become one of the most popular watch collections in the world. And it's really easy to see why. These watches stand out from the crowd and are built for functionality, whilst also offering a unique and interesting design that works perfectly for outdoor actives and other demanding occasions.
Because of the huge popularity of the G-Shock, Casio has continued to built upon the collection by adding new watches with different designs and functions in order to cater to the wants and needs of its audience.
With that everyone should be able to find a G-Shock watch that they enjoy.
If you want an analog Casio G-Shock watch that is durable, robust and sporty and stands out from all of the others with a bold and bulky design, packed with functions, the Casio G-Shock GPW-2000 Gravitymaster may just be the watch for you.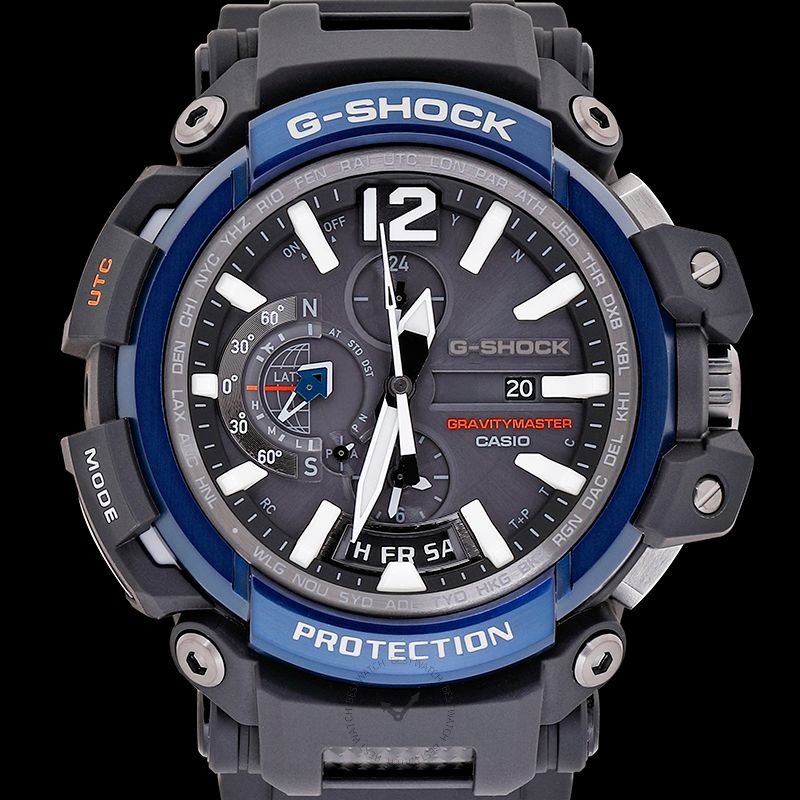 Casio G-Shock GPW-2000 Gravitymaster review
The Gravitymaster GPW-2000 is not just a classic G-Shock watch, but it is actually so much more than that. In fact, this watch has smartwatch capabilities, which means it can connect to your smartphone and thus communicate with your phone through a number of different features. This is just a nice bonus function because the watch itself also offers much of what you expect from a G-Shock. Not to mention robustness and durability, but also in terms of function.
The watch is built as a pilot's watch with its functions, but it works well for any frequent traveler and jet-setter.
Without further ado, let's review the G-Shock GPW-2000 Gravitymaster and see what it has to offer.
Case
Starting off with the case, this watch is just as tough as it looks. It has a tough resin frame to increase its durability. The band has fine resin parts at both ends of the band shaft and fixed with carbon FRP stoppers. This is done to strengthen the connections between case and band.
Like all G-shocks, it is built to last, and this timepiece has a structure that is designed to withstand three types of gravitational acceleration: external shocks, centrifugal gravity, and vibrations.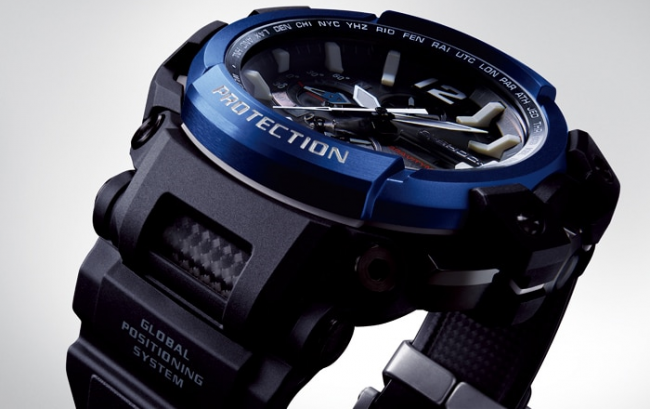 An anti-magnetic plate has also been installed in the model in order to increase its anti-magnetic properties.
On top of the case, it has a sapphire crystal which is durable and scratch-resistant. This is one tough watch built to last.
The watch offers a water-resistance of 200m/660 feet. This means you can go swimming and diving with this watch without having to worry. To top it off, it has a metal bezel in blue which creates a nice contrast against the black resin. On the left side of the case, we find the pushbuttons for operating the different functions. The bumpers also has text above them which indicate what the buttons do.
The case is obviously rather bulky with a diameter of 58mm and a thickness of 19mm. In addition to this, its design also makes it perceive bigger because of its case bumpers and a large crown guard. Apart from giving it a sporty appearance, it does serve the purpose of making it more robust and durable.
In order to wear this watch, you must therefore enjoy wearing large and bulky watches that have a great presence on the wrist.
Dial
Unlike many other G-Shock watches, this watch has an analog dial and not a digital screen. The dime is indicated via the hands and additional sub-dials.
It's safe to say that the dial is rather busy with all of its different functions, and these also create a nice depth and attention to detail as well.
It is presented with a black background to match the case. The hands are sword-shaped and painted white in order to create optimal contrast and legibility. Around the dial, it has large raised hour markers made in white, and curved, which stand out against the black background really well. Positioned at 3 o'clock, we find a convenient date window.
Around the inner of the dial, the rehaut, it has abbreviations of cities indicated. These are used for the world timer function to indicate the different time zones around the world.
The analog clock offers great legibility, but for an even better legibility, it is also equipped with a LED light so you can be sure to always be able to read the time in any condition and even in complete darkness.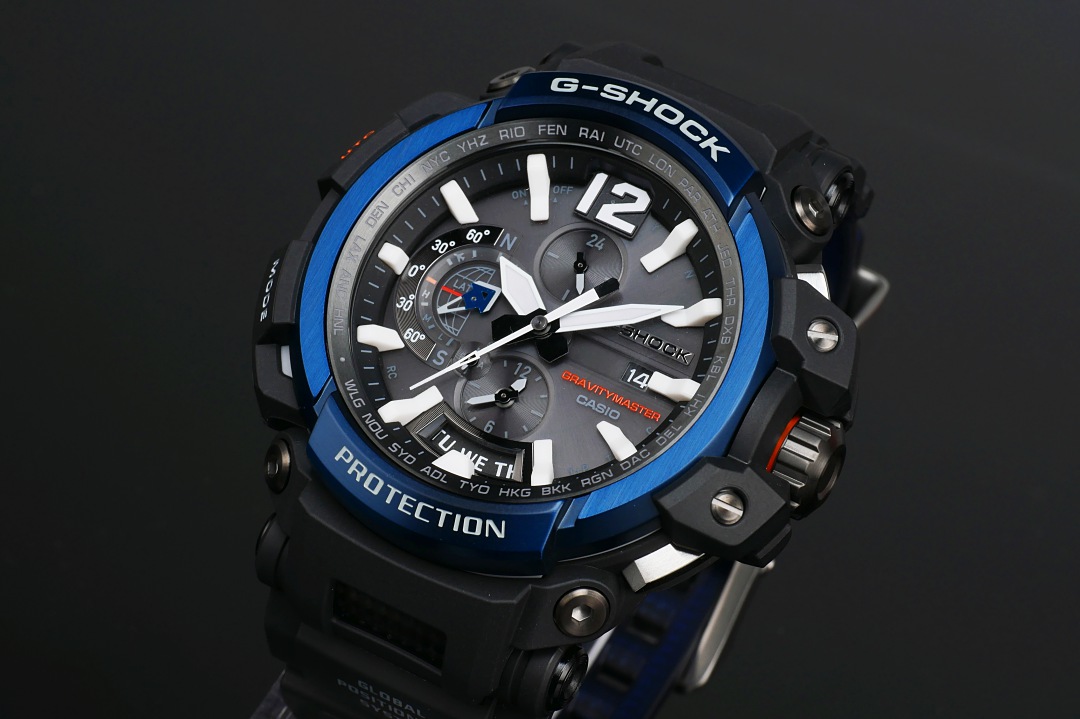 Movement & functions
Now the most interesting part.
We have already spoken about the key functions of the dial, but since this watch can connect to a smartphone, it offers even more than that. This is not really a smartwatch, but it is a connected watch which connects to your phone via Bluetooth.
With your phone, you then use the G-Shock connected app to get access to the various data and information. The app has a Mission Stamp function which is essentially a feature that allows you to track location data and log different points on a flight. It can tell the time at each stop, place a GPS-enabled map point, and show latitude and longitude. The app then generates a 3D animation showing your journey.
For improved accuracy, it has a three-way time sync which works by using either GPS, Multi-Band 6, or Bluetooth to set the exact time on your watch automatically. This ensures that the watch always keeps perfect time. 
Remember, this is built as a pilot's watch, and Casio has gone to great lengths by asking pilots what they want in a watch. Because of this, it has a timestamp/flight log which is used by pressing and holding a pusher on the case to automatically make a time and location stamp of where you are anywhere in the world.  By doing this, you tell your location to the watch and store it in your log.
It also has both a timer and alarm which you can set for daily alarms and reminders. The app is built to help make the functions of the watch easier. With the app, it is easy to set the world time , which is indicated on the bottom of the dial at 6 o'clock. The app of course lets you do a bunch of other stuff too, such as showing how much energy the battery has. For efficient energy consumption, the watch will go into power-saving mode if it is used in the dark.
Another great feature about this watch is that it is solar-powered. This means you don't have to replace the batteries as they are consistently charged by ambient and solar light.
Of course, as a true G-Shock timepiece, the GPW-2000 still offers everything you would expect from a G-Shock. This means all of the standard functions. such as timekeeping, alarm, and much more.
Specifications
Magnetic resistant (ISO 764 standard-compliant)
Crystal: Saphire crystal
Water-resistance: 20 bar/200m
Diameter: 58mm
Thickness: 19mm
Crown: Screw-down
Conclusion
Now, if you get a watch for hundreds of dollars, you would perhaps not want to throw it around to see how tough it is, but everything is relative. And at the very least, you have the knowledge that shall it need to withstand harsh conditions, it is able to.
This watch is designed for travelers, pilots, and those who require a lot from their watch, both in terms of durability, but also in terms of functions.
The GPW-2000 stays true to the concept and ethos of the G-Shock in so many ways, but at the same time, it offers so much more. Both in terms of design, but also in terms of function. The connective ability doesn't make it a smartwatch, but it makes it a connected watch. There are several practical benefits of the app, most importantly convenience. With the app, it becomes a lot easier to set and manage the different functions of the watch and to get a good overview of what it has to offer.
The design is also something that obviously stands out about this watch. It is bulky and robust as G-Shocks are known to be, but this one stands out even further with its large case, integrated carbon strap design, and sporty appearance. This makes it a watch for those who want a seriously sporty and robust timepiece with a great presence on the wrist. It's a watch that is sure to make a statement.
With that said, it does have a price tag that is higher than most other standard G-Shocks, but at the same time, it offers so much more. It offers more in terms of functions, it offers more in terms of build quality, and it offers more in terms of design. All of this means that the watch still offers great value for money.
With this watch, you are sure to stand out. But you are also sure to get a great watch with great quality and a unique appearance.
Last but not least, there are a few variants of this watch so you should be able to find one that you like.
The Casio G-Shock GPW-2000 Gravitymaster is available to order on Amazon.