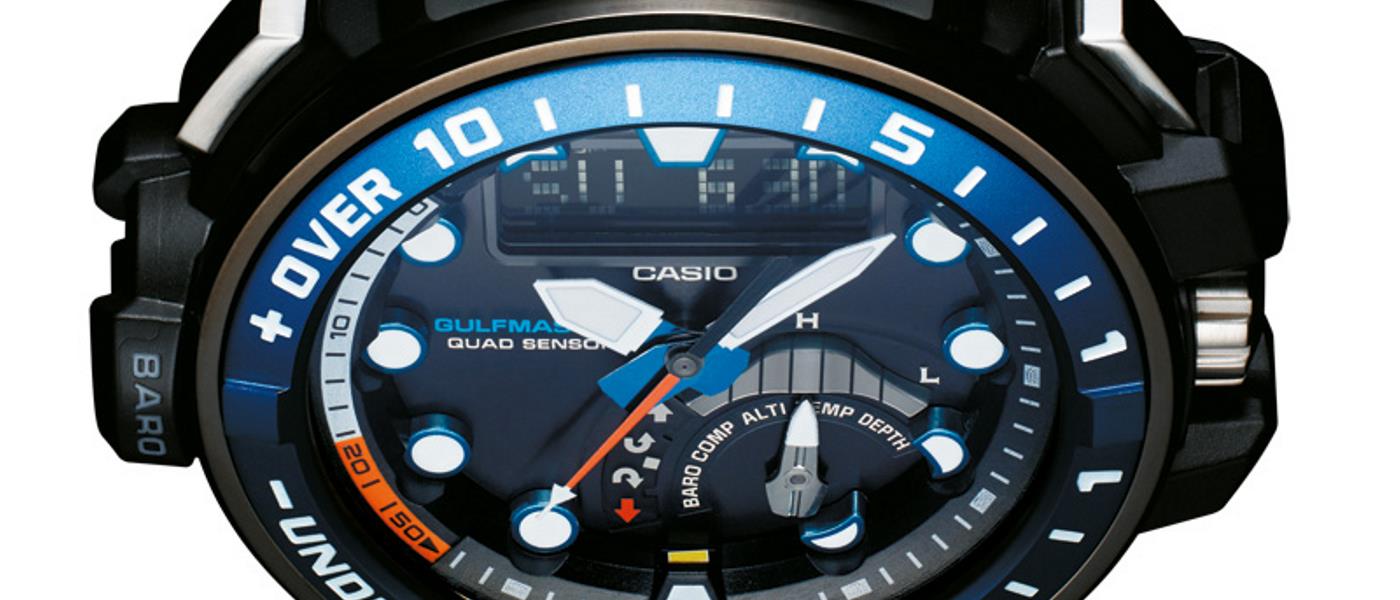 Casio Gulfmaster GWNQ1000 Review & Complete Guide
In this article, we are reviewing a watch that is out of the ordinary.
The Casio G-Shock is one of the most popular and well-known watch models in the world. They offer exceptional value for money, but most importantly, they are appreciated for their build quality, robustness, and for being packed with useful functions.
Because of its huge popularity, Casio has developed countless different variations and versions of this watch to cater to every taste and preference.
In this article, we are looking closer at one of the most advanced and serious G-Shock watches out there, the Casio Gulfmaster GWNQ1000. You could say that this is a G-Shock watch on steroids in many ways. Both in terms of design, but also in terms of functions.
Casio Gulfmaster GWNQ1000 Review
As an Amazon Associate, we may earn from qualifying purchases, at no extra cost to you.
The Casio Gulfmaster GWNQ1000 has a bold and sporty design, which is in line with what the G-Shock is known for, but this time, its design has taken a step up to yet another level. The same goes for functions. This watch has countless different functions that can come in handy when out in the field.
The watch has a marine-theme design and purpose, which obviously goes well together with its name "Gulfmaster". This watch is a demonstration of what Casio is capable of both in terms of innovation and function.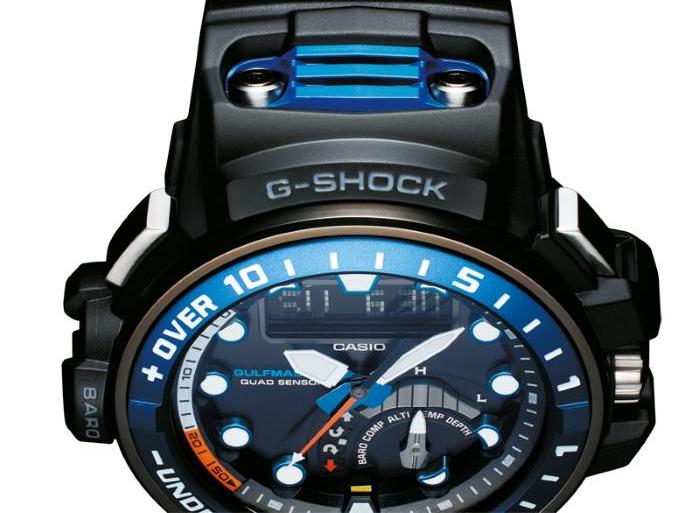 Case
This watch is of course large and bulky, as we can expect with G-Shock watches. But since this is an even more serious and durable variant, it is even more bulky and robust. The watch measures 48mm in diameter, 57.3mm in length, and has a thickness of 17mm. Despite this, it still weighs in at 152 grams thanks to the use of light materials.
With that said, it is a large and chunky watch that is not suitable for everyone's wrists. It does indeed require a big wrist, or you prefer to wear big watches. However, thanks to its integrated bracelet design, it wears more comfortably than its dimensions may suggest.
Worth mentioning is that despite its lightweight and use of plastic, it feels well-made, qualitative, and robust.
Since this is essentially a dive watch, it of course has good water resistance. This watch, therefore, offers a water resistance of 200m/660 feet. In addition, the watch also has the ability to measure depth up to 50 meters, and it does so in 0.1-meter increments. The watch is able to measure the depth thanks to its depth meter sensor via the vertical slits which allow the water to access the depth meter sensor.
Since the watch is made for diving, it has a strap that is long enough to be worn on top of wetsuits.
The watch has a scratch-resistant sapphire crystal on top and it is also the first Gulfmaster to have a sapphire crystal.
The case is built in titanium for comfort and lightness despite its large size.
The case is equipped with a so-called smart access crown with which you adjust the different functions of the watch. It also incorporates traditional pushers.
On top of the case, it has a blue-colored insert which adds a touch of color to its design. The bezel has markings and numbers on it, and perhaps you wonder what these are for. The bezel is used for the barometer function.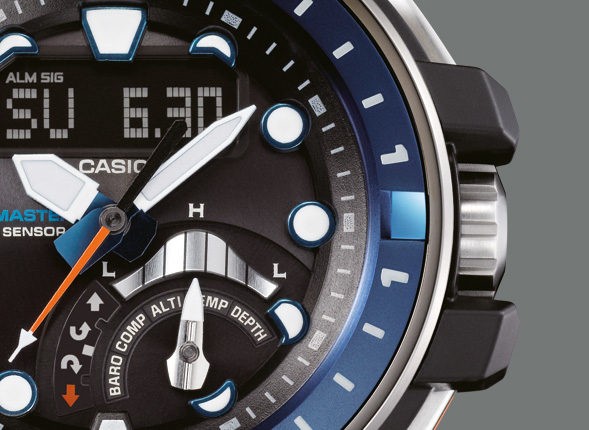 Dial
The watch is presented both with an analog watch and a digital LCD screen. The watch is equipped with white hands and hour markers which make for great contrast and legibility. The handshake luminescent material was applied to them and a polished metal frame was around them. The hour markers have blued metal frames around them.
For even better legibility in low-lit conditions, the watch also has dual LED lights which illuminate the dial.
The LCD screen can be found at the very top of the dial at 12 o'clock and a sub-dial at 5 o'clock.
The dial is mostly monochrome, but it does have a touch of orange on the inner rehaut as well as an orange seconds hand.
Movement and functions
The watch is equipped with a 5477 quartz movement which powers this watch. The watch is also solar-powered which means that solar and ambient light generates power for the movement. This is a convenient feature that means you don't have to go through the hassle of replacing the battery.
Its built-in "Tough Movement" system is made to automatically realign the hands if the watch is subject to shock. The atomic clock radio signal ensures perfect accuracy at all times.
The watch features quad sensors which come in the form of a compass, barometer, altimeter, and thermometer. It also has, as mentioned a depth meter. It features an automatic alarm that beeps if the pressure is rising or falling rapidly.
A moon phase indicator and a tide graph are presented on the dial. The tide graphs are set by selecting your city and then the relative latitude of your location.
In addition to the above, this watch features all of the usual functions that you expect in a G-Shock. It has a 1/110th of a second stopwatch, up to five daily alarms, world time, calendar. It can also show sunrise/sunset.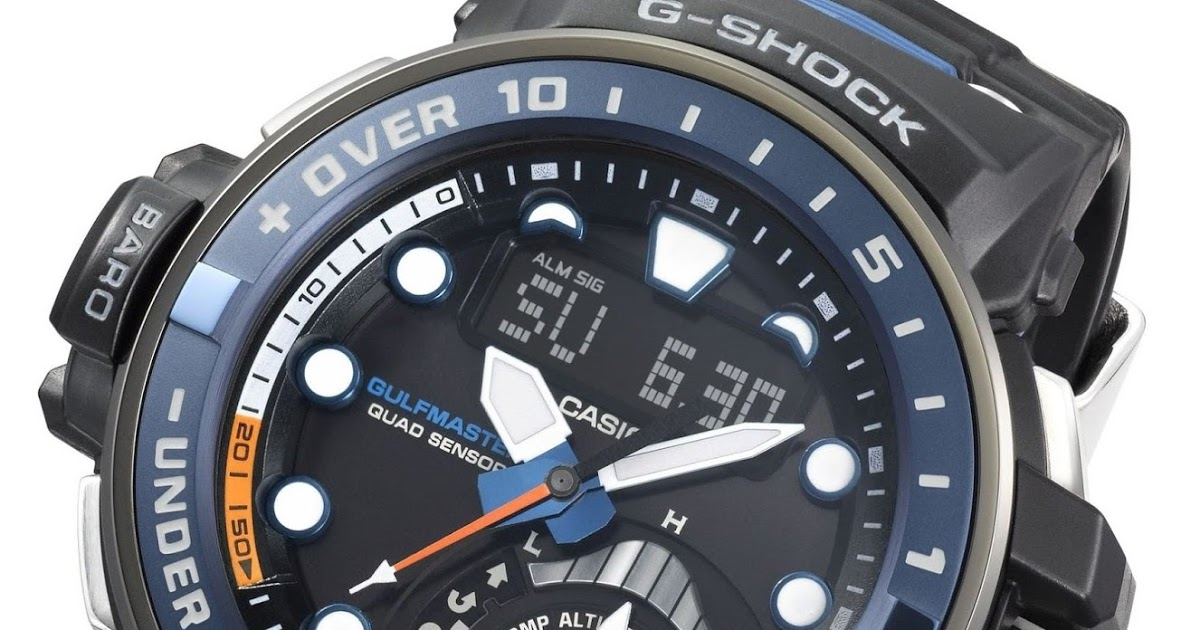 Specifications
Movement module: 5477
Accuracy: ±15 seconds per month
Solar powered
Water resistance: 200m/660 feet
Diameter: 48mm
Thickness: 17mm
Length: 57.3mm
Conclusion
The Casio Gulfmaster GWNQ1000 is a G-Shock with extra everything, both in terms of designs but also in terms of functions. It has the classic G-Shock DNA of being tough, robust, and made to handle virtually any situation that you subject it to. All of the different functions that are built into this watch ensure that you are ready to tackle any challenge you may face out there.
The watch is solid, feels qualitative, and has a nice feeling on the wrist.
Now, we want to point out that this watch is not for everyone for a number of reasons, namely its size and what it is made for. It's perhaps not a watch that you wear as an everyday watch, but it is a cool timepiece to wear when out in the field, hiking, exploring and performing other types of demanding activities.
But if you want a big, bold, and sporty timepiece with a great presence on the wrist, this watch is definitely for you. This truly is a watch that is all about performance and functionality.
It can take a while to get used to this watch due to its size and design, but still, this is a watch that has received overwhelmingly good reviews and ratings from owners.
The Casio Gulfmaster GWNQ1000 Review is available to order on Amazon.