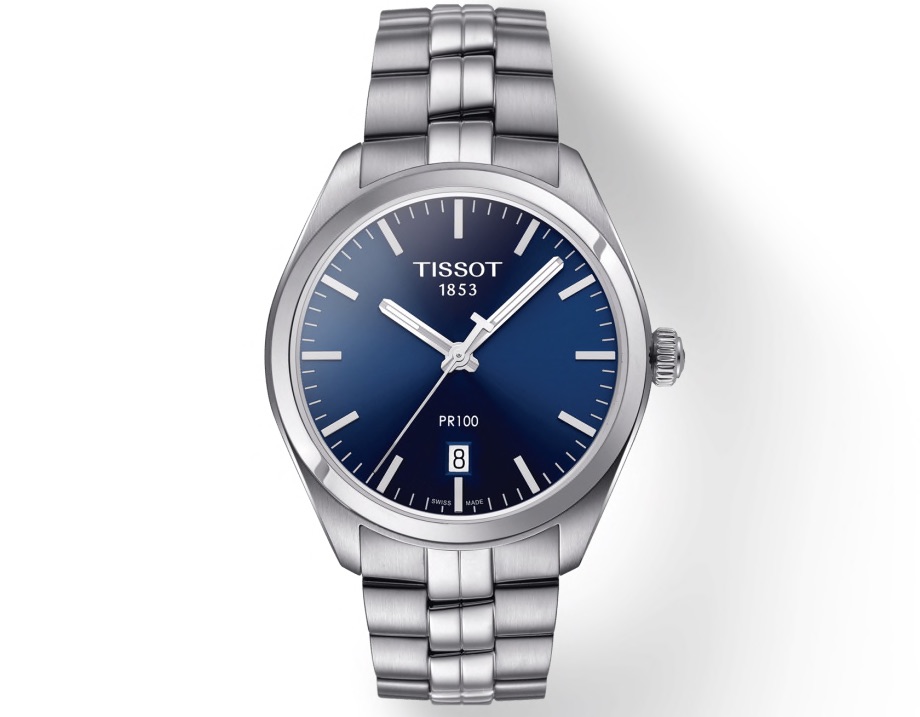 Tissot PR100 Watch Review & Guide
Before we dig into this article, we must highlight the fact that the Tissot PR100 is a watch collection that contains a large number of different timepieces. The most common variant is the date version, but it is also available as a chronograph.
And whilst we will focus on the most common and classic PR100, the date version, what is being said in this article applies to all PR100 watches, regardless of their design and version. In addition, the PR100 watches are also available with either automatic or quartz movements. And although the focus will be on the quartz version, much of what we will go through will also apply to the automatic versions as well.
Tissot PR100 review
The Tissot PR100 is a collection of timepieces that combine sportiness with elegance. Again this depends on which version you choose, but the date version is the most elegant of them all and works great as an everyday watch. It has a minimalistic design without a lot of distracting details and decorations. It's just a beautiful watch with a focus on everyday elegance.
Case
The basic Tissot PR100 is presented with a 39mm 316L stainless steel case with polished and brushed elements. For simplicity, the bezel is fixed and polished to make the case look more elegant, whilst not stealing too much focus from the dial. The thickness of this watch is 9.5mm. With that said, its size makes it suitable for a wide array of wrist sizes, both men and women. It's not huge, making it impossible to wear on formal occasions, but it is also not too small either, making it look strange on the wrist. As a matter of fact, this model is also popular amongst women, although there are female versions of the PR100 with slightly smaller case sizes.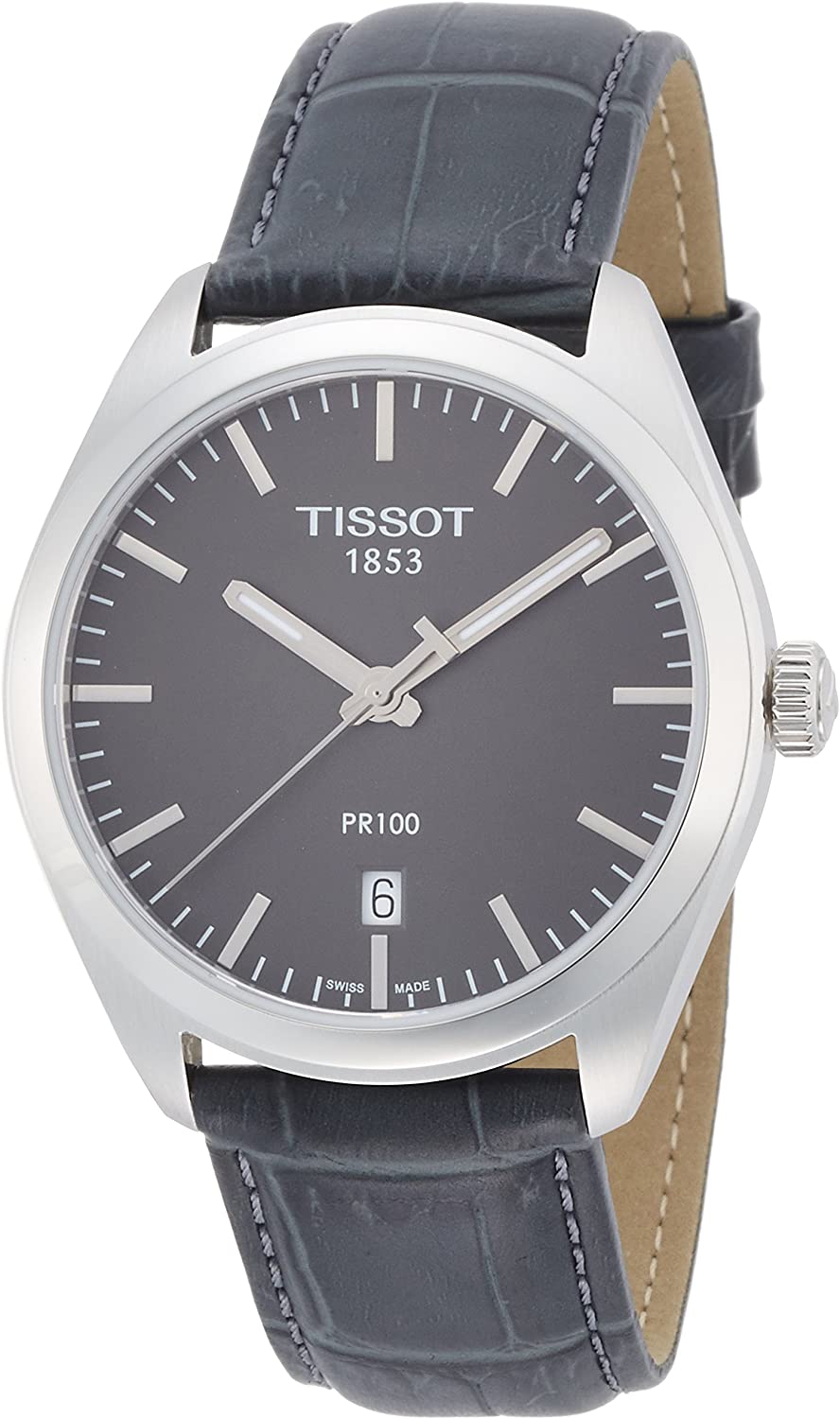 Apart from the bezel, the case is mostly brushed. There is a small touch of polish on the bevels of the lugs which enhances the impression of the finish.
At the classic 3 o'clock position, it has a push-pull crown. With that said, since it is not a screw-down, it doesn't offer the best water resistance, only 100m/330 feet, meaning you can take it swimming, but not go diving. But at the same time, this is not a dive or sports watch, so the water resistance is as can be expected from this type of watch.
The watch has a lug width of 20mm which is the industry standard for this watch. This is great if you want to change the straps, for example to NATO or a leather strap to give the watch a new look.
When it comes to the bracelet, it does not have a completely common or standard design. In fact, it is slightly unique and different. The bracelet is made of stainless steel and has three links. The middle links are polished and the side links are matte-brushed. This gives it the combination of sport and elegance that Tissot is looking to achieve. In addition, the middle links are slightly raised which gives it a more defined look.
The bracelet is equipped with a folding clasp with a Tissot logo. For safety, it has double push buttons. You can adjust the size of the bracelet with the holes on the links.
Last but not least, on top of the case, it uses a sapphire crystal, which is a nice feature that is mostly reserved for higher-priced watches. The use of sapphire crystal is great, however, it does not have an anti-reflective coating, which can cause glare and reflections, particularly in direct sunlight. The sapphire crystal helps the watch last for a long time to come.
Dial
As mentioned, there are many different versions of the Tissot PR100, and therefore, the dials with which it is available are many.
However, for the standard model, this watch is presented with a simple and clean dial with just the right amount of details to not feel cluttered. The black and blue dial versions are most popular for this watch, and these have a beautiful sunburst finish that reflects the light beautifully. For the hour markers, it has applied polished rectangular hour markers which blend in nicely. At 6 o'clock, we have a date window which is actually rather convenient in an everyday watch.
Of course, the hands are made to match the hour markers, and these too have a rectangular shape, made of polished metal. For improved legibility, they also have luminescent material applied to them, and as for the second hand, it has the classic "T" shape, which is a reference to Tissot.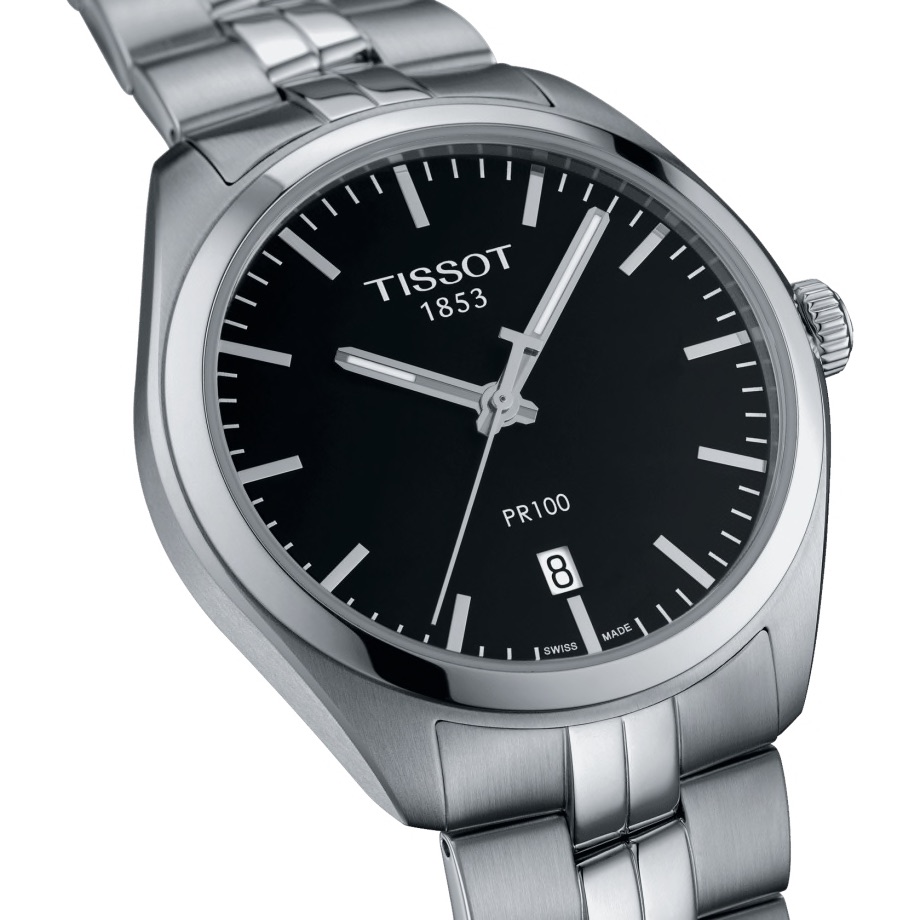 Apart from that, there's really not that much else to say about the dial. Tissot has kept it clean and executed it very well. This ensures that it retains its elegance and simple minimalism.
A wise decision, in our opinion, is also that Tissot has kept dial printing at a minimum, which isn't always the case for many manufacturers. The only dial printing on this watch is "Tissot 1853" and the model name, "PR100". Of course, at the very bottom of the dial, we have the " Swiss-made" signature as well, presented proudly.
Movement
As discussed earlier, the Tissot PR100 is available both with quartz and automatic movement, depending on which you choose.
The most basic version, however, which is the one we focus on, has a quartz movement.
Of course, the most devoted watch nerds may prefer an automatic movement, but the use of a quartz one does have a number of benefits.
First and foremost, the quartz movement keeps the pricing at a very attractive low price. Shall you opt for an automatic version, then naturally, the price is higher. In addition, quartz movements are also more accurate, so if you just want a reliable and trusted companion that ensures you are always on time, then there's nothing wrong with opting for quartz. In fact, Tissot's specifications for this movement are -0.5/+0.7 seconds per day, which is substantially better than automatic movements.
Furthermore, the movement is robust, durable, and long-lasting, and you won't have to pay for major services like for mechanical movements, but rather replace the battery after some years.
Specifications
Diameter: 39mm
Water resistance: 100m / 330ft
Crystal: Sapphire crystal
Movement: Swiss quartz
Thickness: 9.5mm
Lug width: 20mm
Battery: Renata 371
Accuracy: -0.5/+0.7 seconds per day
Conclusion
All in all, and with the above-mentioned facts, it's safe to say that the Tissot PR100 is a watch that offers great value for money. And on that note, it is also easy to see why this collection of timepieces is so popular.
At a price of usually around 200-230 USD depending on the model, this watch really has a lot to offer. It is well-built, has a nice finish, is powered by a durable and reliable movement, and is of course also Swiss-made, which a lot of watch enthusiasts will particularly appreciate.
Tissot has done a great job in creating an elegant and versatile timepiece that works just as great for everyday wear as it does with a tuxedo.
The with is never perceived as "too much" and that is also part of the charm since, sometimes, good designs are minimalistic and are best achieved not when there's nothing more to add, but rather when there's nothing left to remove, as a famous person once said.
A lot of people will also appreciate the fact that they can get a Swiss watch from a well-known and well-respected watch brand at a price this attractive.
Obviously, if you want the most affordable Tissot PR100 watches, you will have to opt for quarts. However, for those who want the reliability and great value for money that the Tissot PR100, but still prefer an automatic movement, then that option is of course available. In addition, you may prefer chronographs, or perhaps gold and steel watches, and those options are available too.
So now that you know more about the model as a whole, dig into this collection and find the exact model you like the most.
The Tissot PR100 Quartz watches are available to order on Amazon.