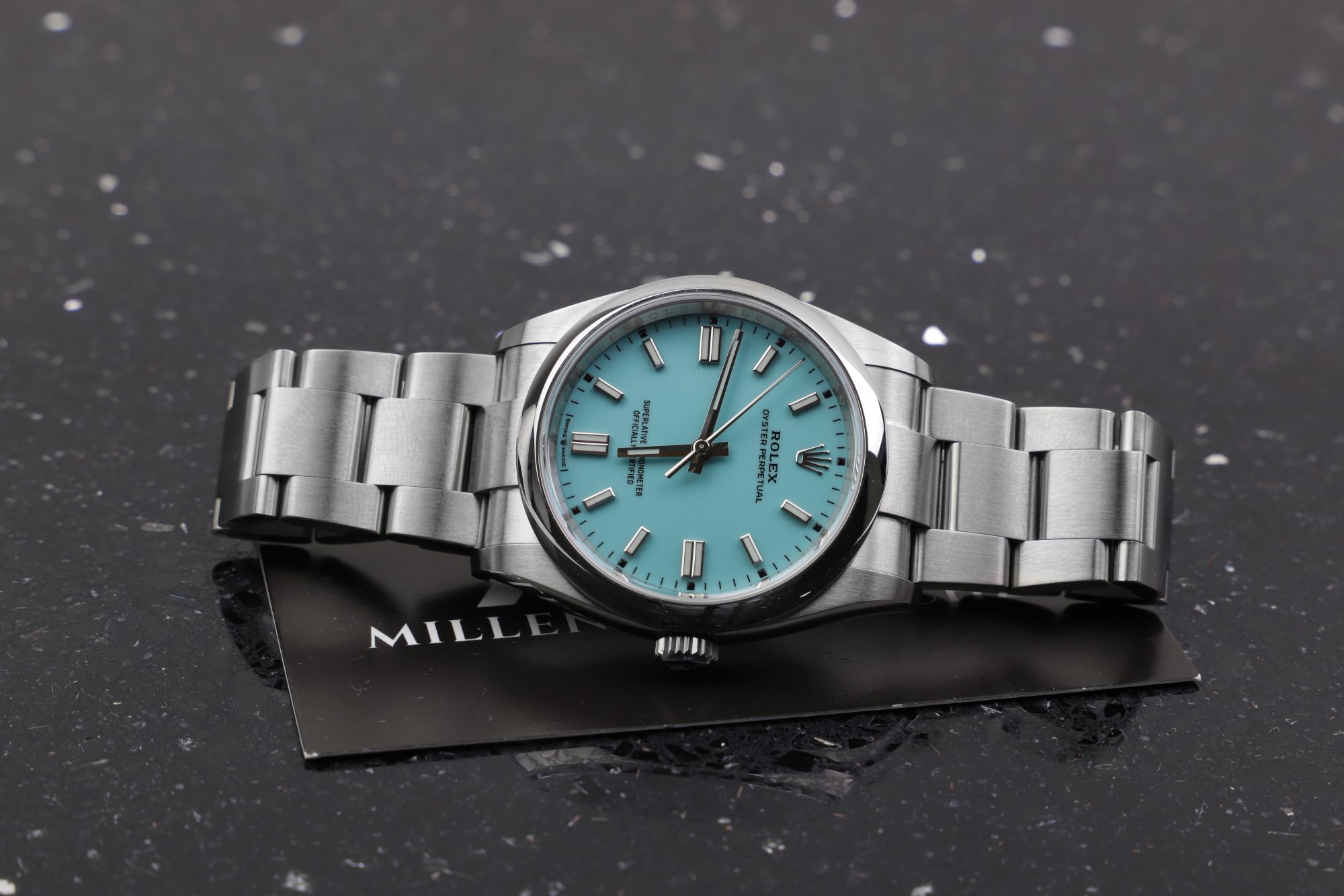 Rolex Oyster Perpetual – The Most Affordable Rolex
– The Oyster Perpetual is the cheapest brand-new Rolex you can get!
– Actually, it's the most affordable Rolex available on the market.
This conversation has for sure taken place many times. While the first sentence actually can be right, the second sentence is more accurate. Let us tell you why.
What may come to mind to a lot of people when thinking about the Oyster Perpetual is an old vintage Oyster Perpetual, perhaps not very well-made, with lots of wear, rattle, and very well worn, with an affordable price tag. This idea can be right for older Rolex Oyster Perpetual watches but this image of the Oyster Perpetual has come to change in more recent times.
The Oyster Perpetual was first presented in 1953 and has been available in many different references, generations, and iterations over the decades. This includes dial colors, movements, case, and of course dials. With that said, the Oyster Perpetual has always been Rolex's most basic and also most affordable entry-level watch. At its core, it is a very simple timepiece that only displays hours, minutes, and seconds with no other functions. Always made in full stainless steel.
With that said, it has also been and still is Rolex's most affordable watch in its collection, looking at the retail price. But because of this, the Oyster Perpetual has also been the most affordable Rolex watch you can find on the secondhand market. This is true to this very day.
As a result of this, the Oyster Perpetual has, amongst some people, gotten a bad reputation. Okay, well not perhaps a bad reputation, but more correctly put, it has been a watch that many people neglect or simply ignore.
But over the years, it's evident that Rolex has worked hard to lift the reputation of the Oyster Perpetual and make it more attractive. Both by improving its technology and build quality, but also by introducing new and fresh dial colors.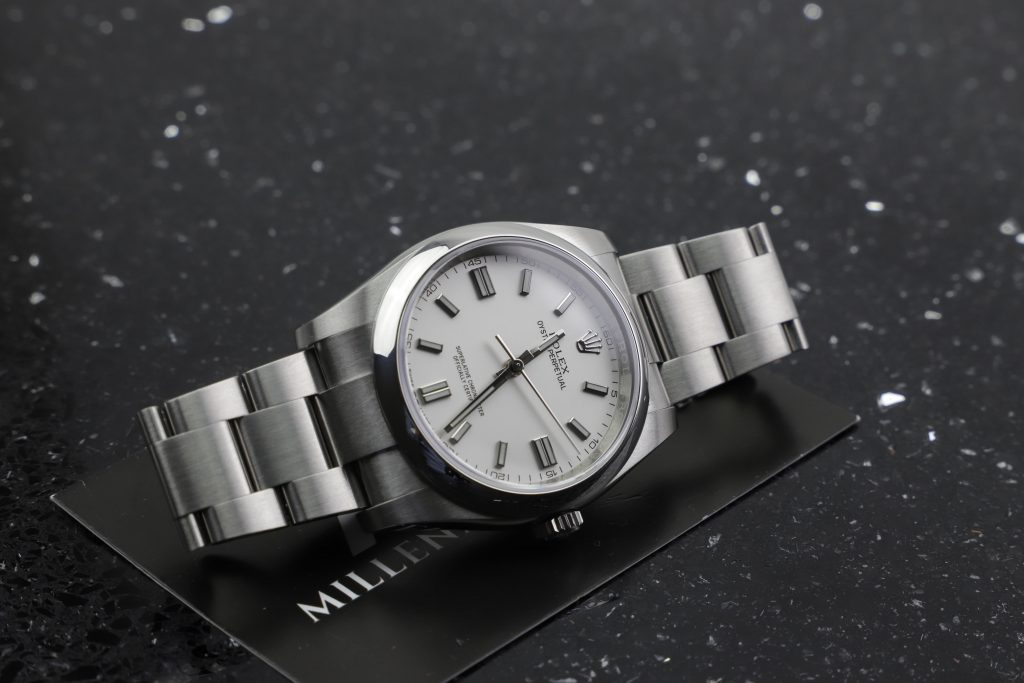 Ever since the release of the 36mm Oyster Perpetual reference 116000 back in 2008, the Oyster Perpetual entered a new era. The Oyster Perpetual suddenly became a watch to rely on. Its popularity slowly but surely started to grow.
It was now a watch that was extremely well built, equipped with the robust and reliable caliber 3130 with an updated Parachrom hairspring, which in 2012 was the same movement used by the updated Submariner No-Date reference 114060. The Oyster Perpetual in 36mm has always been the most affordable option when it comes to Rolex watches for men (buying new, based on the recommended retail price), but with that said, it shouldn't limit you from getting one if you are considering it. And we'll tell you why.
In September 2020, Rolex once again executed its strategy to further increase the popularity of the Oyster Perpetual.
A new update was presented for the Oyster Perpetual with a brand new in-house manufacturer movement caliber 3230 offering a whopping 70 hours of power reserve, a new-style bracelet with the Easylink comfort extension system, and a slightly smaller and refined case design. The all-new Rolex Oyster Perpetual in 36mm reference 126000 is without a doubt, the most affordable Rolex available seen from the recommended retail price, but with no compromises.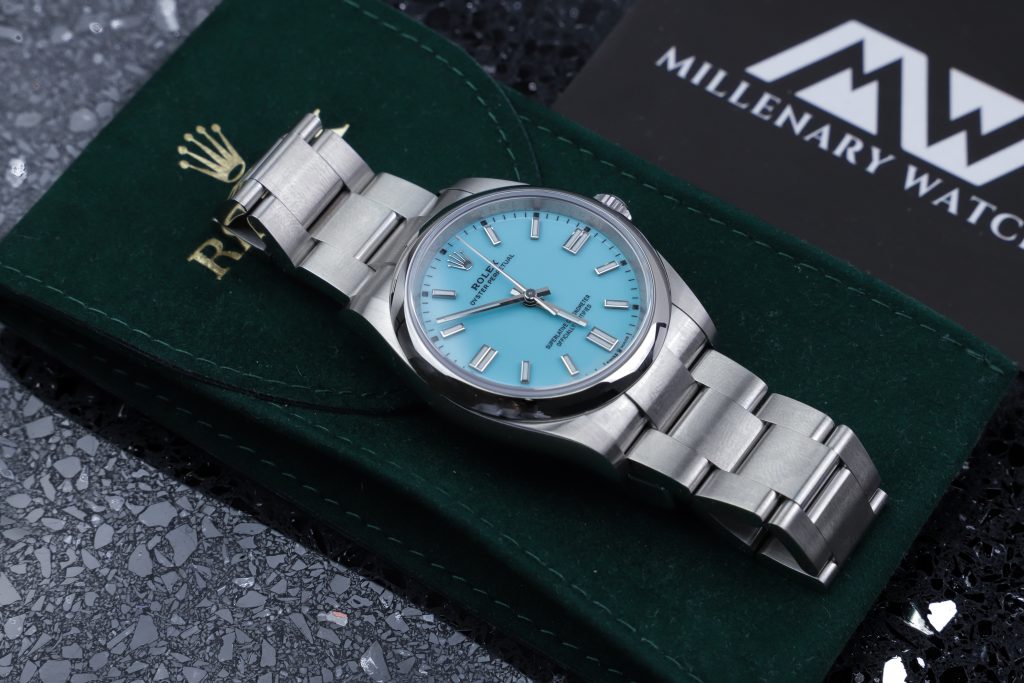 The Oyster Perpetual is 100m water-resistant, which is enough for swimming, snorkeling, and performing other types of water activities. After all, it is an Oyster and features Rolex's Oyster for water-resistant properties such as a screw-down crown and the Oyster case with a screw-down case back.
It now features a 70 hours power reserve, new bold and colorful dial configurations, and a bracelet, that like many other professional models, is equipped with an Easylink which can extend the length of the bracelet by 0,5mm. The Oyster Perpetual 36mm reference 126000 is the best Oyster Perpetual (in a more traditional size) ever made.
The movement used in the Oyster Perpetual is the same as the No-Date Submariner, which we know is an extremely durable watch with a movement indifferent from a workhorse – so there's not much to argue about this. Reference 126000 now also offers the Easylink extension which was highly demanded by the market in the previous reference 116000. In fact, some owners even modified the previous reference 116000 with an Easylink extension from an Explorer 1 reference 214270. But with the latest generation, this modification is no longer needed.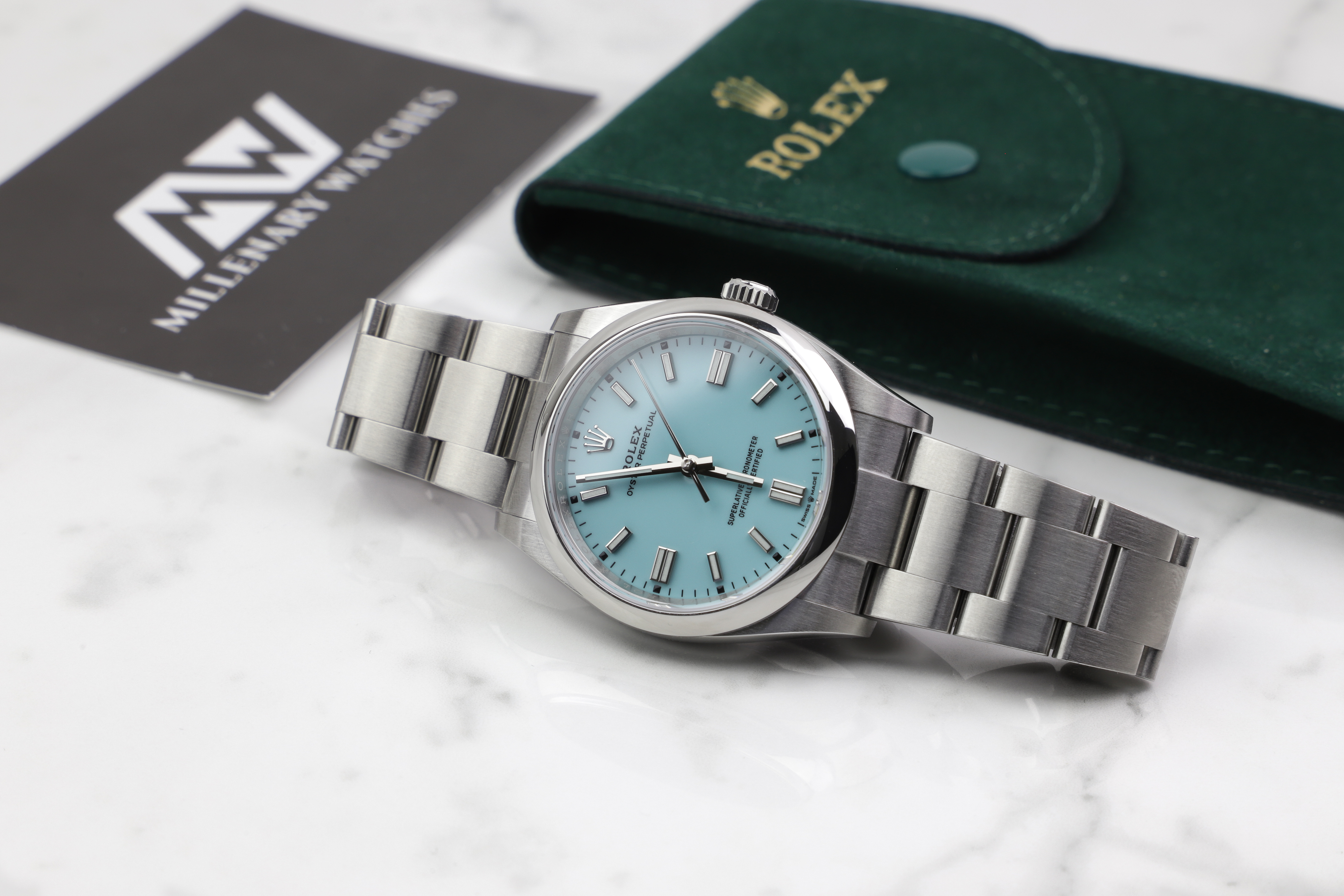 What can be said about the Oyster Perpetual is that the watch is too minimalistic, and does not offer a true tool-watch experience with mechanical or visual complications such as a rotating bezel, a GMT hand, or lug holes. But it depends on what you are looking for.
Perhaps, the idea of purchasing an Oyster Perpetual is perfect if that's what you are looking for. However, with the new unorthodox dial alternatives available, the watch no longer appears to be boring in any way but actually the opposite. Coral red, Turquoise Blue, Yellow, Green, or Candy Pink are perhaps the most protruding dial configurations to choose from, but if this not is what you are looking for, there are more conservative dials such as Black, Bright Blue, or Silver with sunburst finish.
With this said, the new Oyster Perpetual in 36mm, which is seen as a classic size suitable for both him and her, truly is a great watch. It features Rolex's latest generation caliber 3230, is extremely well-built and solid, and will hold up for generations to come. Yes, it is simple and classic, but with the new fun and bright dial colors to choose from, it's certainly not boring.
And if "boring", or more correctly "classic" is what you are looking for, the Oyster Perpetual offers that too. And it does so whilst it is priced as the most affordable watch in Rolex's current collection.