Rolex Oyster Perpetual 2020 Turquoise Dial – Is it a Tiffany & Co Dial?
On the first of September 2020, Rolex, against all expectations, presented its new novelties. The updated Submariner collection was of course the star of the show, with its bigger case measuring 41mm, slimmer lugs, and more importantly the latest generation calibers. Caliber 3235 with a date and 3230 without a date.
The update to the Submariner line didn't come as a huge surprise. In fact, it was expected. What did, however, come as a surprise was Rolex's big changes to its Oyster Perpetual collection. Most notably the introduction of unorthodox (and very un-Rolex), new bright and bold dial colors.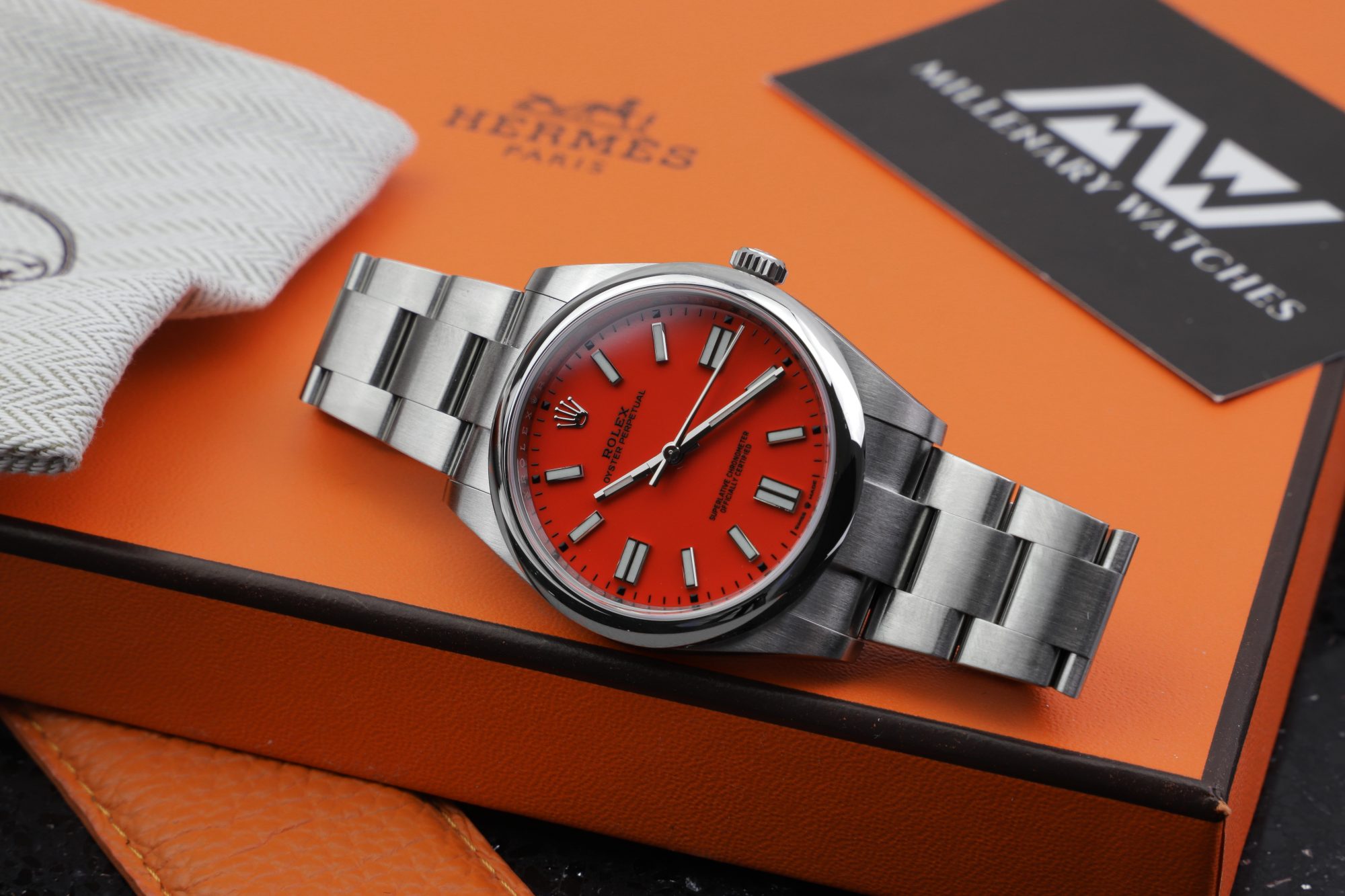 Now available in 41mm
At Basel world in 2015 Rolex refreshed an old model, but with new dimensions. It was the Oyster Perpetual in a 39mm case. This watch fast became a favorite as the size of 39mm was more relevant according to the size ideals of today with a sportier size, compared to the classic 36mm size (although the 36mm size also lived on, and likely always will).
On September first, 2020, Rolex decided to discontinue this Oyster Perpetual, reference 114300, and replaced it with the new reference 124300. Surprisingly, this does, however, not measure 39mm, but rather 41mm.
Not only has the case size been increased by 2mm, but it also has slimmer lugs, a new updated movement caliber 3230, and lastly, features the Easylink extension system that gives the wearer the possibility to extend the length of the bracelet with 0,5mm.
The new release also involved upgrades and changes to the remaining collection of existing sizes, including 34mm, 36mm, and 31mm. All of these have been equipped with the new generation caliber, slimmer lugs but most importantly, a totally new wild and crazy selection of dial colors. These bold and bright colors were quickly referenced as "Stella dials" because of the similar colors to the original Stella dials that Rolex produced for the Day-Date and Oyster Date collections in the past. One particular dial that got a lot of attention is the dial that Rolex named "Turquoise blue". This dial has a bright, fresh, and very uncommon-for-Rolex-watches, Turquoise color.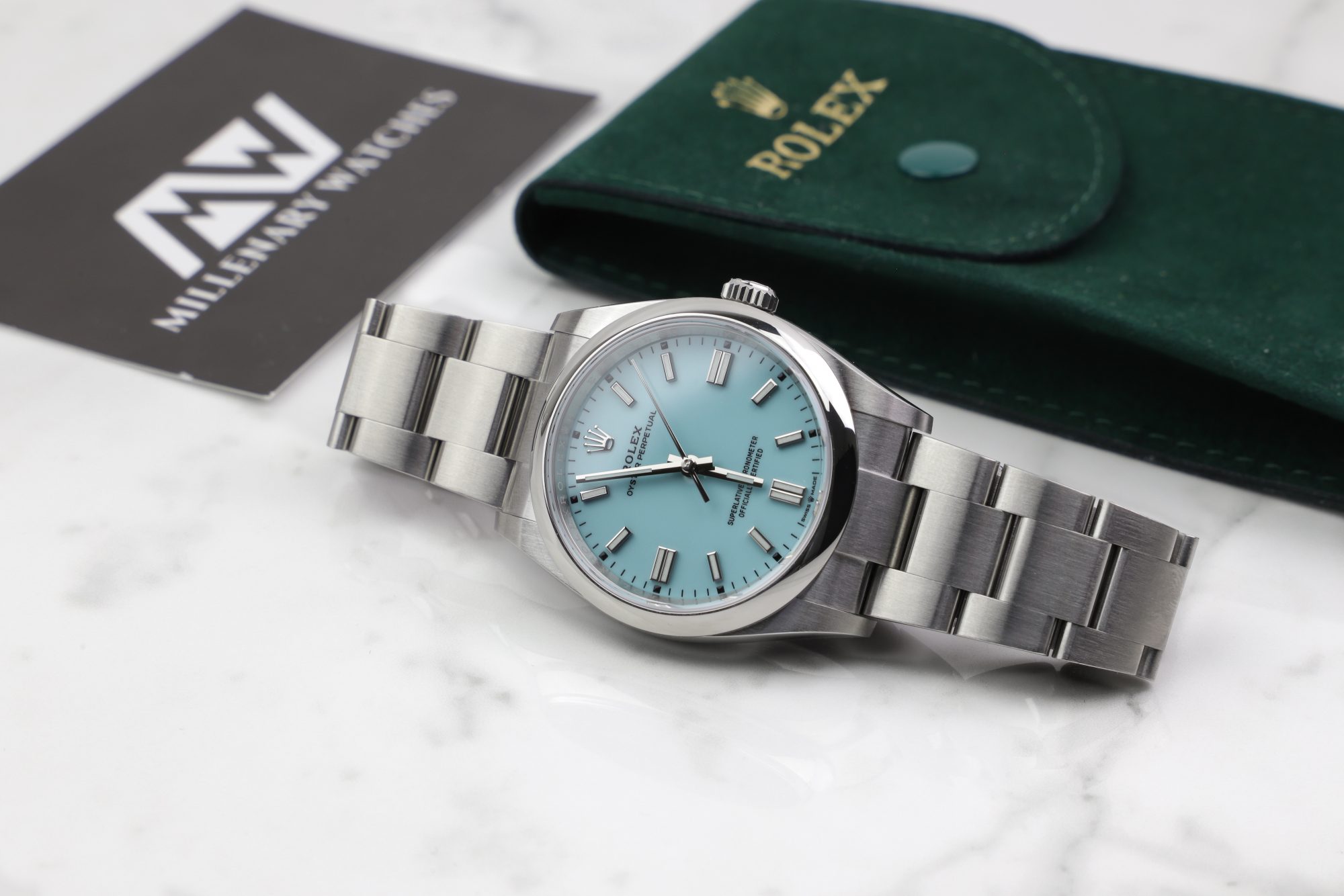 What is a Tiffany Dial?
The audience was quick to reference this dial as the "Tiffany dial", due to the color's close similarity and reminiscence of the signature color of the famous jewelry company Tiffany & Co. The color is not identical, so how come many people immediately come to think about Tiffany? The answer is that it has to do with Rolex's history.
You might ask yourself why this matters or what's so special about it. Well, Tiffany & Co and Rolex have actually had a close relationship with each other. A relationship that dates all the way back to the late 1950s.
Tiffany & Co is well known for its high-end, elegant, luxurious jewelry and watches. With that said, a collaboration between these two giants in the luxury industry seems rather appropriate. To understand the context of the turquoise blue Oyster perpetual, we need to make a journey back in time.
Tiffany & Co is a brand that not is a re-seller of other brands, but is a brand on its own that designs and manufactures its own products – just like Rolex. When it comes to Tiffany, there are, however, exceptions to this rule, but there is a catch.
For this reason, Rolex provided Tiffany & Co with watches, on the dials of which Tiffany & Co in New York then printed its name. In later years Rolex decided to print the dials with Tiffany & Co directly in their own factory in Geneva, Switzerland prior to sending them to Tiffany & Co to be sold in their boutiques. This is the reason why you can, today, find vintage Rolex watches with the Tiffany & Co name printed on them.
This cooperation continued for decades but in the early 1990s, Rolex decided they did not want to continue to allow Tiffany & Co to have its name printed onto the dials of their watches. Furthermore, Rolex would not honor the warranty of watches stamped and sold from Tiffany & Co in case of a warranty repair. As previously mentioned, Tiffany & Co is a brand of its own that only sells its own products, or products carrying its name. As a result, when Rolex decided not to allow Tiffany to continue adding its name onto the dials of the watches, the partnership between these two iconic luxury brands stopped.
In recent years all models from Rolex which has the printing "Tiffany & Co" on the dial have steadily increased in value and become sought-after collector's piece due to their rare nature since, as you can imagine, the production numbers of these pieces is substantially lower than the total production of the non-branded models (since the vast majority of Rolex watches were obviously not sold by Tiffany & Co considering Rolex's huge retailer network).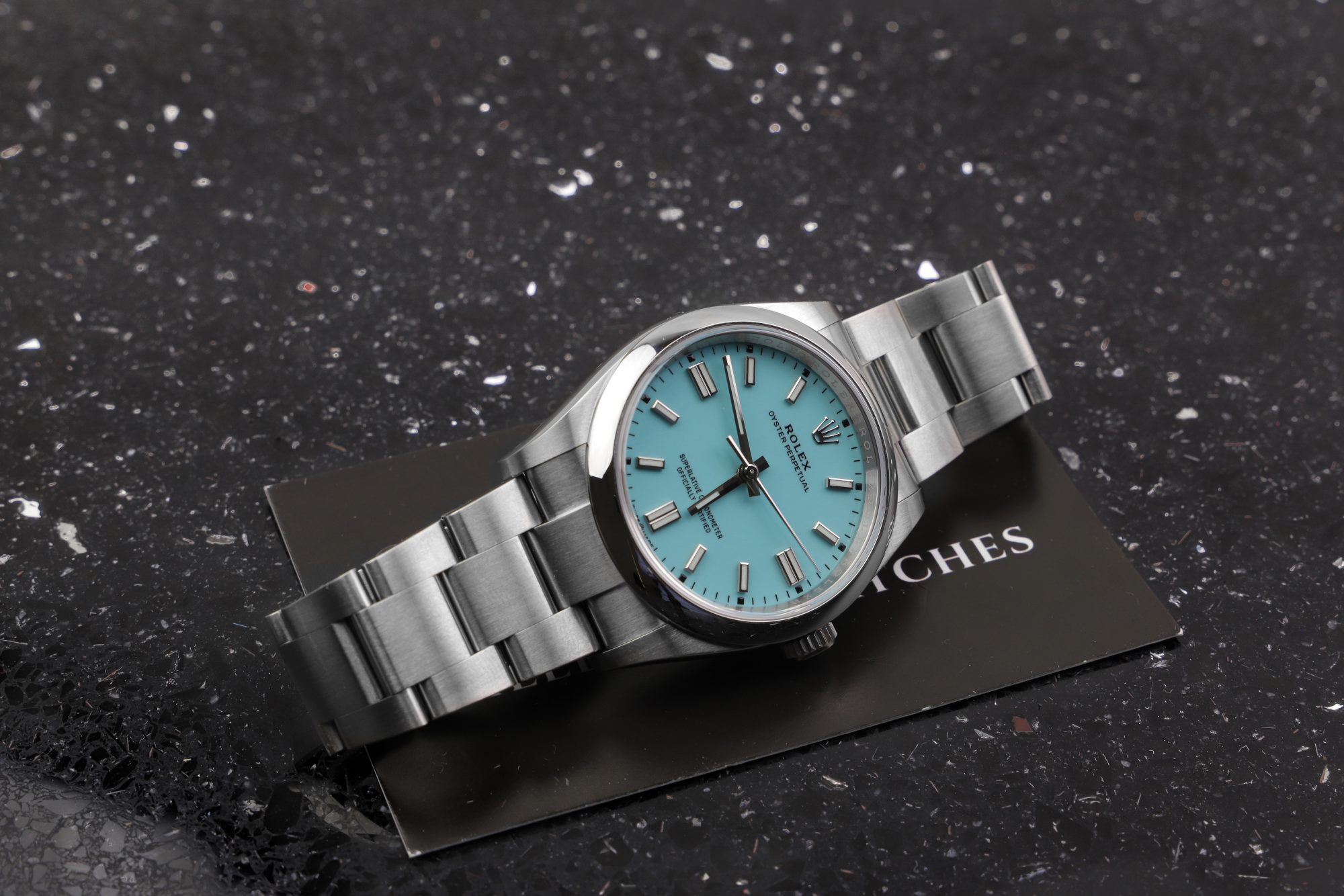 Rolex Oyster Perpetual "Tiffany" Dial
The new dials released from Rolex, as we earlier mentioned, quickly acquired the nickname "Stella dials", but more interestingly Rolex decided to go for a dial with a Turquoise dial which is a color that has great importance for Tiffany. Taking into consideration the mentioned past cooperation between the two companies makes this dial extra interesting. Not to mention the brave and unorthodox move from Rolex – one of the most orthodox watch brands in the world – to make a dial that really does stand out from their ordinary supply of dials.
What's The Future For This Watch?
We strongly believe that this dial, due to its reminiscence of the Tiffany color, and with that said also Rolex's historical relationship with Tiffany, could be a future collector's piece or at least become an iconic classic with an important place in Rolex's collection.
The Tiffany dial has a very light, innocent, and calm color which can be greatly appreciated both by him and her for various occasions. The market has proven to love the new release from Rolex and there's no doubt that the Rolex Oyster Perpetual with the turquoise blue "Tiffany" dial will be highly sought after, and perhaps, end up like most Rolex professional watches today: long waiting time, huge popularity, limited supply with huge demand.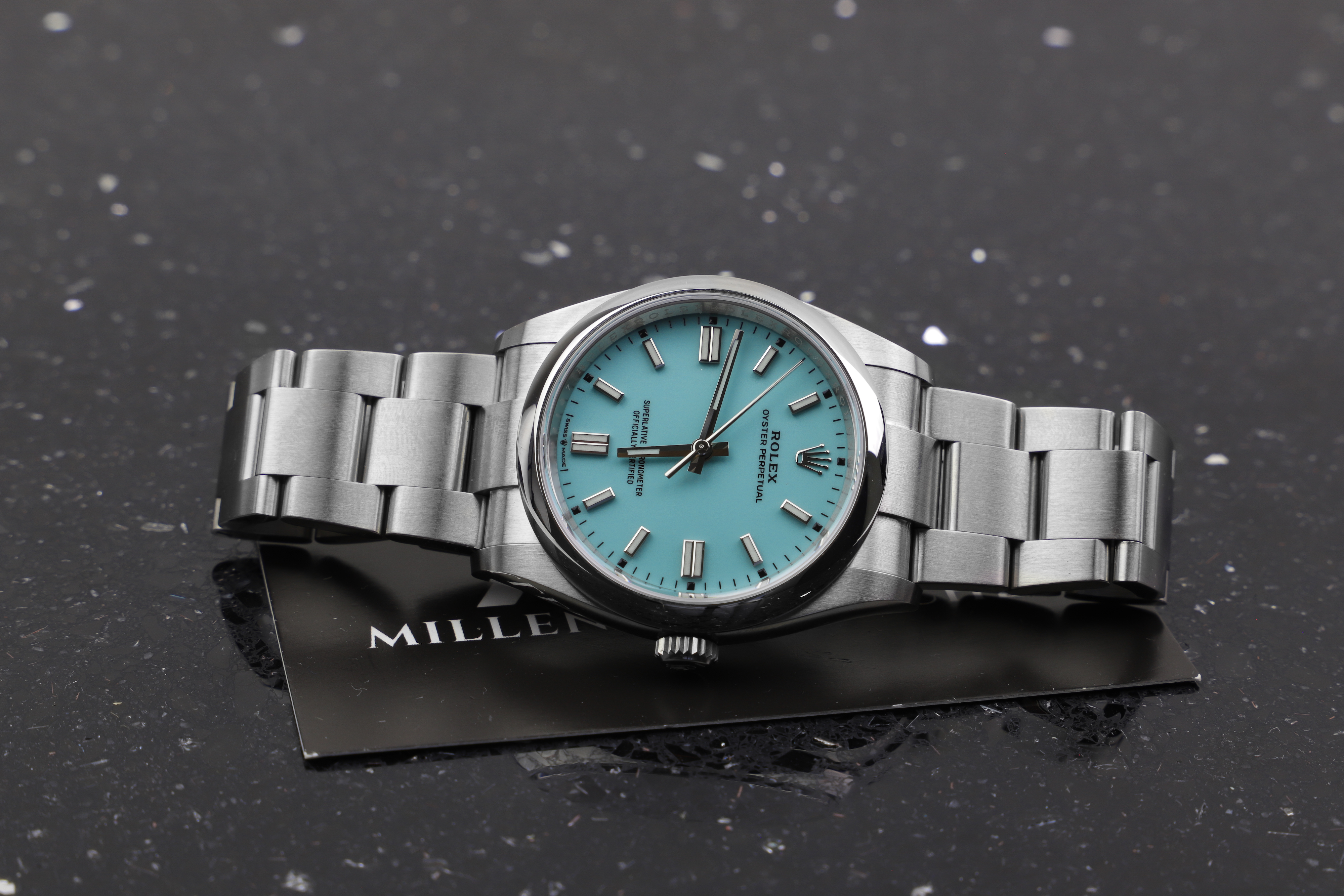 Conclusion
The new Oyster Perpetual lineup features an extremely bold selection of bright and colorful dials. The perhaps most exciting dial is what Rolex describes as "Turquoise Blue" and what quickly acquired the nickname "Tiffany Dial" because of the past history between the two companies. This dial, no matter if it's in a 41mm, 36mm, or even 34 or 31mm Oyster Perpetual, gives it many of the prerequisites it needs to become a future classic.
Today, Rolex and Tiffany & Co have no relationship or cooperation, but this Oyster Perpetual turquoise dial work became a blast to the past and a reminder of their previous relationship for everyone who knows about how legendary this collaboration proved to be in hindsight.
What do you think about the new Oyster Perpetual and especially the "Tiffany" Dial? Is this a future classic?