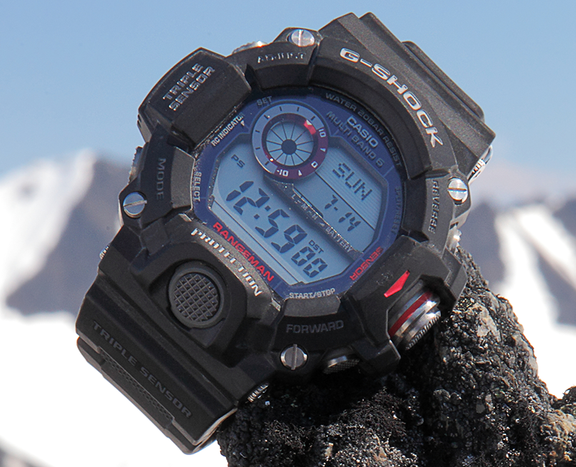 Casio Rangeman GW-9400 Review & Complete Guide
One thing is certain, and that is that there is a G-Shock watch for everyone.
The Casio G-Shock is one of the most popular watches in the world. The good news is that over the years, Casio has consistently developed new models in order to cater to its audience.
The G-Shock range is known for consisting of watches that are well-built, robust, and extremely tough. And all of them are. But depending on which model you opt for, they offer different things, mainly in terms of functions, but also in terms of different levels of durability.
The Casio Rangeman GW-9400 is a watch that ends up at the top in terms of toughness and functionality. This watch is packed with functions, has an even sportier design than many others, and is built to last.
It is easy to see why this model is so immensely popular. It carries the G-Shock DNA that people have come to love and expect, it offers great value for money, and it is packed with useful functions. This is a watch that is so tough that it can handle virtually any condition and be a solid partner for many years to come.
Without further ado, let's look closer at and review the Casio Rangeman GW-9400.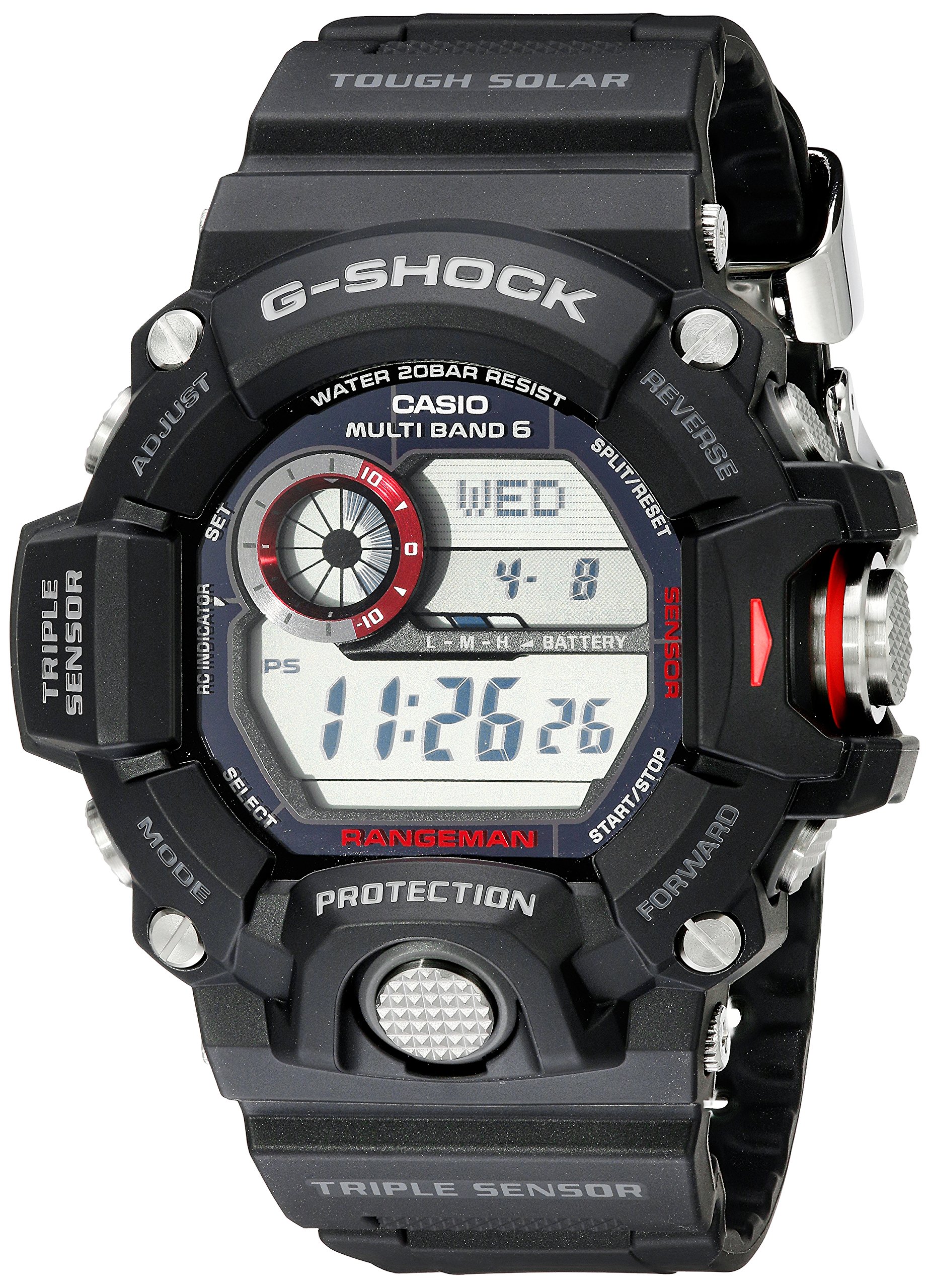 Case
Like most G-Shocks, the watch is presented with a sturdy and robust black resin case. The case is thick and creates strong protection against shocks, making it extremely durable.
Firstly, the resin case construction is raised above the screen in order to keep it protected. On top of the bezel, you will also find information about what each pusher does so you can easily know which button does what. The Rangeman has one large pusher at 3 o'clock with which you cycle through the sensor function modes. The other pushbuttons are used for regular functions such as modes, adjusting, and reverse.
In terms of profile and size, the Rangeman GW-9400 is rather big. But at the same time, its large size goes well with its purpose. The watch has a diameter of 53.5mm and a length of 55.5mm. The thickness measures 18.2mm. With that said, you either need to enjoy wearing large watches or have a large wrist to pull this off, but this isn't anything new. In fact, it is what we expect a G-Shock to be.
But worth having in mind is that despite its large size, this watch wears surprisingly comfortably thanks to its lightweight of only 93 grams. In addition, its integrated resin strap allows it to "hug" the wrist and thus sit better on the wrist. The top of the case is put together with the back of the case using 4 screws in each corner which adds to its sporty look.
Speaking of the strap, the black resin strap is just as tough as the rest of the watch. It is water-resistant, scratch-resistant, and very durable.
The Rangeman GW-9400 has a water resistance of 200 meters/660 feet which means you can go swimming and diving without any issues.
For this type of watch, it is really self-explanatory, but the Rangeman GW-9400 is made to take a beating and will hold up extremely well to virtually any situation you subject it to. Water, dirt, mud, sand, or anything in between. Just give it a good rinse afterward and it is as good as new.
Screen
The watch is a full digital watch and therefore does not have an analog timekeeping display. Instead, the information and time is presented in the form of screens. The screen is divided into different sections to make it easier to read all of the information that is presented. Naturally, the time is presented with the largest font so a quick glance at the wrist is all it takes.
Functions
First off, the Casio Rangeman GW-9400 is the first Rangeman G-Shock to incorporate a so-called ABC sensor technology, which, in regular English means that it uses triple sensor technology, meaning that it has an Altimeter, Barometer, and compass. These are all three features that can come in handy whether you are out in the field, skiing, or doing other demanding activities. In addition to these three, the watch is also equipped with a thermometer.
The watch uses the version 3 module which has been made smaller and more effective. It uses less power and is able to be more precise.
The sensors are certainly the highlight of this watch, but this certainly isn't everything this watch has to offer. In fact, it has so many functions that it will be easier to list them at the end of the article, but the most important ones to know of are the following: The watch is equipped with a chronograph stopwatch that measures up to about 1000 hours.
It is equipped with a sunrise and sunset function, and it can also give you information about the sunrise/sunset times for future or past dates. This is enabled by using your current timezone as well as the latitude and the current date.
For accuracy, the Casio Rangeman is solar-powered which means it uses solar and ambient light to charge the battery. This eliminates the need for replacing the battery which is really practical and also good for the environment.
The watch has an atomic clock signal radio which ensures perfect accuracy at all times.
Specifications
Water resistance: 200m/660 feet
Dimensions: 55.2 x 53.5 mm

Thickness: 18.2mm
Weight: 93 grams
Movement: Casio Module 3410
Power reserve:

Approximately 7 months on a full charge without exposure to light
Functions:
Multi-Band Atomic Timekeeping (US, UK, Germany, Japan, China)
Receives time calibration radio signals which keep the displayed time accurate
Auto receive function (up to 6 times per day/up to 5 times per day for China)
Manual receive function
Signal: US WWVB, UK MSF, Germany DCF77, Japan JJY40/JJY60, China BPC
Frequency: US 60kHz, UK 60kHz, Germany 77.5kHz, Japan 40/60kHz, BPC 68.5kHz
Tough Solar Power
Shock Resistant
Mud Resistant
Case & buttons are sealed to prevent mud, dirt, and dust from getting into the watch
Low-Temperature Resistant (-10 C / 14 F)
Triple Sensor w/Direct Access Button
Altimeter
Measuring range: -700 to 10,000 m (-2,300 to 32,800 ft)
Measuring unit: 1 m (5ft)
Manual memory measurements: up to 40 records (shared storage with date/time, bearing, and barometric pressure/temperature records)
Historical Altitude Values: High altitude, Low altitude, cumulative ascent, cumulative decent
Others: Reference altitude setting, Altitude differential, Altitude auto reading interval (0'05 or 2'00)
Digital Compass
Measures and displays direction as one of 16 points
Measuring range: 0 to 359 degrees
Measuring unit: 1 degree
60 seconds continuous measurement
Graphic direction pointer
Bidirectional calibration
Magnetic declination correction
Bearing memory: up to 40 records (shared storage with date/time, bearing, and barometric pressure/temperature records)
Barometer
Display range: 260 to 1,100 hPa (7.65 to 32.45 inHg)
Display unit: 1 hPa (0.05 inHg)
Atmospheric pressure tendency graph
Atmospheric pressure differential graphic
Atmospheric pressure change indicator
Manual memory measurements: up to 40 records (shared storage with date/time, bearing, and barometric pressure/temperature records)
Thermometer
Display range: -10 to 60 C (14 to 140 F)
Display unit: 0.1 C (0.2 F)
Full Auto LED (Super Illuminator) Backlight with Afterglow
World Time
31 time zones (48 cities + UTC), city code display, daylight saving on/off
5 Daily Alarms (4 one-time and 1 snooze alarm)
Hourly Time Signal
1/100 Second Stopwatch w/Direct Access
Measuring capacity: 999:59'59.99″
Measuring modes: Elapsed time, split time, 1st-2nd place times
Countdown Timer
Measuring unit: 1 second
Countdown range: 24 hours
Countdown start time setting range: 1 minute to 24 hours (1-minute increments and 1-hour increments)
Sunrise/Sunset Data
Displays sunrise time and sunset time for a specific date (at sea level)
Time Recorder
Memory capacity: up to 40 records (shared storage with date/time, bearing, and barometric pressure/temperature records)
Full Auto Calendar (Pre-programmed until the year 2099)
12/24 Hour Formats
Button operation tone on/off
Accuracy: +/- 15 seconds per month (with no signal calibration)
Storage Battery: Solar Rechargeable Battery
Battery Level Indicator
Power Saving Function
Size of case/total weight: GW9400
Conclusion
All in all, the Casio Rangeman GW-9400 is a top-tier watch that sits very high up in the G-shock collection in terms of durability and functionality. This isn't your standard G-Shock watch with basic functions and design. Think of this watch like a G-Shock on steroids, and if that is what you are looking for, you'll absolutely love this one. It is packed with useful functions and it has a bold and sporty design that stands out from the crowd. And as a tool, it is extremely functional and can make a considerable difference out in the field.
The Casio Rangeman GW-9400 is available to order on Amazon.