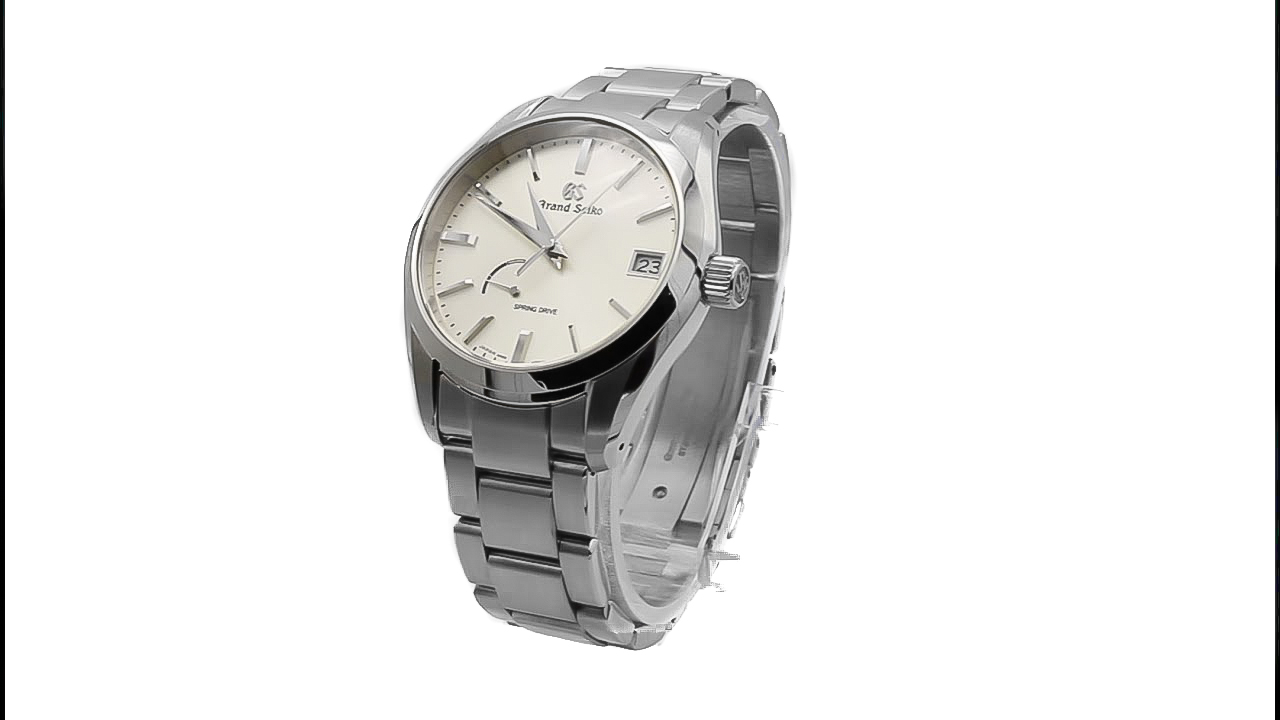 Grand Seiko Heritage SBGA283 Review & Complete Guide
Grand Seiko is a sub-brand of Seiko which, in Seiko's own words, is:
"a luxury brand that offers timepieces made by master craftsmen in Seiko's two exclusive watchmaking studios, using exclusive movements and the highest grade materials. Each Grand Seiko watch is instantly recognizable because of its simplicity of form and its understated elegance."
Everyone knows about Seiko, one of the most famous watch brands in the world, but not everyone knows about Grand Seiko. As the name suggests, it is owned by Seiko, but the watches coming from GS are not affordable or cheap in any way.
In fact, quite the opposite. The Grand Seiko watches are appreciated for their impeccable attention to detail, beautiful finish, and decorations. These are elements that are only found in the most exclusive and luxurious watches. In fact, the finishing of Grand Seiko watches is not uncommonly compared with Rolex watches.
In this article, we are looking closer at one of the Grand Seiko watches in their collection. Specifically the Grand Seiko Heritage Spring Drive SBGA283.
As an Amazon Associate, we may earn from qualifying purchases, at no extra cost to you.
Grand Seiko Heritage Spring Drive SBGA283 case
The watch features a stainless steel case with a diameter of 39mm and a thickness of 12.3mm. With that said, it is a balanced size that will fit a wide array of wrist sizes and has a nice balance between sportiness and elegance.
As the Grand Seiko watches have become known, the case has an impeccable case finish. It has a fixed polished stainless steel bezel which makes for a clean and refined look. The upper side of the lugs is brushed with a beautiful finish, but this is beautifully contrasted with beveled polished edges on both the inner and outer sides. The precision between the polished is beautiful as the sharp contrast is made to perfection. Of course, the sides of the case are polished too.
At the classic 3 o'clock side, it has a screw-down crown that sits slightly recessed into the case which keeps it somewhat protected. It's nice that Seiko did not opt for crown guards since this would have resulted in a bulkier and sportier case profile. With the "integrated" crown design, they are able to achieve similar protection but without any additional elements.
Thanks to the screw-down crown, the watch is water resistant to 100m/330 feet. This means it is suitable for swimming but not deep diving. In practice, this is probably the most you need from an elegant everyday watch which the SBGA283 is.
On top of the case, it has a dual-curved sapphire crystal which has an anti-reflective coating on its inside. The crystal will prevent glare and thus improve legibility. Sapphire crystal is of course an element we expect from a watch at this price point.
All in all, the case finish is made to an extremely high standard, which is what we have come to expect, and overall, the case design is clean, simple, and just perfectly timeless.
Grand Seiko Spring Drive SBGA283 dial
To match the concept of the case, the dial is also simple, clean, and elegant. The SBGA283 has a beautiful champagne dial with a silver tone made in a sunburst finish. The dial is really what makes this watch stand out from the ordinary. The finishing is made to an extremely high standard and the attention to detail is stunning.
The sunburst finish allows the dial to reflect the light beautifully and its vibrant reflections really give it an exclusive and luxurious feel.
Positioned at 3 o'clock, we have a date window with a beveled metal frame around it. Not much to say about this other than that it is a practical feature that can be convenient in an everyday watch.
At 4 o'clock on the dial, it has a power reserve discreetly integrated. The power reserve indicates how much power is left in the movement and is therefore a practical feature to have.
Apart from the dial itself, the hour markers and hands are really what stand out from the ordinary. The hands have very sharp tips with polished bevelings around them. It requires some great precision to achieve this, but Seiko has done an amazing job.
The hour markers have a rectangular shape and are raised rather high which adds depth to the dial. In addition, they are sloped at the end of their tip which is another nice detail that Seiko has added.
The Grand Seiko logo is applied to the dial and made of metal.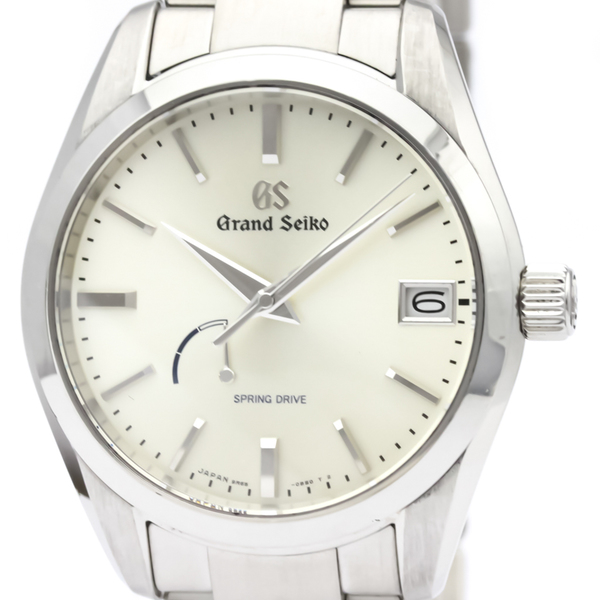 Grand Seiko SBGA283 movement
As the name suggests, this is a Spring Drive watch, but what does it actually mean?
Well, the watch is powered by the Grand Seiko caliber Spring Drive caliber 9R65 which is anti-magnetic to 4,800 A/m [60 Gauss] and has an accuracy of +/-15 Sec per Month/ +/- 1 Sec per Day which is exceptionally great. The movement is equipped with 30 jewels.
The Spring Drive technology is designed in a way that combines quartz and mechanical technology. The spring drive has springs that drive a series of beats which generate electrical charges which then activate the quartz oscillator and its electronic circuit
This technology has proven to be ten times more accurate than regular mechanical movements and is unique to Grand Seiko. Also, this technology allows the seconds hand to sweep rather than tick, unlike how a regular quartz watch works.
Furthermore, this movement has a power reserve of 72 hours which is really great.
Lastly, the Grand Seiko SBGA283 does not have a see-through case back which allows you to admire the beautiful movement inside. The more expensive SBGA3 models and above have a see-through back, for those who enjoy looking at the movement. As for the movement, Grand Seiko has not compromised on anything here. The finishing is beautiful and made to perfection, making it incredibly beautiful to look at – once you open it up, unless you choose the more expensive model.
With that said, whilst the price is high the watch can in no way be compared with a regular Seiko. In fact, the watch has a finish that can be compared with only top-tier luxury watches.
Bracelet
The watch is presented on a stainless steel bracelet with a three-fold clasp with a push-button release. Similar to the case, the bracelet has both a polished and brushed finish which is a nice balance.
The bracelet is just as beautiful as the rest of the watch, and the finishing equally so.
Specifications
Water resistance: 100m/330 feet
Thickness: 12.3mm
Diameter: 39mm
Crown: screw-down
Case back: screw down
Movement: Seiko in-house automatic Spring Drive caliber 9R65
Crystal: dual-curved sapphire crystal. Anti-reflective coating
Anti-magnetism: up to 4,800 A/m [60 Gauss]
Accuracy: +/-15 Sec per Month/ +/- 1 Sec per Day
Power reserve: 72 hours
Claps: three-fold clasp with push-button release
Power reserve: 72 hours
Conclusion
With all of the above said, it is safe to say that the Grand Seiko Heritage Spring Drive SBGA283 is an amazing watch that is out of the ordinary. Do not for one second mistake this as a regular Seiko because it couldn't be further from one. The finishing is exceptional, the build quality is great, and the overall value proposition of this timepiece is so much better than many other watches in this price range.
If you decide to go for this watch, you really won't be disappointed. Neither in terms of quality nor in technical complexity or finish.
This is a watch that will work as a trusted companion and an everyday watch that works just as great as an everyday watch as it does with a suit.