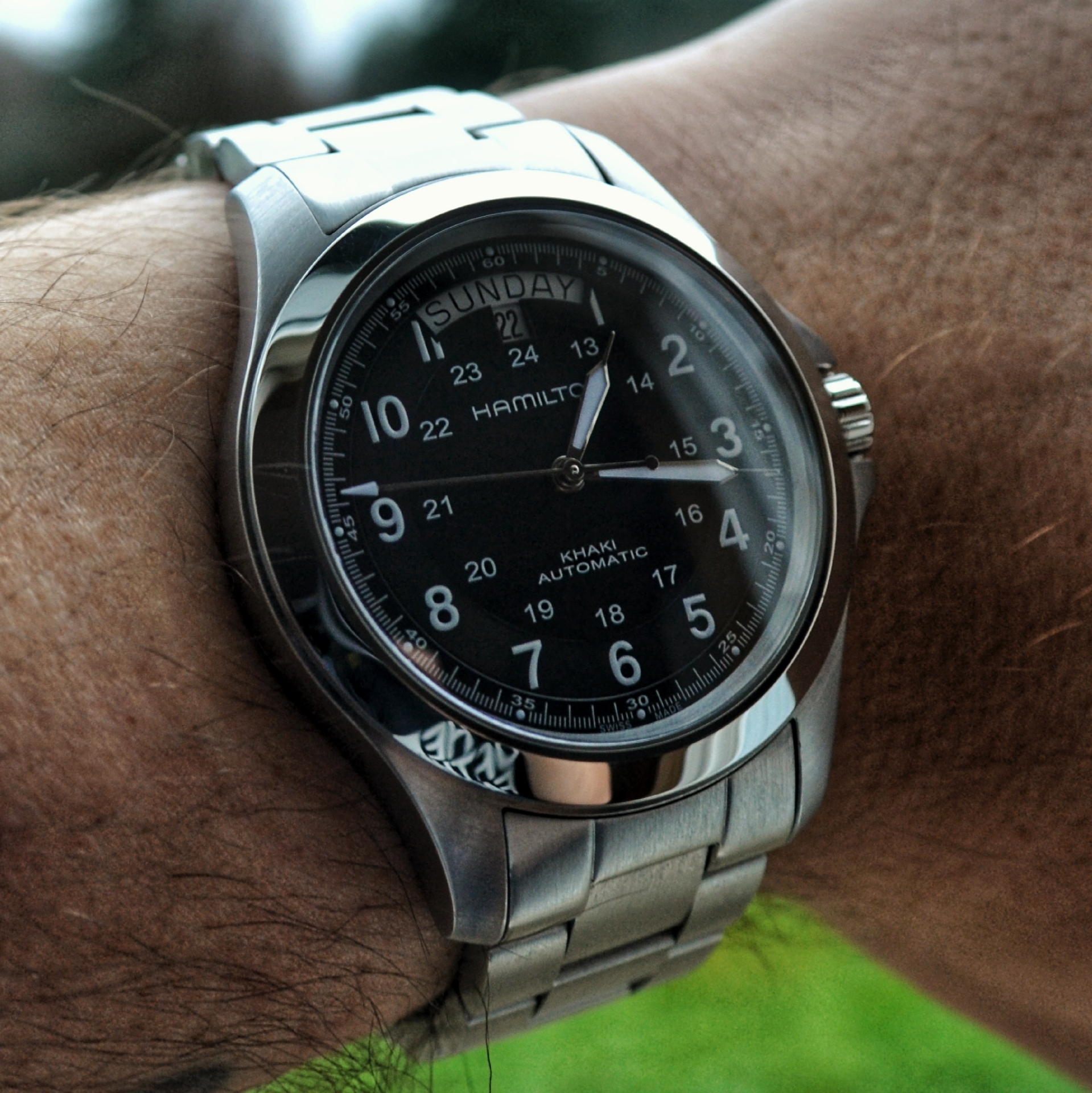 Hamilton Khaki King II H64455133 Review & Complete Guide
In recent years, Hamilton has come to gain more and more respect by watch enthusiasts and the watch industry as a whole. However, that is not to say that it is a new brand. In fact, quite the opposite. Hamilton was founded in the US during the 1800s, and it especially grew its reputation when it was selected to manufactured watches for the US military during world war two (in addition to other military groups throughout its history as well).
As such, Hamilton's production of military watches has come to play a huge role in its reputation and history.
Seiko has really valued this part of its history in recent years by making field/tool watches which are inspired by Hamilton's vintage military watches, but also pilots and vintage field watches as a whole.
This has come to prove to be a great concept by Hamilton because today, its "Khaki King collection), in which these type of watches are presented, is one of the most popular model lines from the brand.
The Khaki King collection is packed with different models from military field watches to large pilot's watches. One of those watches is the Khaki King II H64455133.
Hamilton Khaki King II H64455133 Review
As an Amazon Associate, we may earn from qualifying purchases, at no extra cost to you.
If you are looking for a sporty and bold pilot's watch that has a vintage-inspired charm, but also modern build quality and design traits, the Hamilton Khaki King II H64455133 may be the watch for you.
As mentioned, Hamilton has a long and appealing history of making military watches. And to have a brand that has been an expert in making military watches, make them again in modern time is something special that really adds to the appeal of these timepieces.
Being a sports watch, it has a very robust and muscle appeal to it. With its relatively low price, it's a great entry-level timepiece for someone who is looking to dip their toes into the world of Swiss mechanical watches.
In this article, we are reviewing and looking closer at what the Hamilton Khaki King II H64455133 is all about.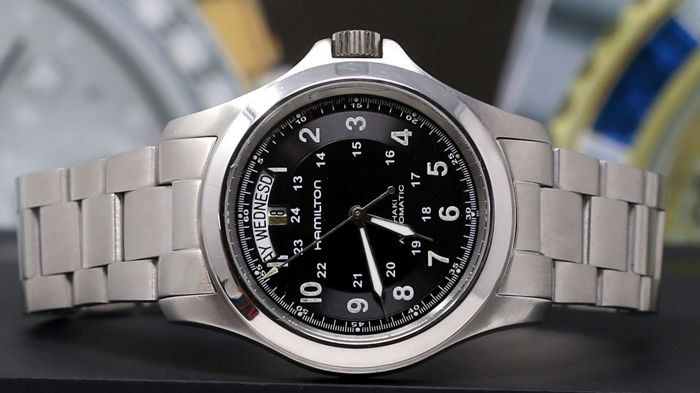 Hamilton Khaki King II H64455133 case
The watch features a 316L stainless steel case with a circular-brushed satin finish case and polished bezel. The case has crown guards that extend from the case and keeps the crown protected. The case has a diameter of 40mm, a thickness of 11mm, and a lug width of 20mm. Nothing too special about these dimensions, and quite common for a sports watch.
Having said that, the watch is not huge, but it will have a sporty presence on the wrist and is most suitable for men with medium to large wrists.
The satin finish gives the watch a sporty look, but the polished bezel works as a nice contrast to enhance its impression of attention to detail when it comes to case finishing.
This watch offers a water-resistance of 50 meters. This is not a whole lot, which makes it mostly resistant against water splashes and not ideal for swimming or snorkeling with. This can be seen as a downside of this watch as it means that if you wear it as a daily watch, it is advised to take it off before you jump into the water. At the same time, it is made as a pilot's watch, and obviously, pilots are not supposed to be near water. Then, of course, there is just the fact that most people who buy this watch are not pilots and with that in mind, it would have been nice to see a water-resistance of at least 100m.
It's not a huge deal, but still…
The watch has a sapphire crystal which is nice to see, but it does not have an anti-reflective coating which can it can create glare.
Moving on, the case has a see-through case back which allows you to see the automatic movement inside.
Hamilton Khaki King II H64455133 movement
In terms of decoration, it's not the most beautiful movement seeing that it has essentially no decoration. The movement looks industrialized and robust. But still, the see-through case back is a nice feature of this watch as it works as a reminder of the beautiful piece of mechanical engineering that is beating inside. At the same time, the movement looks quite good still, despite the fact that it doesn't have much decoration.
Speaking of the movement, this watch is equipped with the Hamilton H-40 caliber which is based on an ETA movement. This doesn't come as a surprise as both ETA and Hamilton are owned by the Swatch Group. The movement offers an impressive 80-house power reserve and beats with a frequency of 21600 BPH. With its long power reserve, it means you can take the watch off over the weekend and still have it running when it is time to start the new week.
The H-40 movement is rock solid, and the 80hr power reserve means you don't have to worry if you take it off for the weekend.
As you know, ETA movements are known to be reliable workhorses that can continue to tick for years, and the same goes for the caliber used in this watch. It is sturdy and durable, which of course goes very well together with a sporty watch like the Khaki King II. And in that sense, the fact that the movement looks quite industrialized can be considered a good thing.
Hamilton Khaki King II H64455133 dial
The pilot inspired dial of this watch is what makes it stand out.
As a background, it has a black dial, and around the outer edge of the bezel, it has a slightly raised platform on which the sub-seconds are printed in white. The dial also has circular grooves which give it depth and makes it look more well-finished. The benefit of a black dial is that it helps make the watch be more versatile and to work for more or less any occasion and with any outfit.
As a pilot's watch should, this watch offers great legibility. The markers are not applied, which is otherwise common for watches in this price range, but instead, they are printed in white. Around the dial, the watch has large Arabic numerals from 1 to 11 printed. Inside these numerals, 24-hour markers are printed. This helps make this watch more practical as it has both 12-hour and 24-hour functions.
The large Arabic numerals ensure great legibility as they stand out very clearly against the black background. In addition, the Arabic numerals have lume applied to them so you can read the time in the dark.
The watch has sword-shaped minute and hour hands with pointy tips. The hands are made in polished metal and have luminescent material applied to them.
At the 12 o'clock position, we have the day window, and integrated with it, just beneath, we have the date window. This layout of day and date window has become an iconic design trait for Hamilton's day and date watches. And since most people will use this as an everyday watch, the day and date functions can actually be very practical.
The seconds hand has a pointy arrow tip and is made in polished metal.
Hamilton Khaki King II H64455133 bracelet
The watch is equipped with a sporty three-link bracelet with a deployment buckle and safety clasp made in stainless steel. For rigidity, it has solid end links.
The watch has a lug width of the industry-standard 20mm which means you have a wide array of straps to choose from. This helps make the watch even more practical as it means you can change the strap according to the occasion. A NATO for a more casual look, or a leather strap for formal occasions.
The bracelet is satin-finished and actually quite well-made. It goes really well with the sporty design of the watch and gives a reassuring robust feeling of quality on the wrist.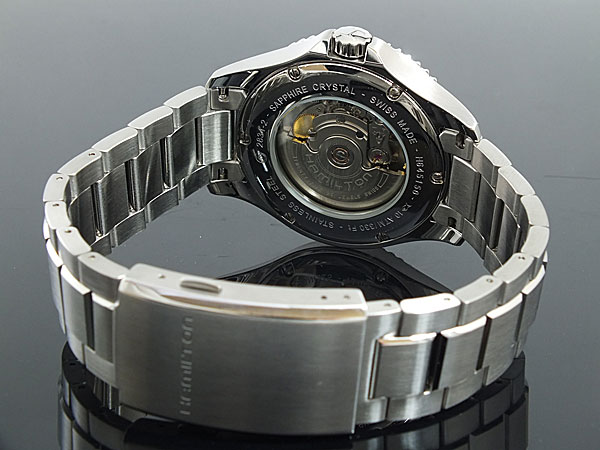 Specifications
Diameter: 40mm
Thickness/height: 11mm
Lug width: 20mm
Water-resistance: 50M
Crystal: Sapphire
Movement: Hamilton caliber H-40
Power reserve: 80 hours
Conclusion
All in all, the H64455133 is a perfect everyday watch. It is practical, versatile, and durable.
The watch is perfect for someone who is looking for an affordable Swiss watch that offers great value for money.
The Hamilton Khaki King II H64455133 has plenty of heritage and history which helps make it more appealing. Especially considering its vintage/military/pilot's design inspiration.
It is powered by a wen-built and reliable movement that has proven it can continue to tick for years without issues, and the see-through case back works as a nice reminder of the beautiful piece of craftsmanship that is inside.