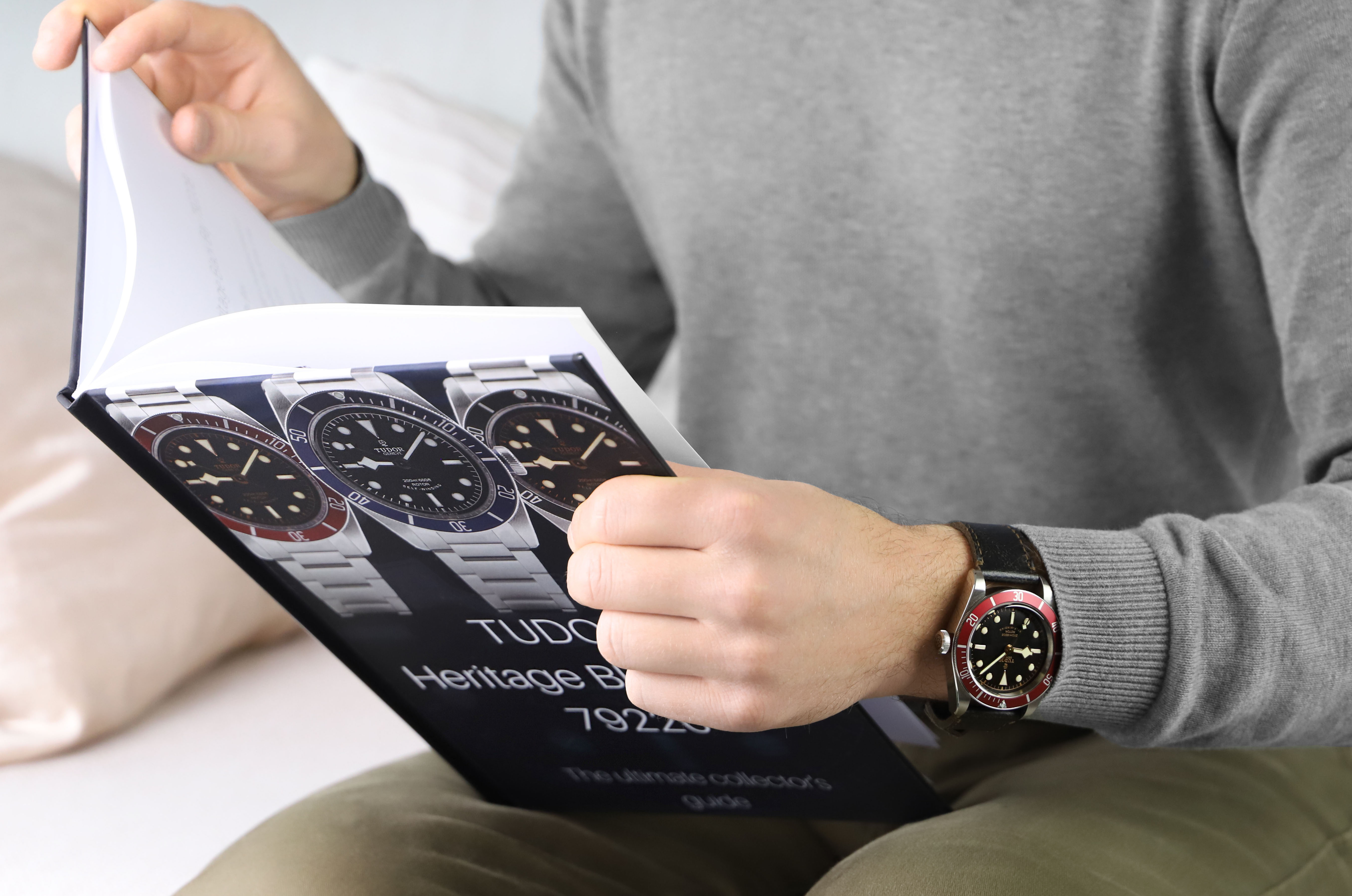 How to Contact Tudor – Tudor Watches Contact details
Tudor, or Montres Tudor SA is a company that was founded by Hans Wilsdorf, the founder of Rolex. Wilsdorf founded Tudor to fill a gap in the market that Rolex wasn't covering. Wilsdorf said about creating the company:
"For some years now I have been considering the idea of making a watch that our agents could sell at a more modest price than our Rolex watches, and yet one that could attain the standards of dependability for which Rolex is famous, I decided to form a separate company, with the object of making and marketing this new watch. It is called the Tudor Watch Company."
Tudor was established to offer watches with the same level of quality and reliability as Rolex, but at a lower price point. The idea was to use Rolex parts, but equip them with off-the-shelf Rolex movements.
Tudor is still owned by Rolex to this day. And as you may know, Rolex is owned by a foundation, the Hans Wilsdorf foundation, meaning that Tudor too is a 100% privately owned company. And the fact that it is owned by a foundation also means that Tudor does things a lot differently from most of its competitors.
As you may know, Rolex is one of the most secretive watch brands. And Tudor is almost the same. The brand has a similar mystery and secrecy about it. This also mean that if you want to get in direct contact with Tudor, you may find that it is quite difficult.
Just like Rolex, Tudor is essentially exclusively a b2b company. This means that it has official retailers that sell Tudor watches. As such, Tudor has limited contact with the end consumers and instead let their official retailers handle the contacts and relationships with the end customers.
This can of course complicate things a bit when you want to contact Tudor directly. Tudor mainly advises its customers to contact one of the many official Tudor retailers, but what if you want to contact Tudor directly?
If you want to contact Tudor watches directly, you have come to the right places. In this article, we have compiled a complete list of ways you can get in touch with Tudor.
This page includes all of the different communications channels through which you can reach Tudor, from sending letters, to calling, to sending emails, and everything in between. We have listed multiple methods so you can choose the means of communication that you prefer, but also so that you can try a different method shall you not have any success when you have tried one of them.
Tudor Contact information
---
Tudor Mailing address
Tudor's main office is situated in Geneva, Switzerland. If you want to send letters directly to Tudor, you can do so. However, as letters are becoming less and less common, it's not certain that you will receive a response. But if you only want to communicate praise or a complaint, you may still succeed with your goal as your letter will be received and likely read by someone.
Tudor's address for sending letters is:
TUDOR watch SA
Rue François-Dussaud, 3
1211 Genève 26 – Suisse
Tudor contact
Because Tudor is a b2b company, they limit the contact information directly to Tudor on its website. They simply want customers to contact the retailers instead and don't want to handle this part themselves. However, that doesn't mean it is impossible to contact Tudor directly.
Tudor Fax
Tudor also has fax which you can try contacting them with:
+41 22 300 22 55
The fax number is for Tudor's main office in Geneva.
Tudor Website personal data contact
Personal Data Supervisor: Mr. Xavier Braun
Postal address: 3-5-7, rue François-Dussaud, 1211 Geneva 26, Switzerland
Telephone number: +4122 302 22 00
Email address: privacy@tudorwatch.com
Tudor email addresses
Tudor is very secretive about its contact details to the public, including its emails. Nowhere on its website does the company have a "contact us page" or email addresses. This is, as mentioned because Tudor wants end customers to contact retailers and not Tudor directly. However, if you want to email Tudor or Tudor employees directly, we have compiled a list of email addresses below:
Public relations: daniela.alves@tudorwatch.com
christophe.chevalier@tudorwatch.com
Project manager in sponsoring and corporate events: adrien.fourcade@tudorwatch.com
Commercial Manager: roland.enderli@tudorwatch.com
Phone numbers to Tudor
The only phone number that Tudor has is the main office in Geneva. Of course, each Tudor retailer can also be reached by phone, if you are just looking for general information about Tudor watches and don't need to contact the company directly.
Tudor main office Genève: +41 22 302 22 00
TUDOR official retailers
Tudor encourages all customers to contact its official retailers. The good news is that Tudor has plenty of retailers that you can contact who will be able to help you with most of your questions and queries. You can find the complete list of Tudor official retailers here.
Simply choose the one that is closest to you and you will see all kinds of contact information including phone, email, and address. Moreover, you can even visit the retailers in person if you prefer to communicate in person.
Note that Tudor does not have a store that the company owns themselves. Whilst there are a few Tudor boutiques that only sell Tudor watches, they are privately owned and run by independent companies. The Tudor should therefore not be confused with Tudor's own boutiques. However, as these boutiques only sell Tudor watches, you can expect them to be more specialized about the brand as opposed to those retailers that also sell other brands. You can find a complete list of Tudor boutiques here.
Contact Tudor via social media
Tudor is active on a number o social media platforms. Therefore, you can try to contact Tudor directly via social media. However, bear in mind that Tudor receives countless messages on their social media accounts and so it's not certain that you will get a response. However, Tudor occasionally does reply to some of the comments and messages sent to the brand on social media, so you can give it a try. If you don't receive a reply, you can try to contact them again or via a different social media platform.
Different social media platforms work differently and have different ways in which you can contact and send messages. Some social media platforms allow you to send private messages, others may require you to leave a comment on a post and hope for a reply.
Tudor is active on Instagram. The two ways in which you can reach out to Tudor on Instagram is via Direct Message (private message) and by leaving a comment on one of their Instagram posts. However, with the great number of comments they receive on their Instagram posts, they generally don't reply to comments.
Tudor also uses Facebook. Just like with Instagram, you can either comment on one of their posts or send them a private message.
The only way to reach out to Tudor on YouTube is to leave a comment on one of their videos and hope for a reply. This is because YouTube doesn't have a private message function.
About Tudor Watches
Tudor was registered by Hans Wilsdorf in 1926 by Hans Wilsdorf, the founder of Rolex. To this day, Tudor is a sister company to Rolex and is owned by the Hans Wilsdorf Foundation, just like Rolex.
Wilsdorf's purpose with Tudor was to offer watches with the same level of quality and performance as Rolex watches but at more affordable prices. This was made possible by using Rolex parts but fitting them with outsourced off-the-shelf movements rather than in-house movements like Rolex.
Naturally, a lot has happened since 1926 for the Tudor company. Over the course of the brand's history, Tudor has been on and off several market. You could say that the Tudor brand was lost from the 1980s up until the 2000s as the company struggled to find its own identity and appeal to a broad market. But in 2009, Tudor started a major relaunch of the brand with new product lines that would put Tudor back on the map again and make it a major player in the entry-level/mid-level luxury watch range. Tudor introduced the Grantou Chronograph, followed by the Heritage Chrono in 2010 which was inspired by the Tudor "Montecarlo" from the 1970s. With the relaunch of the brand, Tudor sought inspiration from its loved and appreciated classic timepieces from its greatness era from the 1950s to the 1970s. In 2012 came the big breakthrough for Tudor with the launch of the Heritage Black Bay.
The Heritage Black Bay has come to define Tudor as a brand in modern time and has contributed to taking Tudor from a rather identity-less brand to a major player in the industry.