Jins and Vico Watch Winder Review
Jins and Vico also referred to as Jins & Vico is a manufacturer of a wide array of different watch winders of different styles and executions.
Jins and Vico are one of the most popular brands on the market for watch winders as they offer qualitative winders that are well-made, functional, and have stylish designs, which usually means they also work great as interior details to your home.
Since Jins & Vico offers so many different watch winders, we will not focus on one particular watch winder in this article, but rather on the brand as a whole and what it offers.
Jins and Vico watch winder – for any collection size
A big difference between watches winders and naturally the winder you will opt for is the number of watches they can store. Watch winders range from holding one watch up to more than 20. Some watch winders also have additional slots for watches and accessories that do not have a built-in winder. For example, this popular watch winder from Jins & Vico has 8 built-in watch winders, but in addition to this, it also has 6 storage spaces without a winder where you can store your watches.
The Jins and Vico Watch Winder is available to order on Amazon.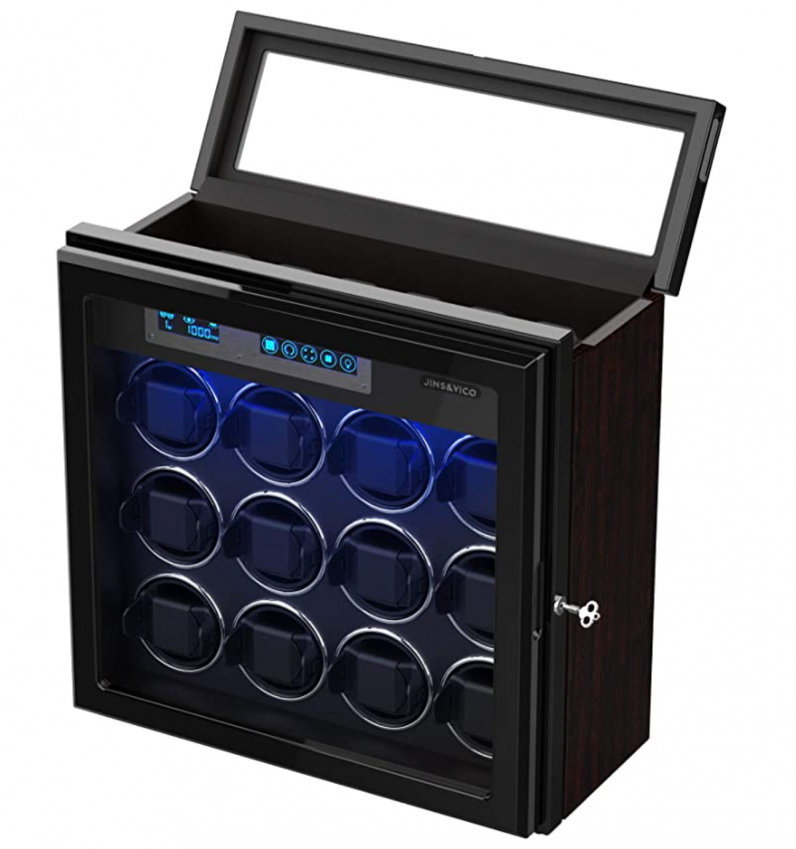 The combination of winders and non-winder slots is in our opinion a great feature of a watch winder as it means you can store watches that are not automatic there in order to keep your collection gathered in one place. For example, quartz and manual wind watches do not have a rotor and do thus not get any benefit from being in a watch winder anyways.
At the same time, if you need more slots for your non-automatic watches, many winders have individually set watch slots for the winding, which means you can store them in a place where there is in fact a motor, just that you choose not to activate it.
JINS&VICO quality and finish
Another reason why watch winders from Jins & Vico are so popular is of course that they are well made. Already at the first impression, they look premium and stylish. These winders are well-built and use premium materials.
There are tons of low-end affordable watch winders on the market, but as you are aware, there are both bad and good watch winders (and the low-end ones may actually end up damaging your watch as discussed in this article). This of course relates to the actual motor (more on that further on).
But now to the actual materials. A wide array of materials are used for their watch winders, but depending on which you choose, you can often find materials such as carbon fiber, lacquered wood, premium leather, to mention a few. All of these materials enhance the look of the winder and makes it look sleek and exclusive. This of course goes well with the beautiful watches that are to be stored inside them.
Jins and Vico motors
As mentioned, certain cheap watch winders can damage your watch for several different reasons, but Jins and Vico have gone above and beyond in developing and using motors to power the winders so that they are safe to use for your watches. Jins & Vico's motors contain diamagnetic materials that are meant to protect your watch from magnetization, which can have a negative effect on the accuracy of your timepiece. The modes vary depending on which winder you opt for, but one thing worth considering is the TPD setting modes you have for the winders. Their winders can usually be set to 650/750/850/1000/1950 turns per day.
The motors also have different rotation modes according to your needs. You can set them to rotate Clockwise Mode/ Counter-Clockwise Mode/Clockwise + Counter-Clockwise modes via the programs available. 
Furthermore, their motors are made to offer a wide range of setting modes so you can set it according to your watch's needs. Furthermore, the motors used are ultra-silent, which is another aspect that is extremely important to watch winders. The last thing you want is a noisy watch winder that is so loud that it is disturbing and which makes you not want to turn on the winder or be in the same room when it is activated.
The single most important thing about watch winders is the motors that power them, and all of the above-mentioned elements are things that Jins & Vico has paid attention to, and are therefore crucial elements that contribute to their popularity.
Conclusion
All in all, the Jins & Vico watch winders is a brand that makes exceptionally well watch winders. They make great winders that not only look great but also perform well as well. They are manufactured in premium materials and have a long-lasting quality. Most importantly, the brand uses high-quality motors to power the winders which can be set to a wide array of different modes and settings which is important in winders as to not overwind and dam your watch. The motors operate ultra-silently which means they won't cause disturbing noises when operating. 
There's a reason why this brand is extremely popular when it comes to watch winders, and whilst their price is higher than the most basic affordable winders on the market, the quality and finish they offer certainly reflect that. Yes, there are higher quality and more premium watch winders on the market, but as you move higher up in the range, it usually means a substantial increase in the price. There's a fine balance between price and quality, but the most important thing is always at the end of the day the motors that power the winders. As you move higher up in price, it usually just means even more premium materials and a better finish, but when you reach a certain point, the motors for the winders do not usually improve.