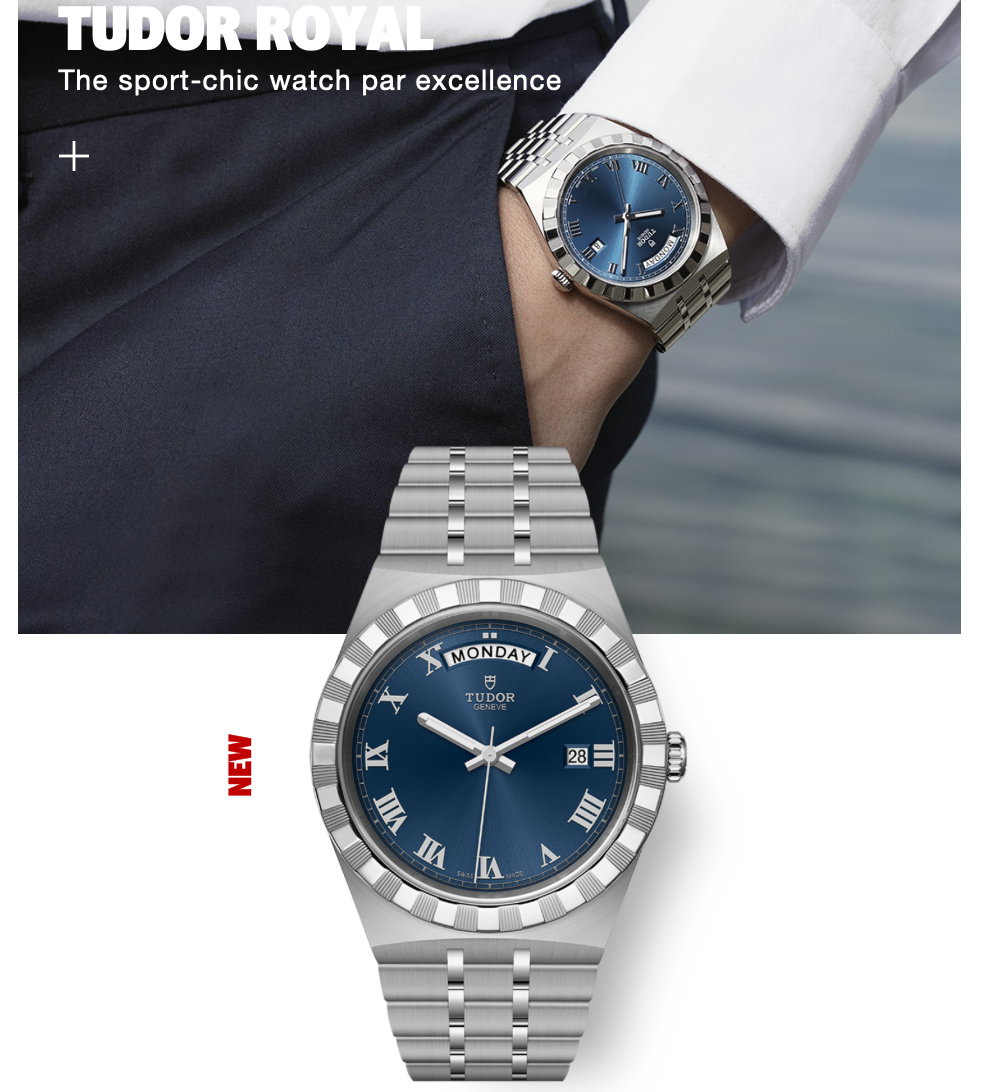 NEWS! Tudor Releases the 2020 NEW Tudor Royal Collection
NEWS! On the 27th of July 2020, photos of a brand new Tudor model started leaking. This reveals that Tudor has been working on a completely new model line in secret, but before it has technically not been announced to the public officially,  the new collection "leaked" in advance (which unsurprisingly happens quite frequently). Even for ultra-secretive brands like Rolex.
In addition, this watch is only reserved for the Asian market, and therefore, it won't have as much of an advertising "bang" from Tudor the way their other watches do. And since official retailers in Asia have already started receiving the Tudor Royal, it isn't technically a "release", but more so a silent launch.
Since it is so early, we will continuously update this article with more information and details as it becomes available.
Despite the canceling of Basel and the postponement of the new releases from many different watch brands, Tudor decided to still proceed with releasing some new watches – but on their own. Already on the 1st of July, Tudor released the much-anticipated Heritage Black Bay Fifty-Eight blue 79030B, and now comes not only a new watch but a completely new collection.  Here's what you need to know….
But before we go any further, we want to point out the fact that the new Tudor Royal is, at least to a start only reserved for the Asian market. This, of course, changes things as the availability of these watches will be limited. Or at the very least, it will be slightly harder to get a hold of them for anyone who is not living in Asia. This is not a new phenomenon since the Tudor Prince Date+Day is currently only sold in Hong Kong. But perhaps a bit disappointing for the rest of us..
UPDATE SEPTEMBER 2020:
Out of nowhere, from September 2020, the Tudor Royal collection is now available worldwide! Tudor silently released the Royal collection for a few select Asian markets, but Tudor has now decided to make it available for the world market, which is a welcomed announcement that will make the Tudor Royal so much more accessible and available to the general public around the world.
Starting from September 25th 2020, the Tudor Royal is available worldwide.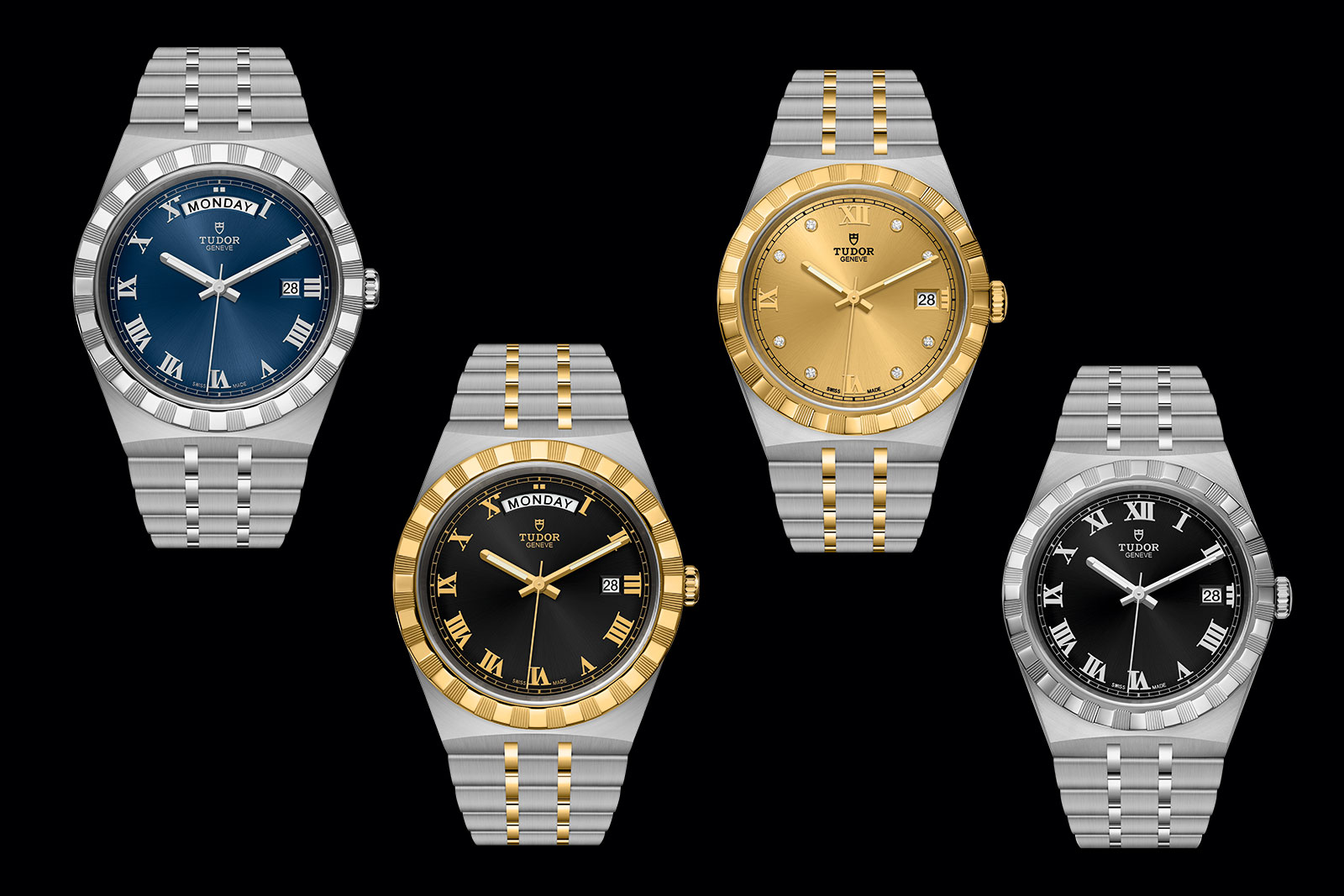 New Tudor Royal Collection
The new Tudor Royal collection comes in a staggering 52 variations! Having said that, if you like the design of this watch, you are likely going to find an exact version that appeals to you. The reason why there are so many variations is that it is available in either stainless steel or gold and stainless steel, is offered in 4 sizes, and available with 9 possible dials.
The name "Royal" is actually not a new one for Tudor.
In fact, the name Royal was first used by Tudor in the 1950s as a reflection of exceptional quality.
Tudor calls this new model "sport-chic par excellence". What of course immediately stands out is the integrated bracelet design. The popularity of integrated bracelets has only grown in the last couple of decades, not to mention the popularity of the legendary Royal Oak, Nautilus, and Vacheron Constantin Overseas, to mention a few.
However, integrated bracelets are not a completely new concept for Tudor. In fact, most recently, Tudor released the North Flag, which has a unique and sporty integrated bracelet design. This type of design is certainly not for everyone, but at the same time, it makes for a different and distinct look.
The flagship watch in the new Tudor Royal collection is a timepiece with a blue dial, applied Roman numerals, and of course, an integrated bracelet, as seen below: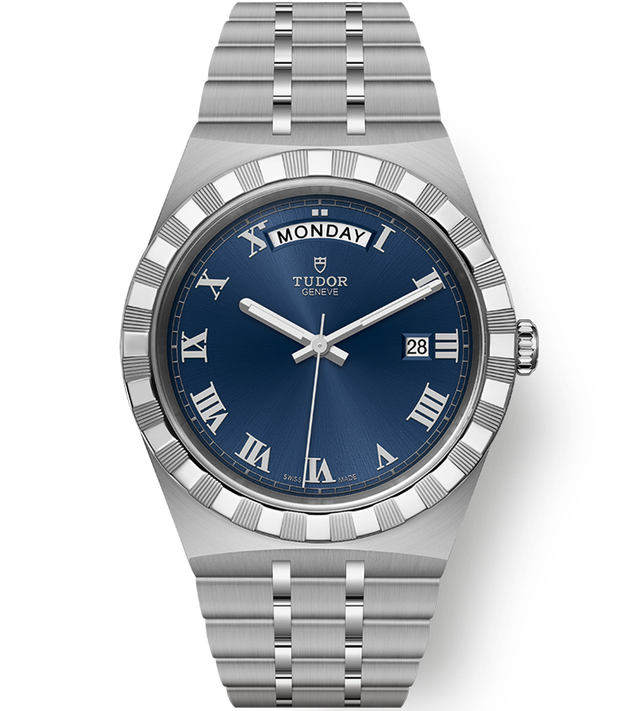 If you ask us, there is a lot of Rolex inspiration from this exact timepiece, compared with the Datejust 36 as seen below:
The dial color is almost identical, the sunburst finish, applied Roman numerals, and of course, engine-turned bezel, which is interesting. Even the design of the hands is similar. And also, let's not forget which brand invented the Day-Date – on which the placement of the day and date window is identical.
But in addition, if you look closer, you'll be able to see influences from several other watch brands and models, which is often the case with classic and simple watches. The new Tudor Royal definitely has similarities with the Rolex Oysterquartz – in particular with its Jubilee bracelet, but also its case design. It also has similarities with the Rolex Datejust thunderbird bezel, Omega Constellation, and others. This is not necessarily a bad thing because all of the mentioned are iconic and legendary in their own way.
"The sports watch with integrated bracelet and signature notched bezel".
Tudor Royal size and dial
To suit any wrist and preference, the new Tudor Royal is available in 4 sizes. The sizes are 28mm, 34mm, 38mm, and 41mm. Important to note is that only the 41mm version has the day-date functionö.
All of the dials in the new collection have applied Roman numerals. This is with the exception of the dial with eight diamonds instead.
Movement
All Tudor Royals are powered by Tudor modified ETA and Sellita movements. TUDOR updated its third-party-sourced movement referencing system. Until recently and for historical reasons, they used 4 digits references to name third-party-sourced movements (with the exception of Manufacture chronograph calibre MT5813). With that said, the movements used in the Royal watches go under the following references:
T201 (ETA 2671 base)

T601 (Sellita 2824 base)

T603 (Sellita 2834 base)
The Day and Date version is powered by the caliber T603. The smallest 28mm model uses caliber T201.
Integrated bracelet
The integrated bracelet is obviously one of the most important parts of this watch's design, and according to Tudor, this type of five-link bracelet was first introduced by the brand in 1973. The bracelet has three satin-finished links that are set between two slimmer and polished links which creates a nice contrast.
The Tudor Royals have a water-resistance of 100m/330 feet.
Tudor Royal Specifications
Diameter: 41mm, 38mm, 34mm, 28mm.
Crystal: stainless steel
Water-resistance: 100m/330 feet/10ATM
Power reserve: 38 hours
Frequency: 28,800 beats per hour
References
28600/3 = 41 mm
28500/3  = 38 mm
28400/3 = 34 mm
28300/3 = 28 mm
Tudor Royal Price
The price depends on the model (namely size and metal – and dial if you opt for the diamond dial version). The price starts at CHF 2200, and the most expensive is the steel and gold version with a diamond dial, which is priced at CHF 3750.
What do you think about the NEW 2020 Tudor Royal collection? We'd love to hear your thoughts in the comments!