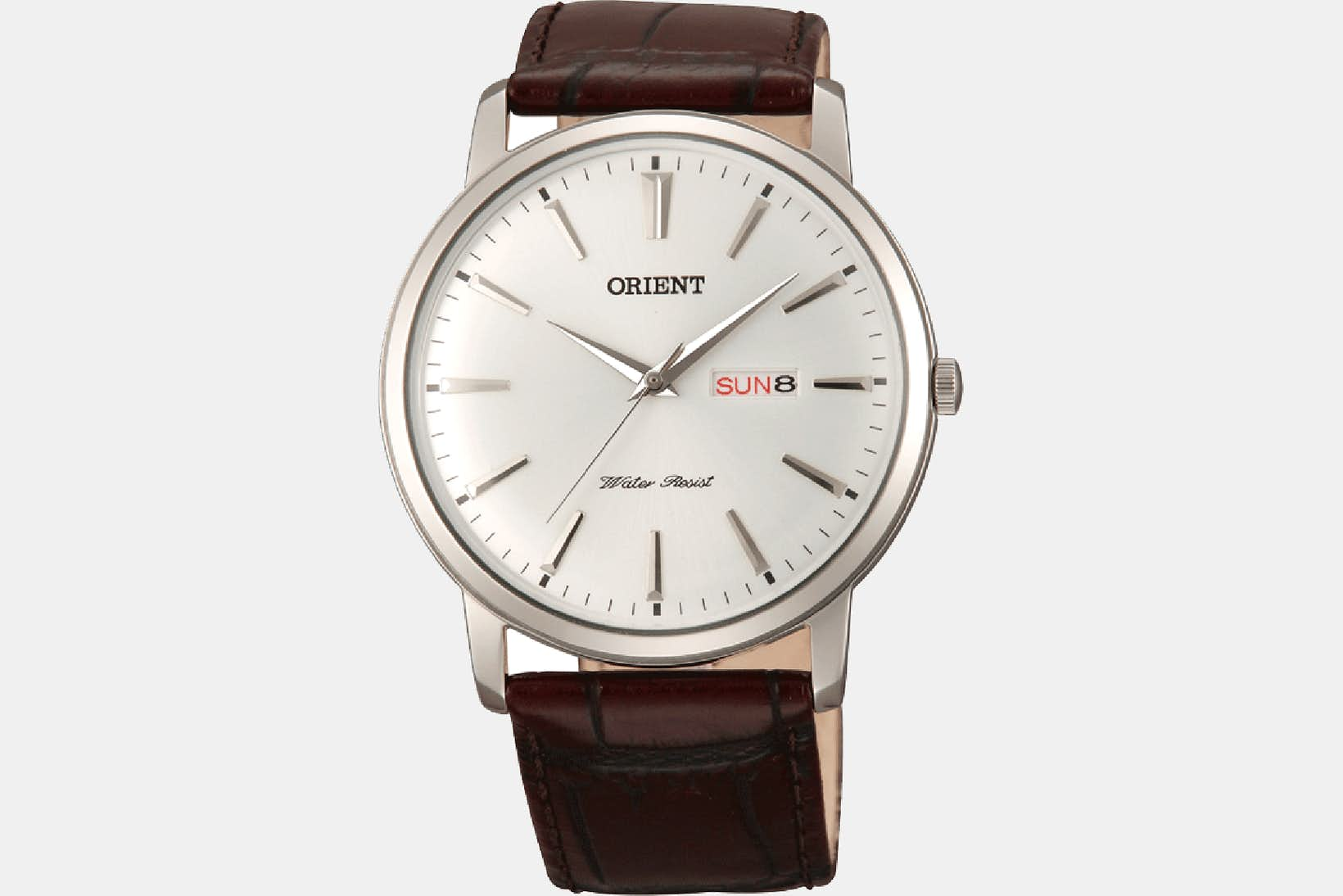 Orient Capital Watch Review [Complete Guide]
Orient is a watch brand that is widely appreciated by watch collectors and enthusiasts alike for their exceptional value for money, high quality, and a large collection of timepieces that suits every taste.
Orient is perhaps most known for its watches with a more dressy appearance and design, but there are also of course many more designs to choose from.
In this article, we are taking a closer look at the Orient Capital collection. This is a stylish, sleek, and timeless watch with a dressy and classic design. The Orient Capital is evidently inspired by the highly popular Orient Bambino and shares many of its design features. But unlike the Bambino, it is powered by a quartz movement. As such, this watch is a great choice if you are looking for a simple yet elegant and classic dress watch at an affordable price but with great quality. If you like the Orient Bambino and do not mind a quartz movement, or even prefer it, the Orient Capital is a great even more affordable alternative.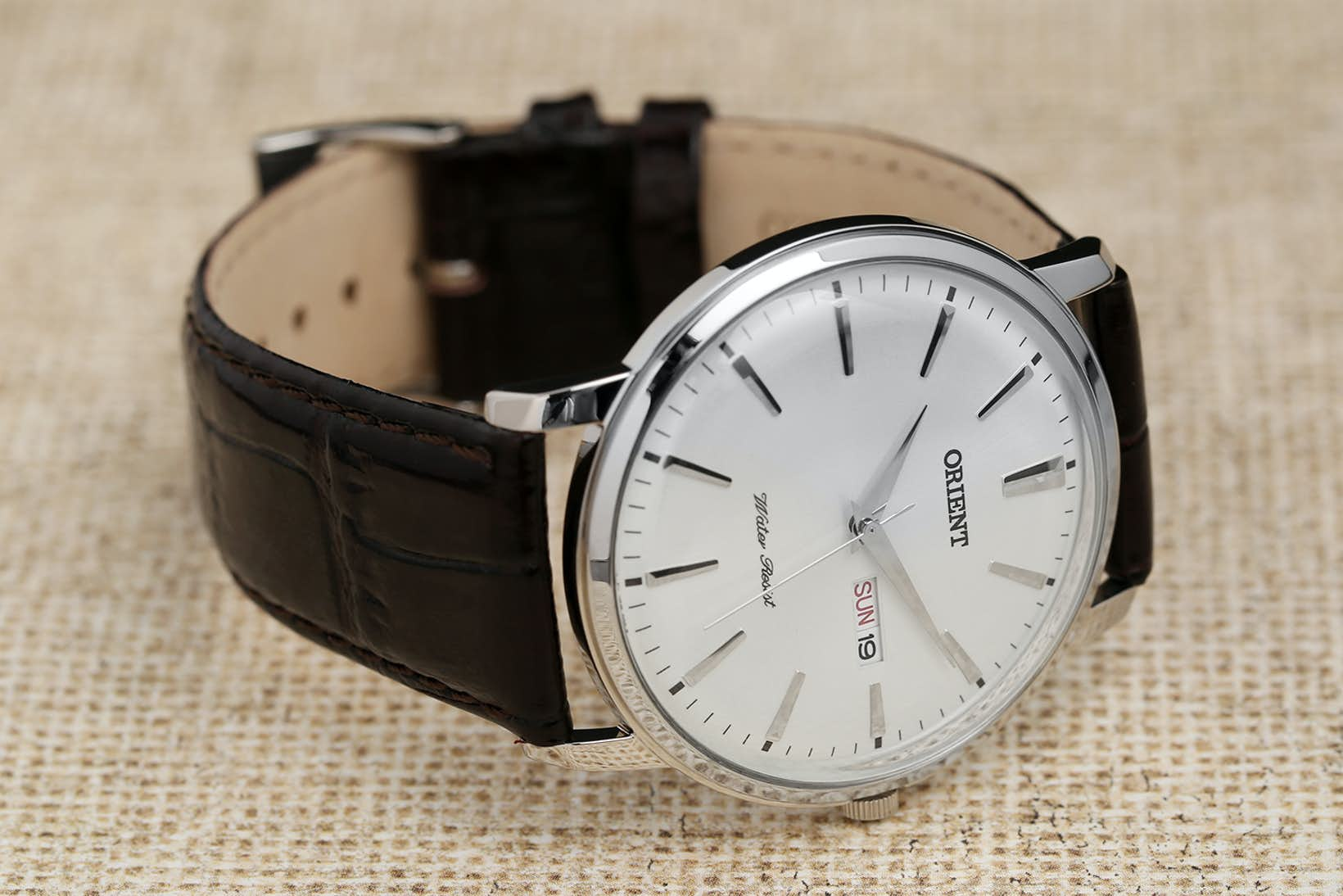 Like many of Orient's other collections, the Orient Capital collection includes several different timepieces. This means that anyone can find the version they enjoy the most. With that said, for the sake of simplicity, we will focus on one of these watches when writing the review, but most of what we say also applied to all models.
Without further ado, let's dig into the review about the Orient Capital.
Orient Capital review
As an Amazon Associate, we may earn from qualifying purchases, at no extra cost to you.
As mentioned, the Orient Capital shares many of the same design elements as the highly popular Orient Bambino. It is designed as a dress watch, and is most appropriate on formal occasions, but can also work great for everyday use if you normally wear formal attire. The understated design certainly doesn't stand out from the ordinary, but this isn't the point of dress watches anyway. And in addition, sometimes simplicity is the best type of beauty.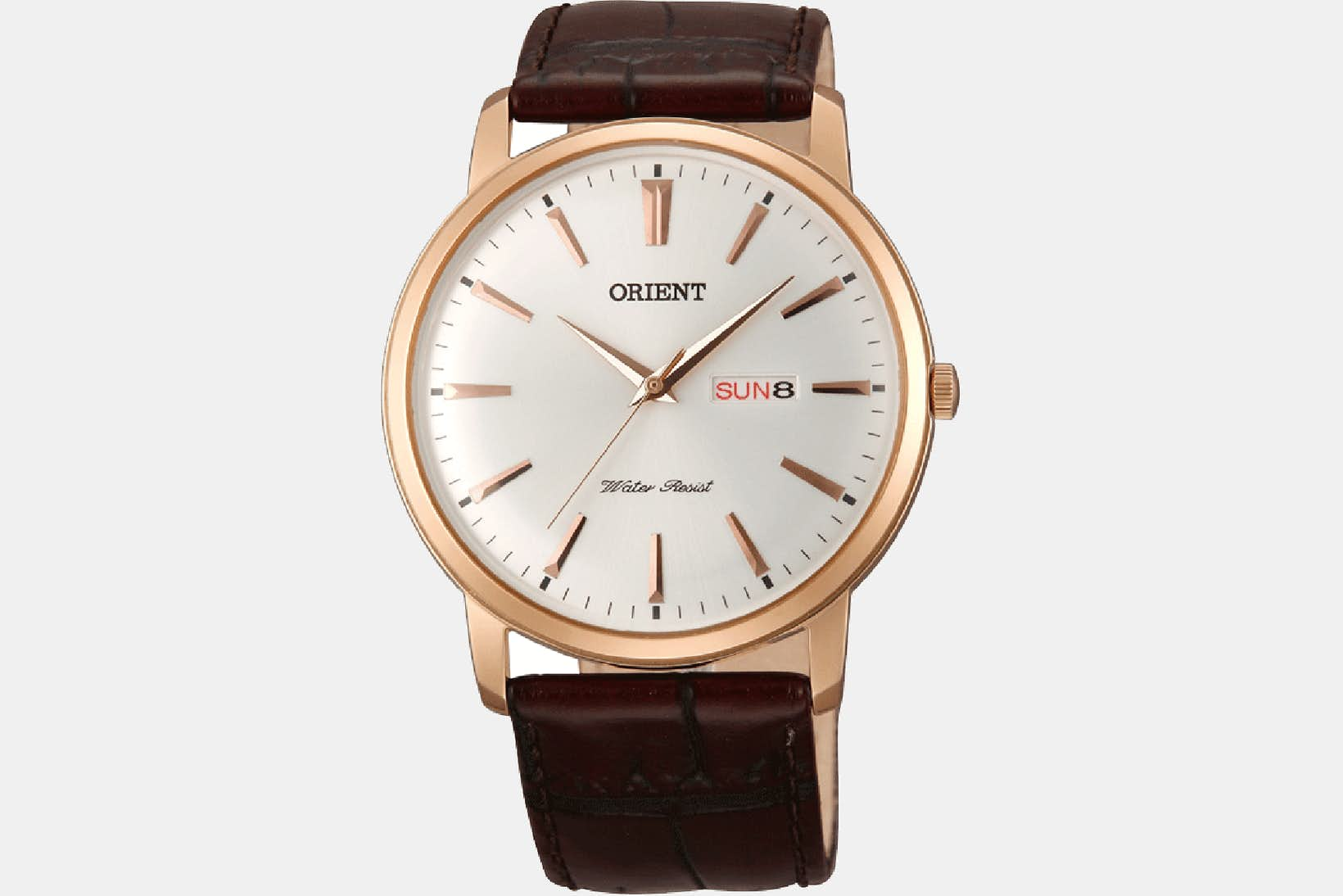 Case
The watch is presented with a slim, elegant, and minimalistic stainless steel case. The case has a simple design with a very slim bezel design which leaves all the room for the dial. The lugs are also made very slim and short with a rectangular design. Shorter lugs also mean that the watch sits smaller on the wrist.
The case has a diameter of 40.5 mm and has a thickness of only 7.93mm. With that said, it is a relatively small and slim watch that sits nicely on the wrist and slides under a cuff without any issues. This watch also fits many different wrist sizes. If you look ad its diameter on paper, it is larger than most classic dress watches, but as mentioned, it wears smaller than its dimensions suggest. And also, the fact that it is not tiny makes it speak to a larger audience. Apart from its diameter, all of the other design elements are true to classic dress watches.

Positioned at 3 o'clock, it has a small and discreet crown.
This isn't the type of watch that you'd go swimming with, and therefore, it has a water resistance of only 30 meters. It can handle water splashes, but not much more than that.
If you flip the watch around, you'll notice nothing special. It has a solid case back with the Orient logo and name as well as a few other specifications.
Dial
Moving on to the dial, there are, as mentioned, several different dial variations. What is true for all of them, however, is that they offer exceptional attention to detail and finishing for the price. These dials are not some low-end job, but rather punch well above their weight in terms of price.
To match the crystal, the Orient Capital is presented with a domed dial. This also contributes to a more classic look.
The watch either has applied metal hour markers or painted Roman numerals. Naturally, the applied metal hour markers contribute to a more elegant and luxurious appearance, but some may prefer the painted markers.
The dial is designed to be simple, clean, and minimalistic, which is what we expect from a dress watch. It has no-nonsense, and the only additional feature in addition to the timekeeping is a day and date window positioned at 3 o'clock – a feature that can be truly useful for everyday wear. The day function is adjusted by pulling the crown one step and rotating the crown clockwise. If you rotate it counter-clockwise, you can change the date.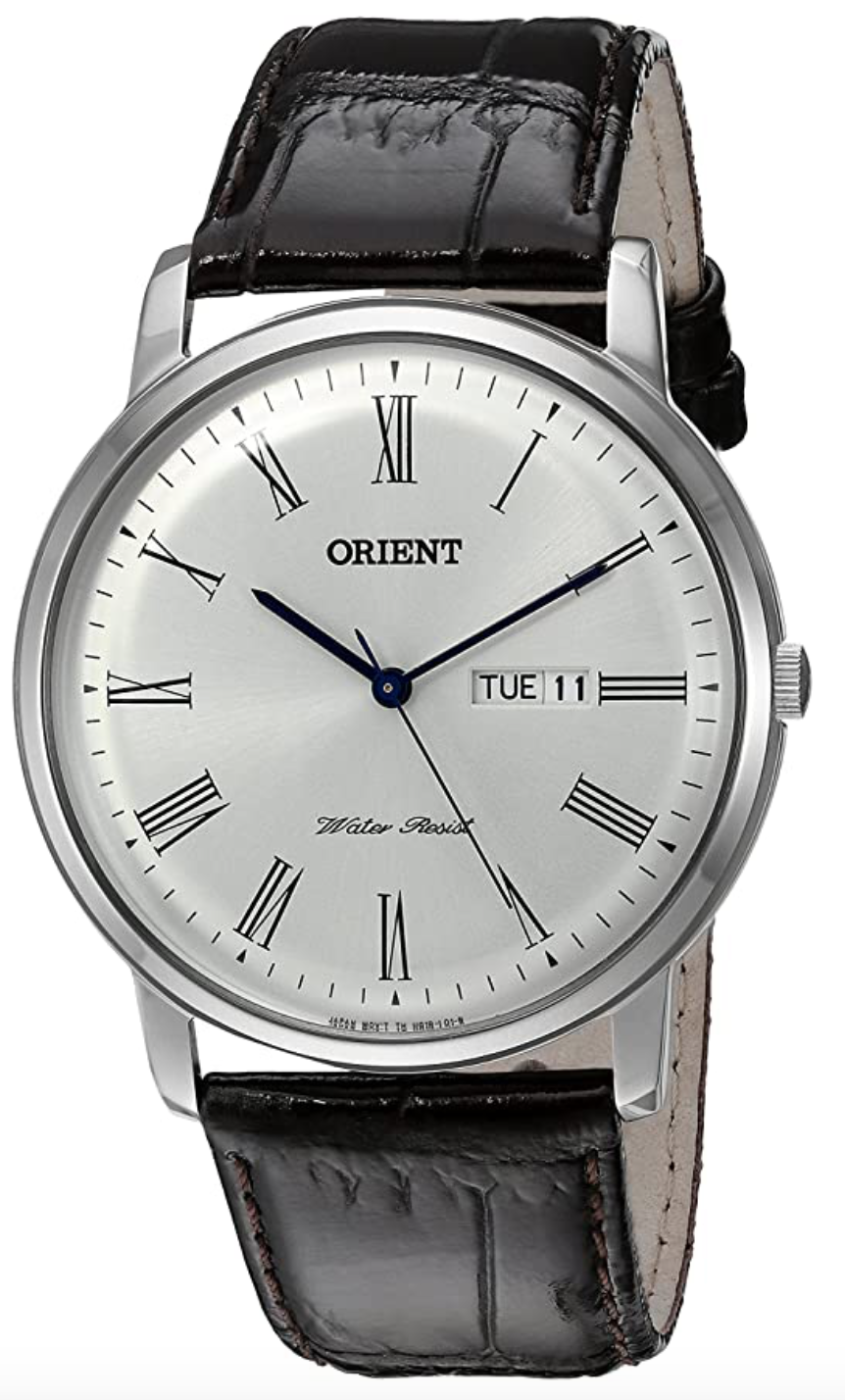 When it comes to the hands, there is not much to complain about here either. The hands are clean, simple, and elegant, following the concept of simplicity, which is the best word that can describe this watch.
On the dial, we find the logo at 12 o'clock and the text "water-resist" at 6 o'clock.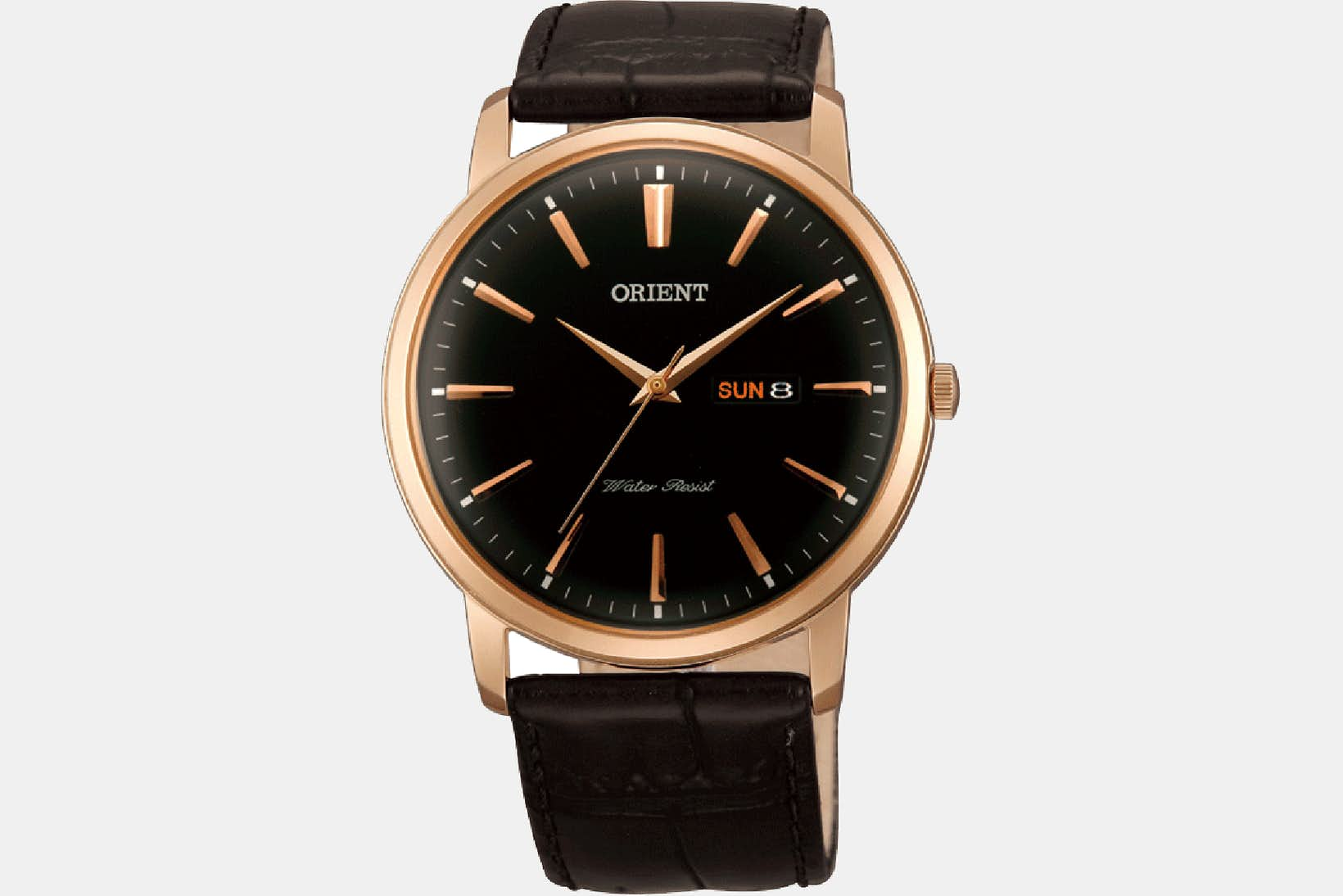 Movement
Powering this watch is the caliber HS911 quartz movement. Unlike the Bambino, it does not use an automatic movement, and this of course both has pros and cons. First and foremost, quartz movements are more accurate than mechanical. For a dress watch, accuracy can be very important, if you're relying on your watch for telling the time, for example when going to a meeting. It's really a matter of preference, but some people simply prefer the reliability and durability of a quartz movement and the simplicity of maintaining it. The only downside is that you need to replace its battery every now and then. And the fact that watch enthusiasts tend to favor mechanical movements.
>Check the latest price for the Orient Capital on Amazon<
But if we consider the price, and the fact that it is often called the little brother to the Bambino, first-time watch owners looking for their first quality watch may prefer the convenience of quartz and the low maintenance they offer.
Apart from that, there's not much to add about this movement. This Japanese quartz movement is reliable and will continue to tick for many years to come. Also, thanks to the thickness of the movement, the overall thickness of the watch can remain very slim, which is an important aspect of a dress watch, but more on this further on.
The use of a quartz movement also contributes to a very lightweight of only 39 grams. On top of the case sits a domed crystal which protects the case but also gives it a bit of a vintage look.
>Check the latest price for the Orient Capital on Amazon<
Strap
All of the Orient Capital watches are presented on embossed faux alligator leather straps (in different colors depending on the model). This is a given choice for a dress watch and goes very well with its dressy appearance. The leather looks really nice, but it isn't the best of quality, so if you want something more comfortable and qualitative, you can always change it for a strap that fits its 22mm lug width.
The strap is still relatively comfortable, but as is common with leather straps, it takes some time to break in.
Orient Capital models
The different versions available are very similar at their core, but there are a few differences when it comes to case color, dial color, and dial details.
Orient Capital UG1R005W – rose gold case, silver dial, applied rose gold markers
Orient Capital FUG1R008B9 – stainless steel case, black dial, white painted Roman numerals
Orient Capital UG1R007W – yellow gold case, silver dial, black painted Roman numerals
Orient Capital UG1R003W – steel case, white/silver dial with applied metal hour markers
Orient Capital UG1R002B – Steel case, black dial with applied hour markers
Specifications
Movement: Japanese caliber HS911 quartz movement
Diameter: 40.5mm
Thickness: 7.93mm
Crystal: Domed Mineral
Water Resistance: 30 meters
Lug width: 22mm
Conclusion
All in all, the Orient Capital is a stylish and timeless watch that offers great value for money. If mechanical movements aren't a big deal for you, or if you actually prefer quartz, and you are looking for a stylish and minimalistic dress watch, the Orient Capital is a great choice.
For the price, the Orient capital has great attention to detail, finishing, and a qualitative movement that can tick for many years to come.
With its minimalistic design and slim profile, this watch will work perfectly with a suit and on formal occasions. And it pairs with your style by complementing it without stealing the show, just how a dress watch is supposed to be.