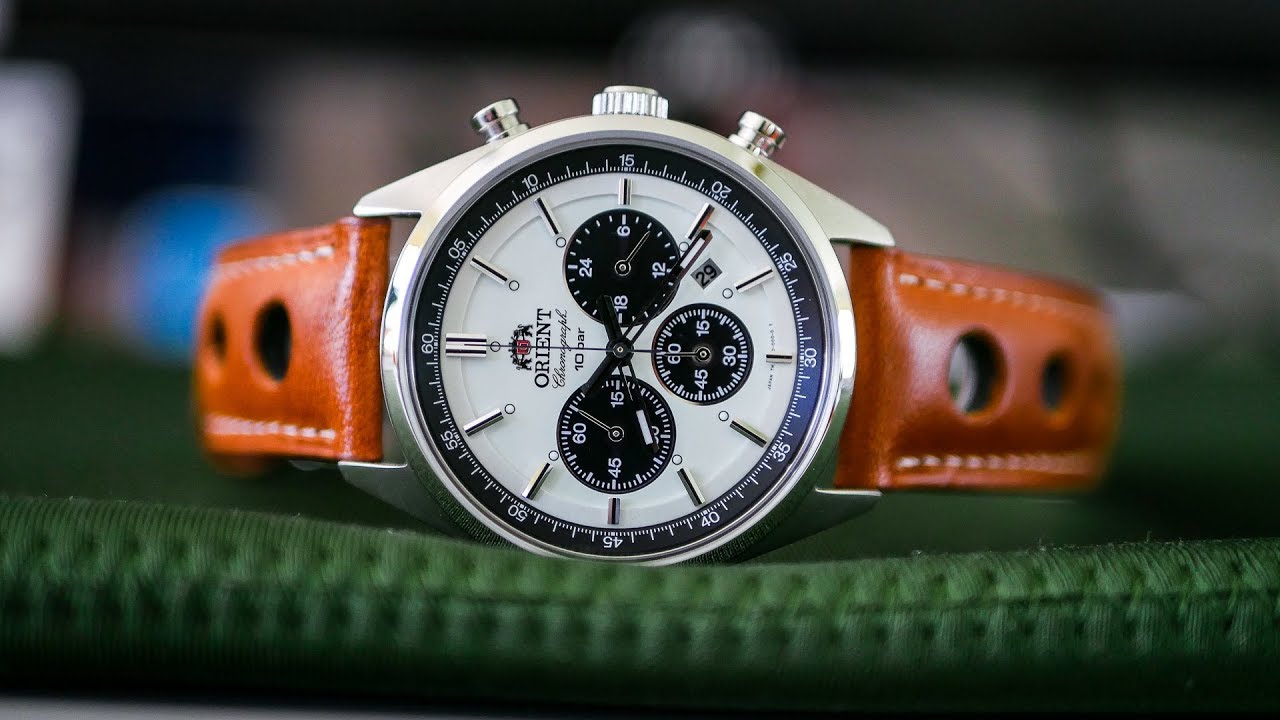 Orient Neo 70 Solar Panda WV0041TX Review & Complete Guide
If you are looking for a sporty, stylish, and retro-inspired timepiece, the Orient Neo 70 Solar Panda WV0041TX may just be the watch for you.
This is a popular watch from Orient which combines sportiness and retro design features. But as we have come to expect from Orient, it also offers great value for money.
In this article, we are going to look closer at this watch and see what makes it so popular and special.
Orient Neo 70 Solar Panda WV0041TX Review
What first stands out about this watch is probably its panda dial. Panda dials have a special place in the watch industry, not to mention due to its historical connection with some legendary watches. Then, of course, there's the fact that they look extremely appealing.
In terms of the overall design, the WV0041TX is quite classic in its design. It has no design elements that stand out of the ordinary for a chronograph, and this is also part of the retro vibe of this watch. Some designs truly never go out of style, and this classic chronograph look is one that has proven itself to be able to remain relevant throughout the decades
Without further ado, let's review the Orient Neo 70 Solar Panda WV0041TX.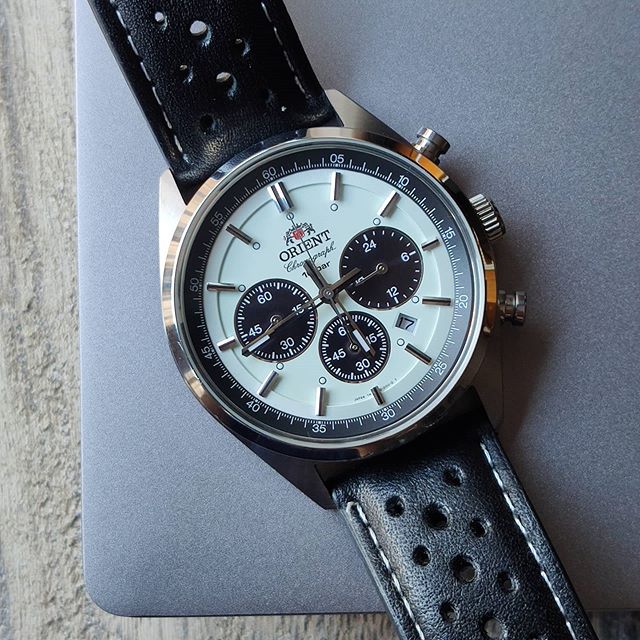 Orient Neo 70 WV0041TX case
The watch is presented with a stainless steel with a diameter of 42mm including the crown, a thickness of 11.8mm, and a lug-to-lug of 48mm.
With that said, the case isn't huge, but it is more or less the standard chronograph size of today that you find in a lot of chronograph men's watches.
The catch, however, is that as its name suggests, it is a watch with a vintage-inspiration, and this size is more modern than it is vintage. In fact, the vast majority of vintage chronographs have a diameter of less than 40mm. But with that said, Orient's focus with this watch has been to give it a vintage-inspired look, but adapt it to modern standards, including size ideals.
Therefore this watch is primarily suited for men with medium and large wrists. The larger size of course gives it more of a sporty edge. But also, the 42mm is including the crown, so the watch is not huge, but also not vintage-sized.
The case features a thin polished fixed bezel which makes for a clean and refined look. The top of the lugs are brushed, and this is in turn contrasted with polished sides.
The combination of polished and brushed elements is exactly what we expect in a well-finished timepiece. And it is really nice to see in a watch that only costs around 300 USD. In other words, great value!
At 3 o'clock at its side, it has a crown. On each side of the crown, it has pump chronograph pushers. A positive thing about this case is that it does not have crown guards, which obviously makes it less bulky. The pump pushers with their flat-top are rather easy to operate.
The case has a water-resistance of 100m/330 feet which means it is suitable for swimming and showering, but not deep diving. Just make sure not to operate the chronograph pushers whilst in contact with water.
Orient WV0041TX dial
As is revealed in its name, the dial is definitely the highlight of this watch. There's not much more classic and iconic than a panda dial on a chronograph, and this is exactly what this watch has.
Around the outer edge of the dial, it has a black angled chapter ring on which the seconds are printed.
The actual dial of the watch has a cream/off-white color and has a slightly matte finish to it. This contributes to its retro look.
The center of the dial sits slightly recessed which is a nice feature for added depth to the watch. Then, of course, we have the black chronograph sub-dials which make for the panda look. The name "panda", very evidently, comes from the fact that it resembles a panda face.
The actual dial measures about 38.5mm, in comparison to the 42mm diameter, and this also contributes to making the watch appear slightly smaller than it actually is.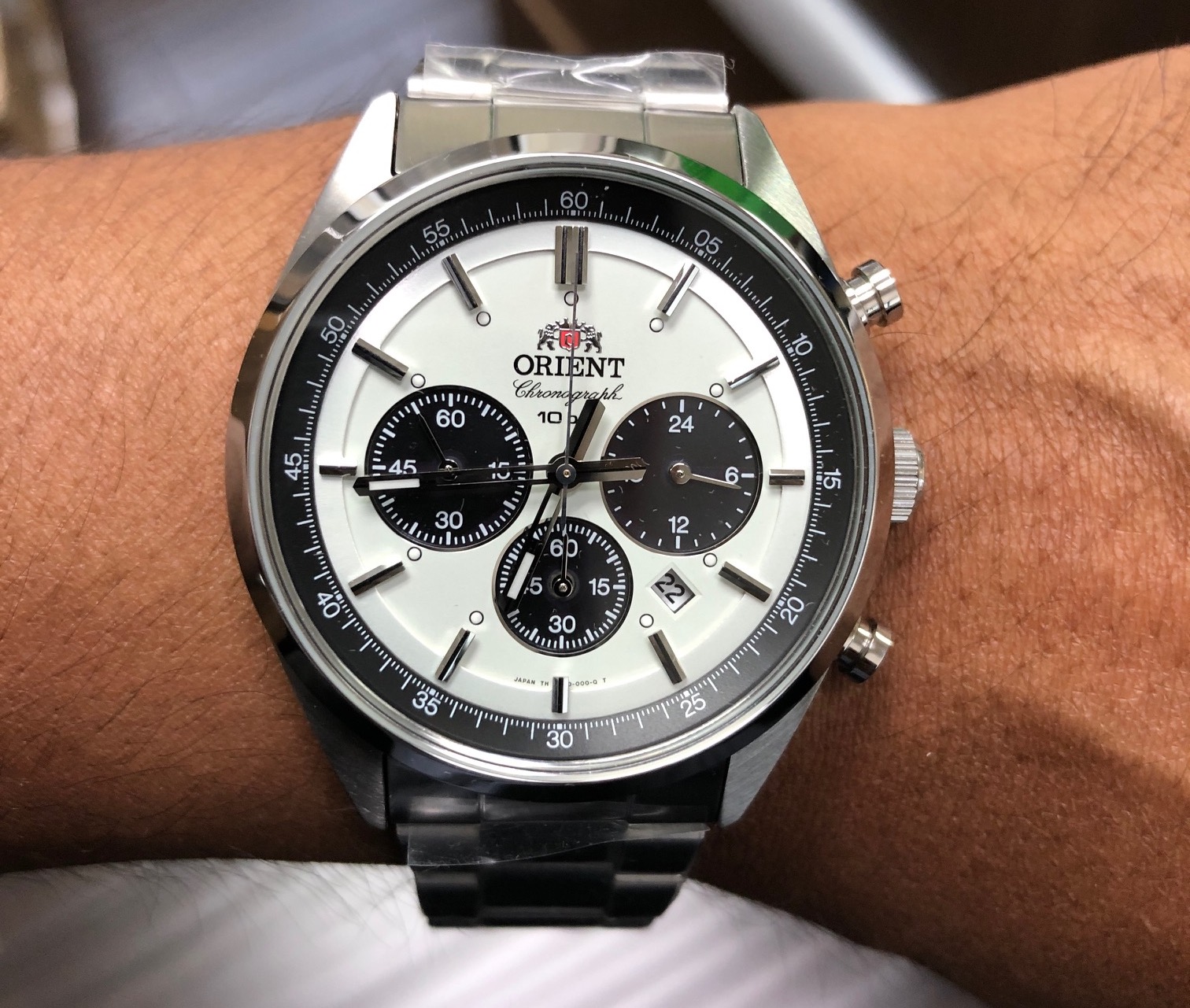 Note that the sub-dials at 3 and 9 are slightly bigger than the 6 o'clock sub-dial, which is a nice design feature. On the dial, the watch also has rectangular/baton metal hour markers with black center stripes for contrast. The applied markers are a detail to this watch that also enhances its appearance and impression of quality.
As the "solar" name reveals, this is a watch that is powered by solar power. And if you look closely, the sub-dials are "see-through", or rather, are made in material to let sunlight through. This is done so that the sub-dials let light through them, to the solar panels which are placed in front of the movement in order to convert it into energy for the movement. 
The sub-dials consist of 24 hours, a 60-minute chronograph timer, and a seconds sub-dial on the bottom.
The dial is equipped with skeletonized rectangular/beveled polished metal hands with luminescent material on their tips. The hands are really nicely finished and also provide a good contrast against the white dial for good legibility. The skeletonize hands also help with the legibility of the sub-dials.
Something that a lot of people have complained about is the fact that it has a date window positioned between the 4 and 5-hour markers. It is true that this does have a negative effect on the symmetry of the dial. In addition, the date window is very recessed, meaning there is a big gap between the dial and the date wheel, which some have complained about. Furthermore, the date has a white background and the date printed in black, but the downside is that it is not done in the same cream white as the dial which makes it stand out in a negative way.
The good news, however, is the fact that it can come in handy and be truly useful in everyday life.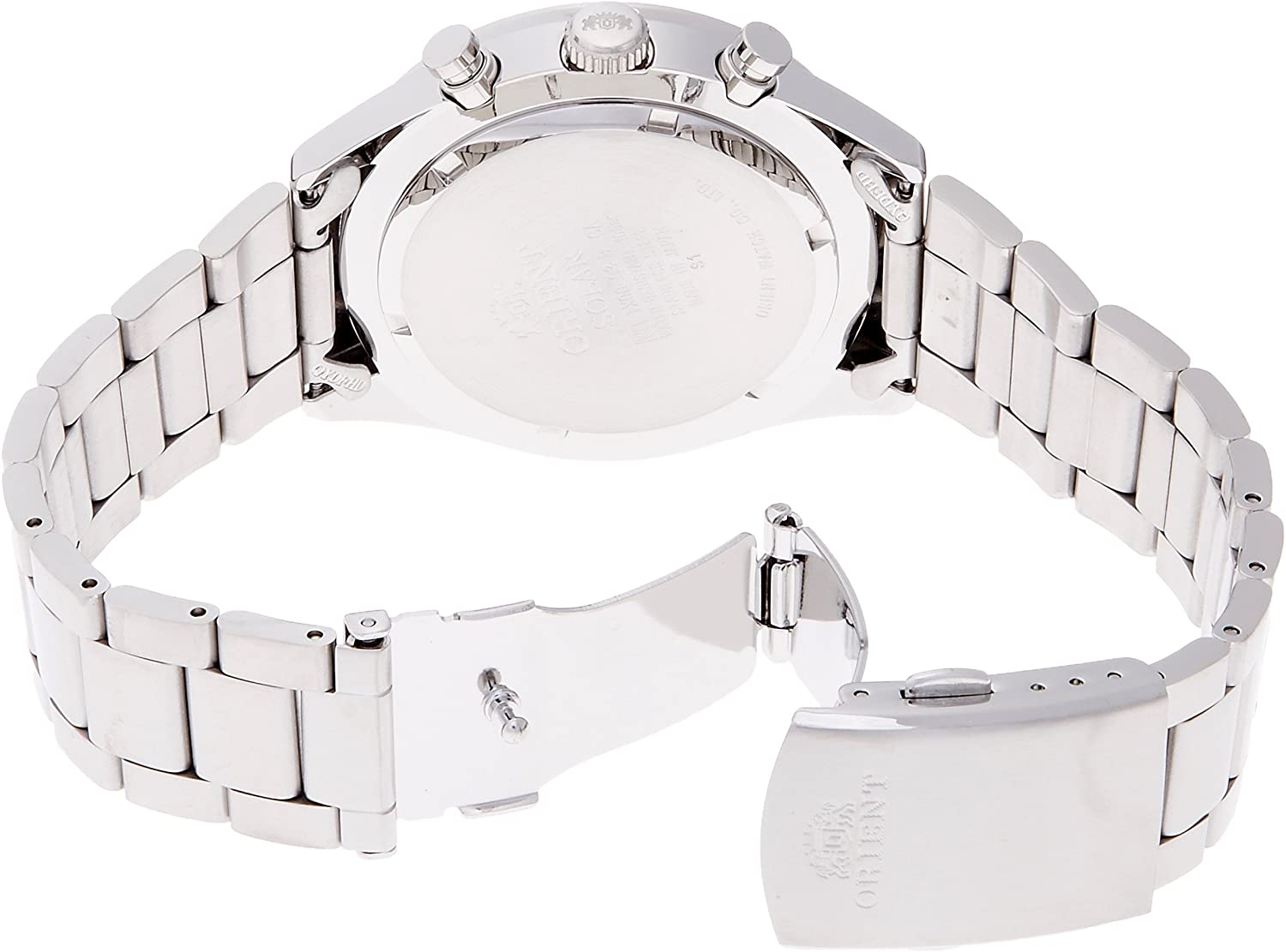 Orient Neo 70 movement
Since this watch is equipped with solar technology, it is powered by a quartz movement.
The most devoted watch nerds may be scared away by the fact that this watch does not use a mechanical movement. But the quartz movement obviously has some practical benefits, most notably using solar technology which powers the movement and removing the need for replacing the battery (or having to manually wind it, if it would have been a mechanical movement). In addition, at a price of around 300 USD, the quartz movement doesn't feel like a deal-breaker.
The movement has a power reserve of 6 months but is also charged as you are using it.
The good news about quartz movements is of course that they are very reliable, durable, robust, and affordable to maintain.
Specifications
Diameter: 42mm including the crown
Lug width: 22mm
Lug to lug: 48mm
Thickness: 11.8mm
Water-resistance: 100m/10ATM/330 feet
Power-reserve: 6 months
Conclusion
All in all, it's safe to say that the Orient Neo 70 Solar Panda WV0041TX is a watch that offers great value for money.
Yes, there are some downsides, such as the date window, or, for some, that it has a quartz movement, but it's evident that the pros outweigh the cons, especially for a watch at this price.
The case is nicely finished, the dial is extremely appealing with its retro look and panda sub-dials. Furthermore, the dial also has a great level of detail which shows that Orient has really paid attention to the details.
The watch has lots of great functions that come in handy for everyday wear, and its combination of sportiness and elegance makes it a great everyday watch. Furthermore, it has also proven to be truly timeless.
If you are looking for a sporty chronograph for everyday wear, you really cannot go wrong with the Orient Neo 70 Solar Panda WV0041TX at this price point.
The Orient Neo 70 Solar Panda WV0041TX is available to order from Amazon.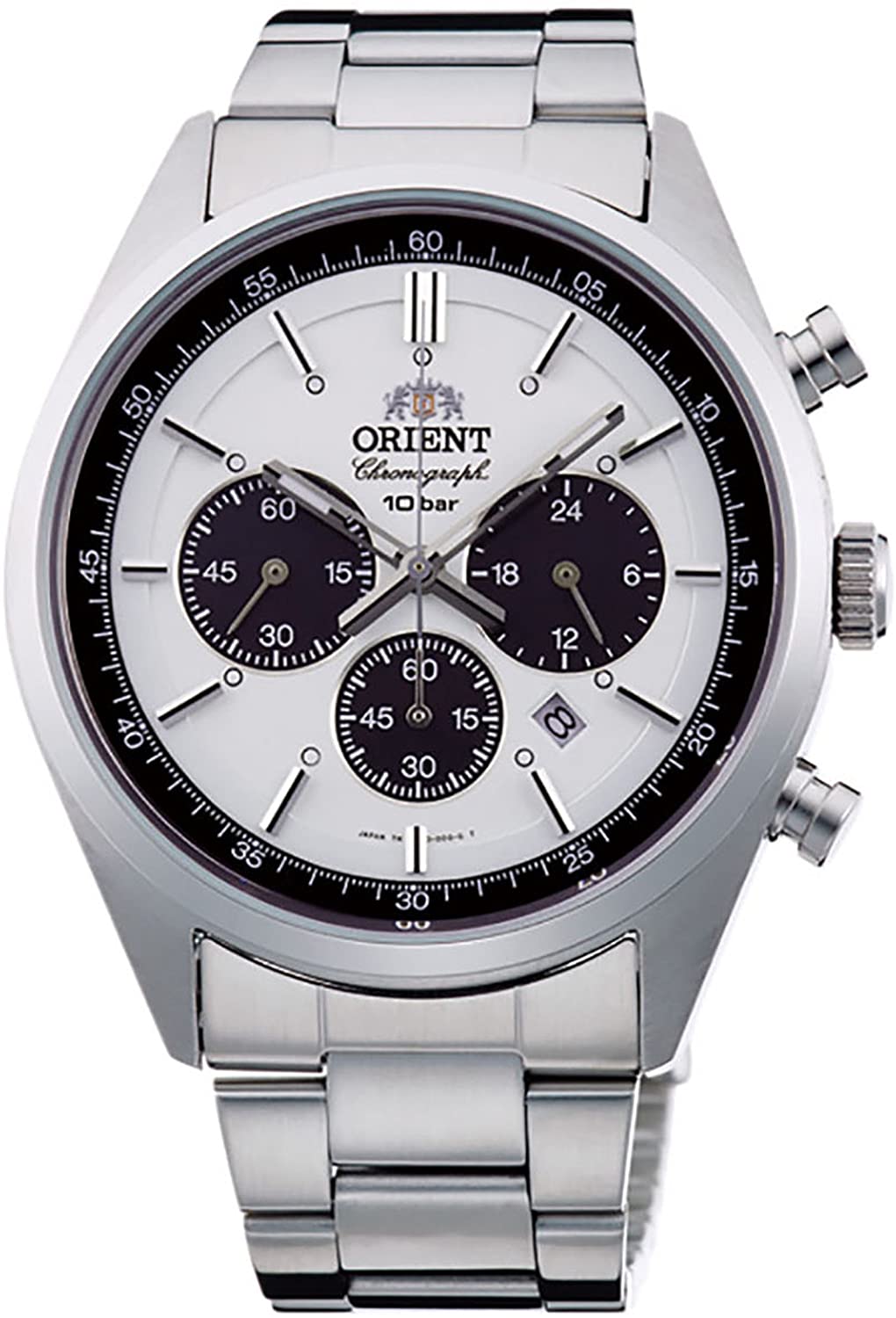 Main photo by Ankit Blanket.