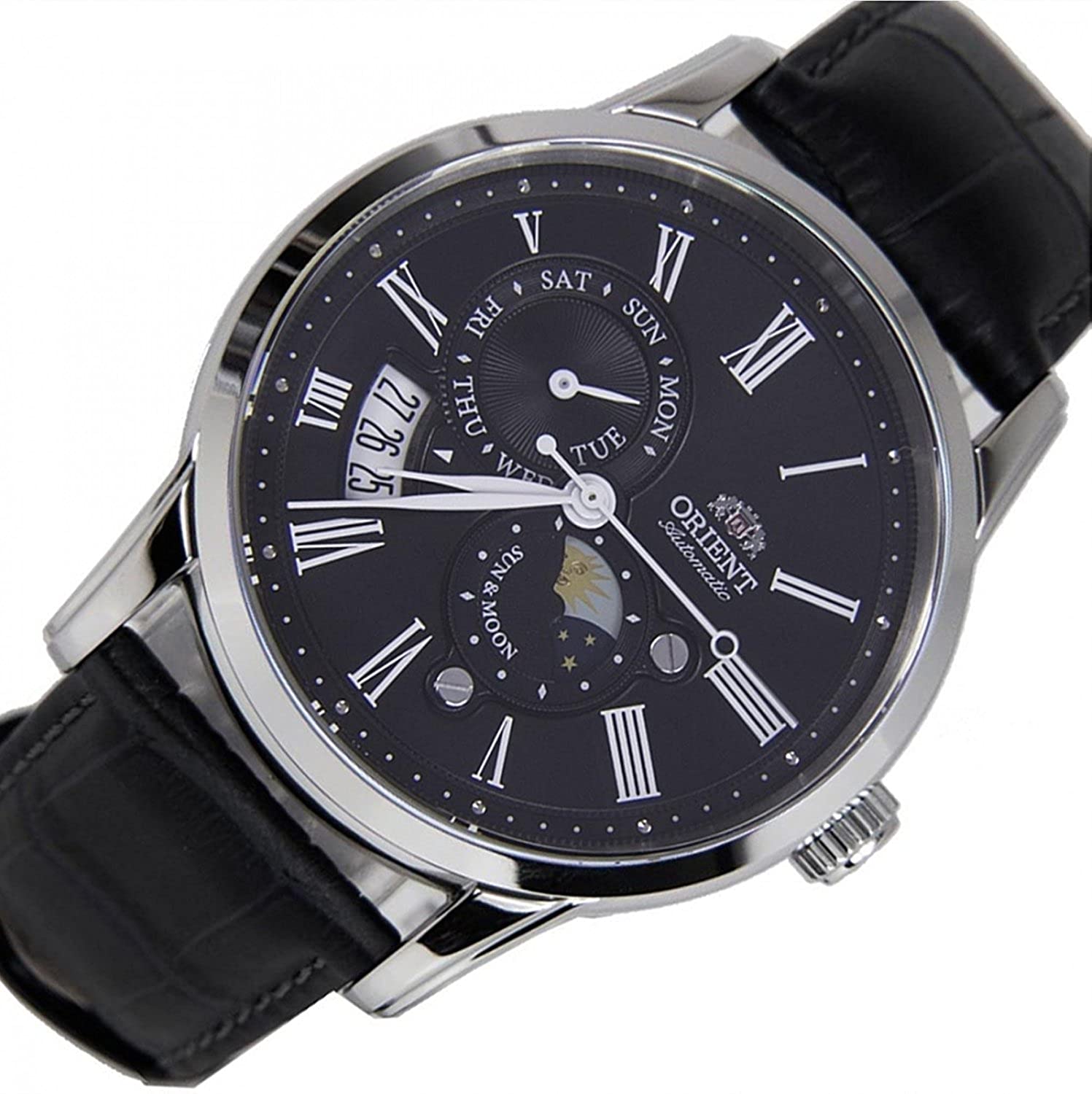 Orient Sun and Moon v3 FAK00004B Review & Complete Guide
If you are looking for a stylish and classy dress(y) watch out of the ordinary, the Orient Sun and Moon v3 FAK00004B is definitely a watch worth considering.
Orient is often praised for making high-quality timepieces at affordable prices and offering exceptional value for money. This watch, of course, is no exception.
Dress watches are an interesting type of watch because they are meant to be simple clean, refined, and classy and meant to be worn on formal occasions. But at the same time, this often means that dress watches can be perceived as rather boring. They're often relatively small and don't have a lot going on… The good news is that the FAK00004B has the solution to this.
Orient has successfully made an affordable dress watch that offers great value for money, but at the same time, is not perceived as boring or simple. It's a fine balance, but Orient has succeeded well.
With that said, in this article, we are looking closer at the Orient Sun and Moon v3 FAK00004B.
Orient Sun and Moon v3 FAK00004B review
Overall, we can still say that this is a simple watch. Its case design is nothing out of the ordinary and just what you would expect from a dress watch. No superfluous design elements, and just pure simplicity.
But the dial is what makes this watch stand out from the crowd in a world of dress watches. This dial has a lot going on, and the functions it does have can come in really handy when you are wearing it. Most importantly, it ensures that the watch is never perceived as boring, and with all of the things going on, it is sure to draw attention.
Like many of Orient's watches, the Sun and Moon are available in different versions. This means version 1, version 2, version 3, version 4, and so on… The concept of all of these remain the same, but you can look at each of them as upgrades to the predecessor. In this article, however, we are going to look closer at version 3.
But we don't want to stop you from exploring all the other versions, and would also like to mention that Orient has made many of these versions in a number of executions. This means different dial colors and case materials. So if you like the idea of the Orient sun and moon, check out all the versions that are available to find the one you like the most.
Without further ado, in this article, we are reviewing the Orient Sun and Moon v3 FAK00004B.
Orient Sun and Moon v3 FAK00004B case
This watch is presented with a classic stainless steel case with a diameter of 42.5mm without the crown, a thickness of 14mm, and a lug-to-lug to 50.5mm. With that said, it is a bit larger than what you would probably expect a dress watch to be. But at the same time, this helps make it slightly more versatile and to gain a sporty edge. This also means it is mainly suitable for men with medium to large wrists.
At the same time, its thickness ensures that it will slide under a cuff without any issues. But its sportier profile means that it should also work well if you are looking for an everyday watch with a slightly more elegant appearance.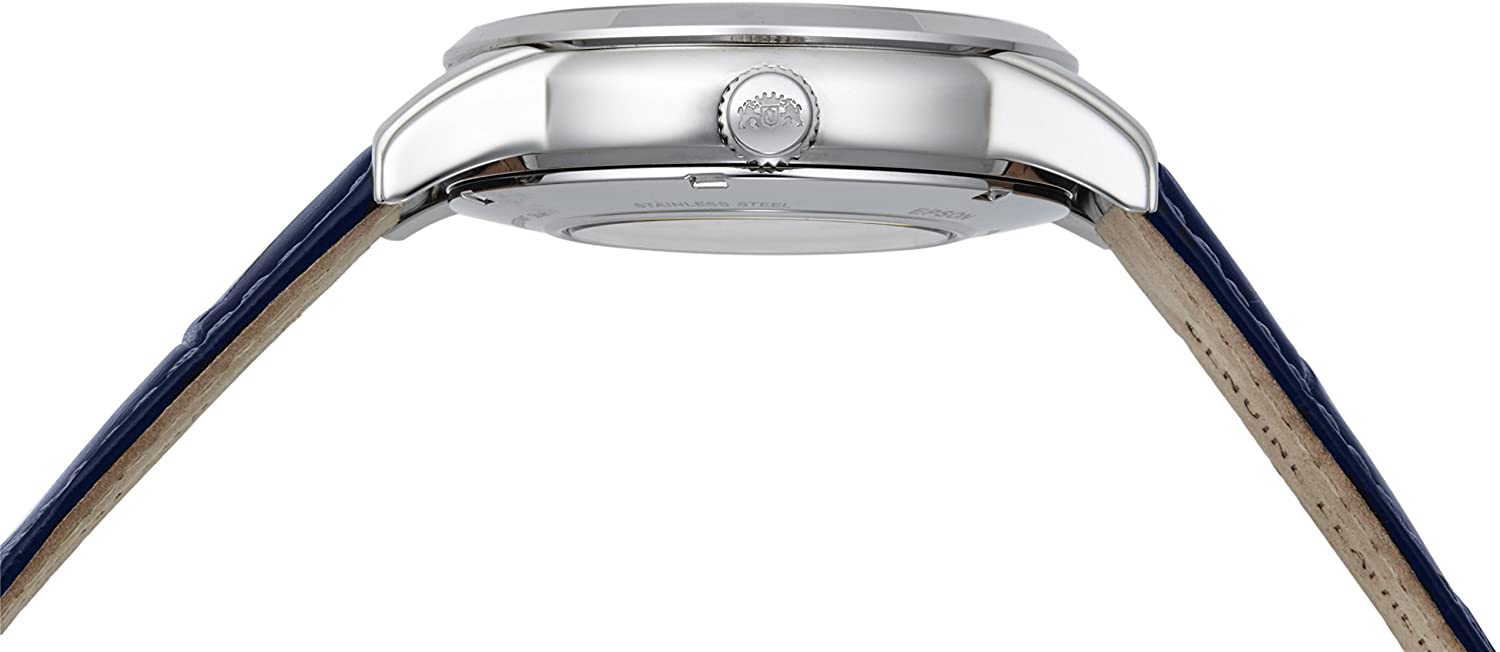 There is not much to say about the actual case design. It is completely polished to give it an elegant look and has a thin polished bezel in order to put all the focus on the dial. The lugs are rectangular-shaped, but also have an interesting "step-down" design which looks similar to beveling. This is a subtle yet important feature that makes the case slightly more interesting and shows that Orient has paid attention to the details.
Of course, the sides of the case are polished too. At 3 o'clock, the watch has a push-pull crown in a moderate size with the Orient logo on it.
Sitting on top of the case, we have a domed sapphire crystal. The water-resistances a mere 50M, which essentially just means it can handle water-splashes. But the water-resistance is not really a big deal on these types of watches anyways.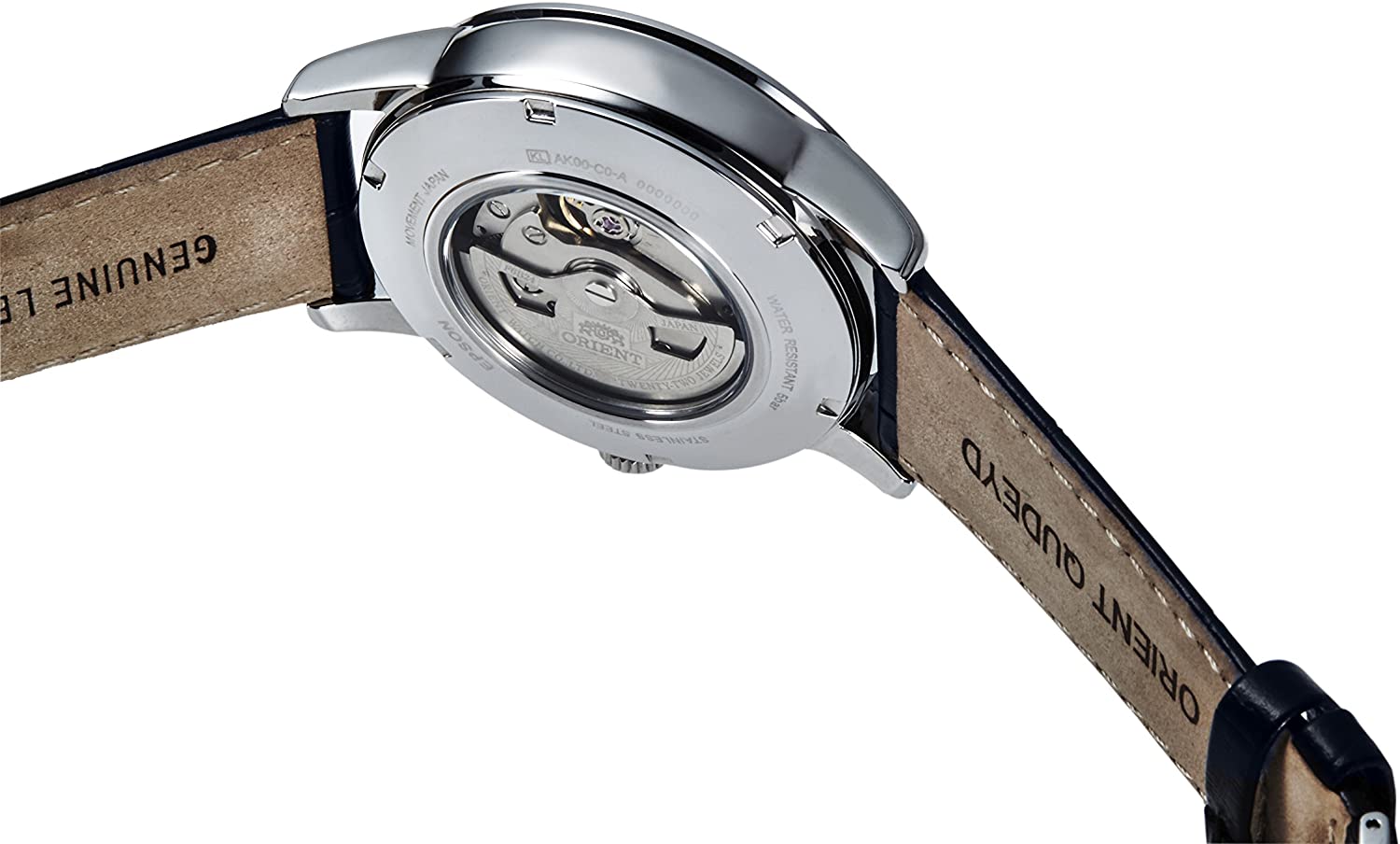 Orient Sun and Moon version 3 FAK00004B dial
The dial is of course the star of the show when it comes to this watch.
As its base, it has a black sunburst finish which reflects the light beautifully and makes the watch much more vibrant. But it is its functions and details that truly make it stand out. These functions also consist of several layers and levels which add depth to the watch and show that Orient has really gone above and beyond with the finishing. They have certainly gone above and beyond the watch's price point.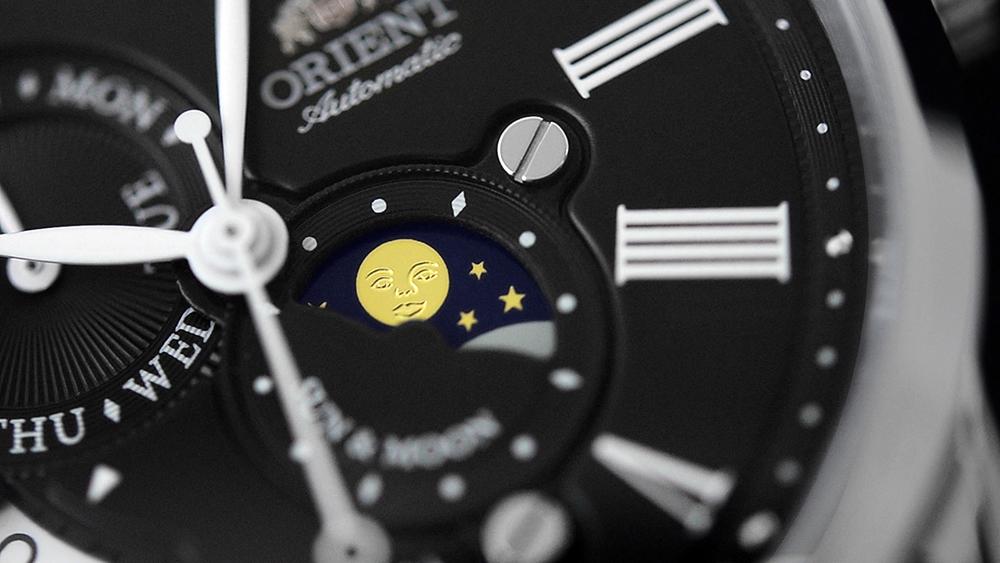 Around the dial, it has white painted Roman numerals which add to the classic look. In addition, these are also slightly raised. At 10 o'clock, it has a round day indicator which has a beautiful guilloche pattern. This also sits slightly recessed on the dial.
As the name of this watch reveals, it also has a sun and moon indicator. This can be found at 4 o'clock and shows a moon and sun, depending on the time of day. This is something that really stands out and looks very beautiful on the dial.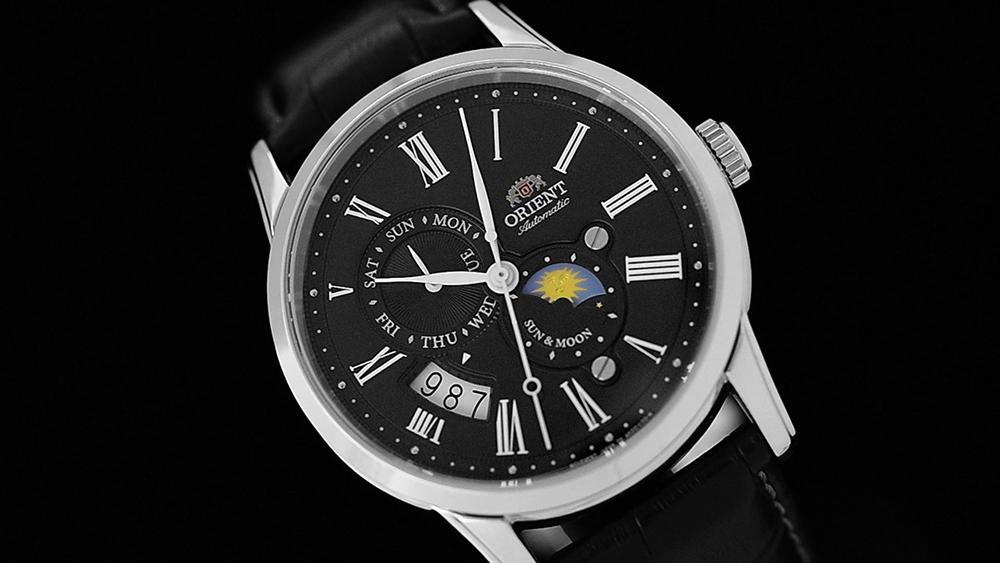 Furthermore, we have a rectangular day indicator positioned at 8 o'clock, which is a cutout on the dial, and displayed via a white disc with the dates printed on black.
Having said that, all of these elements are not just beautiful decorations but also functions that can come in truly handy in your everyday life. In particular the day and date indicators.
The hands are leaf-shaped (very classic), and painted white. This provides excellent contrast against the black dial.
Orient Sun and Moon version 3 FAK00004B movement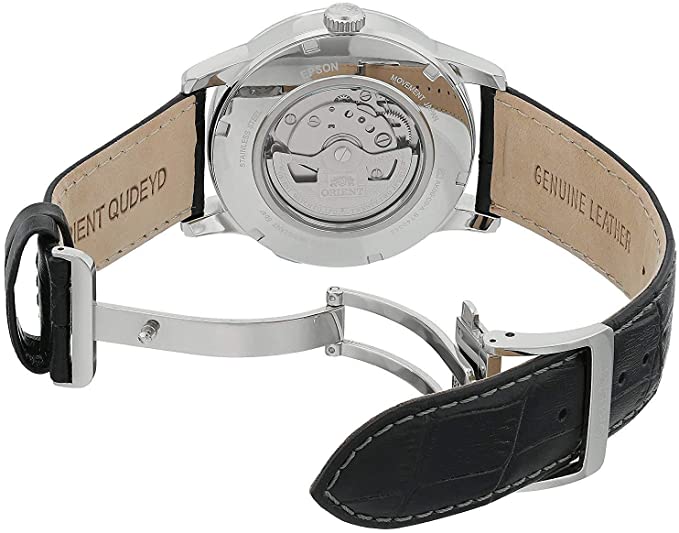 If you turn the watch around, you'll notice that this watch is also equipped with a see-through case back. This is yet another element that enhances its impression of quality. It's also a really nice feature to have in a dress watch.
Naturally, at this price point, you're not going to get a Patek Philipe level of movement decoration, but it does have some decorations on the rotor. Regardless, it's still nice to look at and reminds of the beautiful mechanical craftsmanship inside.
The movement powering this watch is the in-house Orient caliber F6B24. This is an automatic movement with Hand-Winding and Hacking seconds functions. The movement has a power reserve of 40 hours and is equipped with 21 jewels.
All in all, a nice in-house automatic movement inside a watch of this price range is a great value proposition from Orient.
Strap
The watch has a lug width of 22mm and is presented on a black embossed leather strap with a push-button buckle deployment clasp. The strap goes very well with the elegant and classy look of this timepiece and shows that this really is a dress watch.
Specifications
Lug width: 22mm
Clasp: Deployant
Crown: Push-pull
Strap: Black leather
Water-resistance: 50m/5ATM
Thickness: 14mm
Lug-to-lug: 50.5mm
Diameter: 42.5mm without the crown
Crystal: Sapphire
Power reserve: 40 hours
Movement: Orient caliber F6B24. Automatic with hand-winding and hacking seconds functions
Jewels: 21
Conclusion
With all of this said, we can't say anything else other than that the Orient Sun and Moon v3 FAK00004B offers incredible value for money. It ticks all of the boxes in terms of functions, decoration, finishing, and build quality, well above what you would actually expect from a watch in this price range.
Whilst it is a classic dress watch, it is definitely not a boring dress watch. All of the stunning dial features, details, and decorations ensure that you will never get bored. Its slightly larger case size also makes it sportier and more versatile for everyday wear, if you are a person who enjoys wearing dressy watches.
To conclude this review, the FAK00004B definitely looks much more expensive than it is, and that is a great thing.