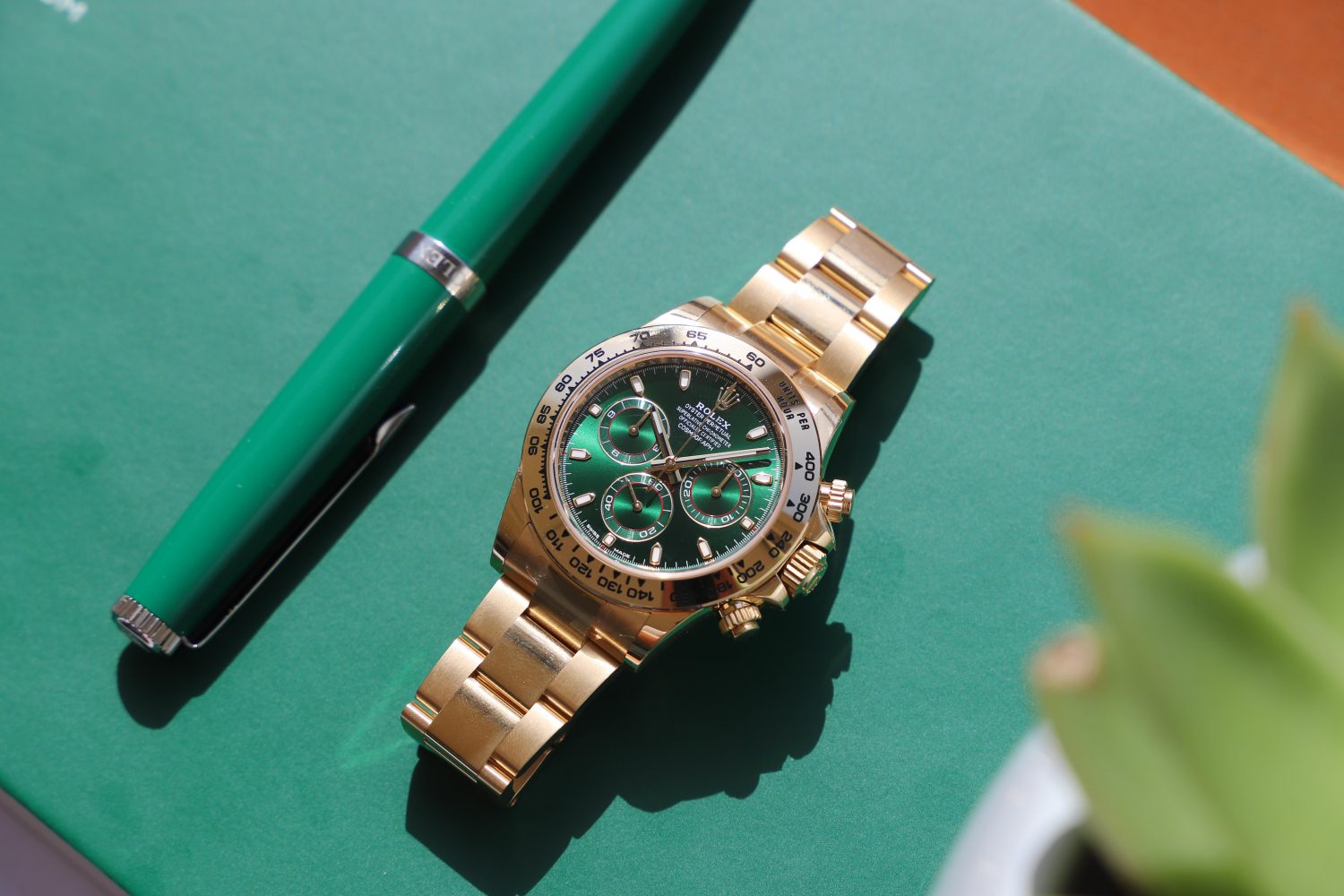 Rolex Daytona 116508 Green Dial [Complete Guide & Review]
The Rolex Daytona is unarguably one of the most popular timepieces from Rolex. Collectors are absolutely crazy about vintage Rolex watches such as the Paul Newman and the pre-Daytona, whilst fans of modern watches struggle to get their hands on a ceramic Daytona.
It's safe to say that people are going crazy about the Rolex Daytona in most of its shapes and forms, old and new.
And why wouldn't they? It's a legendary timepiece with a legendary history.
Like all Rolex watches, the Daytona has been improved, refined, and iterated over the course of its history. Simply because Rolex strives for perfection.
Over the years, Rolex has also released a number of different versions of the Daytona. Not only in terms of huge changes such as movements and function but most commonly in the form of different materials and different dials.
The Rolex Daytona is available in all of Rolex's standard materials which are yellow gold, rose gold, stainless steel, and white gold. There is also two-tone (Rolesor) versions. And when it comes to dialing variants, there are simply too many to keep track of.
But in this article, we're focusing on one particular watch that has gained a very special place in Rolex's collection of Daytona, and which has exploded in popularity in recent years.
In this article, we focus on the Rolex Daytona 116508 green dial, nicknamed "John Mayer Daytona".
Rolex Daytona 116508 Green dial Guide
A great way to see how popular a watch model is is to see what they sell for on the secondhand market. And if you look at the Rolex Daytona 116508 with green dial, you'll quickly realize that this Daytona is absolutely on fire. In fact, it is one of the most sought-after modern Daytona models created.
But the fact is that this has not always been the case.
Let's wind it back to 2016, the year in which the Rolex Daytona 116508 green dial was released at Baselworld.
Now, to begin with, the 116508 is made in full 18ct yellow gold, and naturally, it is going to have quite a hefty price tag. As a result, modern full gold watches have been able to become popular and appreciated, but because only a small group of people can afford (or motivate) the purchase of a full gold Rolex watch, the supply is often greater than the demand for these pieces.
If you visited authorized Rolex retailers back in 2016, 2017, 2018, and the beginning of 2019, you could actually find the Rolex Daytona 116508 with green dial sitting in the windows just waiting to be purchased, just like any Daytona in yellow gold. If you wanted it, a boutique could simply have it ordered, and you would have it relatively short after.
But today, that's not the case anymore. Today, these pieces have year-long waiting lists or are only allocated to premium customers.
So how did it become like this?
Well, Rolex has much to thank John Mayer for this because of what he said in a Hodinkee episode of "Talking watches".
To quote Hodinkee: "One of the biggest takeaways from John Mayer's Daytona-fest that was his Talking Watches Part 2 was the fact that the dude managed to blow up 2016's yellow gold and green-dialed Daytona overnight."
Of course, this is not all John Mayer, but he has had a huge impact on the popularity of this watch.
In the video, John Mayer says:
"it was in the year of 2016 that the ceramic bezel Daytona comes out, and at the same time, Rolex released a yellow gold Daytona with green dial and a white gold Daytona with blue dial respectively. If we had known any other year before that Rolex is going to put a collared dial on an all-metal watch. I just went and bought this from a dealer from an authorized dealer and he said to me "well you're pretty crazy because I just found out that we can't get another one of these for a really long time". And I enjoy looking past the hype and going "wait a minute that is empirically really special". So if you're out there in your care about what my picks are, the green dial gold Daytona is still out there still floating around and it's the future thing that I think people are going to go "why didn't we know", because looking back, there have been past "why didn't we know", and there have to be future iterations of why didn't we know that we can act on now"
With all of this in mind, this is also the reason why some people have started calling the watch the Rolex Daytona "John Mayer" because of the substantial impact he had on this watch's popularity.
After the release of this talking watches video on Mars 27, 2019, the popularity of this watch exploded overnight. And today, getting a hold of a Rolex Daytona 116508 green dial is more difficult than getting a stainless steel ceramic Daytona.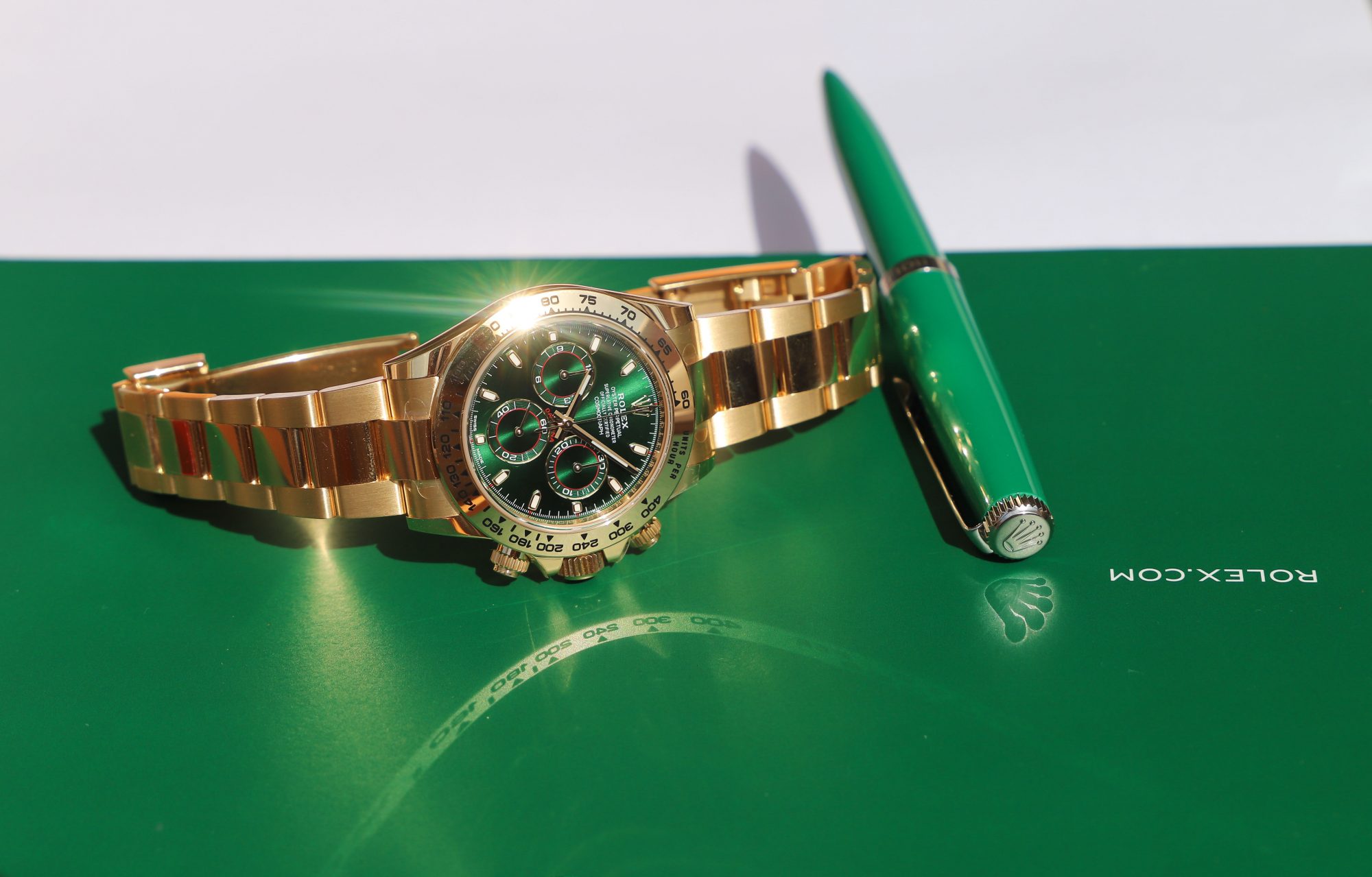 One reason for this is that the watch has a very limited production. First off, the full gold Rolex Daytona production is relatively small when you look at the total production of two-tone and full stainless steel Daytona watches.
In fact, in writing moment, most Rolex retailers get between 1 and 3 Daytona 116508 with green dials. Some retailers get zero, and others have to specifically order them in order to receive them. And not all of them do.
So much of the demand for this watch also depends on the fact that retailers get so few pieces of this model per year. It's simply enough that ten people ask for this model and you have a waiting list of 3 to five years.
Now, with that said, let's go into the specifications of the Rolex Daytona 116508 green dial.
Rolex Daytona 116508 green dial specifications
The Rolex Daytona reference 116508 is available with a number of different dials.
While many of the other dial alternatives are nice, few of them are as special as the green dial.
This is particularly true considering Rolex's close relationship with the color green. The green Rolex Hulk, and the green Rolex Kermit are incredibly popular timepieces. And in recent times, the green dial Day-Date has increased dramatically in popularity because people realize just how special green elements are on Rolex watches. As a matter of fact, all Rolex watches with green dials tend to be extremely popular.
There is just something special about a green-dial Rolex watch.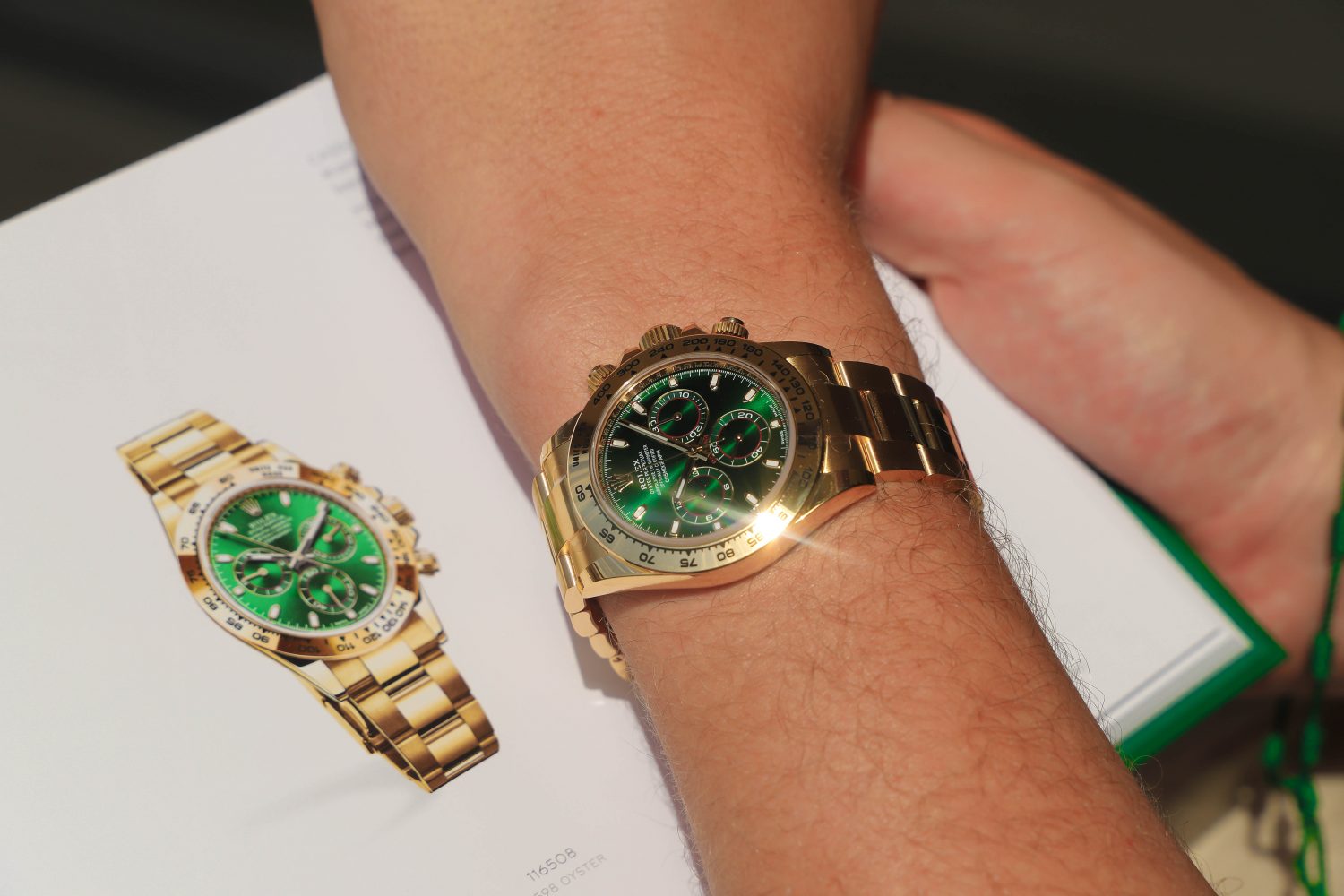 The Rolex Daytona 116508 has a 40mm Oyster case and is powered by the in-house caliber 4130 which is accurate to -2/+2 a day.
The 4130 is a certified Swiss chronometer, a designation reserved for high-precision watches that have successfully passed the Swiss Official Chronometer Testing Institute (COSC) tests. The chronograph movement features a Parachrom hairspring, offering greater resistance to shocks and to temperature variations.
At its core, the 116508 green dial is just the same as the previous yellow-gold Daytona watches. The only difference is the dial. But as you know, small details can make huge differences. And this is definitely the case with the green dial 116508.
Let's talk about the dial a little bit because this is what truly makes this watch unique.
At its core, it is a green sunburst dial that catches the light in an incredible way. The green is not bright green like the color of a Hulk Submariner, nor the mossy green of the Day-Date 40. Instead, this green color is unique to this model and cannot be found in any of Rolex's watches today. The color is a rich color, and others have described the color as "somewhere between pine trees and British racing green".
In darker environments, the dial can lean towards dark green, as seen in the image below: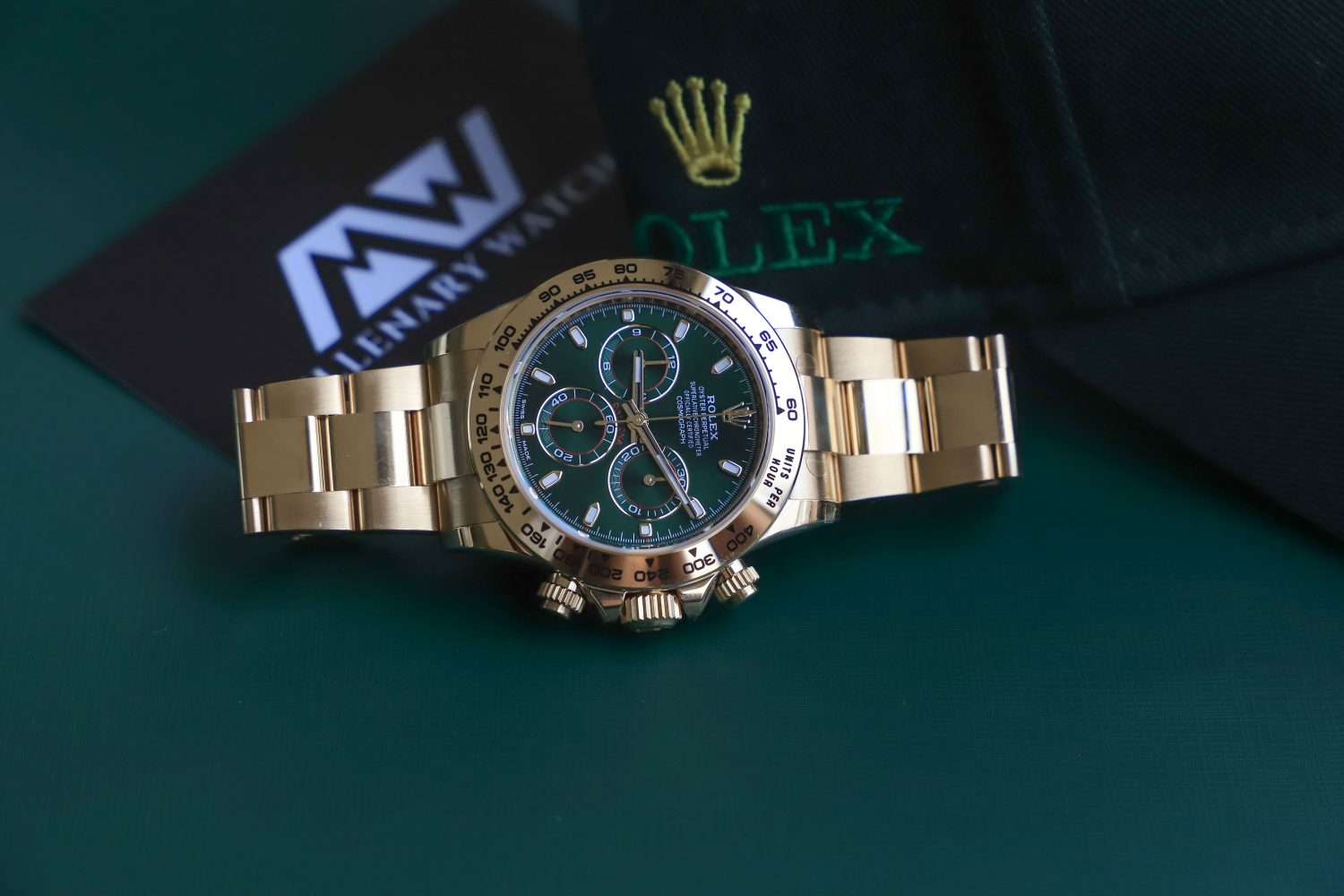 But when the sunlight hits the dial, it completely transforms into a bright emerald green color that is absolutely stunning to look at.
The watch has three sundials in standard fashion, and each sundial is surrounded by a yellow-gold rim. Furthermore, the text inside the sub-dials are printed in white. Lastly, you also have a red inner circle in each, and the color combination of gold, green, and red, is what has made some people refer to this watch as "Christmas", as it undoubtedly reminds of the colors of a Christmas tree.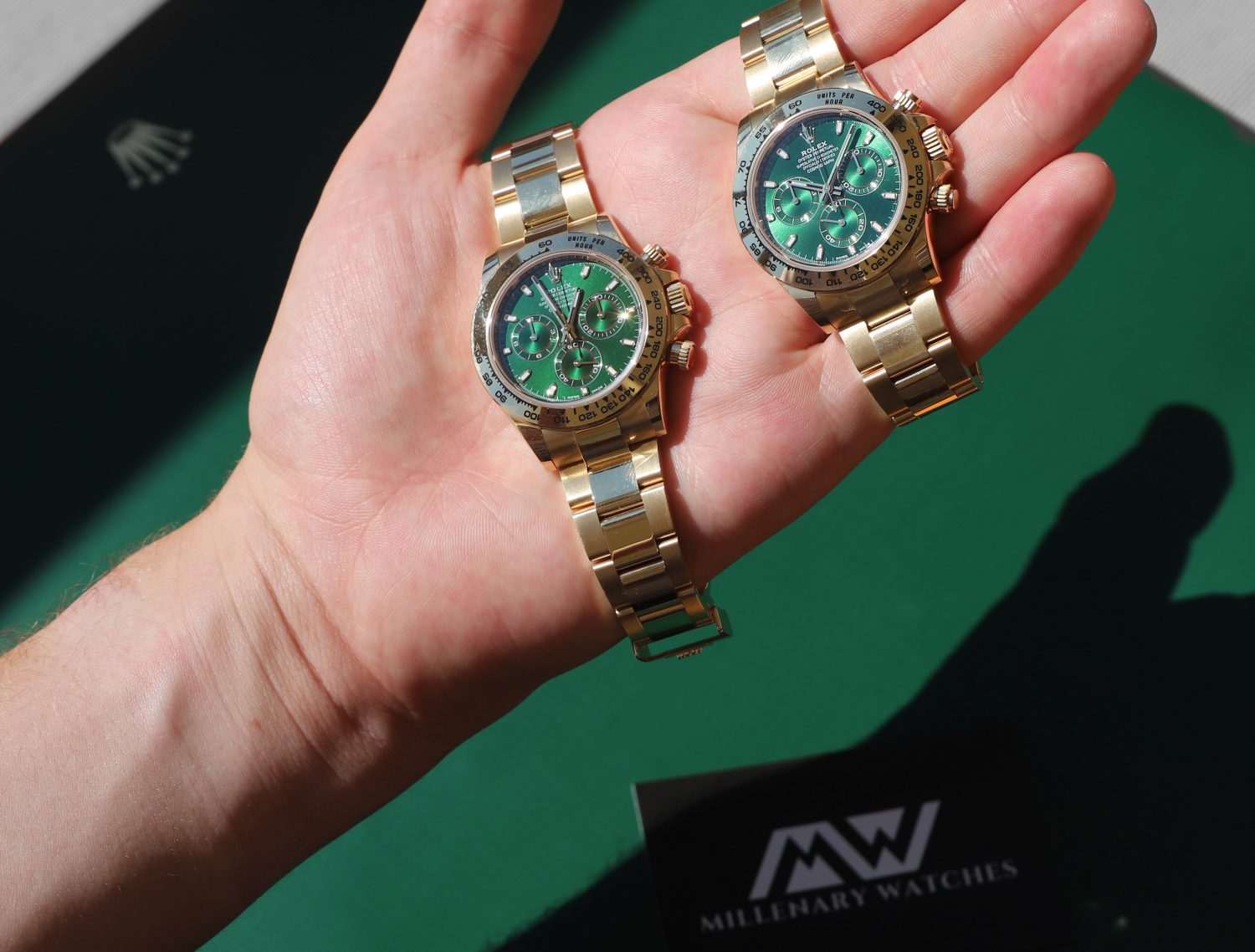 The bright green sheen against the yellow gold and contrasted by the yellow gold is absolutely stunning.
What is interesting about this watch is that yellow gold has been slightly forgotten in the last decade or so due to the introduction of Rolex's Everest gold, but this yellow gold watch reminds us why yellow gold is the king of precious metals and that it won't go out of fashion any time soon. After all, yellow gold has been the king of precious metals for the last 6000. years or so.
As stated by a source, a reason for the green dial of the 116508 is to celebrate the birth of "Rolex Certified" which is also known as "the green seal".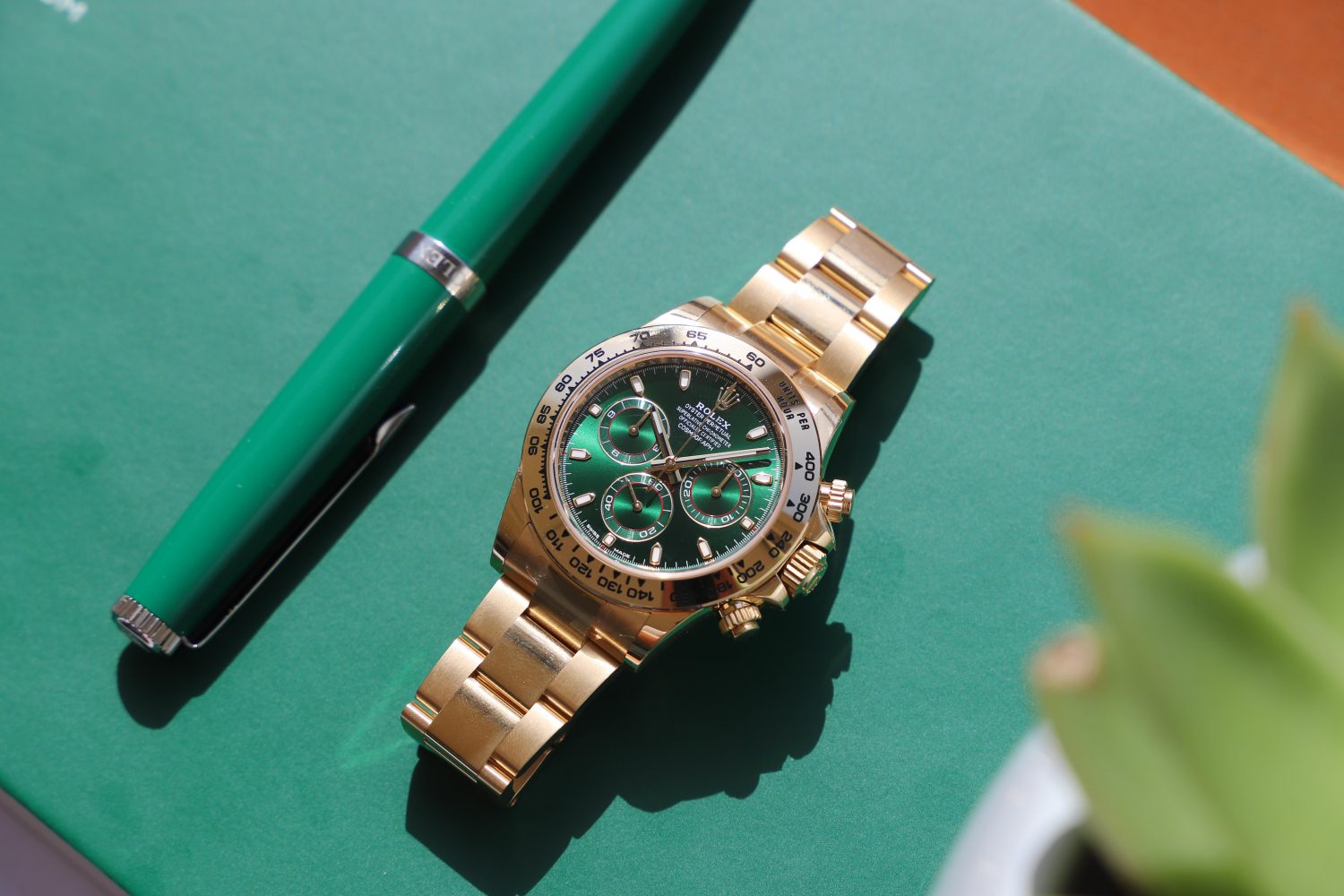 When it comes to Rolex's yellow gold, it is not any yellow gold that you can find in any piece of jewelry. In fact, Rolex has its very own foundry and therefore makes its own alloys, including its 18ct yellow gold.
This allows Rolex to give the yellow gold exactly the characteristics they are looking for. And in this case, it is a type of yellow gold that does not tarnish and oxidize, but rather has a perfect sheen for many decades to come.
Rolex 116508 Green dial bracelet
The bracelet of the Rolex 116508 is a regular Oyster bracelet, so if you have owned an Oyster-bracelet Role before, it will feel familiar. The difference, of course, compared to a steel Oyster bracelet is the weight. Being made in full 18ct gold, the Oyster bracelet is quite heavy and sits heavy on your wrist. If you are a person who likes to feel that you are wearing something on your wrist, you will love the 116508.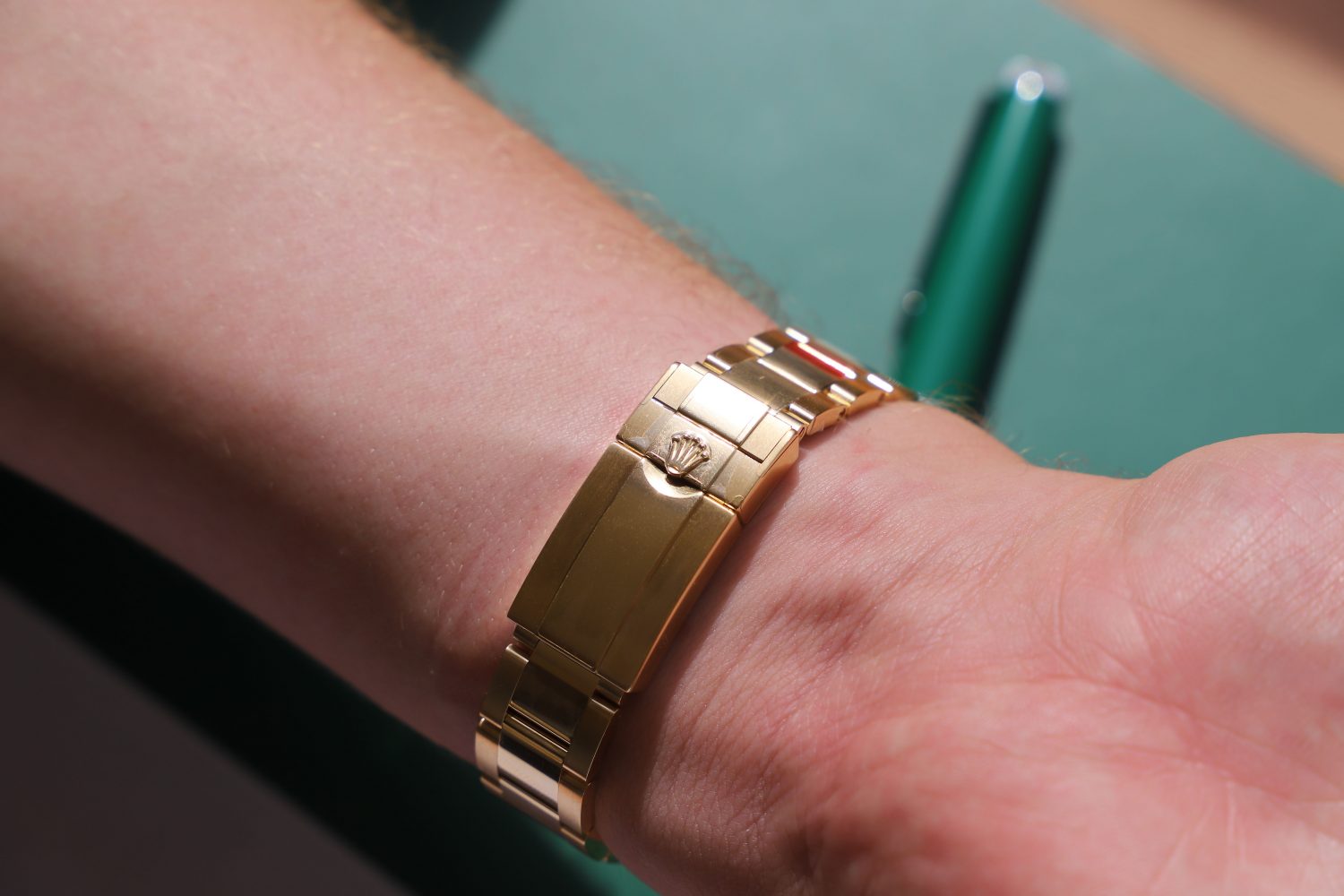 The bracelet is equipped with a standard Oyster clasp which also features the Easylink system that allows you to extend or shorten the bracelet by half a link which is great when the wrist shrinks or gets bigger in colder or warmer temperatures.
The middle links of the bracelet are polished, and the side links are brushed.
Daytona 116508 chronograph function
The central sweep seconds hand allows an accurate reading of 1/8 second, while the two counters on the dial display the elapsed time in hours and minutes. As the Daytona is originally a watch made for racing, this chronograph function allows drivers can accurately map out their track times and tactics.
The chronograph pushers are also equipped with screw downs like the winding crown when they are not in use. This guarantees a water resistance of 100 meters.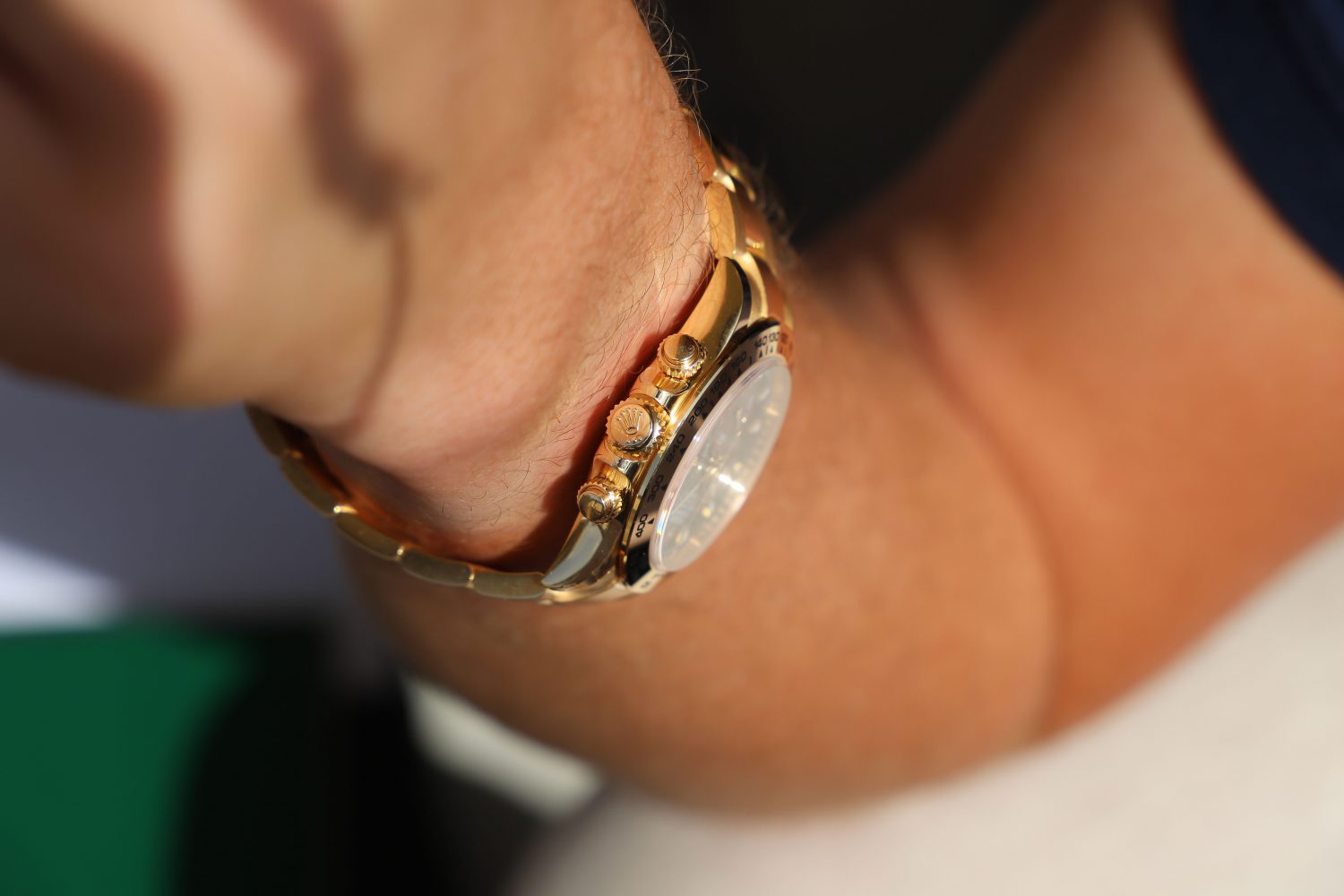 One press to start on the upper chronograph pusher, push again to stop the chronograph, and press the bottom pusher to reset. The pushers have a solid and qualitative feel, and they sound very crisp when you press them.
Quick specification summary
Bracelet: flat three-piece links (Oyster bracelet) Made in 18ct yellow gold with polished middle links.
Clasp: Folding Oysterlock safety clasp with Easylink 5mm extension link.
Dial: Green sunburst dial with red and gold details.
Highly legible Chromalight display with long-lasting blue luminescence
Movement: Calibre 4130, Manufacture Rolex. Perpetual, self-winding, mechanical chronograph. Precision: -2/+2 sec per day. Paramagnetic blue Parachrom hairspring. Centre hour, minute and seconds hands, small seconds hand at 6 o'clock. Stop-seconds. Chronograph center hand accurate to within 1/6th of a second, 30-minute counter at 3 o'clock and 12-hour counter at 9 o'clock. Power reserve of approximately 72 hours
Case: 40mm Oyster case. Made in solid 18ct yellow gold. Monobloc middle case. Screw-down case back and winding crown.
Bezel: Fixed bezel in 18ct yellow gold with engraved tachymetric scale.
Water resistance: up to 100 meters/330 feet.