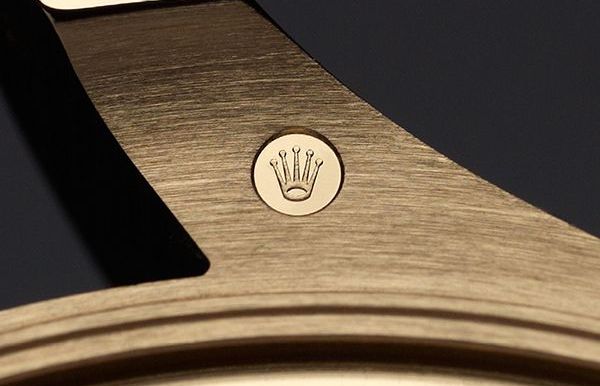 Rolex Hallmarks Complete Guide
Hallmarks can be seen stamped on all types of items. Rolex, in this case, is a Swiss watchmaker and therefore follows Swiss laws and regulations. The Swiss hallmarking system came into place in 1881. Prior to this, jewelry and watches made in gold carried hallmarks, but there was no consistent usage.
What are Rolex hallmarks?
Hallmarks are different kinds of stamps and engravings that are done on precious metals, including gold, silver, platinum, and palladium, in accordance with laws and regulations.  The process of marking something according to its precious metal fineness is what is known as hallmarking. Different countries have different laws regarding hallmarks, but as Rolex is made in Switzerland, it follows Swiss hallmark laws. Furthermore, they may also need to follow other countries' laws regarding hallmarks when importing watches into that country.
But what do the different Rolex hallmarks mean, and where are they located?
In this article, you will learn everything you need to know about Rolex hallmarks.
Rolex hallmarks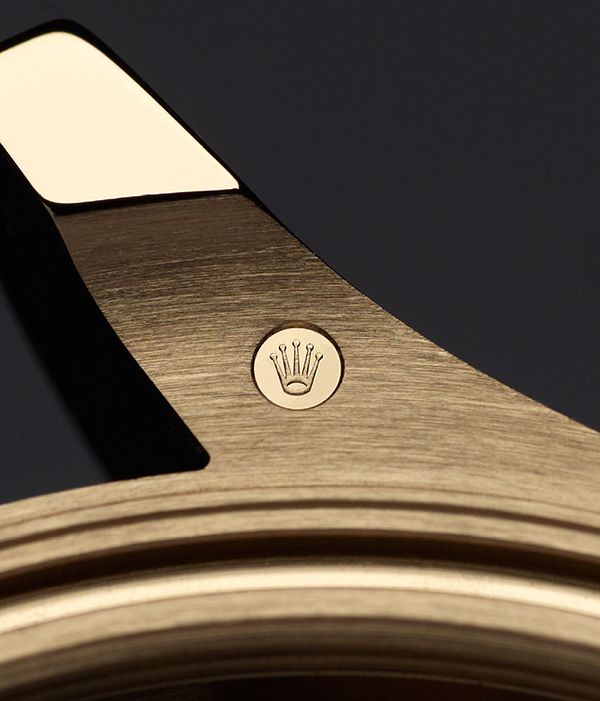 The standards for precious metals derive back to the 15th century, originating in Geneva. At the time, as mentioned, there was no consistent usage of hallmarks. The first indications of regulation of precious metal regulations and hallmarking date back to 1424 and was introduced by Bishop John of Brogny. What made it difficult to understand the hallmarks is that each of them had their own standards as well as its own hallmarking system for precious metals. The first official signs of regulation were in 1815, when an Assay Office was established in Geneva on September 22, 1815, and one in Neuchâtel in 1839, under the government.
At the time, the hallmarks were used for the most common objects that were made in precious metals at the time, including cutlery, plates, candlesticks, and so on. There are no reportings that these markings were implemented on watches just yet.
The first regulation regarding Swiss watches made in precious metal was introduced in 1880 when the Precious Metals Control Act ( Act bureaux de contrôle) was introduced. The effect of this was that now, the approved offices were allowed to assay watch cases which were made in precious metal and mark them with the appropriate hallmarks. And they were allowed to do so independently.
The purpose of the hallmarks, including the Rolex hallmarks, is to protect the public and to prevent objects that do not have the correct precious metal fineness.
Prior to this, manufacturers just marked their watches with the fineness of the gold, such as 18K, 14K, etc.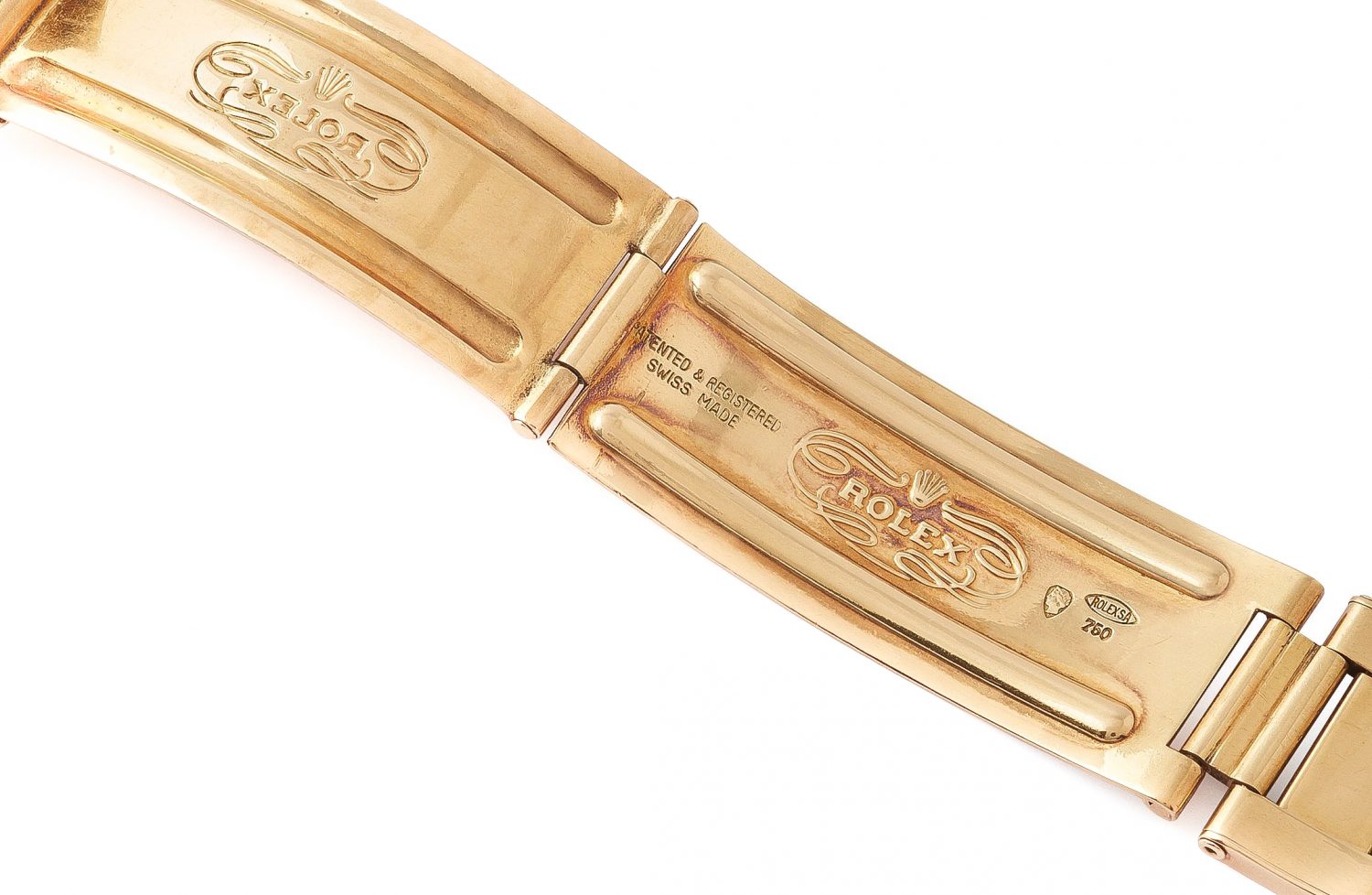 Poinçons de Maître
In the 1920s, a new hallmarking system specifically for precious-metal watch cases was introduced. Poinçons de Maître can be directly translated to "Master's hallmarks". These hallmarks were used to identify the maker of precious-metal watch cases.
The master's hallmarks are required by law since 1933 and can be found on all precious metal watches. The master's hallmarks are different symbols, such as camels, shields, etc, with a number inside. The symbol together with the number makes it unique for each maker of the case.
This allows you to identify who manufactured the case, and, for example, if it was externally manufactured.
Rolex hallmarks pre-today and today
All precious metal Rolex watches are stamped with a number of different marks. You are already aware of the mark that tells us the fineness of the metal, for example, 18k, 14k, etc. This metal engraving is also accompanied by additional stamps, and these are what are known as hallmarks.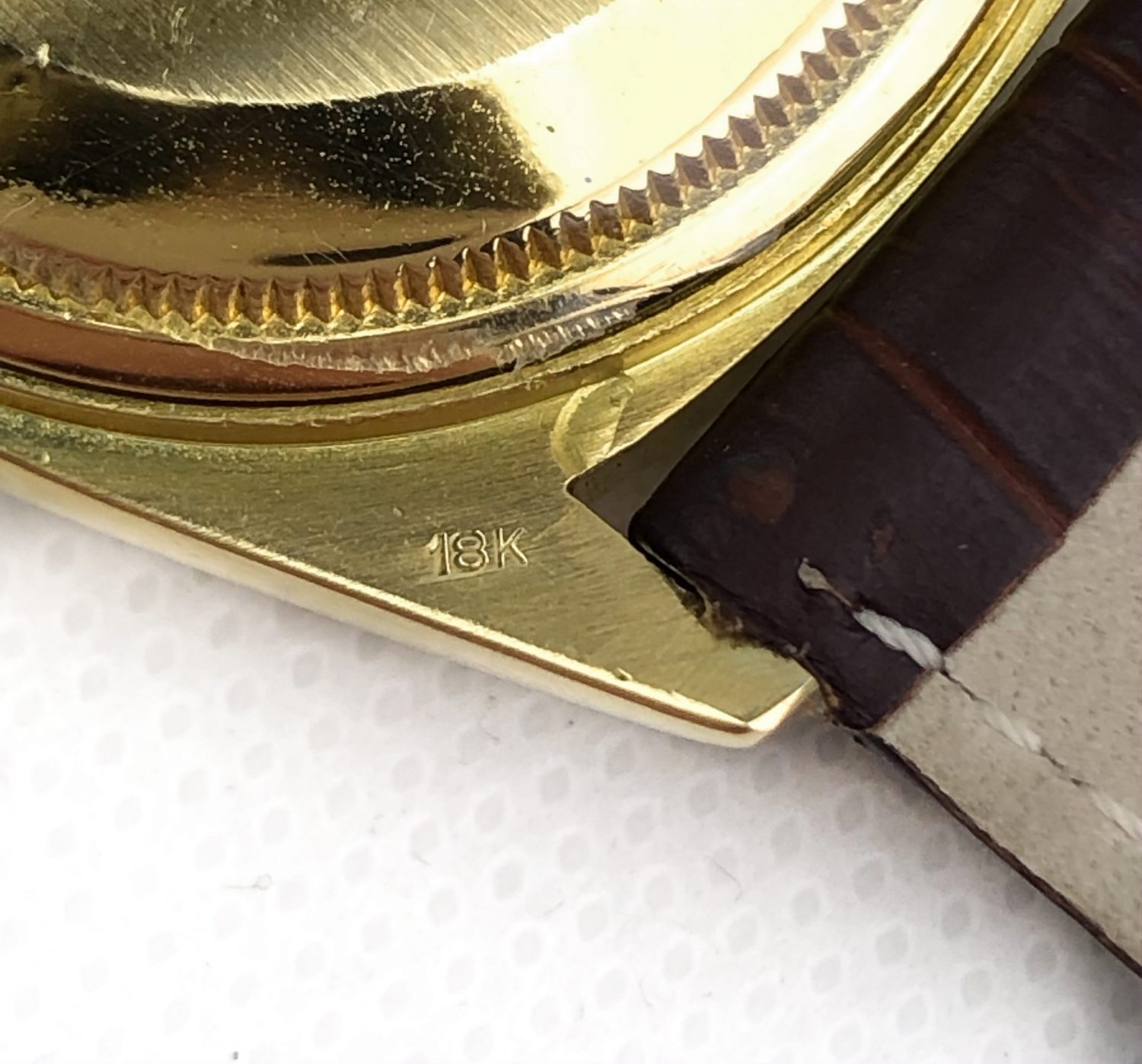 The most common precious metal watch case is 18K gold, and therefore, the most common hallmark is a pictured lady, known as Helvetia. All 18K gold cases made in Switzerland have the Helvetia hallmark. Furthermore, the hallmark for 14K gold is a squirrel and a mountain goat for platinum watch cases.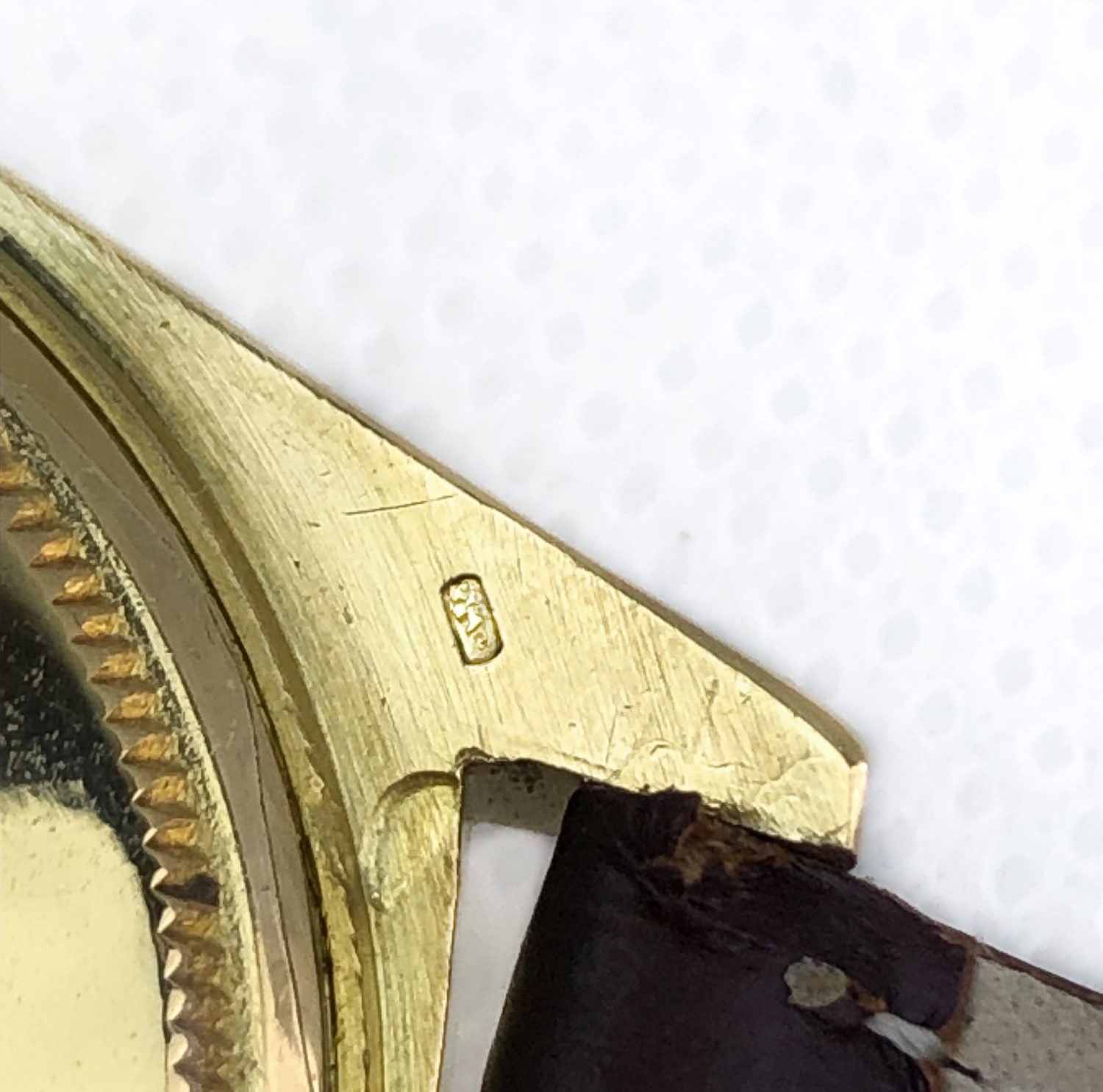 In 1995, the hallmarks changed. Now, a hallmark of a St Bernards head is used.
Today in Switzerland, only watch cases made in precious metal must be hallmarked. Other jewelry and cutlery do not need to be hallmarked.
Today, there are several Assay offices in Switzerland, but Rolex, in particular, which we focus on in this article use the office that is located in Genève, which is natural as it is where Rolex has its main office.
The Assay office located in Switzerland uses the marking "G". These are called town marks. In addition to the hallmark, depending on where the Assay office is located, different letters are used, as seen in the list below
Biel / Bienne = B
Basel = *
Chiasso = T
Geneva = G
La Chaux-de-Fonds = C
Le Noirmont = J
Zurich = Z
With that said, different Swiss watch manufacturers can use different assay offices.
What is also worth pointing out is that the same hallmark applies for all colors of gold. It does not make a difference depending on which color the gold is. The hallmarks are generally tiny which makes it difficult to notice the details of them. But if you look closely, for example with a loupe, you will be able to see the level of detail. As a matter of fact, all hallmark symbols mean something.
When it comes to Rolex hallmarking, you can find hallmarks on the band clasp, mid-case and case back on all Rolex watches which are made in full precious metal. Most of the brand's ranges are available in full gold options, with the exception of a few, such as the Explorer and Sea-Dweller.
To some extent, hallmarks can be used to identify if your watch is authentic, however, as the counterfeiters get better, it's by no means any guarantee that your watch is authentic if it has the hallmarks. The hallmarks are governmental and have an impressive level of detail. It is the Swiss government which controls the quality of the hallmarks and the fineness of the gold. The government is responsible for the dies used.
Hallmark standards
The hallmark standard refers to the legal minimum fineness of the precious metal. In other words the proportion of precious metal in the alloy vs base material. 18K gold, for example, is often written 750, which means 750/100. In other words, at least three-quarters of the weight is gold. If it does not have this fineness, it will not be hallmarked as 18K gold.
The old symbols of the hallmarks are as follows: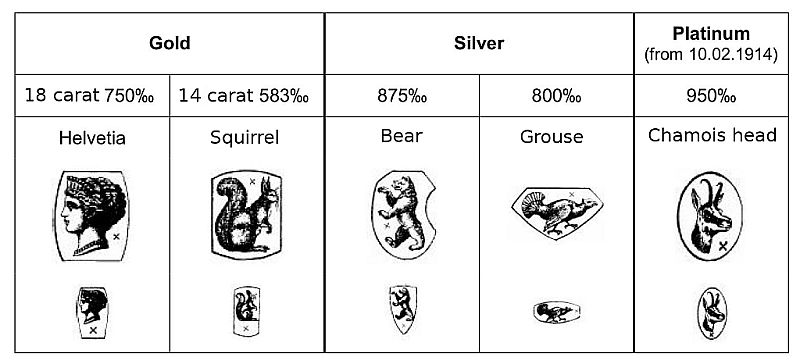 Swiss official hallmarks for watch cases from 1880 to 1933
Hallmarks for importing
Due to different countries' laws regarding imports, some countries require additional hallmarks on precious-metal watch cases. One example is Sweden, which required the hallmarks as seen below for the import of precious metal cases: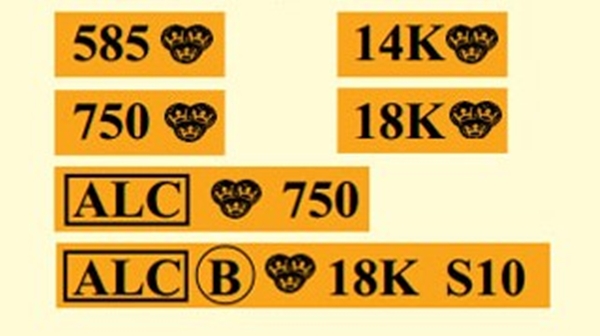 Many of the import hallmarks rules for different countries have been removed, but many countries still require it. This is why you may see precious metal Rolex watches that have different hallmarks.
Why Does Rolex not use hallmarks for two-tone watches?
Most of the time, Rolex does not use hallmarks for its two-tone watches. The main reason is that it is not a legal requirement. There are however some exceptions in the history of countries that required all gold parts on the gold and steel watches to be hallmarked as well, but this is not the case anymore. Do note, however, that these hallmarks were not done by Rolex.
Some gold parts of gold and steel Rolex watches do have hallmarks, for example, the fluted bezel has two Rolex crowns marked at 12 o'clock and 6 o'clock.