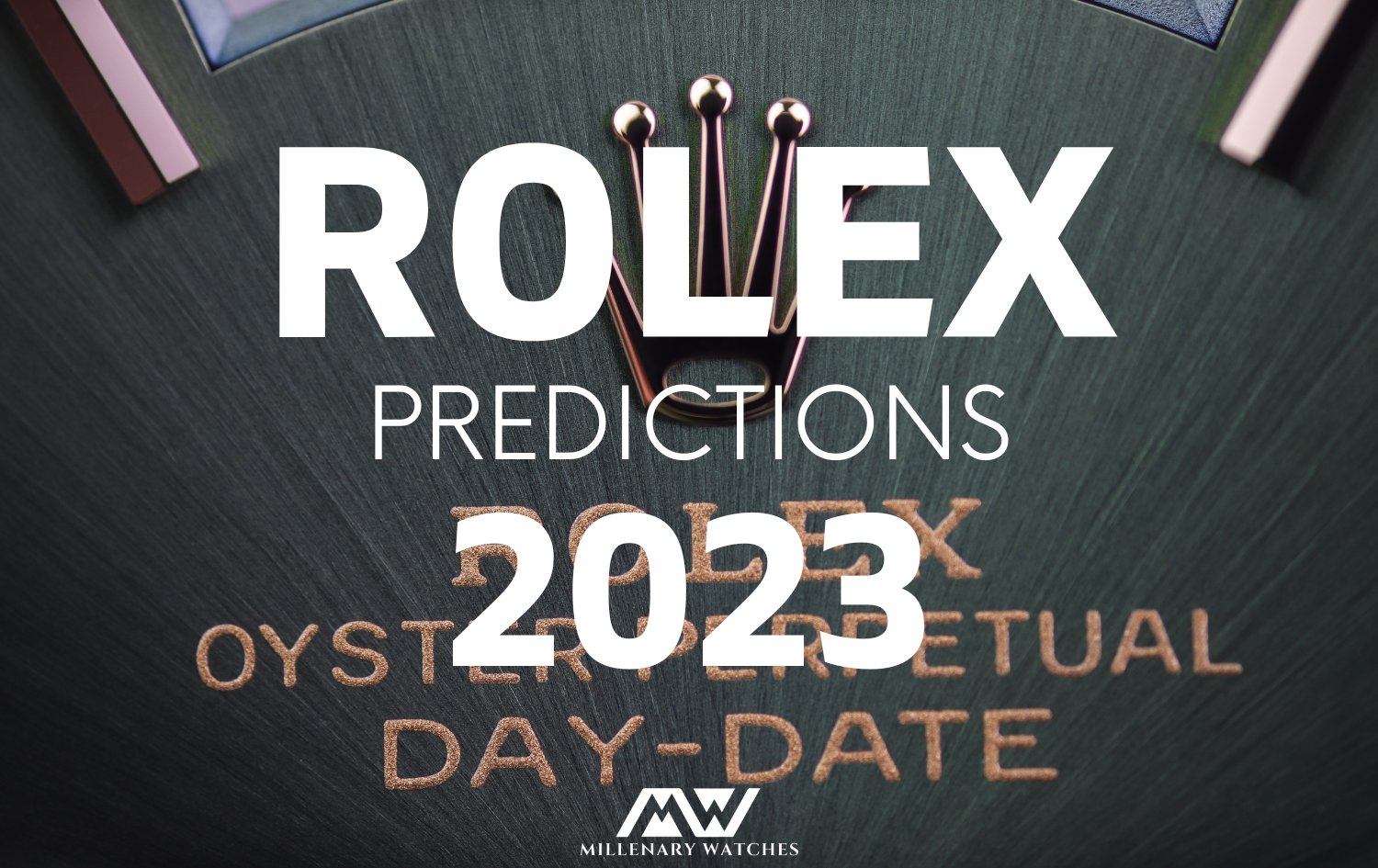 Top Rolex Predictions 2023 – New and Discontinued Models
Once a year, one of the most anticipated events in the watch industry takes place. Namely, Rolex's announcement of new models, and thus also the discontinuation of old ones.
Rolex is arguably one of the most iconic and recognized watch brands in the world. It is unarguably the watch brand that has the most hype, news coverage, and anticipation prior to, and during the announcement of its new models each year.
There is a lot of commotion, excitement, and hype every year that Rolex releases its new models. In 2023, Rolex announces its new collection at the Watches and Wonders Watch fair in Geneva, Switzerland, on the 27th of March. The watch fair takes place between March 27 to April 2, 2023, and brings together a total of 49 watch and Jewelry Maisons. Throughout the 7 days long watch-fest, many of the attending brands will also release their novelties for the year, including Patek Philippe, Tudor, and many others.
During the first 5 days, only retailers, guests of the exhibiting Maisons, and the press are allowed but during the weekend, (1-2 April), the public will be welcomed. Daily tickets cost CHF 70.-.
Top Rolex Predictions 2023 – New and Discontinued Models
For many decades, Rolex has – like many other watch brands – had the tradition of presenting new models once a year. Rolex has stuck to this strategy very closely with only a few exceptions.
This remains true also for 2023. There is particularly a lot of anticipation for this year as several models are celebrating their anniversary years.
It's impossible to predict what Rolex will release each year. Rolex is certainly one of the most secretive watch brands out there and very little information is revealed by the company prior to the launch. Plenty of people make up watch designs about the models they believe Rolex will release for the new year. But to be honest, most of them prove to be incorrect.
There are some things, however, that help us make qualified guesses about what Rolex will release in 2023.
2022 saw some really exciting and interesting releases, including the Air-King 126900, the first-ever Day-Date in platinum with a fluted bezel, a Yacht-Master in 42mm and yellow gold, a Left-hand GMT reference 126720VTNR, and much more.
For some years, Rolex's releases have been disappointing, to say the least, with nothing more than a few new dial variations and minor, barely visible changes to its watches. But this year, we don't think that this will be the case with all of the anniversaries that Rolex is celebrating.
New Submariner
Launched in 1953, the Submariner is celebrating its 70th anniversary this year. Whilst the Submariner was officially released at BaselWorld in 1954, Rolex produced the 6202 Turn-O-Graph in 1953. As such, 1953 is considered the birth year of the Rolex Submariner.
With that said, it's safe to say that 2023 is an important year for the Submariner, and for that reason, we think Rolex will celebrate it with a bang. What will they release? We can only speculate, but seeing that Rolex is pushing precious metal watches due to their higher profit margins, there is a possibility Rolex will put all its focus on precious metal Submariner(s).
Could Rolex be so bold that they present a Submariner in full platinum-like they did when they celebrated the 50th anniversary of the Daytona? Time will tell, but it's a possibility.
If not, you can definitely expect new dial configurations for this iconic dive watch.
More focus on precious metal watches
Since the demand for Rolex watches is through the roof and more or less everything is sold out, it makes sense that Rolex wants to put more of its production resources into making precious metal watches where the profit margins are bigger.
We have already seen Rolex moving in this direction in the last couple of years as the demand for their watches has grown but we think that this is a path that Rolex will continue to follow for its releases in 2023. As such, you can expect several new models of precious metals. Therefore, expect more models to be released in precious metal. Most likely, this will mean new precious metal options in addition to those that already exist. For example, the Yacht-Master 42 is only available in white gold and yellow gold. And the Submariner is only available in yellow gold and white gold. Here, there's clearly room for Rolex to add more precious metal options.
Green dial Daytona
2023 is also the 60th anniversary of the Daytona, first launched in 1953. In traditional Rolex fashion, we can expect Rolex to release a Daytona with a green dial.
Releasing watches with green dials has been a traditional way for Rolex to celebrate the anniversary of many models – which makes sense as it is the company's signature color.
We're not so sure that it makes sense for Rolex to release a steel Daytona with a green dial. Anniversary watches are often made in precious metals as steel is not special enough to celebrate big anniversaries. The fact that Rolex already has a green dial Daytona in its collection – the "John Mayer" 116508 in yellow gold speaks against it, but a 60th anniversary is still a special event worth celebrating.
With this said, Rolex could release a white gold Daytona with a green dial or even a platinum version. But due to the huge popularity o the Oysterflex Daytona, we wouldn't be surprised if Rolex released a rose gold Oysterflex Daytona with a green dial. The Day-Date 40 with an olive green dial has already proven just how well green and rose gold can go together. And the popularity of this watch is huge. So why wouldn't Rolex want to replicate that with a Daytona as well?
Yacht-Master in titanium
Rolex is a very traditional brand that focuses on evolution rather than revolution. As such, it consistently makes small yet important upgrades to its watches to improve their performance and accuracy. But every now and then, Rolex steps out of this and presents something new and truly exciting. One such event is when Rolex released the Oysterflex bracelet. If you would have asked the CEO of Rolex what he thought about the idea of putting a rubber strap on a Rolex 20 years ago, he would probably laugh. But then, albeit years after its competitors, the Oysterflex was launched.
The same can be said about titanium. Titanium is a material that is used by numerous watch brands and has been so for years. Omega, Breitling, and Rolex's sister brand Tudor are just some examples.
Using titanium in a sports watch makes sense. It's extremely light, it's durable, and it is highly corrosion-resistant. The catch is that it's not generally regarded as very luxurious. Instead, quite the opposite,
But in 2022, Rolex surprised the watch industry by releasing its first watch made in titanium – the Deepsea Challenge reference 126067. It became the watch with the greatest water resistance ever created and with its size of 50mm, making it in titanium was a necessity to actually making it wearable.
The fact of the matter is that before the launch of the Deepsea Challenge, the Rolex testimony, and sailor Sir Ben Ainslie was spotted wearing a 42mm no-date Yacht-Master prototype made in titanium in 2021. Most people didn't realize it as it looks rather similar to the Yacht-Master 42 in white gold, but it certainly tells us something about Rolex's plans moving forward.
Visa detta inlägg på Instagram
The fact that he was wearing a titanium prototype watch tells us that it has been years in the making for making titanium watches.
It's uncommon for Rolex to introduce a new material and only use it for one watch and purpose. It requires time, money, and resources to develop anything new and from a business perspective, you want to get value for your money. So with the resources Rolex has spent in developing, testing, and evaluating titanium for the use of its watches, it's almost guaranteed that Rolex will release more watches in titanium. Whether that is in 2023 or at a later stage is a trickier question.
But our prediction is that Rolex will release at least one new titanium watch in 2023. And seeing that Ben wore a Yacht-Master prototype, our bets are that Rolex Rolex will release a Yacht-Master in titanium. Most likely quite similar to the prototype that Ben wore.
There are some areas where it would make sense for Rolex to use titanium for its watches, particularly for professional sports watches with a purpose. We think that Rolex won't just use titanium for any watch. The use of titanium has to make sense from the perspective that it helps the wearer or serves a practical purpose. And when it comes to sailing, having a watch in titanium certainly makes sense. It looks really sporty, it is extremely durable, and it is also light.
Ben even said it himself when he explained the benefits of a titanium watch:
"The team at Rolex has been incredibly thoughtful by giving me a titanium Yacht-Master 42," he says. "I'm extremely honoured to have it, plus, from a performance perspective, every little bit of weight that we can save, helps us to go faster with the boat."
Thus far, it seems that Rolex wants to reserve the Yacht-Master 42 for precious metals considering the addition of the yellow gold Yacht-Master in 2022 and the launch of the white gold Yacht-Master in 2019. With this in mind, a possibility is that Rolex will release a Yacht-Master 40 in titanium. After all, the Yacht-Master 40 is the only watch that is not made in full gold today, so it would make the most sense.
If so, there is a possibility that Rolex would decide not to put it on an Oysterflex bracelet but instead, a similar strap as that found on the prototype Yacht-Master worn by Sir Ben Ainslie.
Explorer in titanium
Our last prediction for Rolex 2023 relates to the Explorer.
It's safe to say that 2020 was the year of the Explorer. Rolex discontinued the 39mm 214270 as well as the 42mm Explorer II reference 216570. Rolex then reduced the size to 36mm and released the 124270. For the Explorer II, the visual differences were minimal but Rolex fitted it with the new-generation caliber and gave it the reference number 226570. In addition, Rolex released a wild card, which was the two-tone Explorer 36 reference 124273 which no one saw coming.
In other words, they replaced the watches in both of the Explorer collections. This is quite a big deal and since it was so recent that Rolex updated both Explorer collections, it speaks against that Rolex would focus on the Explorer collection in 2023.
But what speaks for this is the fact that 1953 was the year of the successful ascent of Mount Everest. If you have looked at Rolex's advertisements and the way the company promotes Explorer, the ascent of Mount Everest plays a central role. In fact, visiting Rolex's website and looking at the Explorer immediately greets you with a story of Sir Edmund Hillary and Tenzing Norgay. The story goes that from around the 1930s, Rolex began equipping various expeditions with Oyster watches. The company then used the feedback it received to improve and develop watches that could withstand the most extreme conditions. In Rolex's own words:
"The feedback received over the years was used to develop what became known as the Professional category of watches that served as tools: models such as the Explorer and Explorer II.
Sir Edmund Hillary, Tenzing Norgay, and Sir John Hunt became the first to climb Mount Everest – the world's tallest mountain. According to Rolex, the information they gained from the mount Everest Expedition, together with feedback from other climbers, led to the launch of the Explorer.
Rolex states that 1953 is the year in which the Explorer was born, and you know what that means. The Explorer celebrates its 70th anniversary this year. So, the question is – will Rolex celebrate this by presenting a new model? It's certainly possible.
A Rolex prediction for 2023 is therefore that Rolex will release a titanium Explorer.
For a sporty watch built for purpose – like the Explorer is – titanium is a great material to use. It's light, it's extremely durable, and it doesn't get warm and cold in the same way that steel does. With the fact that Rolex has invested so much resources into the research of titanium, paired with the fact that it is the 70th anniversary of the Explorer, it's not a far-fetched prediction.
Launch of green Rolex Submariner 126618LV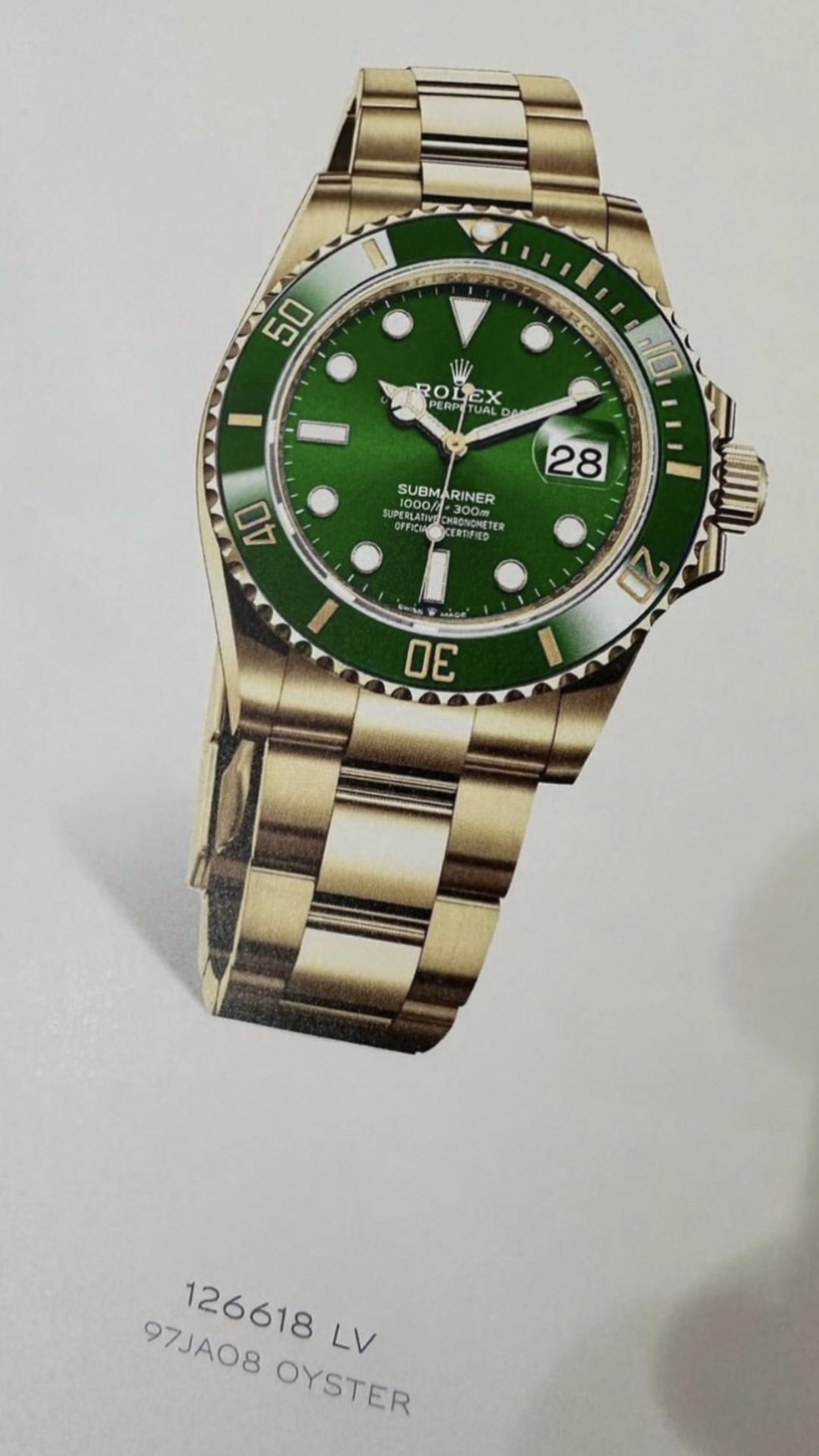 On the theme that Rolex will focus more on gold watches for 2023, it's highly likely that Rolex will introduce a green-yellow gold Submariner reference 126618LV. The combination of Rolex's signature color green and yellow gold is a combination that has proven to be ultra popular for Rolex so it is no surprise that Rolex would want to double down on such a model and present the 126618LV. With a green dial and bezel, it's safe to say that this model would become extremely popular.
In addition, as already stated, 2023 is the anniversary year for the Submariner and what does Rolex often do on anniversary years? They present a new watch in their signature green color. The "Kermit" reference 16610LV was released for the 50th anniversary of the Submariner and when the focus is now on gold, it makes perfect sense to release a green Submariner in full gold for the anniversary.
What will Rolex discontinue in 2023?
Predicting the models that Rolex will discontinue is often much more difficult than predicting what they will release. In many cases, what they discontinue is connected to what they release, but certainly not always. This is because when Rolex releases a new generation of a model, it replaces the old one. But it's not always that Rolex updates its models with new generation of watches. Instead, Rolex may just present variations of existing models and remove a few variations without making any major changes. For example, Rolex may discontinue certain dial variations and introduce a few new ones but make no other changes to the model.
What we can say for sure is that Rolex will do this in 2023, like every year.
When it comes to discontinuing models, or specific references, it can be a bit trickier. A good way to predict if and which references Rolex will discontinue is to look at the movement they use and how long they have been in production. Is the reference long overdue for an update? One such model that is overdue for an update is the Milgauss and this is why it is our first prediction for a watch that will be discontinued in 2023.
Discontinuation of the 116400GV
In 2022, Rolex discontinued the Milgauss reference 116400. This didn't come as a surprise to anyone as the watch was powered by Rolex's old-generation caliber 3130 whilst Rolex's newer-generation caliber 3230 had been around for several years. As such, the Milgauss was long overdue for an update. What is surprising, however, is that Rolex didn't release any new Milgauss, nor did they remove every single Milgauss from the collection. Left was the 116400GV, still with the old-generation movement.
This model is also long overdue for an upgrade and therefore, we believe that Rolex will discontinue the Milgauss 116400GV. What speaks against it is that the Milgauss model was first released in 1956. As such, it's not until 2026 that the Milgauss celebrates its 70-year anniversary. But we don't think Rolex can continue using the caliber 3130 for 3 more years when it is inferior to its new-generation caliber. As such, Rolex will likely either discontinue the Milgauss range altogether in 2023 or not re-introduce it again until 2026. Or, they will disregard the anniversary and release a new Milgauss model in 2023.
Apart from the Milgauss, there are not many watches in Rolex's collection that still use an old-generation movement. But there is a wild card which is the Daytona.
A new generation Daytona?
This is a real wild card and we have to say that this is more of a wild guess, but we'll explain why it is a possibility.
As already stated, the Daytona celebrates its 70th anniversary in 2023. This suggests that Rolex will definitely focus on the Daytona in one way or another. The question is if they will satisfy with only releasing an anniversary watch or if they will go all in and update the whole collection.
What speaks for a complete update of the Daytona collection is the following: Most of the watches in Rolex's collection have moved to the 12XXXX reference number which denotes a new generation with a new-generation movement. The Daytona, however, is still considered an "old generation" as the reference number still begins with 11, for example, 116500LN. This is because all the Daytonas use the Rolex caliber 4130. Whilst this has proven to be a superb chronograph with movement with excellent performance, it is starting to get a bit outdated.
The Caliber 4130 was launched by Rolex in the year 2000 which makes it 23 years old in 2023. This is a long production run for a Rolex caliber and it's safe to say that it is overdue for an update.
Therefore, it's definitely possible that Rolex will revamp the whole Daytona collection just like they did with the Submariner in 2020. They gave the Submariners the new generation calibers and made slight adjustments to their designs. In addition, they also added two new versions to the collection.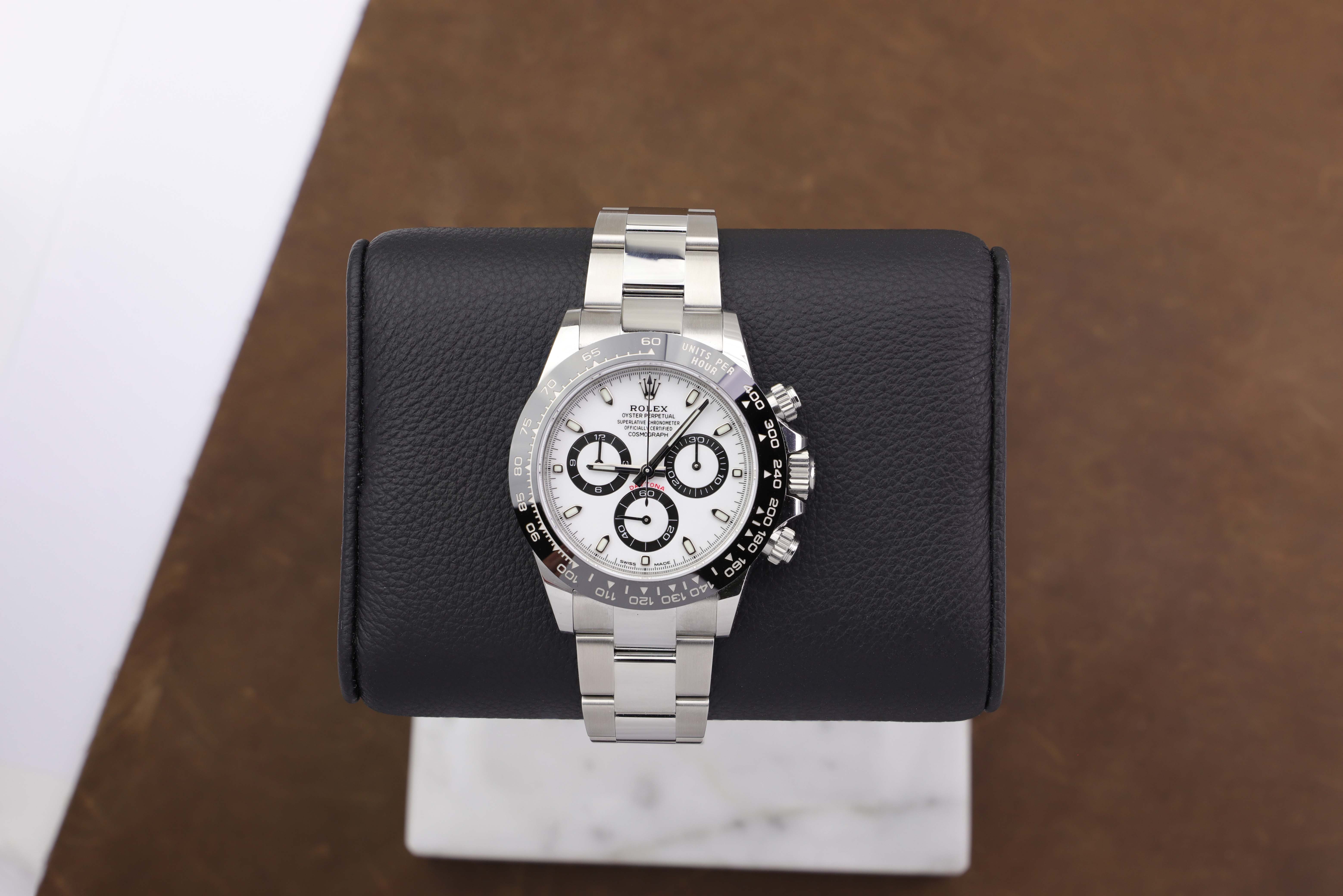 If Rolex follows the same strategy, it could mean that Rolex will launch the new generation Daytona 1265XX, fit it with the new-generation caliber 4230, make slight updates to the designs, and also add a few new watches to the Daytona collection. And one of the models they add could be a 70th-anniversary Daytona with a green dial, as discussed above. This is certainly not a far-fetched prediction but the question is if Rolex thinks that the time is now. It would, however, make perfect sense seeing that it is the 70th anniversary.
With all of this said, this would mean that all existing Rolex Daytona models would be discontinued. And whilst several of the new models would look very similar to the previous models, there would also likely be a few new additions.
Discontinuation of the Oyster Perpetual Tiffany dial?
Last but not least, we have the Oyster perpetual with a "Tiffany" turquoise dial, now available in 31mm and 36mm. Rolex launched the Stella-inspired colorful dial options for the Oyster Perpetual 31, 36, and 41 in 2020 and they instantly became wildly popular- But in 2022, Rolex discontinued most of the colorful dials, leaving only the Tiffany dial, and the green lacquered dial left in the collection. There has been a lot of speculation as to why Rolex decided to discontinue these dials so shortly after they were launched – especially when they were so immensely popular.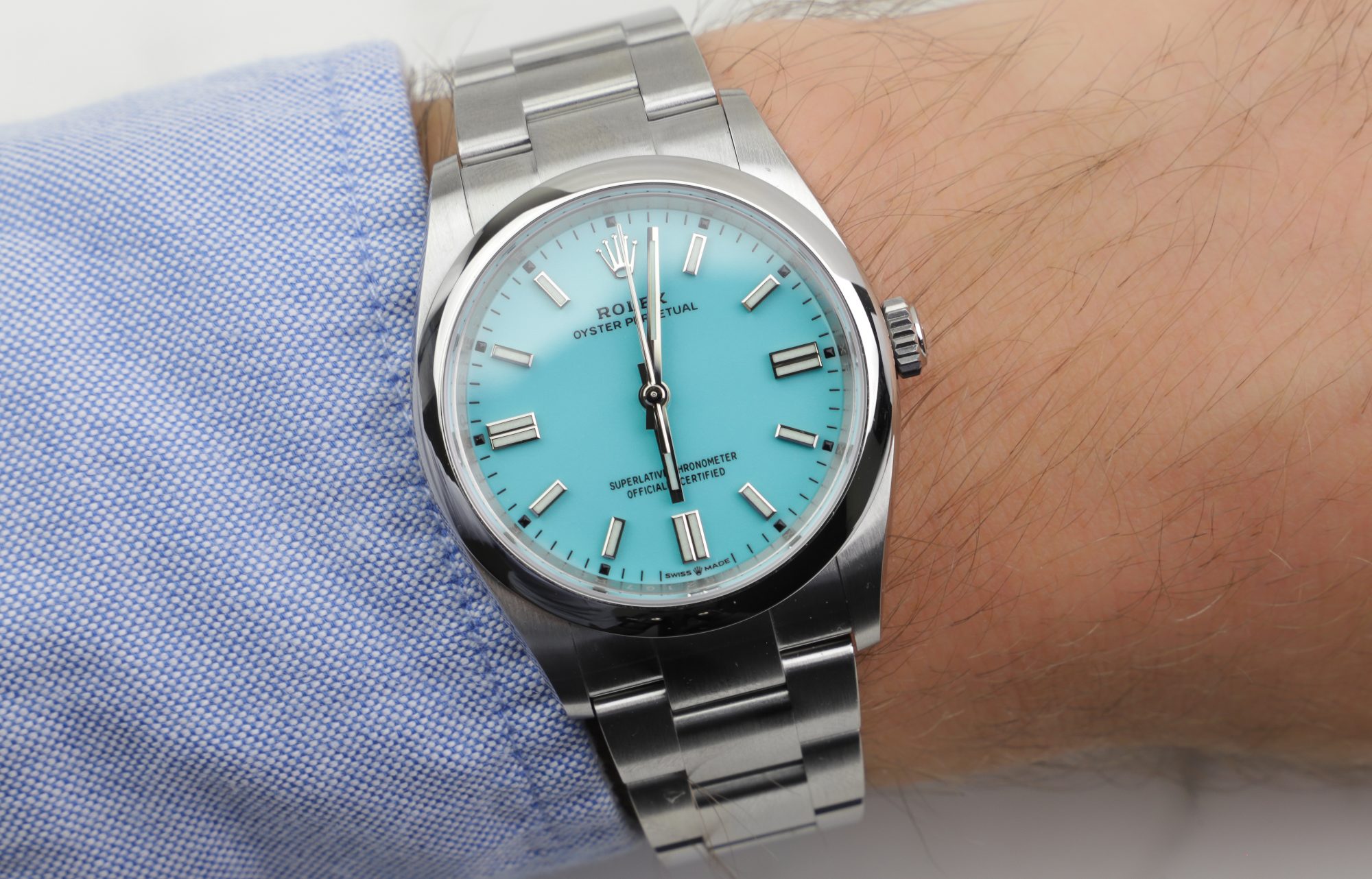 But one good guess is that they simply became too hot and sought-after. As such, they stole people's attention from other watches. In addition, Rolex wants to sell more expensive, precious metal watches and the Oyster Perpetual is Rolex's most affordable entry-level watch. As such, by trimming down the Oyster Perpetual collection, they have more resources to put into the production of precious metal watches.
If Rolex is to proceed with this strategy, it wouldn't be unlikely that Rolex discontinues the "tiffany dial" for the Oyster Perpetual in 2023.
More Rolex predictions 2023
Curious about other people's predictions for Rolex's releases for 2023? Check out the videos below:
What do you think Rolex will release or discontinue in 2023? Let us know in the comments below!