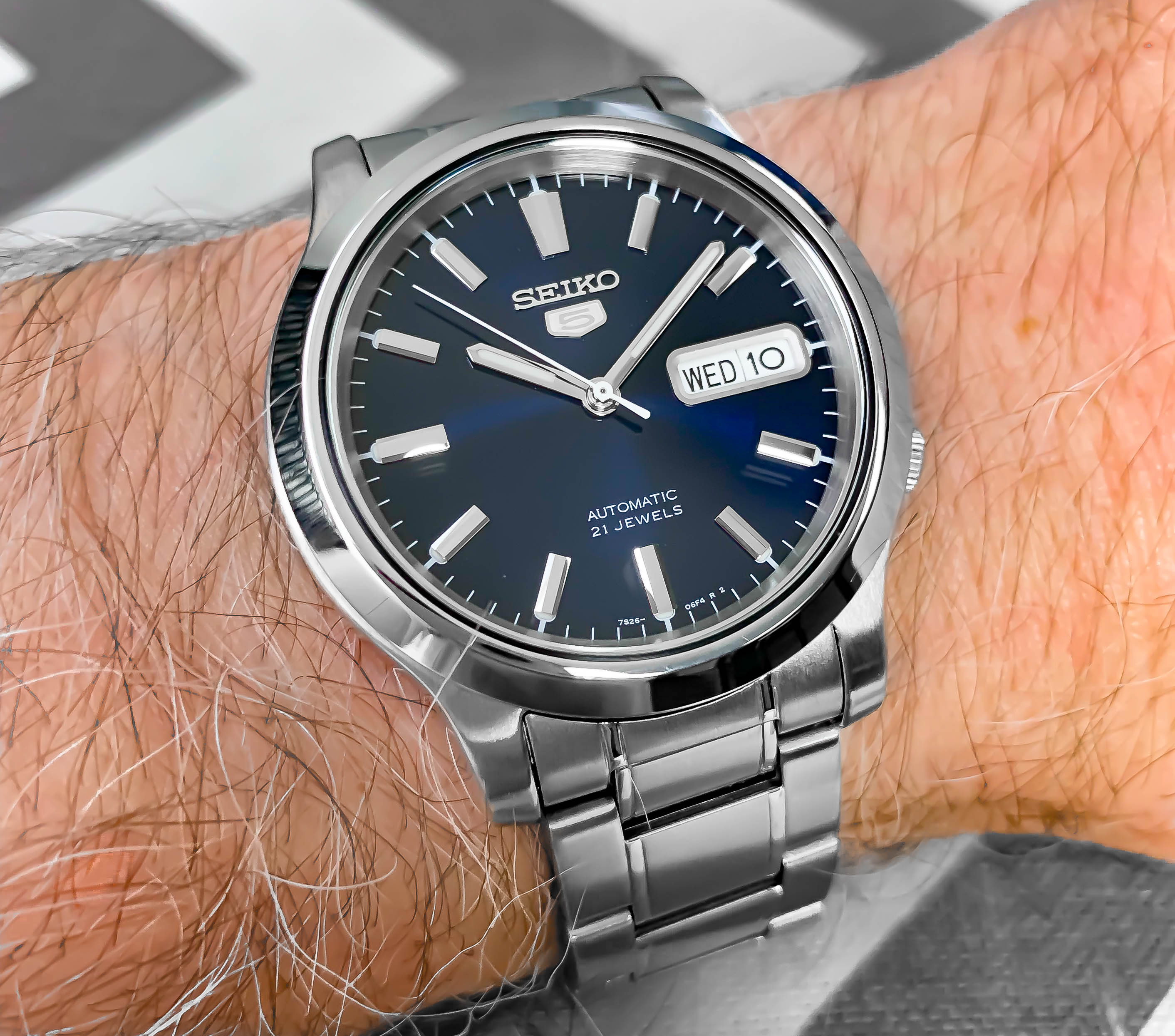 Photo: Two Broke Watch Snobs
Seiko 5 SNK793 Review & Complete Guide
Seiko makes some of the best affordable timepieces out there. Sometimes, we wonder how they do it. In this article, we will look closer at a watch that only costs slightly more than 100 USD. In this price range, the vast majority of watches are low quality and only made to tell the time in the most basic form. But Seiko has used its expertise to create a watch that is both affordable, but also worthy of owning. This goes for the quality, the looks, and the movement inside. This is awfully impressive, so without further ado, let's have a look at the Seiko 5 SNK793.
Seiko 5 SNK793 Review
As an Amazon Associate, we may earn from qualifying purchases, at no extra cost to you.
The Seiko SNK793 is one of Seiko's most affordable automatic watches in the "5" collection. But despite this, its price tag gives you extremely great value.
The SNK793 is part of the "5" collection which means the following:
Automatic winding
Day/date displayed in a single window
Water resistance
Recessed crown
Durable case and bracelet
The Seiko 5 SNK793 meets all of these criteria and many more.
This watch is not a robust sports watch but rather a clean, elegant, and classy everyday watch. It is quite small and neat, which makes it popular amongst people who have small wrists, or a preference for smaller watches. In many cases, smaller watches are more appropriate for dressed-up occasions, and this is why this watch leans more towards elegant dress watch rather than robust sports watch. But the good news is that it is somewhere in between, which means a perfect everyday watch suitable for most occasions.
Seiko 5 SNK793 case
With a case size of 37mm, the Seiko 5 SNK793 is, as mentioned quite small.  It has a lug to lug length of 43mm and a thickness of 11m. This means this watch will sit comfortably and discretely on the wrist, as well as slide under the cuff.
The side of the case is brushed, contrasted by a polished bezel and case back. The lugs are also brushed, which creates an appealing contrast.
In traditional Seiko fashion, the watch has its crown positioned at the four o'clock position. This is not an appealing feature we love about Seiko watches, but more importantly, it is practical. Due to the positioning of the crown, we avoid having the crown dig into the wrist. The crown is also slightly recessed.
The watch is equipped with Seiko's proprietary Hardlex crystal. This is not as hard as sapphire crystal, but it has still proven to be very durable and scratch-resistant. The crystal is flat which means it sits well on top of the case, allowing for a flush finish.
There's not much to complain about when it comes to the finishing of the case. In fact, the combination of both brushed and polished elements is not something we expect from a  watch at this price.
The watch has 30-meter water resistance. This essentially means it can handle some water splashes, but it should not be submerged in water.
Photo: Two Broke Watch Snobs
Seiko 5 SNK793 dial
The most appealing feature of the Seiko 5 SNK793 is its dial.
It is equipped with a striking blue dial with a sunburst finish that catches the light beautifully. The dial is navy/midnight blue, but changes color depending on how the light hits it.
Furthermore, it also has applied metal markers shaped as batons, highly polished.
The hands are clean and simple and shaped like swords. The minute and hour hand have lumina on them for luminosity. Each 5-minute marking also has dots of luminova. It also has a white seconds hand. Quite basic and not much to say about.
Of course, in Seiko 5 fashion, it has a window for the day and the date. Apart from that, the dial is very clean and sophisticated. This is something we love ina. The timepiece is meant to be clean, refined, and elegant. With this said, the watches very easy to read, without any distractions. The minute track is printed around the edge of the dial.
Seiko 5 SNK793 movement
This watch is powered by the. Seiko caliber 7S26C. This is an automatic 21 jewel movement equipped with a rotor. It operates with a frequency of 21,600 bph. The movement has a power reserve of 40 hours, and according to specifications, should have an accuracy of -15 ~ +25 sec/day.
Downsides of this movement include the fact that it does not hack, nor is manual winding, but we can't complain when you have an automatic watch for about 100 USD.
Despite this, the automatic movement has proven itself to be sturdy, durable, and reliable. You can see the movement through the see-through case back, but in terms of decoration, it is nothing fancy. But remember, this is not a Patek Philippe or Vacheron Constantin. This watch costs less than the box for these watches. This helps us get some perspective.
But the most important part, the movement does the job.
The Bracelet
The metal bracelet is generally the part that requires the most resources, and which is compromised with the most when it comes to affordable watches. The
This is also true for the SNK793, but to be honest, we have yet to find a watch at a price of about 100 USD whose metal bracelet tis high quality.
The bracelet of this watch has pressed metal links. These are light and feel rattly. The best way to identify an affordable watch is by feeling its bracelet, and this is true even for this watch.
The good news, however, is that if you want, you can easily change the strap. Plus, if you do decide to wear the bracelet, visually, it doesn't look that bad.
The bracelet has an 18mm lug width, and here, there are countless of different replacement straps to choose from.
The metal bracelet that is on has a deployant clasp featuring dual-side button release which makes taking it on and off a breeze.
Seiko 5 SNK793 Specifications
Diameter: 37mm
Thickness: 11mm
Lug-to-Lug: 43mm
Lug width: 18mm
Movement: 7S26C
Power reserve: 40 hours
Accuracy: -15 ~ +25 sec/day
Frequency: 21,600
Conclusion
The Seiko 5 SNK793 Automatic watch is a timepiece that offers extremely great value for money.
It's by no means fancy, but it is durable, reliable, and of course beautiful!
This watch is the ultimate testament to the fact that affordable does not have to equal "bad" or "low quality". The watch is simple but works. It is very straightforward and simply a nice watch.
The blue dial is really what makes this watch truly special. All in all, this is definitely a watch worth buying.
The Seiko 5 SNK793 is available to order on Amazon.