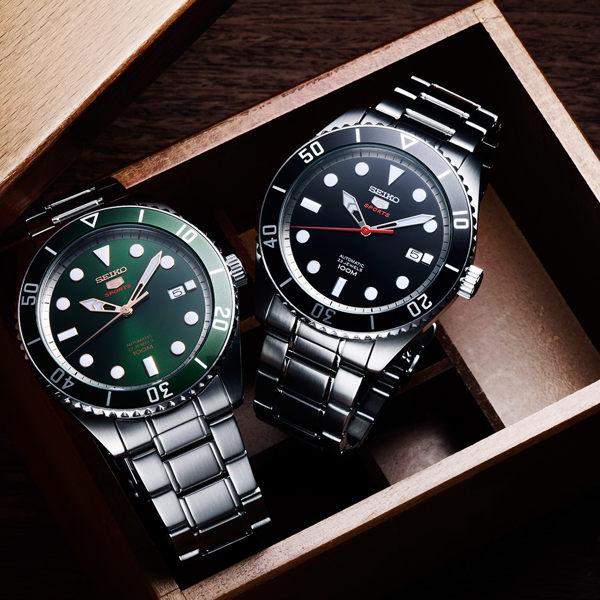 Seiko 5 SRPB91K1 Review & Complete Guide
The Seiko 5 sports collection is one of the most recommended collections of affordable watches, at least if you ask for advice from a watch enthusiast.
The Seiko 5 collection consists of a wide array of watches for all types of occasions, tastes, and preferences. This is also the reason why, in the Seiko 5 collection, there really is a watch for everyone.
Of them all, the sports watches tend to be the ones that are mostly recommended by watch enthusiasts. But regardless of which you choose, they all follow the same ethos and thought process, with the goal of being durable, reliable, and well-built timepieces at affordable prices.
If you are looking for a sporty dive watch with a classic and iconic dive watch design that has a decent water-resistance and a solid build quality, the Seiko 5 SRPB91K1 may just be the watch for you.
Seiko 5 SRPB91K1 review
As an Amazon Associate, we may earn from qualifying purchases, at no extra cost to you.
Already at first glance, you can tell that this is a dive watch. It has many of the classic and iconic design features which can be found in probably the most iconic dive watch in the world – the Rolex Submariner. At the same time, Seiko has taken these iconic design elements and made it into a watch with its own personality and styling. With that said, it combines the best of both worlds, all whilst keeping it classic and timeless.
In this article, we are going to review and look closer at the Seiko 5 SRPB91K1.
Seiko 5 SRPB91K1 case
The watch has a stainless steel case with a diameter of 44mm, a thickness of 13mm, and a 22mm lug width. Having said that, the watch is big, but it is not huge. Since this is a sport watch, most people also want a sporty feel from it on the wrist as well. The watch is therefore primarily popular for men with large or medium-sized wrists.
The case shape and design are simple, clean, and classic. It has a brushed finish on the top, which is then contrasted by polished sides, which also enhance the feeling of quality. What is interesting to note about this timepiece is that it has a crown with notches for improved grip, but it is not protected by crown guards. This is a feature I personally love as it can be seen as a nod to the classic Rolex Submariner, known as the "big crown", which does not have crown guards either.
The catch, however, is the crown is a push-pull and not a screw-down. This naturally has an effect on the water-resistance of this timepiece, and is part of the reason why it is "only" water-resistant to 100M/330 feet/10ATM. This depth rating is not terrible, but a watch needs to have a depth rating of at least 200M to be called a dive watch, and therefore, this can more so be viewed as a sports watch with a dive watch design. Still, having said that, the watch can be worn when swimming, snorkeling, showering, etc, but just not when deep diving or scuba diving. 
This is quite fair considering, firstly its price, and secondly the fact that it is meant as a sporty everyday timepiece for people who appreciate the look of dive watches.
Moving on, the watch has, as a dive watch should, a unidirectional rotating bezel with a 60-minute graduation scale. The bezel is made in steel and has sharp "teeth" around it, which almost remind of shark teeth, and having said that, they certainly add to the sporty look and feel of this timepiece. The bezel has a black aluminum insert on which the minutes are printed in silver.
Sitting on top of the case is a Hardlex crystal, which is Seiko's own proprietary form of mineral glass. Hardlex has proven to be much more scratch-resistant and durable than regular mineral glass, and at this price point, we can't really expect a sapphire crystal, although of course, it would be a nice feature to have due to its scratch-resistant properties.
Turning the watch around will reveal the screw-down case back that is see-through thanks to the Hardlex crystal at the back that it is equipped with. This brings us to the next point.
Seiko 5 SRPB91K1 movement
The watch is powered by the now-legendary Seiko Caliber 4R35. This is an automatic movement which features both hacking seconds and a manual winding function, which are both convenient and handy to have.
Since you can see the movement through the see-through case back, it is important to highlight that this movement is not decorated or finished. And that is not the purpose of this movement, either. The 4R35 is built with functionality in mind and meant to be reliable, durable, and long-lasting. And if you think about it, this is a very suitable movement for this watch. Every sports watch needs a robust movement, and this certainly is one. In fact it is often called a workhorse as it has proven it will continue to tick for years without needing a service. 
The movement has 23 jewels and is a self-winding mechanical movement powered by a rotor. It offers a power reserve of about 41 hours.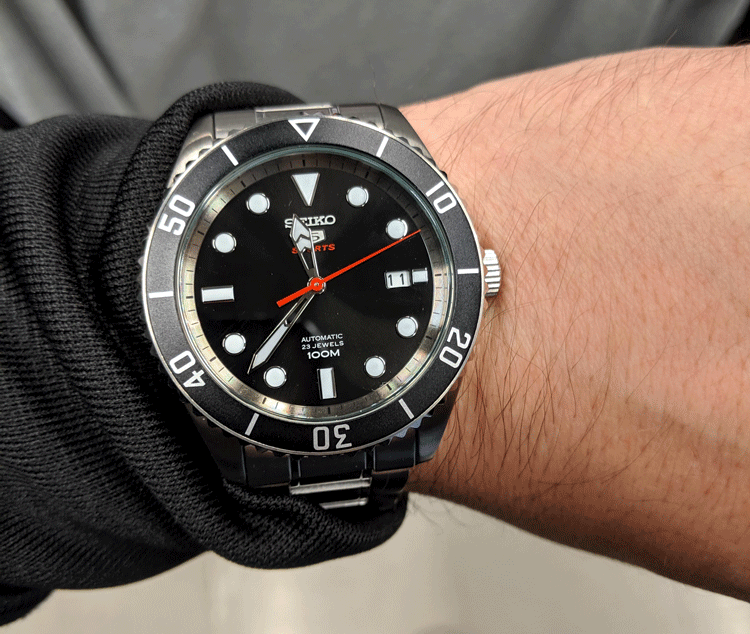 Seiko 5 SRPB91K1 dial
The watch has a classic black dial, but with a lovely sunburst-brushed effect which adds appeal to it, and makes it reflect the light beautifully. In particular when direct sunlight hits it and you are able to appreciate and notice the rich texture and finishing of it.
The dial has applied hour markers which have polished metal frames around them. These, in turn, have applied Lumibirite on them, which together with the hands makes it easier to read the time in low-lit conditions.
Around the outer edge of the dial, the watch has a chapter ring with a steel finish, on which the seconds markers are printed in black. The chapter ring helps add appeal to the watch and give it an additional layer of finishing.
The dial is mostly monochrome, with the exception of two details. The seconds hand is made in a bright red, and to match this, the text "sports" on the dial is also printed in red. This helps make the watch more interesting and certainly also adds to its sporty look. In addition, it has sword-shaped hour and minute hands. These both have a rich amount of Lumibrite applied to them, and from this point to the center of the hands, they are skeletonized which is a nice touch.
At 3 o'clock, the watch has a date window with a white background and black printing. Technically, in a real dive watch, a diver doesn't have to know the date underwater, and therefore, it is more or less pointless, but remember this is built as an everyday watch with a sporty appeal. And with that said, the function can actually be rather convenient.
All in all, the dial is clean and offers easy legibility, which is appropriate for a watch with this type of design. In addition, small details such as at the skeletonized hands and the red accents help make the watch more interesting and appealing.
Seiko 5 SRPB91K1 bracelet
The watch is presented on a stainless steel bracelet with solid links and a push-button deployment clasp. It has a width of 22mm. The bracelet fits the sporty look of the watch quite well. Its mostly satin-finished, but has "lines" of small polished bits on each side of the middle link. But as you probably know, a common "issue" with affordable watches is that the bracelet is often the part that is compromised with the most. With that said, it does have some rattle. It's not terrible, but there are certainly better bracelets on the market. But if you wish to change, this watch also looks great on a strap.
Specifications
Diameter: 44mm
Lug width: 22mm
Thickness: 13mm
Water-resistance: 100M/330 feet/10ATM
Jewels: 23
Movement: Seiko Caliber 4R35
Power reserve: about 41 hours
Conclusion
All in all, the Seiko 5 SRPB91K1 is a clean and timeless diving-inspired timepiece meant for everyday wear. For its price, it offers exceptional value for money, build quality, and is equipped with a reliable and robust automatic movement. It has a sporty look that is surprisingly versatile. Thanks to its almost all-black look, it works discreetly to enhance a formal look, but via its sporty profile, it also works great for casual occasions.
The Seiko 5 SRPB91K1 is available to order on Amazon.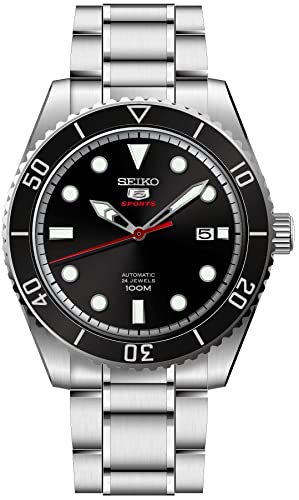 Main Photo: Vincent Watches