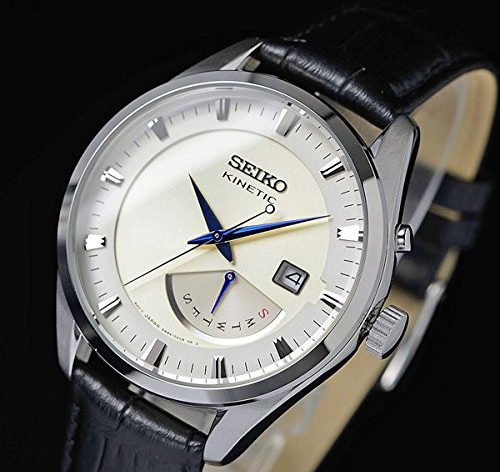 Seiko Kinetic SRN071P1 Review & Complete
When it comes to affordable watches, Seiko is definitely one of the leaders.
Seiko makes reliable, robust, and well-finished timepieces which generally punch well above their own weight in terms of price. The brand has a wide range of timepieces and models to suit any taste and style and wallet. In terms of price span, it varies substantially from less than 100 USD, up to tens of thousands.
But if you are just looking for a classic, simple watch for everyday formal wear which you can rely on, the Seiko Kinetic SRN071P1 could be a watch for you to consider.
A classy and elegant dress watch needs to be clean, refined, and discreet. It also needs to be accurate. The purpose of one is not to steal the show, but rather to complement your outfit.
Seiko Kinetic SRN071P1 Review
As an Amazon Associate, we may earn from qualifying purchases, at no extra cost to you.
Let's call the Seiko Kinetic SRN071P1 an everyday dress watch. It is clean and elegant as a dress watch should be, but it also has some sporty elements and a large enough case to work for everyday wear.
The watch has an affordable price tag, but like all Seiko watches, it punches well above its own weight in terms of quality and finish.
First of all, where does the name "Kinetic" come from and what does it mean?
In Seiko's own words, Kinetic is a platform of Kinetic movements. These movements convert kinetic movement into electrical energy. Quite a clever technology, but we'll go more into detail about the movement further on.
In this article, we are reviewing and looking closer at the Seiko Kinetic SRN071P1.
Seiko Kinetic SRN071P1 case
The watch is presented in a stainless steel case with a diameter of 43mm. The case also has a thickness of 11mm. Generally speaking, dress watches tend to be on the smaller side, and often not larger than 40 in order to slip under the cuff easily and not stand ut. But the fact that Seiko made this watch larger just goes to show that Seiko's idea of this watch was to make it an elegant everyday watch that also works on formal occasions. At the same time, some people have complained that this watch is slightly too big, and it is easy to see where this feedback is coming from.
The actual case shape and design are simple and clean. It has brushed lugs and polished sides. The bezel is thin and polished, which allows for a large dial, and thus also good legibility. A small but not completely irrelevant detail is that the inside edge of the lugs is slightly beveled and polished, which enhances the look and feel of quality.
The glass sitting on top of the case is slightly domed which adds appeal to the watch and helps with legibility.
At 3 o'clock, it has a crown with notches which improves grip and makes it easier to operate. The crown is a push-pull. Despite this, the watch offers a water resistance of 100M/330 feet/10ATM, which is quite interesting. The reason for this is that after all, this is a dress watch that isn't really meant to be in contact with water. A water resistance of 100M is enough for swimming and even snorkeling, just not deep diving and scuba diving. It's nice to have that security against water, but most people likely will not come closer to water than when washing their hands. In addition to this, it has a push crown above the crown.
If you turn the watch around, you'll be able to see the movement through the see-through case back. The movement is not decorated, but it's still nice to be reminded of the beautiful piece of craftsmanship and innovation that has gone into making this movement.

Seiko Kinetic SRN071P1 movement
Now to the most interesting part of the watch – the movement.
Seiko's Kinetic movement technology was first presented as a prototype at the 1986 Basel Fair. In 2007, Seiko reached total sales of over eight million Kinetic watches.
What is this movement?
This is a quartz movement that is powered by kinetic movement. This means the battery of this watch is actually charged as you are wearing it, similar to the technology of automatic mechanical watches. The only difference is that instead of generating mechanical energy for the mainspring, it is converted to electricity and stored in the battery. A very clever technology that removes the need for having to replace the battery. This is good for the environment and your convenience!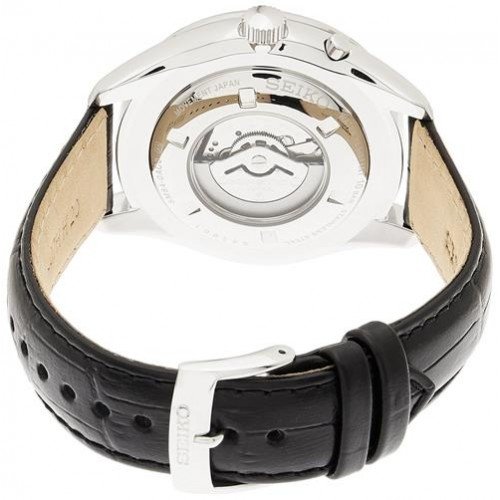 Seiko Kinetic SRN071P1 dial
The watch has a large dial thanks to the thin bezel. It has a lovely white/cream color with a slightly matte textured finish. The dial has plenty of details which goes to show that Seiko has really paid attention to the details.
The dial has a broad chapter ring which is slightly raised above the center of the dial. On the chapter ring, the watch has polished metal hour markers applied which have a beautiful shape and finish. Having said that, they reflect the light beautifully and create a stunning light show. Between each hour marker, the dial has seconds markers printed in black. The highlight of this watch in my opinion is that it uses raised and recessed elements to create a beautiful depth which really enhances the watch's impression and feeling of quality. The dial is kept relatively clean apart from a day and date function. The day window is positioned at 3 o'clock and has a metal frame around it which makes it look really sleek and premium. What stands out about this watch is its day function right beneath it which has a small blue hand that points to a letter that resembles each day of the week.
The day window is also recessed and has a metal "frame" around the bottom of it.
Having said that, it has two functions that are very convenient for a watch that is to be worn for everyday wear.
The watch has blue hands made in a dauphine shape. The blue hands against the cream dial look really great and keep it from looking monochrome and too boring.
Seiko Kinetic SRN071P1 strap
The watch is presented on a black embossed leather strap with a polished steel buckle.
Again, the fact that this watch is presented on a leather strap shows that Seiko's concept of this watch is to be more of a dress watch. And one thing is for sure, it makes the watch look more dressy and classy.
Specifications
Thickness/height: 11mm
Diameter: 43mm
Water-resistance: 100M/330 feet/10ATM
Movement: Quartz Kinetic movement – powered through kinetic energy
Conclusion
All in all, the Seiko Kinetic SRN071P1 is an elegant timepiece made for formal occasions, but also works for everyday wear. Its highlight is definitely the dial design and the impressive attention to detail that it has through all of its intricate and well-finished details. In addition, it is equipped with a movement that has really interesting technology and innovation built-in which generates energy to the quartz movement through kinetic energy, which is actually very uncommon.
With its price in mind, it offers exceptional quality and finish and is perfect if you are looking for a classy and elegant timepiece.