Seiko 5 sports "Bottlecap" SRPC61 Review & Complete Guide
Seiko is perhaps most known for its affordable automatic sports and diving watches, although its collection of timepieces has grown to include a wide array of models for all kinds of occasions, in recent years and decades.
With that said, the Seiko 5 collection is probably the most iconic sports collection from the brand as It offers everything people have come to associate the brand with:
Automatic watches that are sporty and robust, at affordable prices, yet which are still built to a quality and finish that trumps many of its competitors in the same price range.
Seiko 5 "Bottlecap" SRPC61 Review
As an Amazon Associate, we may earn from qualifying purchases, at no extra cost to you.
"Bottle cap" or "Bottlecap" is a nickname given to this watch to its design's reminiscence of a bottle cap. It's that simple. The cone-shaped case together with its notched bezel gives it this distinct look.
The watch is, as the name suggests, part of the Seiko 5 sports collection, which essentially is Seiko 5 watches which are slightly more sporty and durable than the standard Seiko 5 watches. However, it of course meets the 5 criteria for the Seiko 5 watches.
Your first impression about this watch will maybe be its unique and sporty design, and obviously its reminiscence to a bottle cap. At the same time, it gives a reassuring impression that it won't let you down. Not when you are diving, not during harsh conditions. This watch is built to last, but it is also offered at an affordable price. Sounds very interesting, doesn't it?
In this article, we are reviewing and looking closer at the Seiko 5 sports "Bottlecap" SRPC61.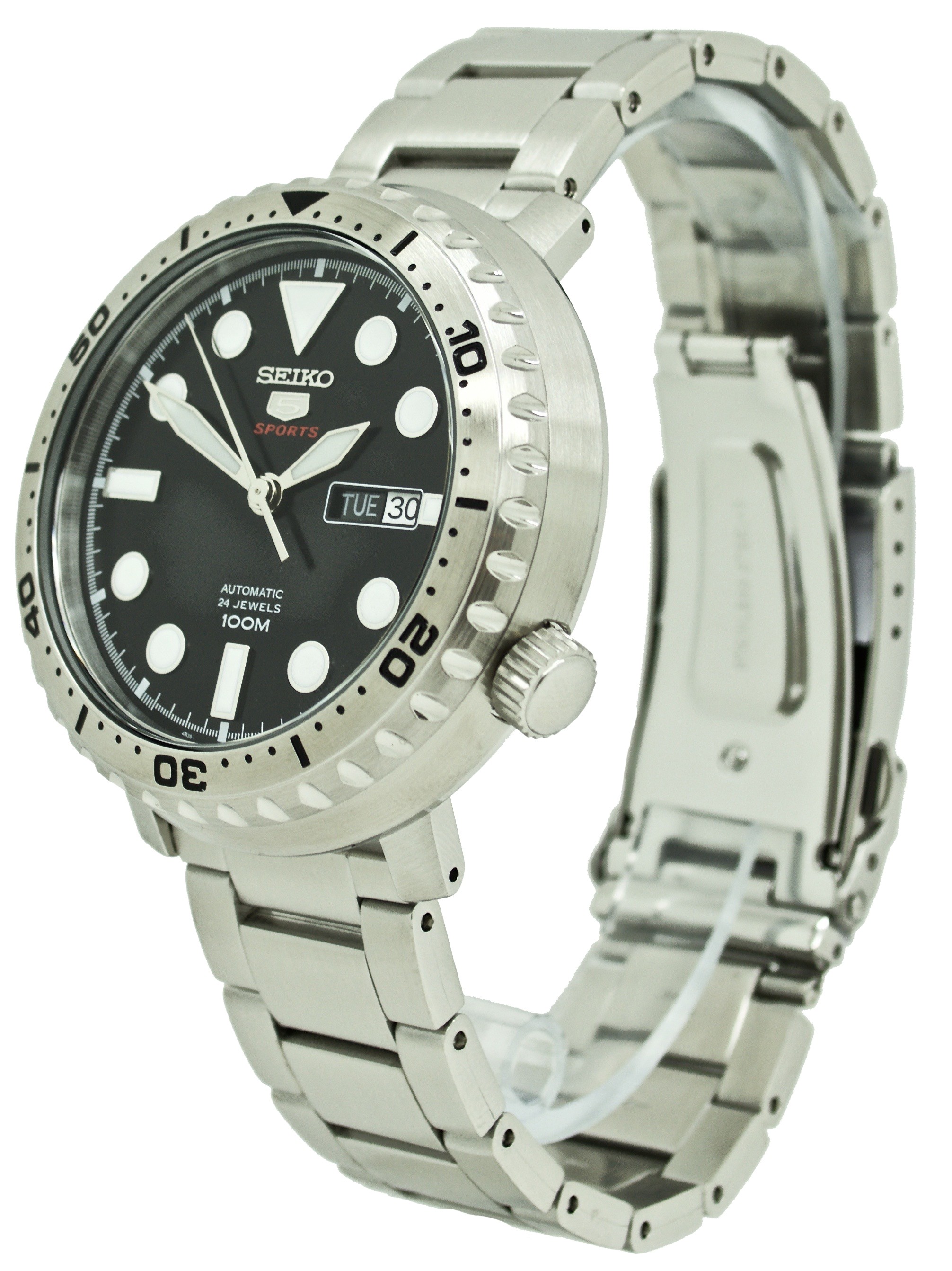 Seiko 5 "Bottlecap" SRPC61 case
The SRPC61 is presented with a stainless steel case with a diameter of 45mm and a lug-to-lug measurement of 47mm. The thickness measures in at 13mm and the lug size is 20mm.
With that said, it is, as you would expect a large and hefty watch, but not insanely big to the point that it is not wearable. This is to a large extent thanks to the lugs.
The case has very short lugs that extend from the case, and this makes the watch wear much smaller than what the 45mm diameter may give the impression of on paper. This is also supported by the 20mm lugs and bracelet. The thickness is not substantial at 13mm, which means it can slide under a cuff without any issues. 
Its bold case design may be intimidating for some, but this watch is really worth a shot because how it wears may surprise you. It's not like the ordinary watch case, because the majority of the watch property is made up of the actual case. 
The angled lugs also help with a more comfortable and snug fit on the wrist.
Since this is, after all, a sports watch, it is completely satin-finished.
As a dive watch should, it is of course equipped with a unidirectional rotating bezel with 60-minute graduations. The bezel rotates with 120-clicks for a full rotation. Its notches allow for a better grip and easier operation. The bezel is made in full stainless steel as opposed to an aluminum insert which is otherwise quite common. The bezel has a brushed, satin-finished effect, and the 60-minute graduation markers are printed on it.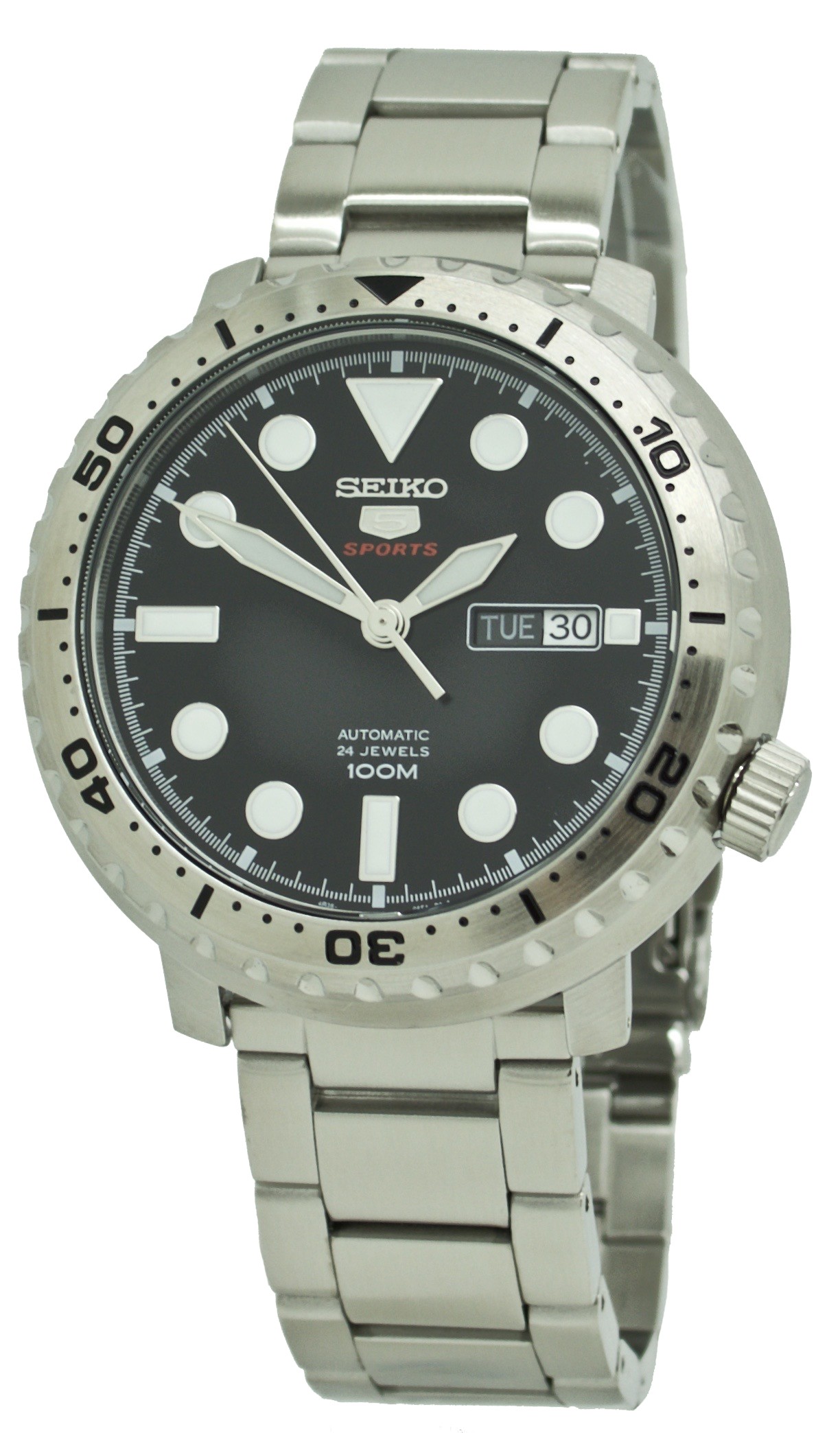 The watch offers a water-resistance of 100m/330 feet. The water-resistance is ok, but it is not advised to submerge it underwater for long periods of time, and it is not suitable for diving with. Have in mind that in order for a watch to be designated a dive watch, it needs to have a water-resistance of at least 200m. But still, the 100m water-resistance is not a huge let-down considering its affordable price point.
One of the reasons it does not have a better water-resistance is its the fact that it doesn't have a screw-down crown. This is also what makes you want to be careful about this watch seeing the fact that you don't have the reassurance of a tightly locked crown. With that said, it is a push-pull, and it is positioned at the 4 o'clock position. It does not have any markings, but it does have a coin edge which helps with the grip.
Sitting on top of the case, Seiko has opted for its proprietary Hardlex crystal. Whilst it would be nice to have a sapphire crystal, at this price point, it's really not something we can expect or demand.
Seiko 5 "Bottlecap" SRPC61 dial
The watch is presented with a sporty black dial. Around the dial, we have a vertical chapter ring, and inside of this, the split-seconds are printed in white, with each five-minute marker being more pronounced.
The dial is monochrome apart from one (Actually two) tiny details. Firstly, the text "sports" below the Seiko 5 logo which is applied on the dial, and secondly, the Sunday day indicator, but this is of course only visible on Sundays. With that said, you'll find a day and a date window positioned at 3 o'clock. These are of course two very convenient functions to have in an everyday watch. An interesting detail is that the day and day indicator use opposite backgrounds. The day indicator has a black background and the date indicator has a white background.
As a watch of this type should. it has large hour markers and hands. In this watch, the hour markers are applied with metal frames around them, filled with Lumibrite. The hands are sword-shaped and provide a great contrast against the black background. 
The dial has some text on it, but it doesn't feel cluttered. We have an applied Seiko logo, applied 5 logo, "sports" printing at 12 o'clock, and then beneath the center of the hands, we have "Automatic", "24 jewels", and "100M" printed in white.
The luminescence of this watch is actually quite good. Despite not being a full-on dive watch, it glows brightly and long.
Seiko 5 "Bottlecap" SRPC61 movement
Inside the watch, we have the in-house Automatic Seiko caliber 4R36A. Interestingly enough, Seiko has opted for a see-through case back, allowing you to see the beating movement inside. Whilst the movement is not decorated, it will be especially appreciated by watch enthusiasts as it reminds of the complex piece of mechanical craftsmanship inside.
The movement has 24 jewels and both manual-winding and hacking seconds. It operates with a frequency of 21600m BPH and the power reserve is 40 hours.
The movement is sturdy and robust and has proven to be a workhorse movement. It will continue to tick for years (even decades) without needing much or any maintenance.
Seiko 5 "Bottlecap" SRPC61 bracelet
As mentioned, the bracelet has a width of 20mm. With this diameter, it wouldn't be surprising if Seiko chose a 22mm lug width, but they didn't.
The watch is presented on a stainless steel bracelet, which looks quite good and goes very well with the design of the watch. A common "issue" with affordable watches, however, is that the bracelet is generally the part that is compromised with the most, and this also applies to the SRPC61. It has a double-lock folding clasp for security. The clasp has 4 micro-adjustment points that help you find the ultimate fit.
The bracelet does have some rattle which affects its impression of quality. An important reason for this is the fact that it has folded links as opposed to solid. Another thing that reveals its more affordable build quality is that the links have split pins rather than screws or even a pin-and-sleeve construction.
Specifications
Crystal: Hardlex
Caliber: in-house automatic Seiko-Caliber 4R36A
Jewels: 24
Water Resistance: 100 m/330 feet
Diameter: 45 mm
Thickness: 13 mm
Lug width: 20 mm
Lug-to-Lug: 47 mm
Conclusion
All in all, the Seiko 5 "Bottlecap" SRPC61 is a fun and unique sports watch with a different design, but also with solid and robust build quality.
At its core, it is a robust and durable sports watch that you can rely on in many kinds of harsh conditions. With that said, it is a watch for people who enjoy sports watches and dive watches but want something new and different that doesn't look like every other sport watch out there.
Worth noting is that Seiko has 4 different references in its "Bottlecap" line, which include the references SRPC63, SRPC65, SRPC67, and obviously the SRPC61, which we have looked at in this article.
At this price point, and with the mentioned performance, it's safe to say that the SRPC61 really offers great value for the money