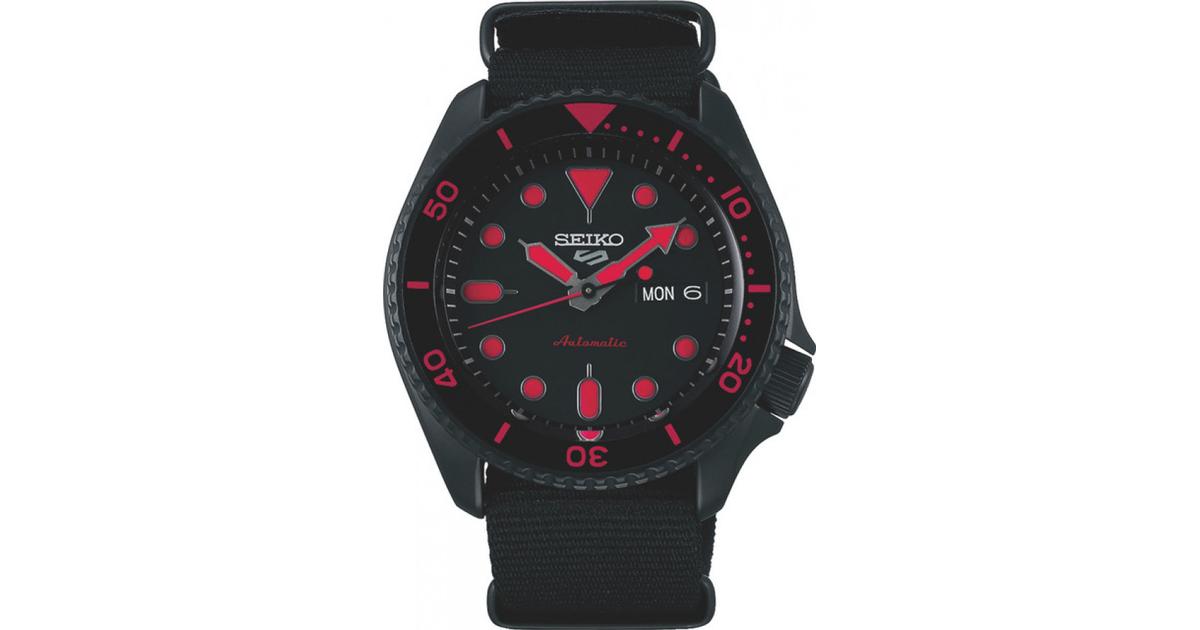 Seiko 5 SRPD83K1 Review & Complete Guide
The Seiko SKX is one of the most popular, if not the most popular affordable automatic watches in the world. The Seiko SKX has been in production for several decades and has established an almost cult following. But in 2019, Seiko discontinued the SKX and replaced it with a big new collection of numerous watches. This is of course the Seiko 5 SRPD collection.
As the successor of the SKX, the SRPD has big shoes to fill, but the good news is that Seiko has at least made a large number of different designs and versions so you should be able to find one that suits your style.
Seiko 5 SRPD83K1 review
As an Amazon Associate, we may earn from qualifying purchases, at no extra cost to you.
In this article, we are reviewing and looking at the Seiko 5 SRPD83K1 in detail. Already at first glance, you'll be able to tell that this is not your ordinary, classic, dive watch. Instead, it has a very unique and distinct style with an all-black look, contrasted by bright and bold pink-is accents. With that said, it is not a watch for everyone.
At its core, it still retains the classic design features of the SKX, on which it is based, but it executes it with a twist. Everything from the dial to the case, to the bezel design, are all features that you will recognize in an instant if you are familiar with the SKX.
Most important, of course, is the fact that the SRPD83K1 is an "upgrade" to the SKX, and this obviously means improved mechanics. And yes, this is where Seiko has put a lot of focus on implementing a new and better movement, but more on this further on.
Without further ado, let's look at the Seiko 5 SRPD83K1 in detail.
Seiko 5 SRPD83K1 case
As mentioned, the case design will feel very similar in case you are familiar with the SKX.
The case has a diameter of 42.5mm, a thickness of 13.4mm, and a lug-to-lug of 46mm. It is made of stainless steel. Positioned at the classic 4 o'clock position, we have the crown. The crown sits protected by crown guards which extend from the case. Worth noting is that on the SRPD83K1, compared to the SKX, the crown is push-pull and not screw-down. This means the water resistance of this watch is actually poorer, at 100m/330 feet. In other words, it does not meet the standards of a dive watch, which is 200m. But this isn't a huge deal, because it's not meant as a dive watch anyways – although more water resistance is always nice.
But still, 100m means that you can go swimming without any issues.
Now back to the case, and what you will first notice is of course the fact that it is PVD treated and has an all-black look. PVD coating has become more popular in recent years, and Seiko has started using it for a number of its watches, so it's not surprising. But the PVD coating is a bit of a hit or miss, because either you like it, or either you don't. What the black coating does, however, is give it a sporty and distinct look. In fact, it gives it more of a casual look, and therefore, it makes this watch more of a casual everyday sports watch.
Continuing on the SKX theme, it of course has a unidirectional rotating bezel with 60-minute graduation markers. Just like the case, the bezel is PVD treated, and the bezel insert is also black except for the markers which have actually been made in pink. Naturally, the bezel matches the case very well and gives it an aggressive and sporty look, yet still stays true to the original, although it is in fact, not a dive watch.
What's also new about this watch is the fact that it has a see-through case back which allows you to see the movement beating inside – but more on this further on.
Lastly, unsurprisingly, the watch uses Seiko's proprietary Hardlex crystal on top. This doesn't really come as a surprise, considering at this price point, sapphire crystals are not something that we can take for granted.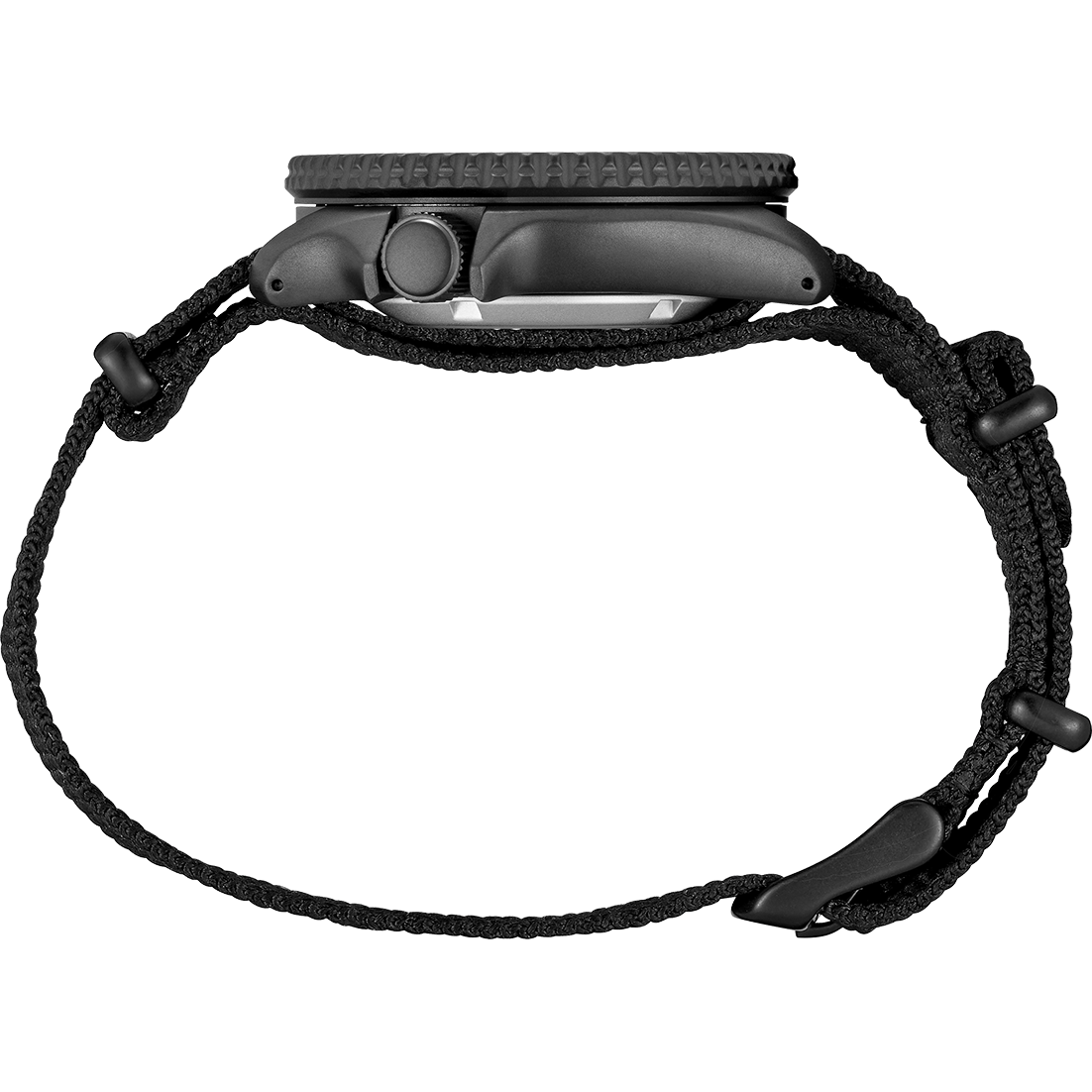 Seiko 5 SRPD83K1 dial
The dial layout will feel very familiar to the SKX, but what makes it stand out is of course its use of colors.
The watch has a black dial and a black angled chapter ring around the edge of the dial on which the seconds markers are printed. The dial has, as always, applied hour markers, and the hands have the classic arrow and pointy tip.
What makes this watch stand out is the fact that Seiko has decided to use pink-colored Lumibrite (luminous mass) for both the markers and hands. This is a very unorthodox choice, so naturally, it certainly stands out from the ordinary.
The use of pink, contrasted by all-black is not something that will appeal to everyone, but it will, however, give a very distinct and cool look.
As always, we also have a day and date window positioned at 3 o'clock. This is always a nice feature to have in an everyday watch, and by now also an iconic element of these Seiko watches.
Despite the fact that the dial uses such an eye-attacking color as bright pink, the legibility is still rather good due to its black background.
Seiko 5 SRPD83K1 movement
The movement has also been upgraded from the SKX. The SRPD83K1 is powered by the in-house automatic Seiko caliber 4R36. This movement beats with a frequency of 21600BPH and has a power reserve of approximately 41 hours. It has 24 jewels.
This movement is, as we have come to expect from Seiko, robust, durable, and reliable. But most importantly, it now features manual winding and hacking seconds functions – both of which did not exist in the movement that was used in the SKX, so this is a big improvement.
Furthermore, as mentioned, the watch is equipped with a see-through case back which allows you to see the automatic movement beating inside. Have in mind, however, that at this price point, we can't expect the movement to be decorated to perfection. In fact, it is not decorated. It simply has an industrialized and tool-like look. This is completely fine because it is still nice to be reminded of the mechanical piece of craftsmanship beating inside.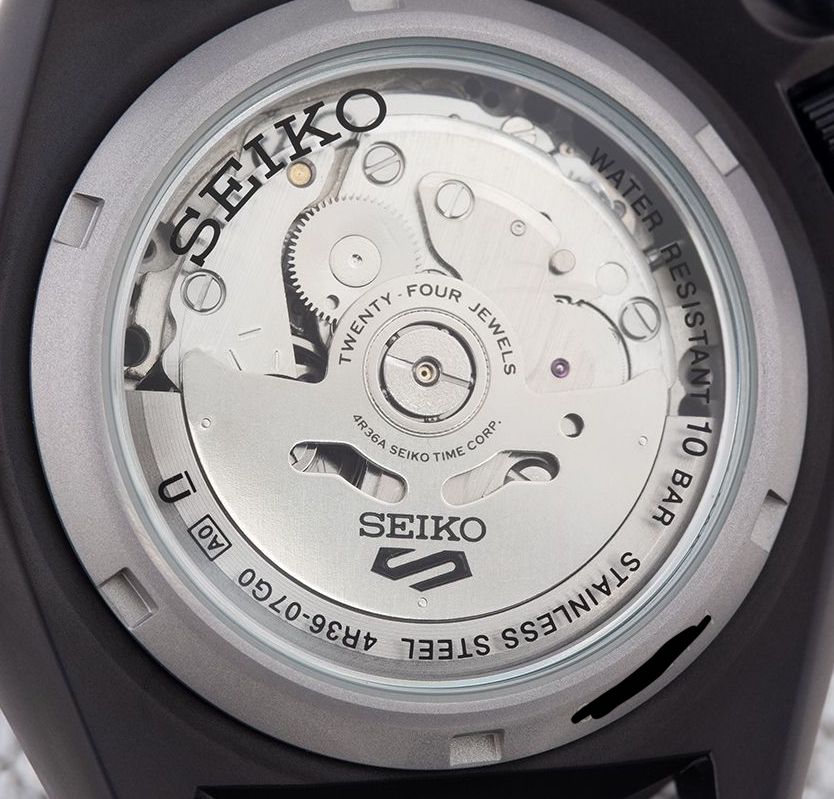 All in all the movement is a workhorse that will continue to tick for years without much or any service and maintenance.
Seiko 5 SRPD83K1 strap
The watch is presented on a black NATO strap. This matches the all-black look of the watch very well. It is also good because generally when it comes to affordable watches, the bracelet is the part that is compromised with the most. Metal bracelets on affordable watches tend to have some rattle and can feel a bit cheap. Seiko dodges this by using a NATO strap, which we think is a clever move.
The NATO strap is comfortable, easy to size, and of course, looks casual and stylish.
Specifications
Thickness: 13.4mm

Diameter: 42.5mm

Length: 46mm
Water resistance: 100m/330 feet
Jewels: 24
Movement: Seiko in-house automatic caliber 4R36
Crystal: Hardlex
Case: Stainless steel, PVD coated
Conclusion
The Seiko 5 SRPD83K1 is a watch that certainly isn't for everyone. It has a bold and unique look with its all-black appearance contrasted with bright pink accents. At the same time, it stays true to the classic design of the SKX, which so many people have come to love and appreciate. The case design, dial layout, and bezel execution are more or less the same, so in that sense, it will feel very familiar. It is just that it has been spiced up and given some new "makeup"
Regardless if you like this exact look or not, it's no secret that this watch offers great value for money. It is robust, durable, and powered by a reliable automatic movement. The finish is good for the price, and it is built to last.
If you like the watch but not this exact execution, Seiko has a number of other versions, so you can be sure to find one you like.