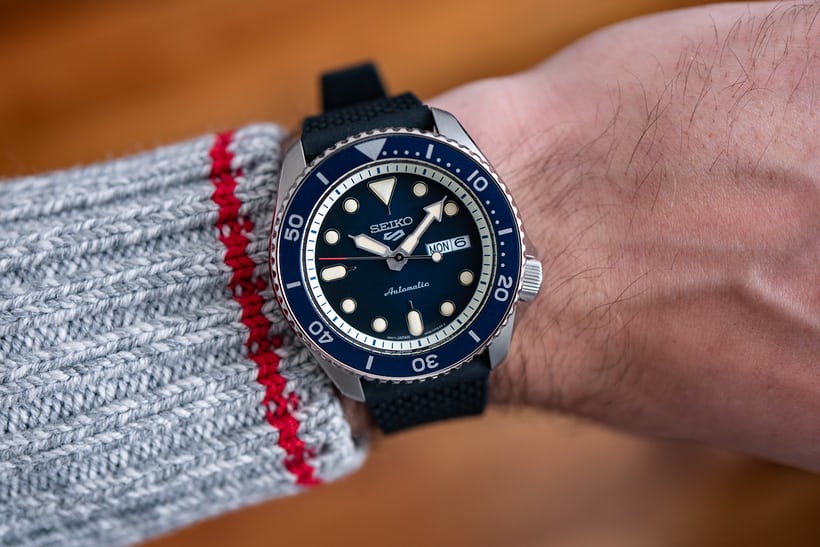 Seiko 5 SRPD93 Review & Complete Guide
If you are looking for a sporty and elegant dive watch with a classic design and a robust quality, the Seiko 5 SRPD93 may be the watch for you.
In 2019, Seiko presented a new Seiko 5 collection of diver-inspired watches. However, this collection would almost mean the end of the legendary SKX collection, which has established itself as an icon, and one of the most popular entry-level automatic dive watches in the world.
Having said that, discontinuing an icon is always a sensitive topic. Firstly, people go missing on a watch they love and appreciate, and secondly, to then have something inferior replace is not really an attractive trade-off.
But the good news is that with the new SRDP Seiko 5 collection, Seiko manages to capture the key design features and elements that people have come to love, but then refine and improve its finish, build-quality, and durability. Seiko succeeded very well in doing this and capturing the ethos and essence of the SKX predecessor, and therefore, the new Seiko 5 dive watch-inspired collection has been well met.
When Seiko released the new collection, it presented 27 completely new watches. One of which is the Seiko 5 SRPD93.
Seiko 5 SRPD93 Review
As an Amazon Associate, we may earn from qualifying purchases, at no extra cost to you.
The Seiko 5 SRPD93 has a dive-watch inspired design and remains true to the original. It is clean, sporty, and combines a blue dial with bezel, and finishes it off with a rubber strap. It's easy to see why people who enjoy dive watches will enjoy this watch. And with its rubber strap, it embraces the marine design, making it a perfect summer's watch.
In this article, we are reviewing and looking closer at the Seiko 5 SRPD93.
Seiko 5 SRPD93 case
The Seiko 5 SRPD93 has a stainless steel case with a diameter of 42.5mm and a lug-to-lug measurement of 46mm. The case has a thickness of 13.4mm. This is built as a diver-inspired sports watch, and therefore, the case is built to be somewhat sporty and tool-like.
The watch offers a water-resistance of 100m/10ATM. The predecessor SKX had a water-resistance of 200m, so how is this possible? Well, one of the reasons is the fact that the new SRPD93 has a push-pull crown instead of a screw-down crown. Seiko's reasoning for this was likely that most people do not go deep diving with their watch, and in these cases, a water-resistance of 100M is generally more than you need. With this, you can go swimming and diving but not deep diving.
The predecessor was ISO certified, but because the SRPD93 does not have a screw-down crown, it is not certified.
The lugs on this watch are relatively short, and overall, the case design is almost identical to the SKX. The lugs are polished on the top and the sides are polished. The crown guards are seamlessly integrated into the case and keep the knurled crown protected.
 Sitting on top of the case is a Hardlex crystal. This has proven to be more scratch-resistant than regular mineral crystal. A "downside" is that this watch does not have a sapphire crystal, but if it would, the price would have been higher, so the question is if the trade-off is worth it because Seiko's proprietary Hardlex crystal is still pretty tough.
Being a dive watch, the Seiko 5 SRPD93 is equipped with a unidirectional rotating bezel. The bezel sits tall on the case and allows easy access from all sides due to its design. The sides of the bezel are knurled to provide better grip and easier operation, The bezel has 120 clicks. It features a blue aluminum insert with 60-graduation markers printed in silver.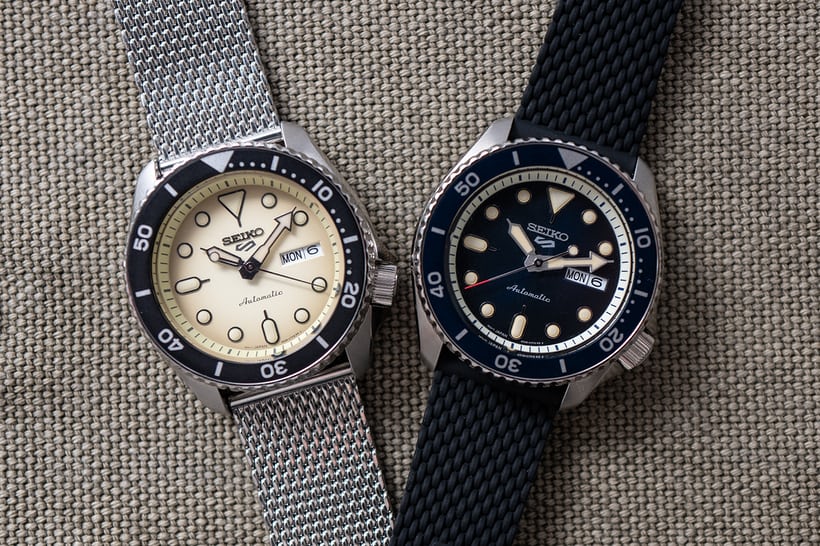 Main photo by: Hodinkee
Seiko 5 SRPD93 movement
The watch is equipped with the automatic mechanical Seiko Caliber 4R36. This movement is a huge improvement from the caliber that was used in the predecessor, the 7S26.
The two main improvements with the new movement are the fact that it has hacking seconds and manual winding function. These were to feature people were lacking in the previous model, and now finally Seiko has listened. The movement beats with a frequency of 21,600 bph and has a specified accuracy of about +45 to -35 secs/day (but many owners have reported much better performance than that). Plus, if you want to improve the reliability, you can also have a watchmaker regulate it.
The movement has a power reserve of 41 hours and uses 24 jewels.
If you turn the watch around, you will be able to see the movement beating inside through the see-through case back. Bear in mind that this movement is not finished nor decorated, but that is not the point, either. Some may be disappointed by this fact, but the 4R36 is built for form and function. This is also why it has come to be known as a workhorse. This watch will continue ticking year after year without the need for a service. It is build to last and to handle harsh conditions. Just like you expect a sports watch to do.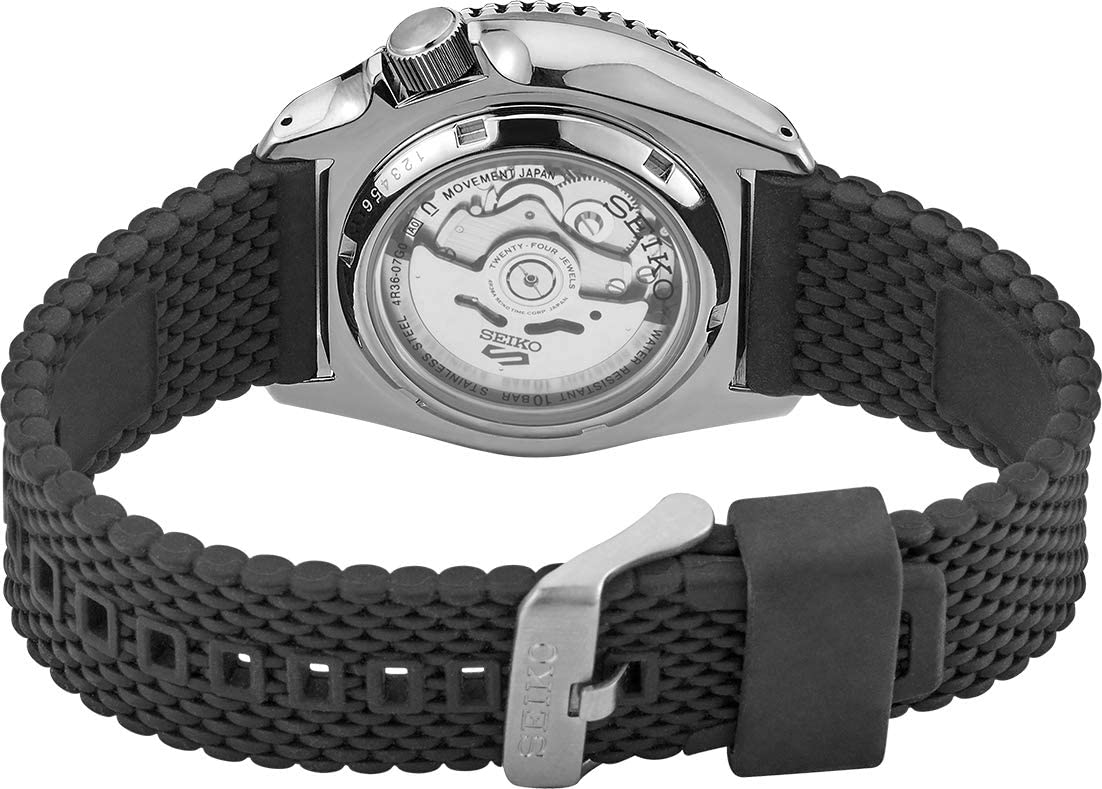 Seiko 5 SRPD93 dial
Seiko has made a lovely dial for the SRPD93. The dial is blue but has a fumé style which means it goes from dark blue at the outer edges, to a lighter blue in the center of the dial. This effect makes for a really vibrant and lively dial which makes the watch so much more appealing and keeps it from being boring. In addition, the dial has a slight sunburst effect which makes the dial reflect the light beautifully.
Around the outer edge of the dial, the watch has a chapter ring in white with the seconds markers printed in blue. The chapter ring provides a nice contrast against the dial and bezel. It also adds some extra depth to the dial. This is really a great summer watch.
At 3 o'clock on the dial, we have the classic day and date window in true Seiko 5 fashion. The watch has applied metal markers with a cream color. Faux patina is something that splits opinions, and either you like it or you don't, but it does add warmth to the dial and a slight vintage touch. The metal frame around the dial enhances the watch's feeling of quality and finish. The watch has large minute and hour hands, also with a rich amount of Lumibrite (Seiko's proprietary luminous material) which allows it to glow long and bright in the dark.
The seconds hand is made in metal and has a red tip. This creates a nice contrast against the rest of the dial design and adds a touch of color.
Seiko has kept the dial printing at a minimum and only added the Seiko logo, the Seiko 5 logo, and the text "Automatic".
Seiko 5 SRPD93 strap
As mentioned, the Seiko 5 SRPD93 is presented on a rubber strap. The strap is black and has a mesh-style pattern on it. This rubber strap design reminds of Breitling's rubber strap for the Superocean, which also has the same design. Plus, it is also no secret that Breitling is perhaps most associated with mesh bracelets.
It is a great choice that Seiko fits this watch on a rubber strap as opposed to a metal strap. Firstly, rubber straps look great on dive watches, including this one.
Secondly, when it comes to affordable watches, the bracelet is often the part that is compromised with the most. This includes things like hollow end links and hollow links which results in a rattly bracelet. The downside of this is that the low-quality bracelet damages the experience and impression of the watch. A low-quality bracelet gives the impression that the whole watch is low quality.
Having said that, rubber straps are much cheaper to manufacture and don't require as much attention to detail as a metal bracelet. Therefore, the rubber strap sits comfortably on the wrist and also looks great in our opinion. There are some people who do not enjoy rubber straps, and if you are one of those, you'll be happy to hear that this watch looks great on a number of different straps, including NATO. And the lug holes make switching straps easy.
Specifications
Movement: Seiko Caliber 4R36
Lug width: 22mm
Diameter: 42.5mm
Lug-to-lug: 46mm
Thickness: 13.4mm
Jewels: 24
Frequency: 21,600 bph
Power reserve: 41 hours
Crystal: Hardlex crystal
Water-resistance: 100m/10ATM
Conclusion
All in all, the new Seiko 5 diver collection has proven to be extremely successful and well-received.
Discontinuing an icon such as the SKX is always very sensitive, but Seiko succeeded well in giving their audience a good substitute.
The Seiko 5 SRPD93 is one of many new watches in the new collection, but it is a classic in design. It is clean, toned-down, but has enough details and colors to keep it from being boring. As you would expect from a Seiko, it offers exceptional value for money with a robust automatic workhorse movement, a great finish, and robust case design. You really cannot go wrong with the SRPD93 if you are looking for a timeless and stylish dive watch.
The Seiko 5 SRPD93 is available to order on Amazon.

Main photo by: Hodinkee