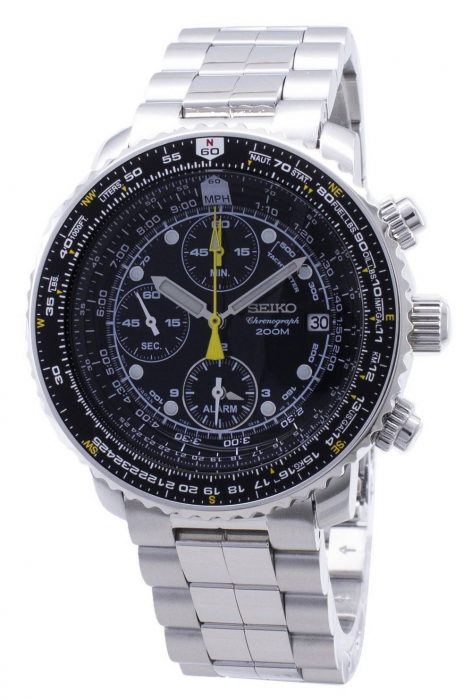 Seiko Flightmaster SNA411P1 Review & Complete Guide
When it comes to affordable watches, there are few brands that have the same respect as Seiko. The Seiko Flightmaster SNA411P1 is one of those watches. It is bold, sporty, technically advanced, and of course rather good-looking.
In this post, we are reviewing the Seiko Flightmaster SNA411P1 and looking at it up close in detail to understand why this watch is so popular.
Seiko Flightmaster SNA411P1 review
As an Amazon Associate, we may earn from qualifying purchases, at no extra cost to you.
When you think about Seiko, The Seiko Flightmaster SNA411P1 is perhaps not the traditional Seiko watch that first comes to mind. This watch is big, bold, sporty, and rather unique. 
But what makes it so special is also what makes it so popular.
Seiko Flightmaster SNA411P1 case
Firstly, from the get, it's very evident that the Seiko SNA411P1 is a big watch. It has a diameter of 42mm and 46mm including the crown. With a thickness of 13mm, it does not sit awfully high on the wrist – something that can also be attributed to the relatively flat case back.
The size of this watch is something that needs to be experienced and may be misleading on paper. The lugs of this watch are very short, with a lug-to-lug length of 44mm, whilst at the same time, the text on the dial goes all the way out to the very edge. This means that due to its large dial, the watch is perceived to be larger than how it actually wears. All in all, the watch wears almost like a 40mm.
This Seiko Flightmaster has a lug width of 21mm.
In terms of case finishing, this watch is very much a story tool watch. The lugs are brushed at the top, and the case is polished on the sides in order to create a nice contrast. Being a chronograph, it also has two pushers placed at 2 and 4 o'clock. These pushers, together with the crown also make the watch appear larger. The pushers are screw-down, and equally so the crown.
What is especially interesting about this watch is that it is, at its core, a professional pilot's watch, but it still offers a water-resistance of 200m, which is standard for many dive watches. Would that mean Seiko has successfully combined the best of both worlds? Perhaps, but either way, this combination is a welcomed one. A bit of water-resistance to keep your watch safe at all times is always a good idea. And in theory, a pilot's watch should be water-resistant in case a pilot has to eject and land in the water. But of course, the likelihood that this would happen is probably close to zero. And we say this because we are living in a time where the closest most dive watches come to water is when the owner wash their hands.
Regardless, the 200-meter water resistance goes well together with the tool-like personality of the Flightmaster.
Moving on to the bezel of this watch, it is bold, big, and of course practical. The bezel is not just there for aesthetics but it also serves a purpose.
The bezel takes up a lot of room on the watch. In fact, the dial is only 32mm, whereas the bezel takes up most of the rest of the space.
The bezel has a sharp sawtooth edge which allows you to operate it with ease and get a good grip. The bezel is actually internal, and the only thing that is external is tits sawtooth edge so that you are able to operate it. The internal bezel is sloped which helps with readability but also to give the watch a greater depth.
The rotating bezel of this watch is a very clever thing. It uses the standard slide-rule which is a mathematical apparatus used back in the days. What this means is that with the help of the rotating bezel, you can perform a large number of different mathematical calculations. All of this can feel very overwhelming at first, but once you understand how it works and what calculations it can be used for, it's definitely a very helpful tool. For easy operation, the bezel is bidirectional.
Seiko Flightmaster SNA411P1 dial
At first look, the dial of the Seiko Flightmaster SNA411P1 feels very busy and cluttered. And yes, it is definitely a busy dial, but at the same time, everything serves a purpose. From the printing around the bezel to the chronograph counters and the printing on the dial.
For people who prefer clean dials, it can feel a bit cluttered, but for those who love a seriously sporty watch, the busy dial adds to the personality of the SNA411P1.
The dial contains so many elements and intricate details, but everything is very well thought-out.
It has both raised and recessed details, matte, polished, brushed. The watch is equipped with Seiko's proprietary Hardlex crystal which is slightly domed. It is not a sapphire crystal, which you wouldn't expect for a watch in this price range, however, it has proven to be extremely durable and scratch-resistant. The Hardlex crystal is made in a way so that it doesn't shatter as sapphire crystals do. This is especially important in a pilot's watch, as the risk of shattering the crystal while flying can be a deadly safety hazard.
Moving on, the watch has three sub-dials, positioned at 12, 9, and 6. Furthermore, it also has a date window placed at 3 o'clock. The small but bright details including parts of the bezel, chronograph hand, and 60-minute sub-dial hand, really stand out and enhance the sportiness of this timepiece.
The watch also has applied round markers that use Lumibrite for legibility in the dark. The hour, minute, and chronograph hand all have applied Lumibrite on them.
Seiko Flightmaster SNA411 Movement and functions
The heart of this watch is where it is at.
It is powered by the caliber 7T62 which is a quartz and battery-powered movement. With all of these functions, a quartz movement was a clever move from Seiko. Now, there will naturally be people who would prefer a mechanical movement, but for this exact watch, we are unsure if it would have been a better move. If the movement would have been mechanical, it would have been less accurate, more expensive, and more complicated to maintain. The Seiko Flightmaster SNA411 has an impressive accuracy, as you would expect.
Being battery-powered, it is reliable and very precise. This is of course crucial for a pilot's watch.
The watch has an alarm and dual-time complication at the 6 o'clock subdial. This is a great function as it means you can use it as a wake-up alarm. To turn it off, you click the pusher.
The chronograph seconds hand moves in a sweeping motion
As mentioned, the bezel is packed with functions and usage areas. Here are the actions you can perform using the bezel:
Calculate multiplication
Calculate fuel consumption
Calculate speed using distance and time
Convert fuel volumes from gallons, liters, and imperial gallons
Convert the weight from pounds to kilograms
Calculate division
Calculate ETA using speed and distance
Calculate square root
Calculate climbing altitude using climbing rate and time
Measure fuel volume in relation to weight
Convert distances, including Nautical miles, statute miles, feet, and kilometers
Measure the climbing rate via time and altitude
Seiko Flightmaster Bracelet
The Seiko Flightmaster is equipped with a stainless steel bracelet that combines both brushed and polished elements.
The bracelet is a three-link bracelet with broad center links and small side links. The center links are polished. At this price point, we shouldn't expect the most robust bracelet in the industry, and that is true for this watch. Generally, the bracelet is often the part that is "compromised" with when it comes to affordable watches, since making a robust and highly well-finished bracelet costs a lot of resources.
With that said, the bracelet of the Seiko Flightmaster does the job, but it has some rattle to it and does not feel 100% robust
However, the so-so bracelet is not an issue since you can easily switch the bracelet for a strap, which many owners of this watch tend to do. It both looks great but also improves comfort.
Seiko Flightmaster SNA411 specifications
Movement: Seiko7T62
Diameter: 42mm
Lug width:21mm
Lug to lug: 44mm
Thickness/height: 13mm
Conclusion
The Seiko Flightmaster SNA411 is a seriously sporty tool watch. At a price of around 300 USD, it is evident just how great value for money this watch is. It is packed with technology and functions and is for that matter also quite well built.
For the money, the Seiko SNA411P1 is a fun and unique piece which despite its larger size on paper is rather universal and can be worn for all kinds of occasions.
If you are looking for something fun and unique, this is definitely a good choice.
The Seiko Flightmaster SNA411P1 is available to order on Amazon.