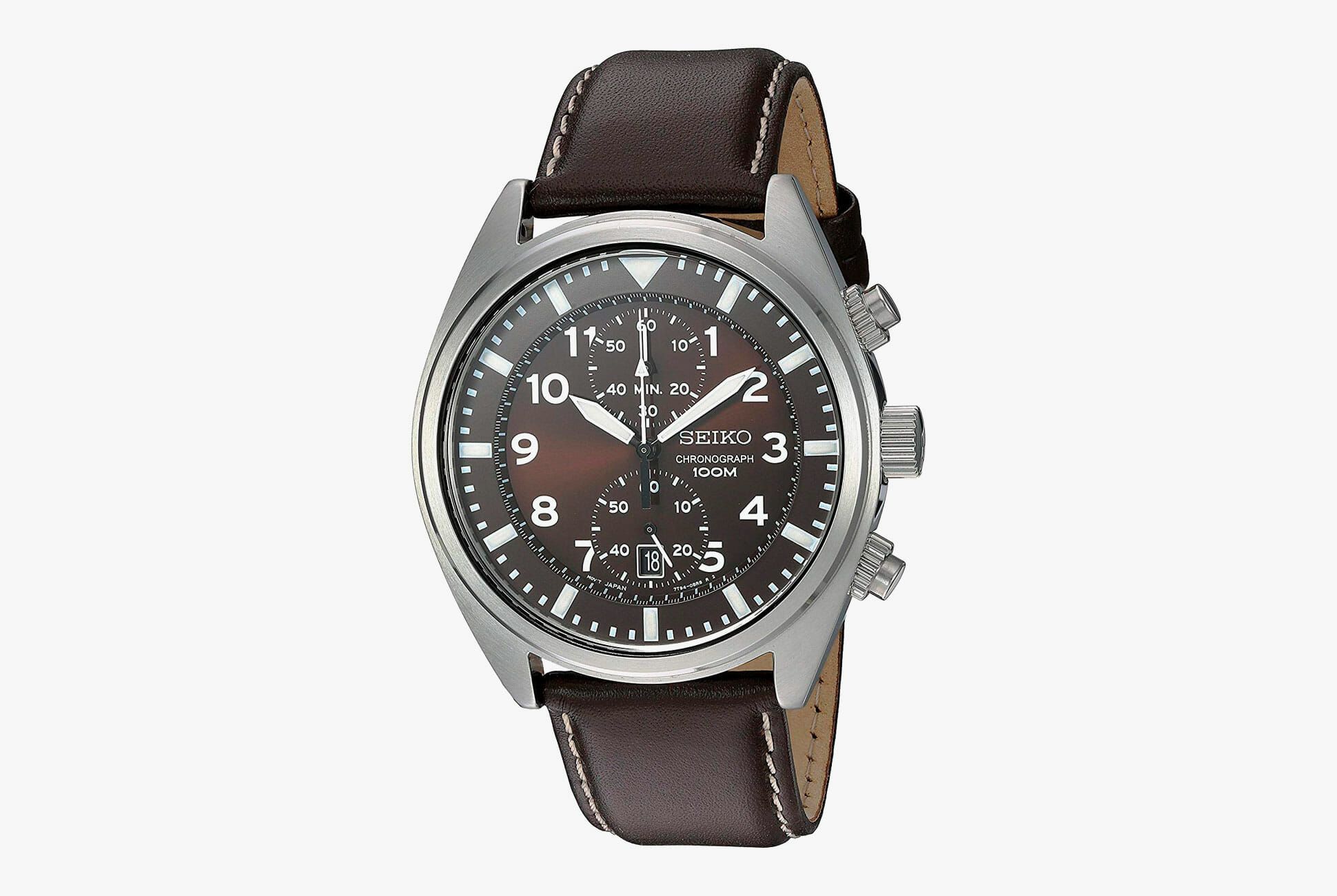 Seiko Chronograph SNN241 Review & Complete Guide
If you are looking for an affordable and qualitative sports chronograph that is reliable and durable, Seiko has a lot to offer.
One of the watches that Seiko offers is the Chronograph SNN241.
This is a watch that – like many other Seiko watches offers great value for money, has a solid build quality, is nicely finished for its price, and overall simply offers exceptional value for money. After all, this is what Seiko has come to be known and appreciated for.
The design is clean, simple, and extremely versatile. What is interesting about this timepiece is that it uses a color that is not very often seen on timepieces, which is brown. But with that said, this watch proves that brown is definitely not a color that should be neglected in the world of watches.
In this article, we are reviewing and looking closer at this timepiece and what it has to offer.
As an Amazon Associate, we may earn from qualifying purchases, at no extra cost to you.
Seiko Chronograph SNN241 case
The watch is presented with a stainless steel case with a diameter of 42mm. The thickness measures 11mm. Since this is a sporty watch, it obviously makes sense to have a slightly bigger and sportier case. At the same time, it isn't huge, but it does have a sporty presence on the wrist and is mainly suitable for men with medium and large wrists.
To achieve a sporty look, the top of the lugs are satin-brushed, just like the bezel. Furthermore, the fixed steel bezel is thin to give room for a large dial and good legibility. For a refined look, the sides of the case are polished. This watch does not have any crown guards which protect the crown which is positioned at 3 o'clock. On each side of the crown, it has chronograph pushers.
The thin bezel design causes the dial and thus the watch to appear bigger on the wrist.
Because of the way the lugs are designed to integrate into the case, they extend to the sides of the case and create a "rounded", slightly curved case design which gives it a slightly retro touch that is reminiscent of classic chronographs like Heuer.
The lugs of the watch are slightly squared off and have a slightly rectangular design.
The watch uses Seiko's proprietary Hardlex material for the crystal, which is to be expected from a Seiko watch in this price range.
Seiko Chronograph SNN241 dial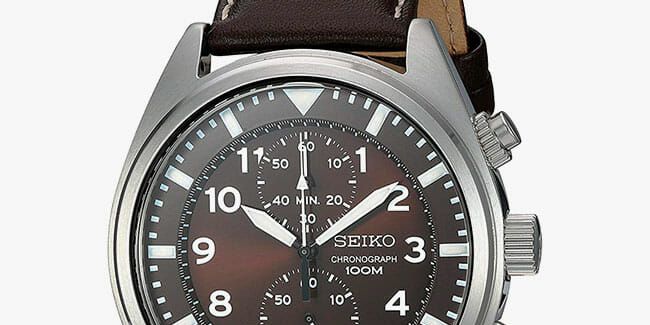 The watch features, as mentioned, a brown dial which gives it a look that stands out from the ordinary. The center of the dial has a lovely, vibrant sunburst finish, but this is only part of the dial, since, around the outer edge of the dial, it has a raised chapter ring which takes up about 1/3 of the dial. The chapter ring adds depth to the dial and makes it slightly more interesting to look at. Printed on the chapter ring, it has large markers in white.
The chronograph sub-dials are positioned at 12 and 6 o'clock and indicate 60 Seconds and 60 Minutes. Inside the 6 o'clock sub-dial, it also has a date window which is great for practicality. Seeing that most people will wear this watch as an everyday watch, the date function can be convenient to have. The watch also has a start/stop stopwatch which is operated via the chronograph pushers.
The dial has a stunning sunburst finish which reflects the light beautifully and changes appearance depending on how the light hits it. Around the center dial, it has white, relatively large, painted Arabic numerals which add to the sporty nature.
For added legibility, parts of the hour markers and also the hands have been applied with Lumibrite. The hour and minutes hands are painted white to create a greater contrast against the dial, prevent reflections, and improve legibility. With all of this said, the legibility is certainly not something you can complain about.
In case you have missed it, the inner, angled, part of the chapter ring has seconds and split seconds markers which are printed in a checkered pattern which is a subtle yet important detail that makes sense for a sports chronograph.
The fact that Seiko opted for two sub-dials is a wise choice as it makes the dial look very balanced and appealing.
All in all, its design combines elegance with sportiness and therefore makes it a great everyday watch.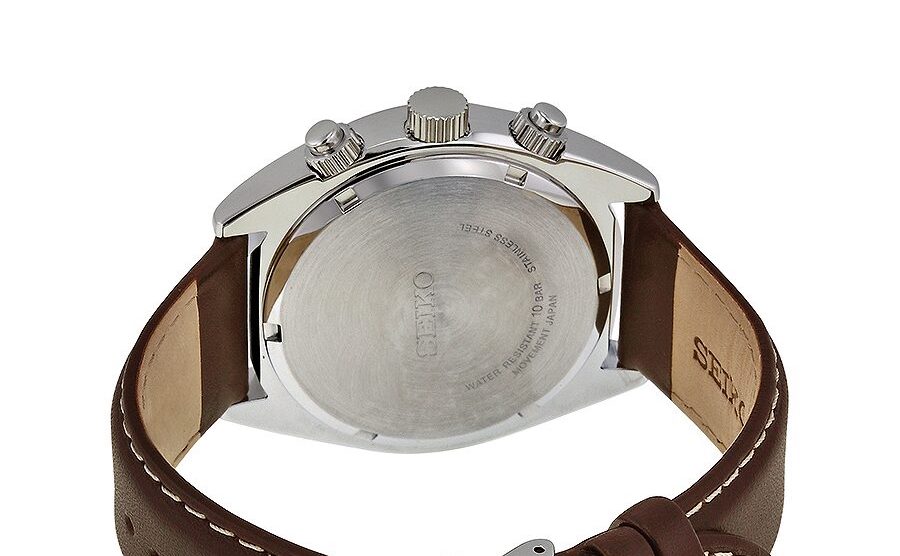 Seiko SNN241 movement

Inside the watch is the Seiko quartz Caliber 7T94. This is a battery-powered movement that has proven to be robust and durable.

The most devoted watch nerds may be scared away by the fact that it is not a mechanical movement, but the quartz movement offers the benefit of being accurate, simple, and easy to maintain. The quartz movement will keep good time, ensuring you are always on time.
Strap
The watch is presented on a brown calfskin leather strap which obviously goes very well together with the watch design and matches the dial perfectly. The strap has contrasting stitching which is a subtle and nice detail.
Specifications
Diameter: 42mm
Thickness: 11mm
Crystal: Hardlex
Case back: Screw-down
Clasp: Double-locking 3-fold clasp with push-button release
Water resistance: 100 meters/ 330 feet
Strap: brown leather strap with stainless steel buckle
Movement: Seiko Caliber 7T94
Lug width: 22mm
Sub-dials: 60 Second and 60 Minute
Functions: Second, Chronograph, Date, Hour, Minute
Conclusion
To conclude this review, the Seiko Chronograph SNN241 is a sporty chronograph that offers great value for money. This watch has all of the elements you would want in a chronograph, including a sleek and refined design, solid build quality, reliable movement, and a touch of retro inspiration.
The brown color used definitely makes it stand out from the crowd, but just because most watches aren't brown doesn't mean that you should neglect it. The brown dial stands out, but it also looks great.
Naturally, it has a muscle appeal to it and looks more sporty than it does elegant, meaning it is most suitable for everyday wear. But if you factor in build quality and finish, together with the price, you really cannot go wrong with the SNN241.