Seiko Solar Gold SNE036 Review & Complete Guide
If you are looking for a stylish, affordable, and trusted timekeeper for everyday wear, Seiko is a brand that has a lot to offer. Seiko's watches are widely appreciated for their high build quality, reliability, and finish in relation to their affordable prices.
And if you look at them in detail, there's simply no denying that they are some of the best value watches on the market in their price range.
The good news is that Seiko's collection of these affordable timepieces is huge and includes timepieces of all kinds of designs, shapes, and forms. With that said, you can be sure to find one that suits your taste and style.
If you're a person who enjoys gold watches that are sure to never go unnoticed by anyone, Seiko may just have the watch for you. In this article, we are therefore looking closer at the Seiko Solar Gold SNE036.
Seiko Solar Gold SNE036 review
As an Amazon Associate, we may earn from qualifying purchases, at no extra cost to you.

The Seiko Solar Gold SNE036 is a bold, fun, and frankly quite cool timepiece with a refreshing design, too.
Now, gold watches are certainly not for everyone, but a lot of people do enjoy them for their coolness factor and the fact that they stand out from the crowd and have a luster on the wrist that feels elegant and exclusive.
At the same time, this watch is both affordable and durable. It is meant as a reliable everyday watch, but this is for everyone who doesn't just satisfy with a boring and classic steel watch. This is for those who want something that stands out from the crowd with a refreshing and eye-catching design.
Apart from the unmistakable fact that it is a full gold watch, it also incorporates Seiko's Solar technology which is both interesting and practical. The Seiko Solar technology catches ambient and solar light via solar panels behind the dial and uses that to generate power for the movement. The purpose of this is to charge the battery of the movement and thus remove the need for replacing the battery.
But what makes this watch so popular, apart from the fact that it offers great value for money, is that it has an interesting balance between classic and clean design and an eye-catching, daring yellow-gold finish.
But regardless if you are going to wear it as an everyday watch or one that you pull out once in a while to achieve a bit of a cool factor, it is still a watch that you won't be disappointed with.
Without further ado, let's dig into the review of the Solar Gold SNE036.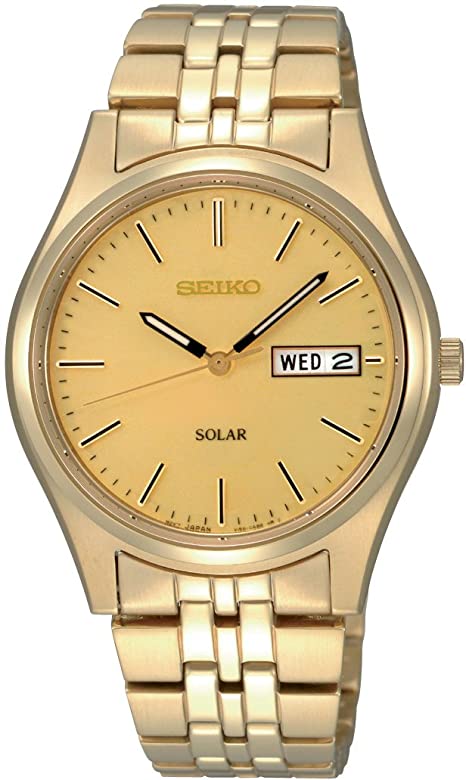 Seiko Solar Gold SNE036 case
The watch features a stainless steel case with a diameter of 38mm and a thickness of 10mm. Of course, it is finished with a yellow-gold color. Having said that, it is a rather small watch. This watch will sit slim on the wrist and fits a wide array of wrist sizes. This works as a unisex watch for both men and women with both large and small wrists.
The smaller size also helps make it more versatile, because the smaller size, whilst the gold color makes it stand out, the smaller size balances it out just somewhat and makes it a tad more discreet.
The upper side of the case is brushed, and this is contrasted by polished sides which transition into somewhat beveled edges. The lugs have a squared-off rectangular shape which adds sportiness to the case shape.
The case has a fixed polished bezel which is relatively thin to allow all focus to be placed on the dial.
At 3 o'clock, we have a push-pull crown. The crown is relatively small and blends discreetly into the case design.
Seiko Solar SNE036 dial
To go with the gold theme, the watch is of course also presented with a gold dial.
This watch has a lovely champagne-colored dial with a striking sunburst effect. The dial reflects the light beautifully and shifts its appearance depending on how the light hits it.
The hour markers are applied, gold-colored, and have a rectangular shape. To help with legibility, the hour markers have black "lines" painted on them to provide contrast against the dial. Against the outer edge of the hour markers, there are small dots of Lumibrite luminous material which help with improved legibility in the dark, although the lime doesn't grow very strong.
Positioned at 3 o'clock, we have the Seiko-signature day and date window. For an everyday watch, this is a practical and convenient function to have.
The minute and hour hands have elegant and sleek sword-shaped hands that have been painted black to allow for a good contrast against the dial and optimum legibility. In addition, the hands have applied Lumibrite to work together with the luminous dots.
Overall, despite the "distracting" gold color of this watch, it still offers rather good legibility.
SNE036 movement
Inside the watch is the Seiko Solar-powered quartz caliber V158. As mentioned, this watch is a solar-powered timepiece, which means that the battery of this movement is charged by ambient and solar light. The movement has a power reserve of 10 months. And with this said, it means that you will not have to replace the battery which is good for both practicality and for the environment.
Furthermore having a quartz movement in an everyday watch is a great thing since they are far more accurate than mechanical movements. This keeps it accurate and ensures you are always on time.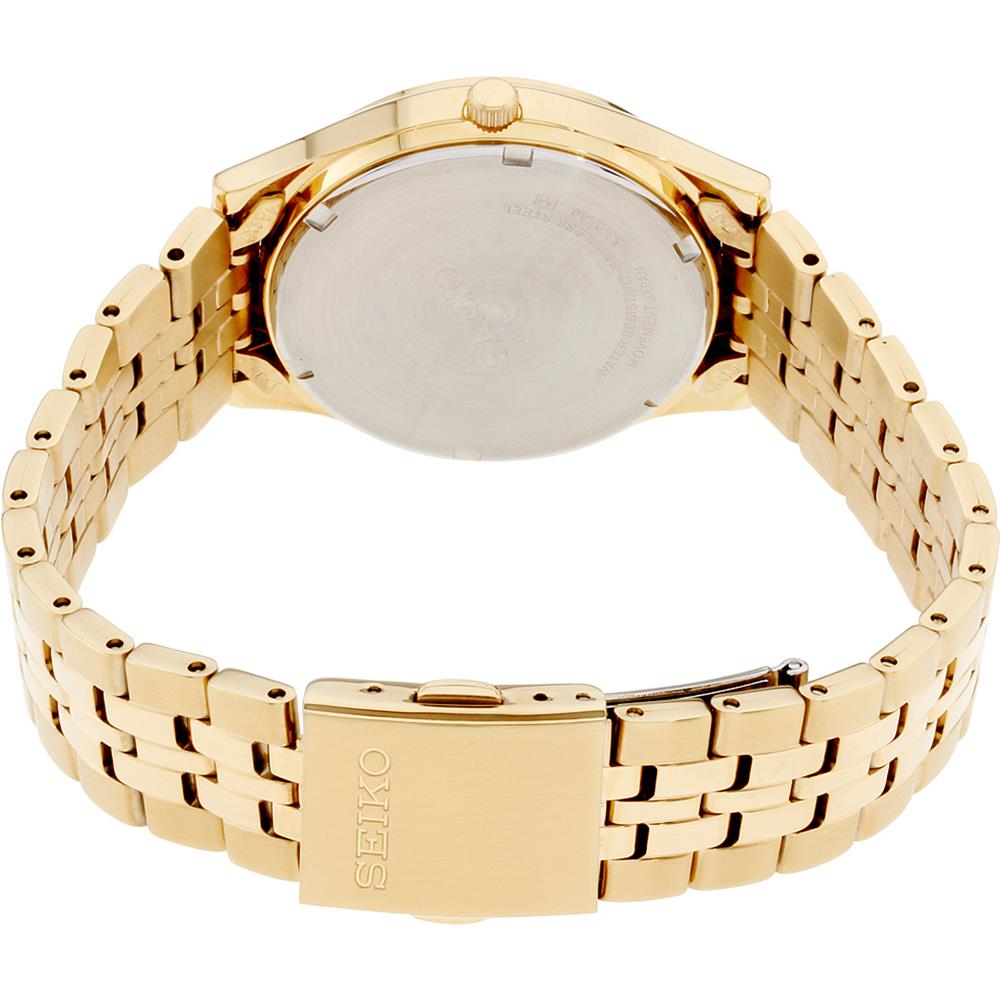 Bracelet
The watch is presented on a gold-colored stainless steel bracelet with polished middle links and brushed side links. Now, as is the case with most affordable watches, the bracelet isn't the best in terms of quality and does not feel 100% solid. The bracelet feels a bit hollow and rattly which affects the overall impression slightly negatively, but if you consider the price, it's not the end of the world.
In addition, the bracelet goes very well together with the watch in terms of design and perfectly completes the all-gold theme.
Specifications
Lug width: 19mm
Bracelet length: 240mm
Bracelet: stainless steel, gold-colored
Water resistance: 30m/100 feet
Diameter: 38mm
Thickness: 10mm
Case: stainless steel
Crystal: Hardlex
Movement: Seiko Solar powered quartz caliber V158
Crown: push-pull
Case: stainless steel
Case back: solid
Functions: day, date, hours, minutes, seconds
Conclusion
To conclude this article, it's safe to say that this watch offers great value for money.
With its all-gold look, it is certainly a watch that stands out from the ordinary. It's not a watch for everyone as it is undeniably a timepiece that is a real eye-catcher. This watch is sure to complete any look and add a luxurious and elegant touch. The watch truly looks much more expensive than it actually is, and that is a great thing.