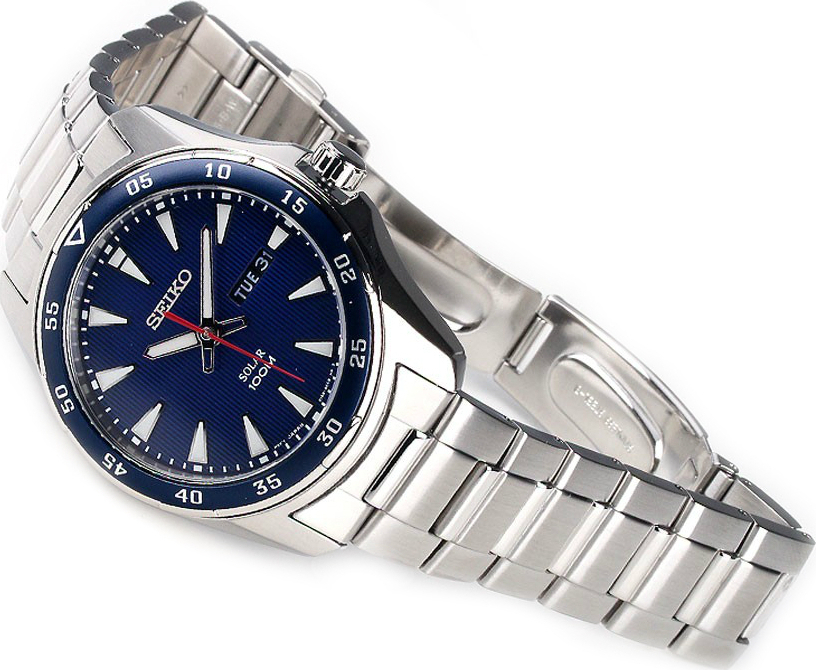 Seiko Solar SNE391P1 Review & Complete Guide
When talking about Seiko's affordable watches, the model line that gets the most attention is its Sports 5 collection. This isn't a surprise considering it offers exceptional value for money, durable and well-finished timepieces which punch well above their own weight, and are powered by robust and durable automatic movements.
But the fact is that Seiko has a ton of other affordable watches in its collection that is not part of the sports 5. But amongst watch nerds, many of these tend to be neglected due to the fact that they have quartz movements.
But regardless if you are a WIS (watch idiot savant) or simply looking for a good-looking reliable watch, the Seiko Solar collection is one that is definitely worth looking closer at.
The Seiko Solar collection, and in particular the SNE391P1, which is the model we are going to focus on n this article, is just as well-built as Seiko's other affordable timepieces but is also equipped with a very interesting piece of technology, which is Seiko's Solar movement.
Seiko Solar SNE391P1 Review
As an Amazon Associate, we may earn from qualifying purchases, at no extra cost to you.
The Seiko Solar SNE391P1 is a stylish everyday timepiece with a sporty appeal. Most importantly, it, as mentioned, features an interesting piece of technology, which is revealed in its name.
In this article, we are going to review and look closer at the Seiko 5 Solar SNE391P1.
Seiko Solar SNE391P1 case
The watch is built with a stainless steel case with a diameter of 44mm. It has a thickness of 11mm and a lug width of 22mm. With that said, it is a bit on the larger side and thus more suitable for men with medium and large-sized wrists.
For its price, the case is nicely finished, with a satin-brush finish on the top of the lugs, which is contrasted by polished sides. The lugs have really nice bevelings which are also polished, which is a lovely detail that shows Seiko has really paid attention to details.
As you can see, this watch has a bezel. Unlike what it gives the impression of, however, is that it does not rotate. It's simply a nice design feature to add some sportiness and enhance its appearance, but it does not bring any practical benefit other than helping you read the minutes. This could be seen as a downside as a unidirectional bezel would add an additional practical functionality for this timepiece.
The bezel has a nice dark blue color and is slightly domed which looks great. The minute markers are painted in black.
One feedback that owners have reported about this bezel is that after extensive and frequent wear, it can lose some color and also acquire scratches over time.
Sitting on top of the case, we have Seiko's proprietary Hardlex crystal. This is more scratch-resistant than regular mineral glass, but it's not as tough as sapphire crystals. At this price, however, it's certainly not something we can expect.
Positioned at 3 o'clock, we have the crown. The crown has notches for improved grip and sits protected between two crown guards. It is a push-pull crown which means it does not have a screw-down crown. This is partly what keeps it from having better water resistance.
Speaking of water resistance, this watch has a water resistance of 100m/10ATM/330 feet. For an everyday timepiece, this is actually rather decent for an everyday watch. This means you can go swimming and snorkeling with it, but it is not suitable for scuba diving or deep diving.

Seiko Solar SNE391P1 dial
The watch has a b(l)eautiful dial with an interesting yet stunning manchester/striped pattern. This adds to the depth of this timepiece and keeps it from being boring and plain. Of course, the blue dial matches perfectly with the color of the bezel and creates a unified look.
The dial has applied hour markers with a polished metal frame around them and applied Lumibrite to help with legibility in the dark. The hour markers have a triangle shape with cut-off tips which look very sporty and aggressive.
Around the outer edge of the dial, the seconds markers are printed in white.
The watch has a broad sword-shaped minute and hour hand. On the opposite side of the minute and hour hands, they are skeletonized. The hands have Lumibrite applied to them. The seconds hand is red which provides a nice contrast against the blue and adds a touch of sportiness.
The dial is kept clean with minimal text. It has an applied Seiko logo at 12 o'clock and printed "Solar" and "100M" beneath the center of the dial.
Positioned at 3 o'clock, it has a window that displays the day and date. This has a black background which allows it to blend in relatively well into the dial. The days and dates are printed in white, with the exception of Sunday which is printed in red.
Seiko Solar SNE391P1 movement
This watch is equipped with Seiko's quartz solar movement. This means that it is powered by a battery, which is in turn charged by sunlight and ambient light.
Generally, this movement has a power reserve of about 6 months, but if you are wearing it daily, it will get charged by the sunlight and ambient light as you are wearing it.
Seiko's Solar movement works in the way that it directs sunlight through the dial which generates power for the battery. What is so interesting about this timepiece is that on the surface, it looks just like an "ordinary" timepiece, but its solar technology is far from it. The dial is manufactured in a way that it allows light through it, and as you can imagine, this is not an easy feat. When you think of solar power, you naturally think of solar panels, but how beautiful would this watch be if it had solar panels as the dial? Not very, right?
No, it is not a mechanical movement that naturally scares away many watch geeks, but quartz movements are very convenient in the way that they are very accurate and reliable.
Seiko Solar SNE391P1 bracelet
There's definitely room for improvement when it comes to the bracelet – as is usually the case with affordable watches. The bracelet is mostly satin-finished but parts of the middle link are polished to enhance its look and to make it look more elegant. The issue with the bracelet is that it rattles due to its folded links and hollow end links. This slightly reduces the impression of quality but doesn't come as a surprise for a watch in this price range. But if you would like, you can always switch straps.
Specifications
Diameter: 44mm
Thickness/height: 12mm
Lug width: 22mm
Water resistance: 100m/10ATM/330feet
Weight: 6.24 Ounces
Conclusion
All in all, the Seiko Solar SNE391P1 is a beautiful timepiece that works excellently for everyday wear. It has a striking blue dial with an appealing blue color and pattern, but it is especially what is inside that makes this watch so interesting. Its solar quartz movement is powered by solar and ambient light which removes the need for changing the battery, which is both for the environment and also for your convenience.
With its price in mind, it really offers exceptional value, and with its stunning yet elegantly sporty design, it's a very versatile watch that works on both formal and casual occasions.