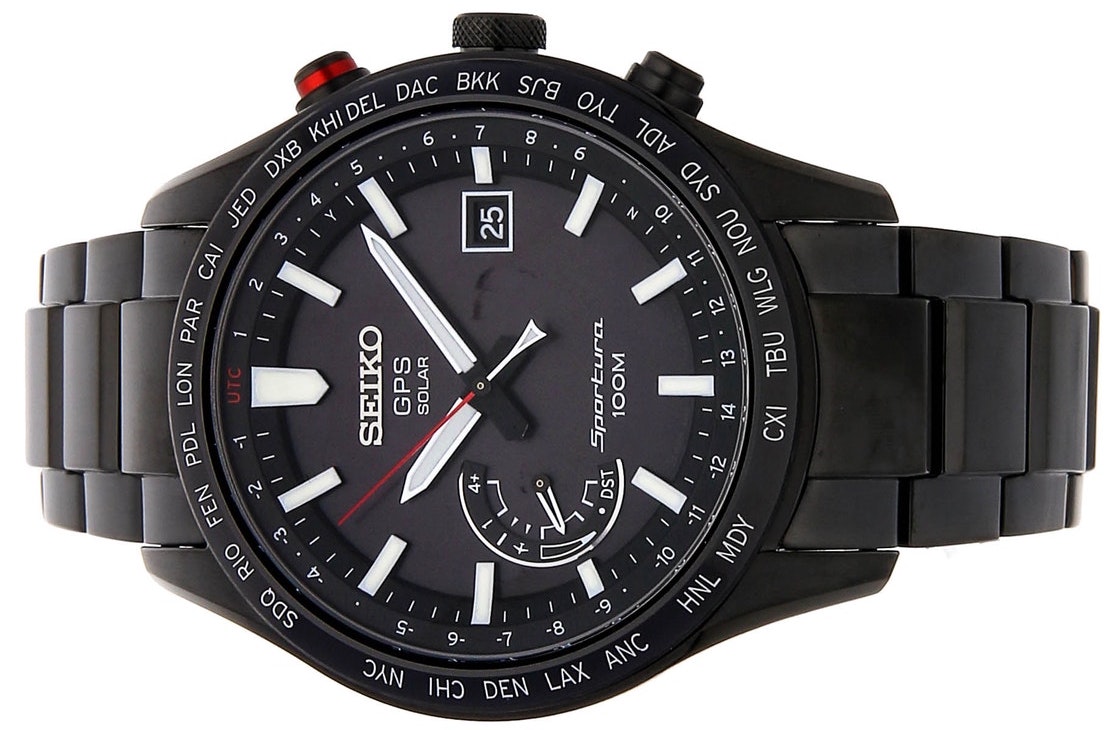 Seiko Sportura GPS SSF005 Review & Complete Guide
Seiko makes a ton of different watches in an endless number of styles and for many different purposes. With that said, you should be able to find a Seiko watch that suits your taste and preference. But what most of them tend to have in common, however, is that they offer great value for many and are relatively reasonably priced.
If you are looking for a sporty and functional tool watch with lots of different functions and a bold and tough style, the Seiko Sportura GPS SSF005.
In this watch, Seiko has incorporated interesting functions and paired this with a stylish and sporty design that makes it suitable for everyday wear. The watch certainly stands out from many other Seiko watches out there and is a perfect choice for the traveler or for someone who is just looking for a unique and practical timepiece.
In this article, we are reviewing and looking closer at the Seiko Sportura GPS SSF005.
Case
What first meets the eye about the Seiko Sportura GPS SSF005 is its all-black design. Worth noting is that this model is also available in stainless steel and without the black IP coating. So if you want something more discreet and classic, you can opt for this. But we will focus on the all-black version in this article, although they are the same apart from the black IP coating.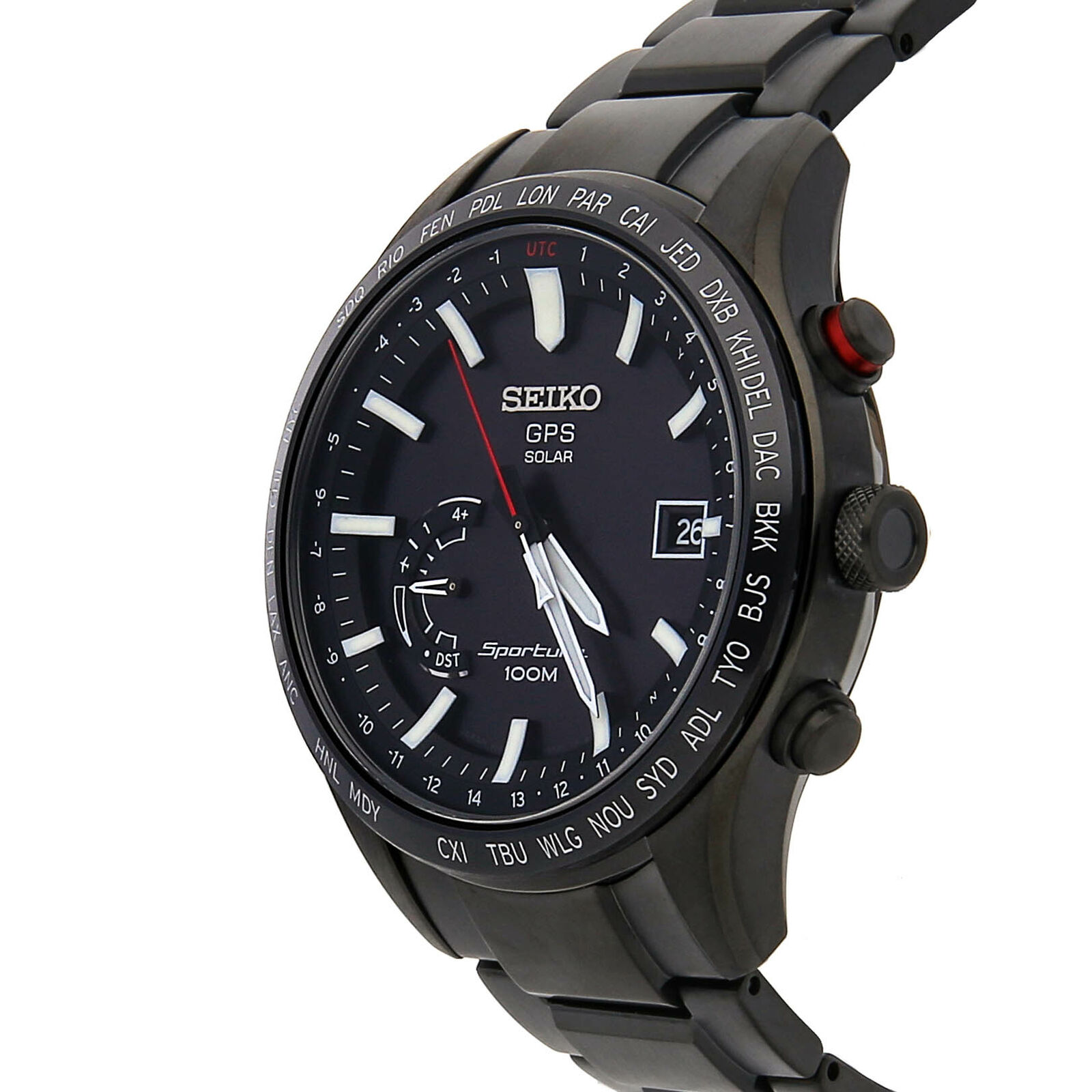 As an Amazon Associate, we may earn from qualifying purchases, at no extra cost to you.
The watch has a stainless steel case with a diameter of 45mm and a thickness of 13mm. With that said, it is a relatively reasonable size, but somewhat on the larger side, and requires a medium or large wrist unless you really like large watches.
At 3 o'clock, it has a push/pull crown which is knurled for better grip. On each side of the crown, it has push-buttons.
The watch has a water resistance of 100m/330 feet and a sapphire crystal on top. Seiko has designed it in a way that it has a thin bezel, thus leaving a lot of room for the dial, and leaving the focus on the dial, which we'll go into detail about further on.
The case has a classic shape and design, and Seiko has done a great job with the finishing and detailing of this watch. The lugs have bevels on the lugs and are completely satin-finished for a sportier look.
The watch has a black ceramic bezel on which abbreviations for cities are printed which is used together with the
It is presented on a black stainless steel bracelet with a deployment clasp which blends into the design very well. The bracelet has a sporty look that goes very well with the watch thanks to the "raised" center links which are essentially beveled on each edge. The bracelet feels qualitative and has a robust feel to it. There's not a lot to complain about here, both in terms of form and function.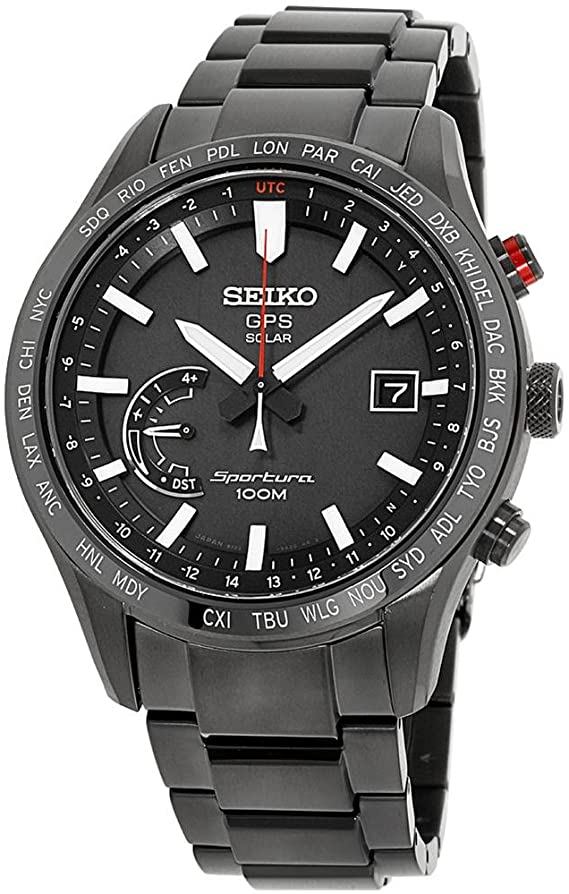 Dial
Moving on to the dial, we have a black sporty dial with a touch of red. Around the outer edge of the dial, it has a sloped rehaut with UTC time printed on it. It has large rectangular hour markers with metal frames and Lumibrite applied to them. The watch has sword-shaped hands which also feature generous amounts of Lumibrite for an optimum glow. The seconds hand is painted red for a sporty touch to the mostly all-black design.
At 3 o'clock, you'll find a date window with a white frame around it. Its black background allows it to blend in nicely with the rest of the design without damaging the overall balance.
At about 8 o'clock, you have a sub-second dial that indicates the DST time.
As an everyday watch, the functions incorporated into this timepiece make it more practical but also more functional. These are functions that you'll likely come to use, unlike some other watches and functions that you'll just have but never use.
Movement and functions
The watch is powered by a quartz solar-powered movement, caliber 8X22. This means that it converts solar and ambient light to energy for the quartz movement. This eliminates the need for replacing the battery which is good for the environment and also convenient.
The movement incorporates functions: hours, minutes, seconds, world time, DST (Daylight Saving Time), date, and GPS-controlled time and time zone adjustment.
What primarily bumps the price of this watch higher compared to many other Seiko watches is that it is packed with clever functions and technology and of course the use of high-quality materials with great attention to detail.
Thanks to the GPS function, the watch gets exceptional accuracy regardless of where in the world you are due to its ability to connect and update its time. The daylight saving time function saves power for the movement, thus increasing its power reserve.
Specifications
Water resistance: 100m/330 feet
Diameter: 45mm
Thickness: 13mm
Functions: GPS Controlled Time, Flight mode, DST Function, Power Saving Mode, World Time Function (40 Time Zones), Perpetual Calendar, Date Displays
Crystal: Sapphire
Movement: Seiko solar quartz caliber 8X22
Conclusion
All in all, the Seiko Sportura GPS SSF005 is a truly functional watch with a sporty and versatile design. Yes, this watch is pricier than many other Seiko watches, but you still get great bang for your buck with what you are getting. This timepiece has great attention to detail, uses high-quality materials, and most importantly, incorporates several functions that may actually come in handy when wearing it. If you want a versatile every day – or travel timepiece that can work as your trusted companion for years to come, the Seiko Sportura GPS SSF005 is definitely a great choice.
The Seiko Sportura GPS SSF005 is available to order on Amazon.