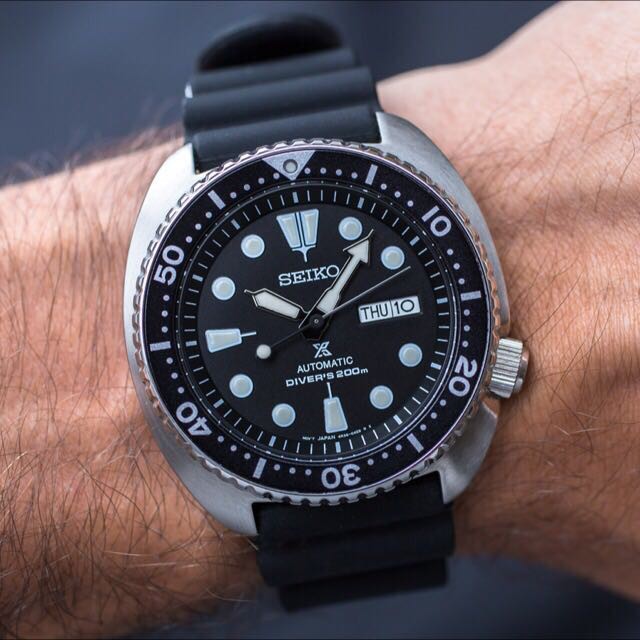 Seiko SRP777K1 Review & Complete Guide
Seiko makes some of the best affordable automatic watches in the world. Often praised for their high quality in relation to their affordable price, it's easy to see why Seiko's automatic watches are so immensely popular. Seiko's selection of affordable automatic is huge. This means you should be able to find one that suits your taste. The brand makes plenty of sporty dive watches that are robust, durable, and long-lasting. The Seiko SRP777K1 is one of those watches.
At less than 500 USD, this watch offers a durable and reliable automatic movement, impressive build quality, and of course a sleek and appreciated design.
What makes this watch so special? In this article, we are going to review the Seiko SRP777K1 and look closer at all of its specifications in detail.
Seiko SRP777K1 Review
As an Amazon Associate, we may earn from qualifying purchases, at no extra cost to you.
The Seiko SRP777K1 is part of the Prospex line (Prospex which stands for Professional Specifications). This can be seen via the "X" ON THE DIAL.
The watch combines function, form, and history, and presents it at an affordable price. Sounds really attractive, doesn't it? But is it as good as it is on paper?
In terms of design, this watch is inspired by a Seiko diver from the middle of the seventies. More specifically the Seiko 6309. It builds on the success and popularity of this model, and evidently, it has worked. Really well. Looking back, the 6309 was in production between1976 and 1988. If comparing them, it's evident they are very similar, apart from a few small visual changes and upgrades.
Seiko SRP777K1 case
The Seiko SRP777K1 has a cushioned-shaped case which is a distinct feature of Seiko.
The case is made in full stainless steel and is 44mm in diameter. The crown is positioned at four o'clock – just like the original – which is both distinct but also practical. The placement of the crown prevents it from digging into your hand.
A feature we love about the SRP777K1 is that it has drilled lugs. This not only allows for a more tool-like, industrial look, but it is also extremely practical when you want to change straps. In terms of thickness, the watch is 14mm. This is not a small watch, and its unique case shape further makes it appear larger, but it's not bulky to the point where it is not practical or wearable. In fact, it actually wears smaller than you may think when looking at its specifications on paper. It is also extremely comfortable to wear. The short lugs definitely contribute to making this watch wear smaller than it seems. The case has a lug-to-lug measurement of about 48mm.
Being a dive watch, it is equipped with a unidirectional rotating bezel. It is raised so that you get an excellent grip from the sides to grasp it and operate it with ease. It is smooth to operate and very precise.
On top of the dial sits Seiko's proprietary Hardlex crystal which is used in a large number of watches from Seiko. It's not a sapphire crystal, but it has still proven to be much more durable and scratch-resistant than regular mineral glass, which is commonly used for watches in this price range.
You can't say anything else than that this is a watch with a great tool-like presence. It is spork and built to last, so will be able to take a lot of beating and be abused without breaking a sweat. After all, that is what a tool watch is made for.
The watch has a water resistance of 200 meters and is secured by the screw-down crown. 200m is well enough for most people. This means you can go swimming with it and even go diving. The vast majority of people will never dive to depths that are greater than what the SRP777K1 can handle anyways.
Despite the fact that this is a sporty diving tool-watch, it is surprisingly versatile. It works great as an everyday watch but even looks great with a suit or blazer.
The watch has some weight to it due to its relatively large size and being made of stainless steel. Just the way it is supposed to.
Photo: Joly Montres
Seiko SRP777K1 Movement
The Seiko SRP777K1 is powered by the upgraded Seiko 4R36 movement. This is an automatic movement that features a hand winding and hacking seconds function. This is a big improvement from the cheaper automatic Seiko watches which do not have hacking seconds or manual winding.
The movement has proven to be a workhorse that is robust and durable. It is widely used in the Prospex range, and it is ideal for a tool watch of this caliber.
The movement features a power reserve of approximately 42 hours. It is powered by a rotor that operates silently and does not give away much noise. The movement operates at a frequency of 3Hz. This movement is made in-house by Seiko. It's not the fanciest movement in terms of decorations, but then again, it is not supposed to be.
Unlike some cheaper automatic Seiko watches, it does not feature a see-through case back. This is both positive and negative. It is negative in the sense that you cannot appreciate the movement and be reminded that a mechanical piece of craftsmanship is fitted inside, but it is positive in the sense that after all, this is a serious tool watch, and the closed case back adds to its tool-like personality.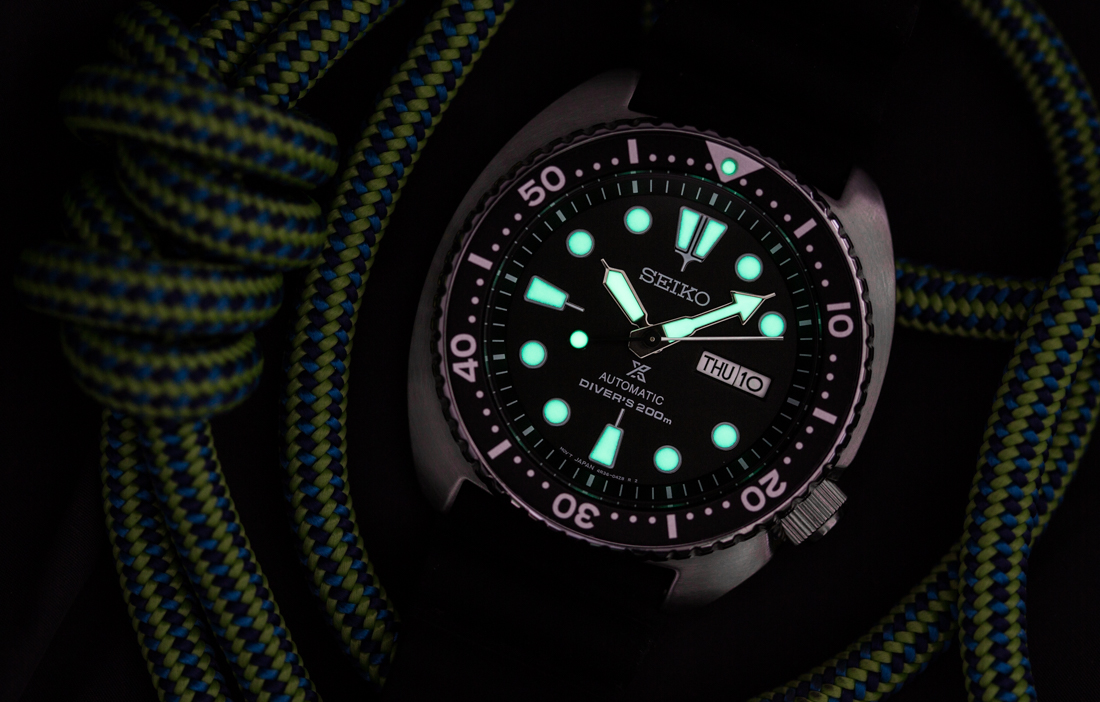 Photo: Ablogtowatch
Seiko SRP777K1 strap
The Seiko SRP777K1 comes fitted on a silicon Z-22 rubber strap with a width of 22mm. The silicon strap is a perfect addition to this watch. With a bracelet, it can be perceived as too bulky and heavy, which is why silicon is a great choice. A lot of people actually prefer the rubber strap for this model as opposed to the standard Seiko metal bracelet. The silicon strap makes for a perfect and comfortable fit.
Furthermore, it is also very comfortable to wear, whilst at the same time very durable. You can't go wrong with a rubber strap on a dive watch.
The strap is equipped with metal keepers which are also brushed and polished,
Seiko SRP777K1 dial
The dial of the Seiko Prospex SRP777K1 is great.
It is clean and simple and allows for great legibility. The dial is black and has a nice matte texture which both looks stunning but also reduces glare and reflections.
Being a dive watch, it has, as expected, large markers and hands that provide optimum legibility. The markers are painted rather than applied, which looks great. It's also a nice nod to the vintage watch from which it takes its inspiration, as it is more common today to use applied markers for enhanced exclusivity and finish. The hands and markers have great lume which allows for good legibility in darkness. It shines bright for a long time.
Positioned at 3 o'clock, we have the date and day indicator. Printed on the dial is the Seiko logo at the top, and the Prospex logo follows by "Automatic" and the depth rating.
The hour and minute markers are shaped like broad arrows.
If you are looking for a high-quality, entry-level, and affordable watch, the Seiko Prosper SRP777K1 is a great choice. It is durable and won't break a sweat, it looks great, and it is even well-respected amongst watch enthusiasts. Oh, and it has a great history too that further adds to its appeal. This just goes to show that a watch doesn't have to cost tens of thousands of dollars to be great and worthy of buying.
Seiko SRP777K1 Specifications
Caliber: 4R36
Movement: Automatic with manual winding capacity
Power reserve:

Approximately 41 hours
Case: Stainless steel
Crystal: Hardlex
Water Resistance: 200m / 660ft diver's
Thickness: 13.4 ㎜
Diameter: 45 ㎜
Jewels: 24
Lug-to-lug: about 48mm