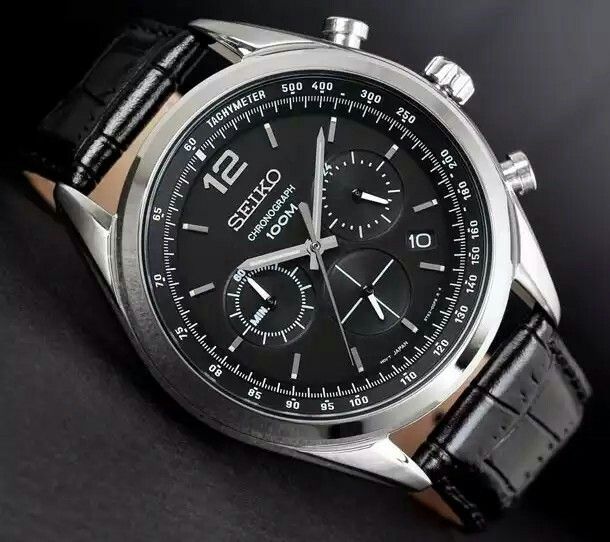 Seiko SSB097 Chronograph Review & Complete Guide
Seiko has an extremely large collection of watches. From Seiko, there really is a watch for everyone, regardless of taste preference, and budget. Having said that, making a decision on which timepiece to go for can be tricky and feel overwhelming.
The first step to making a decision is to identify which type of watch you want. Secondly, you want to define your budget, as well as size, movement, style, and so on..
Since you are here, you are probably considering an affordable chronograph. And that is exactly what the Seiko SSB097 Chronograph is, but when buying a watch, there's not just one factor that needs to be "correct". To help you in your consideration for this timepiece, we have created a review and in-depth look at this watch to look at everything it offers in detail.
Seiko SSB097 Chronograph Review
As an Amazon Associate, we may earn from qualifying purchases, at no extra cost to you.
The Seiko SSB097 is a stylish yet classic chronograph with a rather simple design that is meant to make it more formal than perhaps many other chronographs.
The most devoted watch nerds will perhaps be scared off by the fact that this watch is powered by a quartz movement, but as you know, quartz movements also come with their own set of benefits. And in addition, I don't believe Seiko's goal was to develop this watch for die-hard watch nerds either. This is an affordable and stylish chronograph for people who just want a stylish, accurate, and reliable timepiece. And this is certainly a box that the SSB097 ticks.
Seiko SSB097 Chronograph case
The watch has a stainless steel case with a diameter of 42 mm and a thickness of 11 mm. This makes it a watch that is a bit on the larger side, but it is by no means enormous for most men's wrists.
The watch has a water-resistance of 100m/330feet/10ATM which makes it suitable for swimming, showers, splashes, and snorkeling just at the surface. This watch is not made to be used for deep diving and scuba diving, and considering its design and the purposes this watch is made for, you probably aren't going to even consider taking it anywhere near water anyways.
Sitting at 3 o'clock, the watch has notches to allow for a better grip. Note that since this watch is far from a dive watch, it does not have a screw-down crown. Instead, it is a push-pull crown.
For its price, the case is actually very well finished. The watch has lugs that are made in a "twisted" design, where the top of the lugs are satin finished and each side is polished. This gives the watch a distinct and unique look which keeps it from looking boring. Both sides of the case are polished as well. The bezel sitting on top of the case is polished. All of these elements go together and create the impression that Seiko has really paid attention to the details despite its very affordable price.
Of course, being a chronograph, it has chronograph pushers that are positioned on each side of the crown. The pushers have a "mushroom top" which allows for easier operation.
The lug width is 22mm.
Lastly, sitting on top of the case is Seiko's proprietary Hardlex crystal. At this price point, we can't expect anything more, and certainly not a sapphire crystal.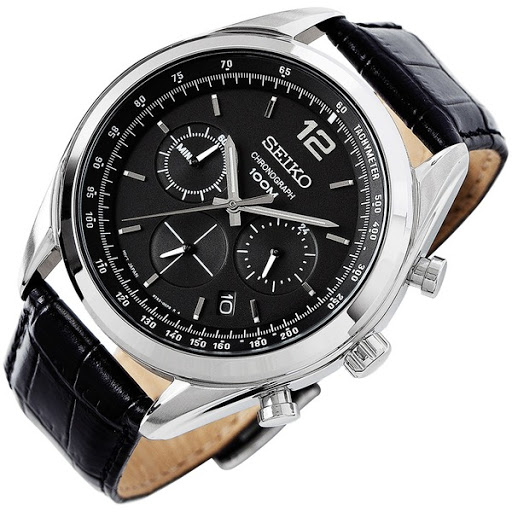 Seiko SSB097 dial
Moving on, the watch has a black dial with a slightly matte finish. The sub-dials are slightly recessed which gives it depth and makes it look more well-finished and interesting. Around the outer edge of the dial, the watch also has a wide chapter ring on which the dial the Tachymeter scale is printed in white. This further gives the dial depth as it uses both raised and recessed elements. This also includes the markers.
The dial has applied rectangular-shaped hour markers made in polished metal which are placed just beneath where the chapter ring ends. At 12 o'clock, the watch uses, instead of a rectangular, applied numerals, to indicate "12". Worth noting is that at the end of each marker, directly on the dial, there are small dots of Lumibrite applied, which allows you to read the time in the dark and low-lit conditions. To help with this, the hands also have Lumibrite on them.
The hands are elegant and simple, made in polished metal and has a pointy tip.
Between 4 and 5 o'clock, the watch also has a date window discreetly integrated. A complaint people have with chronographs that have a date window is that it harms the symmetry, but the date window with its black background and white printing actually blends into the dial very discreetly.
The chronograph sub-dials display 60 seconds, 60 minutes, and 24 hours. To allow good legibility, the sub-dial hands have been painted white.
Seiko SSB097 Chronograph movement
The watch is equipped with a Japan quartz movement which features all of the functions to drive this watch, including chronograph, date, minute, hour, second, and tachymeter function.
Being quartz, it is powered by a battery, and this is expected to have a life length of about 3 years.
There's not much to say about this movement really, other than that since it is a quartz, it is very accurate. This is good news as I'm sure many people will wear this watch with their business attire, which ensures they are always on time.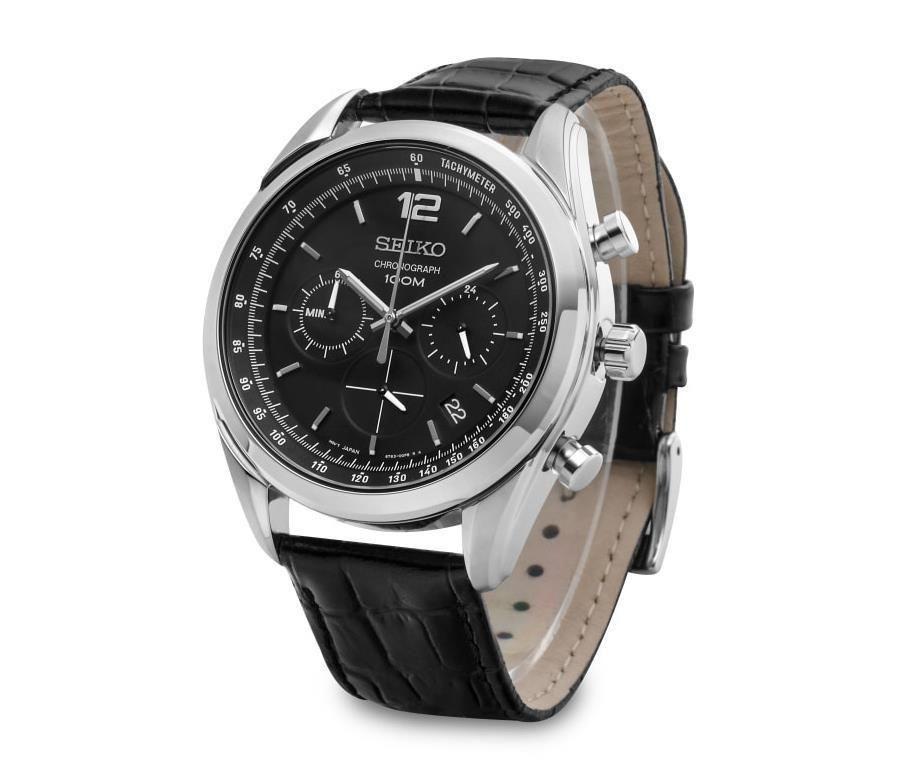 Seiko SSB097 Chronograph strap
The watch is presented on a 22mm black embossed leather strap with a tang buckle. In terms of quality, it's not the best, but it works and looks good with the overall design of the watch. The fact that Seiko chose to present it on a leather strap makes it look more dressy and elegant, which is obviously the purpose of this watch in the first place.
The strap looks sleep with the watch, but if you want a more qualitative and comfortable strap, you can simply change to a strap of your choice.
Specifications
Diameter: 42 mm
Thickness: 11 mm
Lug width: 22mm
Movement: Japanese quartz
Water-resistance: 100M/330 feet/10ATM
Functions: Chronograph, Date, Hour, Minute, Second, Tachymeter
Conclusion
All in all, the Seiko SSB097 Chronograph is a seriously affordable that offers exceptional value for its price of just over 100 USD. It is stylish, classic, high quality, reliable, and well-finished for the price. It is primarily made for dressed-up formal occasions due to its sleek monochrome look and leather strap, but it can work for other occasions as well. Especially if you exchange the leather strap for a steel bracelet for a sportier and more casual look.
At this price, you really cannot go wrong with this timepiece. It is the perfect entry-level timepiece for someone who is looking for a reliable watch that puts the finishing touch to an outfit.
The Seiko SSB097 Chronograph is available to order on Amazon.