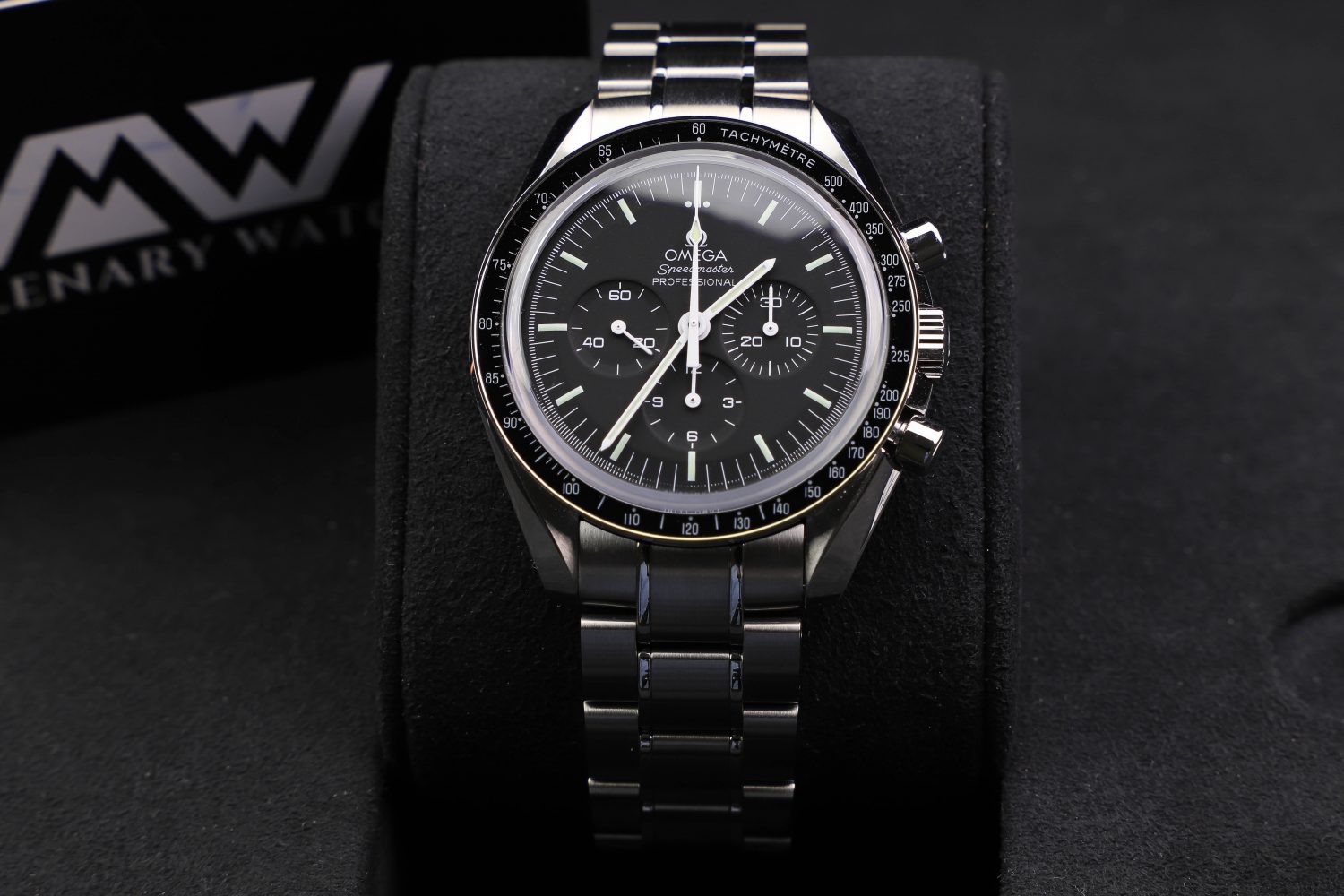 Omega Speedmaster Moonwatch Sapphire sandwich 311.30.42.30.01.006 Review
The Omega Speedmaster is unarguably Omega's most iconic and important model.
But as you probably know, Omega's range of Speedmaster models does not stop at one or two models. Over the years, Omega has lived on its Speedmaster range and made several hundred different references.
But some of these references become more important and popular than others.
One of the Speedmaster models that have become tremendously popular is the Omega Speedmaster Moonwatch "Sapphire Sandwich" reference 311.30.42.30.01.006.
In today's collection, the most popular Speedmaster is the reference 311.30.42.30.01.005, which is not a whole lot different from the Speedmaster Sapphire sandwich. The difference is that it has a see-through case back and a hesalite crystal instead of sapphire.
But the reason the 311.30.42.30.01.006 is so popular is that it is considered to be one of the most classic modern Speedmaster variants. It is also the model in production that stays the truest to the original Moon watch worn on the moon – after the 005 hesalite version, of course.
You can definitely call the 311.30.42.30.01.006 Sapphire sandwich a true classic. For many decades, there has been a Speedmaster that looks almost like the 311.30.42.30.01.006 in production. The reference number may have changed over the years, but the design of the watch has remained almost the same.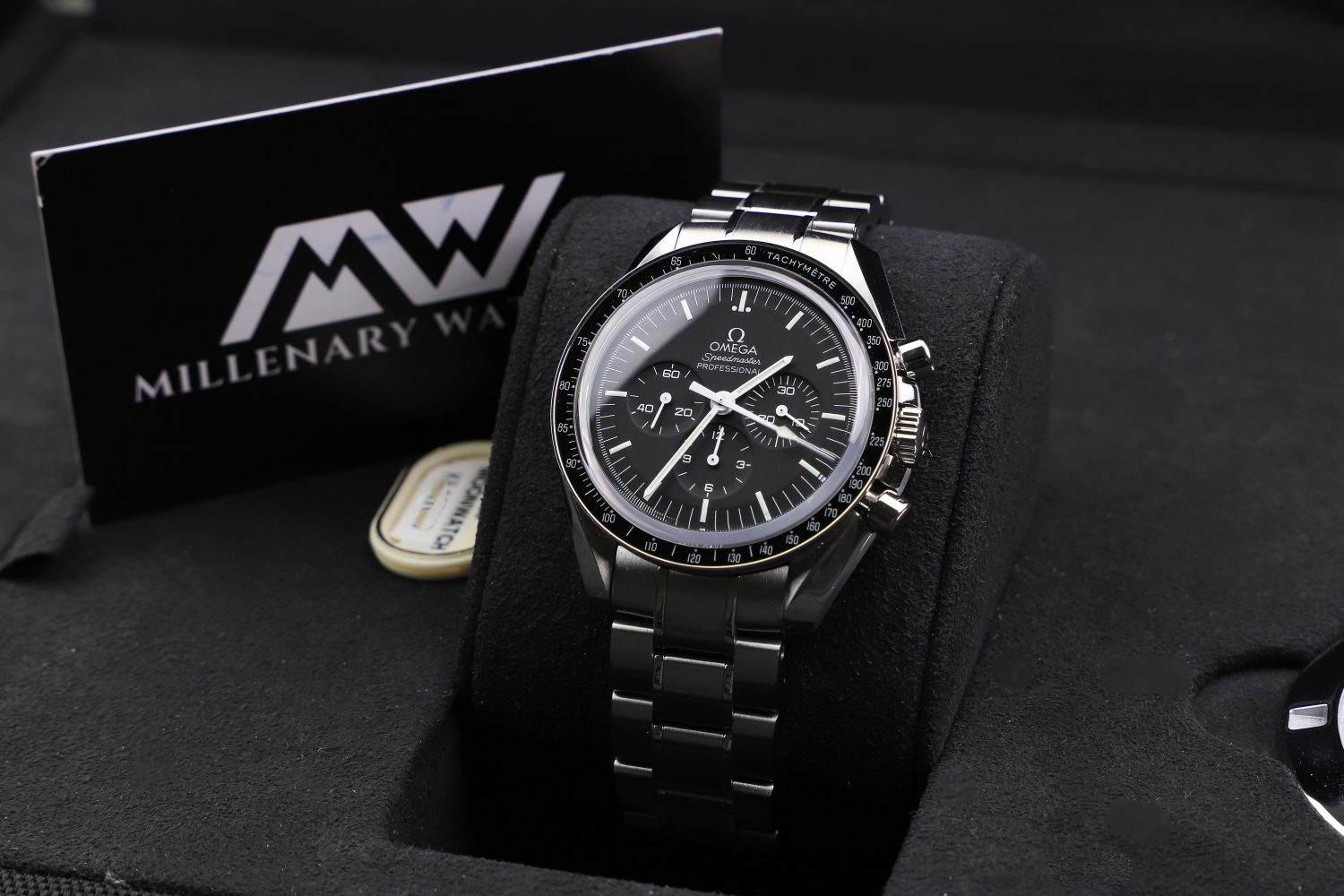 The point of this is to demonstrate that some watches just have a timeless design that will remain just as relevant today as in many decades. And this can of course also be used as an explanation for why the Speedmaster Moonwatch Sapphire Sandwich 311.30.42.30.01.006 is so popular.
The Omega Speedmaster is one of Omega's most iconic timepieces. Having been a part of all six lunar missions, the legendary Speedmaster is an impressive representation of the brand's adventurous pioneering spirit.
Now, you might be wondering why this Speedmaster is not automatic, and the simple answer to that is that the original moon watch wasn't. Because there is no gravity in space, the rotor won't work properly and thus not wind the movement. This is why a mechanical manual-wound movement is necessary, and the 311.30.42.30.01.006 just stays true to this. After all, it is called the "moonwatch".
Omega Speedmaster Sapphire sandwich 311.30.42.30.01.006
Now, it's probably a good idea to start by sorting out what "Sapphire sandwich" means.
The nickname this reference has gotten is quite simple. The watch has a sapphire see-through case back, and it also has a sapphire crystal. This makes it a "sapphire sandwich".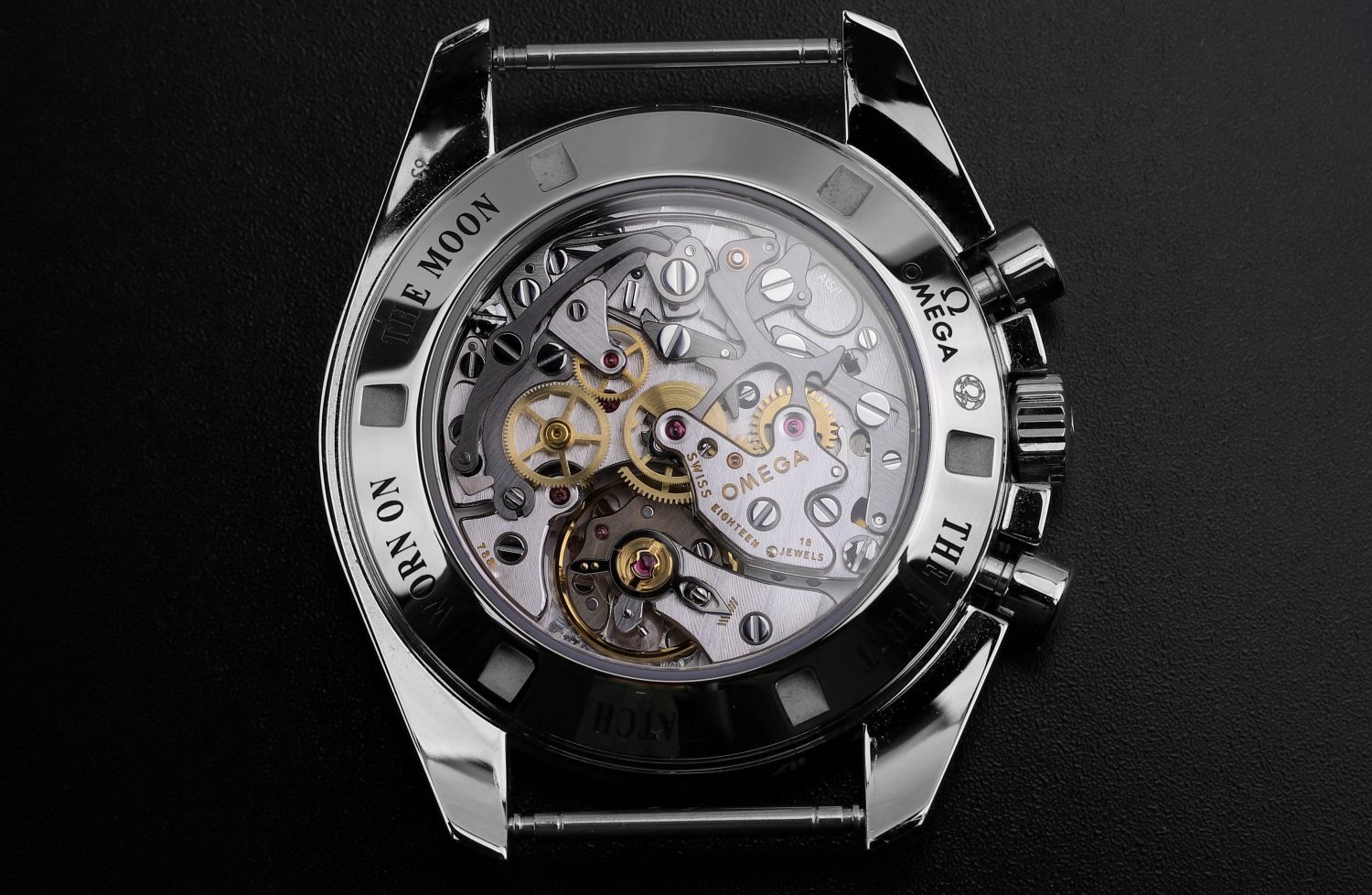 The Speedmaster Sapphire sandwich ref 311.30.42.30.01.006 is the replacement of the 3753.
Just like the most classic hesalite version, the 'sapphire sandwich' comes with an impressive box set and an updated bracelet – otherwise, the watch itself (head) remained unchanged. After all, you shouldn't change a winning concept. And this just goes to show just how timeless the Speedmaster design really is.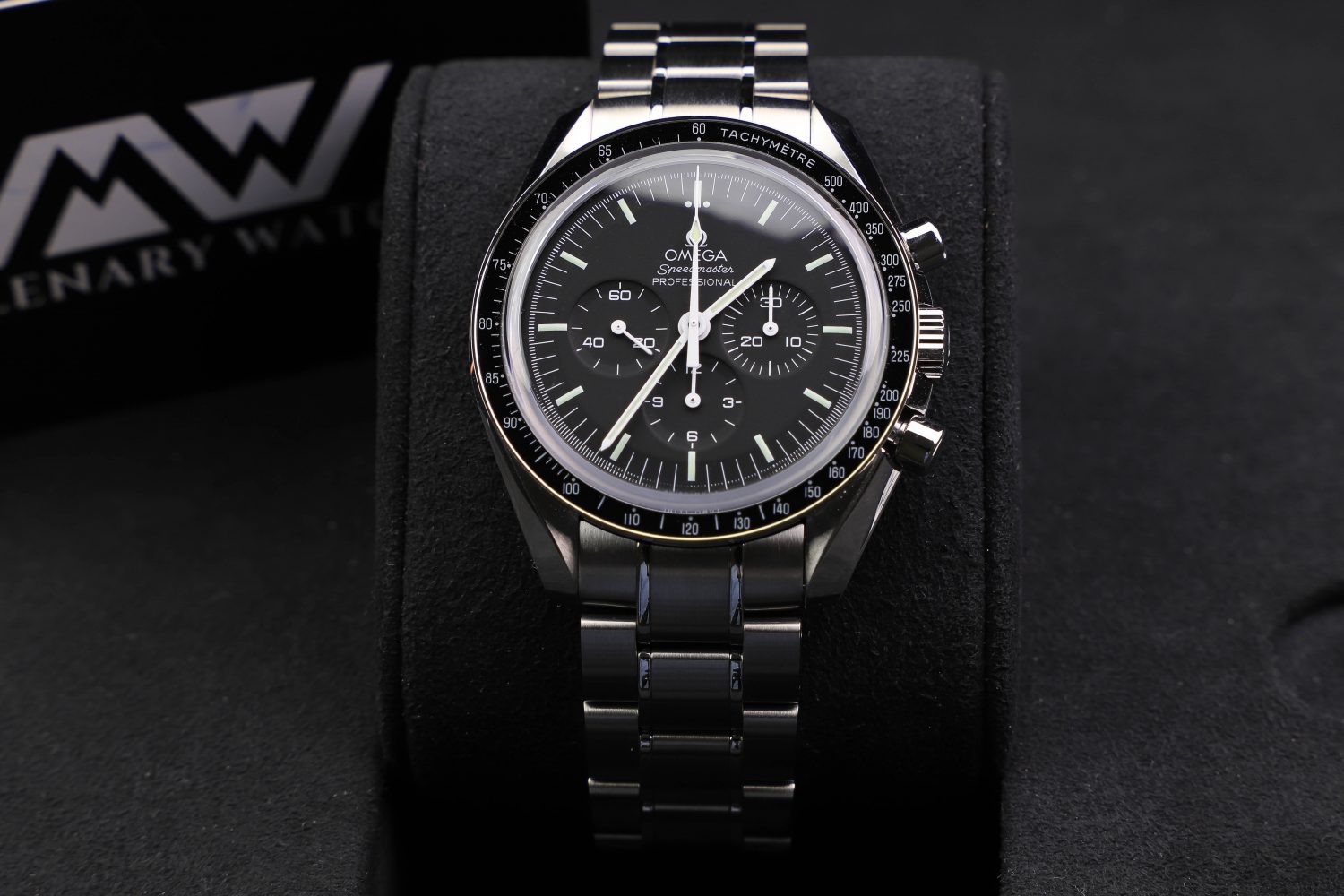 This timepiece is offered with a special Moonwatch presentation box that contains a "NATO" strap, a Velcro strap, a tool to change the bracelet, and a book highlighting Speedmaster's adventures.
Speedmaster 311.30.42.30.01.006 Specifications
The Omega Speedmaster 311.30.42.30.01.006 comes on a stainless steel bracelet, identical to the bracelet fitted on the other Speedmaster models. It has a matte black dial with rich texture and white printed text. It is a manual wind chronograph, but it does have a see-through case back which allows you to admire the stunning 1863 Chronograph movement.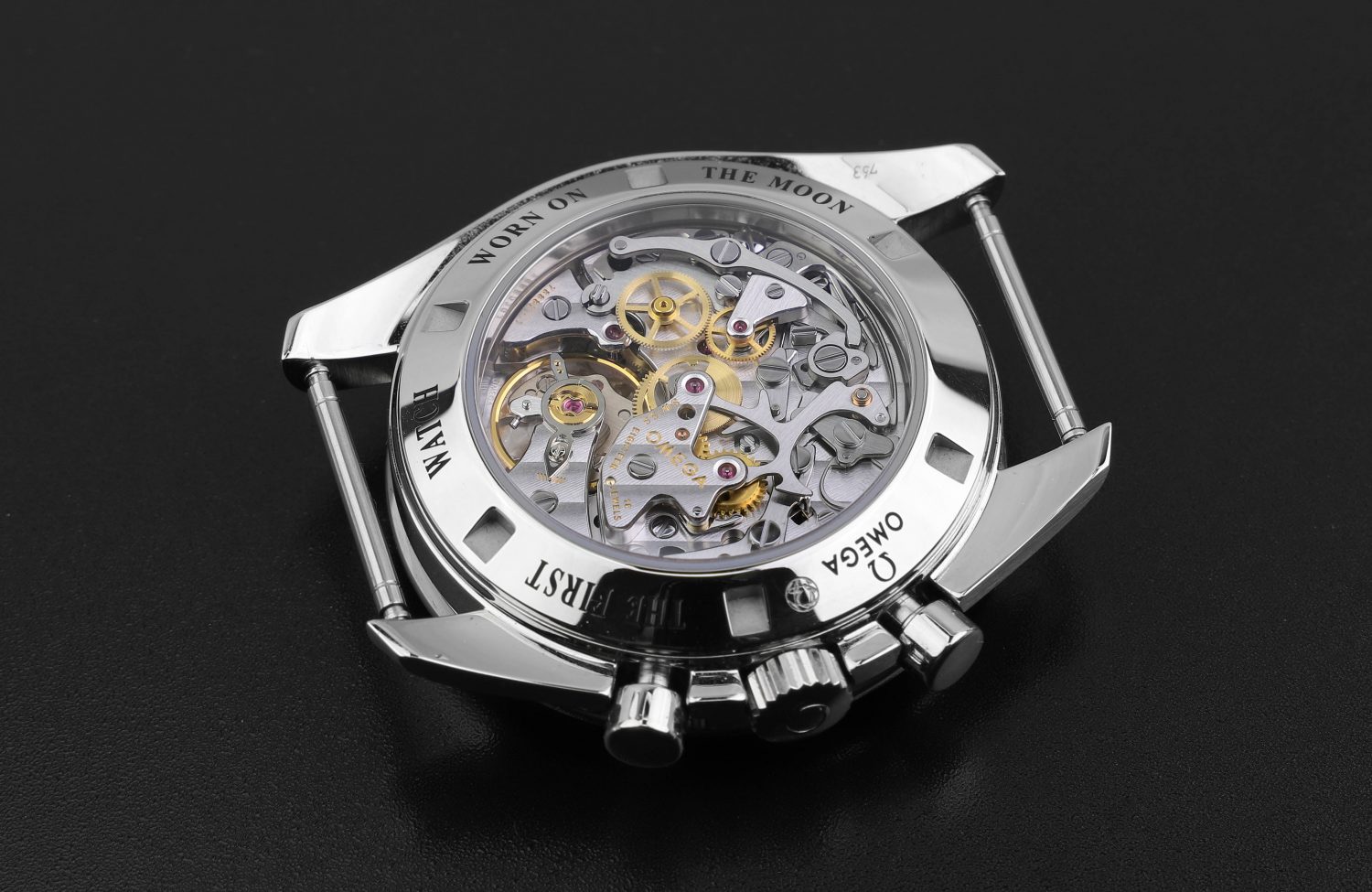 This is actually the same chronograph movement that was used on the Moon. It's rhodium-plated, and the baseplate has circular graining. The bridges have cotes-de-Geneve embellishment; levers and bridges have polished edges.
It is equipped with 18 jewels, a shock absorber device, and a straight-line lever escapement. The caliber also has a monometallic balance, a self-compensating flat balance spring, and an index regulator. It beats at a frequency of 21,600 vph (3 Hz). Something that actually exceeds the expectation of the Sapphire sandwich is the high finishing of the movement. Each edge is perfectly polished – even to the point where it looks like it has been hand-decorated. And this is quite rare for a watch that costs around 5000 Euros. But it really makes you appreciate the great quality and attention to detail of it.
The case is 14mm in thickness and has a diameter of 42mm. But because of its short lugs, the watch actually wears like a 40mm, so don't get turned off by the measurements on paper.
This Omega Speedmaster Professional Moonwatch Sapphire Sandwich reference 311.30.42.30.01.006 was released in 2014 and has been in production ever since.
The stainless steel bracelet has an Omega double deployment clasp and is relatively comfortable to wear. It's not the most comfortable bracelet, but it definitely works. In terms of build quality, the bracelet feels solid and robust and like it will never let you down.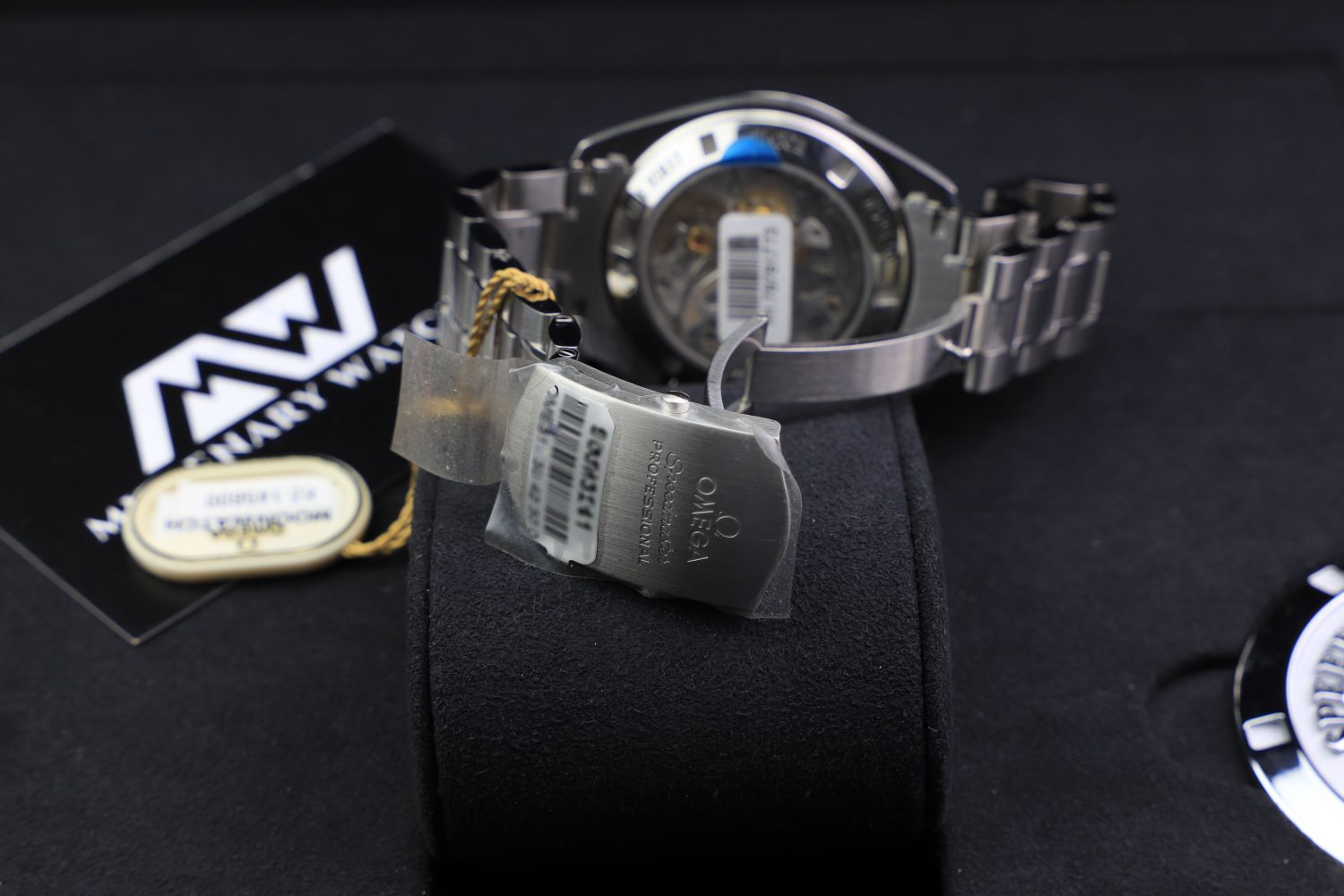 The Speedmaster has a small second sub-dial, 30-minute recorder, and 12-hour recorder along with a central chronograph hand which you can operate using the chronograph pusher.
The aluminum bezel has a tachymeter scale which works as a further tool for the wearer. The Speedmaster features Omega's now-iconic "twisted" lugs which are brushed on the inside and polished on the outside.
Quick specifications for Speedmaster Moonwatch Sapphire Sandwich
Between lugs: 20 mm
Bracelet: steel
Case: Steel
Case diameter: 42 mm
Thickness: 14 mm
Dial Color: Black
Crystal: Domed, scratch‑resistant sapphire crystal with anti‑reflective treatment inside
Water resistance: 5 bar (50 metres / 167 feet)
Omega 42mm Model 311.30.42.30.01.006
Speedmaster Series
42mm
Scratch Resistant Sapphire Crystal
Water Resistance – 50meters / 167 feet
Omega Speedmaster Sapphire vs Hesalite
Now to an important question that most people tend to find themselves asking when they are looking to buy a classic Moonwatch Speedmaster. If you are thinking about buying a classic Moonwatch, which are you going to buy? Sapphire or hesalite?
These watches are almost identical to each other and have very few noticeable differences. One of the most notable is the glass.
But if you are looking for a modern Speedmaster that is as close to the original as possible, you're correct in looking at the Speedmaster Hesalite .005 and the Speedmaster Sapphire .006.
Plexiglass, or more correctly, polymethyl methacrylate—also known as acrylic, such as the Hesalite glass, has been used in wristwatches for a very long time. It is easy to shape and cheap to replace. The catch is that when sitting exposed on the wrist, it acquires plenty of scratches. There was no problem in manufacturing crystals from regular glass for watches, but the problem is that it is very fragile – especially on a watch that is constantly exposed when sitting on the wrist.
Sapphire was not used in watches until a long time after plexiglass, but once manufacturers found effective ways to form sapphire, it was an obvious choice. Because of the hardness of sapphire, manufacturing a sapphire crystal is more expensive than a hesalite crystal. But the benefit is that it is extremely hard and virtually scratch-proof.
Plexiglass (or in Omega's case hesalite), can especially be found on vintage watches, so how come the Speedmaster .005 is available with a hesalite crystal? Well, the answer actually has to do with its history. When Omega became the official watch for NASA. Acrylic offers a great benefit over glass/sapphire crystals, and that is its toughness. It is not as hard as glass and therefore is a scratch magnet over time, however, it offers twice the resistance to fracturing.
And the good news is that the superficial scratches can easily be polished away with some toothpaste or polish cloth.
Acrylic only cracks instead of shatters, and this is a crucial personality to have in different areas, not to mention for the safety of your own watch and its movement shall the glass crack.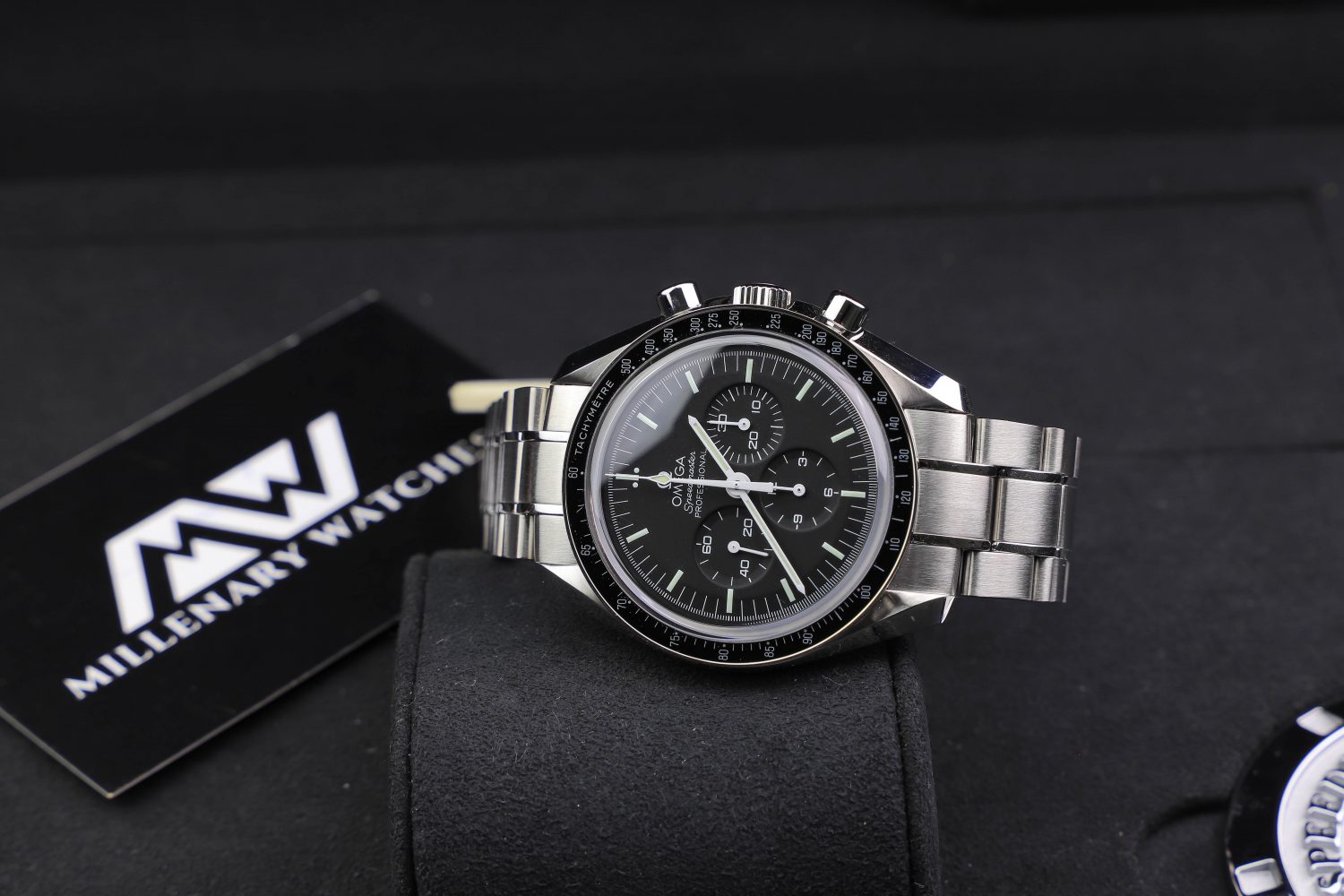 You will also find acrylic being used in, for example, submarine windows, as it is much safer than regular glass.
Now, to build on the history behind the choice of hesalite for this watch, we need to touch upon NASA again. When Omega was selected as the official watch of the Apollo program, the choice was to use an acrylic crystal for the Speedmaster due to its tough properties. The idea was to first use sapphire crystals for the watches going to space, but NASA determined that the failure characteristics of acrylic were favorable to the propensity of sapphire to shatter in the same way as glass. After all, the consequence of a thousand tiny shards of very sharp sapphire floating in zero gravity drove the decision to stick with the tried and tested Hesalite.
But while the Speedmaster is a Moonwatch, you are probably not going to use the watch in space, so which Speedmaster should you choose? Hesalite or sapphire?
Well, in most of today's modern watches, you will find sapphire crystals. This is because they offer tremendous scratch resistance which means you will never really have to worry about the crystal. A sapphire crystal has a hardness beaten only by diamond, and a toughness some ten times greater than glass and four times greater than acrylic.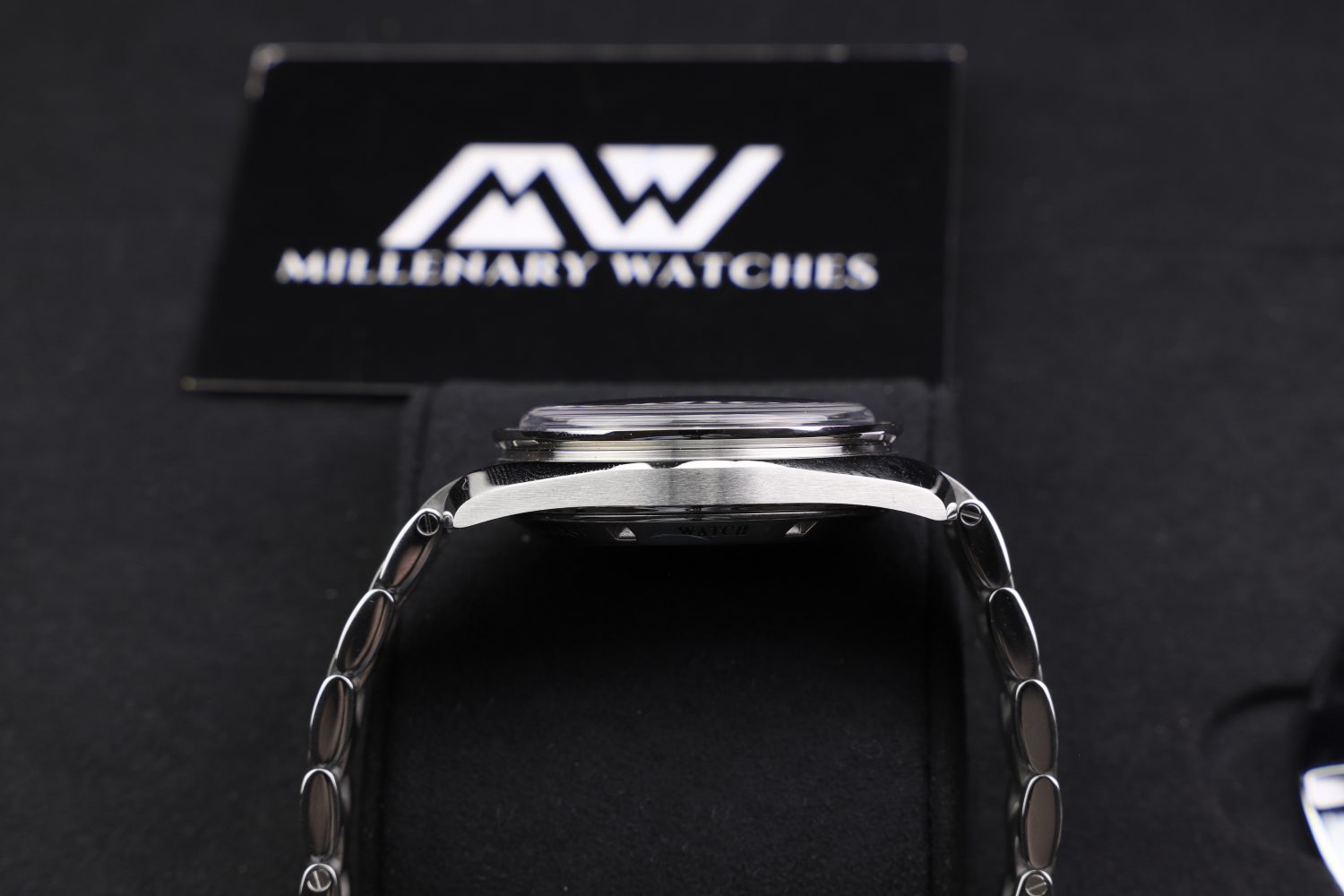 A reason why some people decide to take the Speedmaster Sapphire over the Speedmaster hesalite is the fact that the Sapphire version also has a see-through case back which allows you to admire the movement. And what a stunning chronograph movement. While the Speedmaster 006 sapphire is not considered an Haute Horlogerie timepiece, the movement is actually beautifully decorated and lovely to look at.
This should make it an easy decision, right? Sapphire crystal does not scratch, and it also comes with the benefit of being able to admire the movement.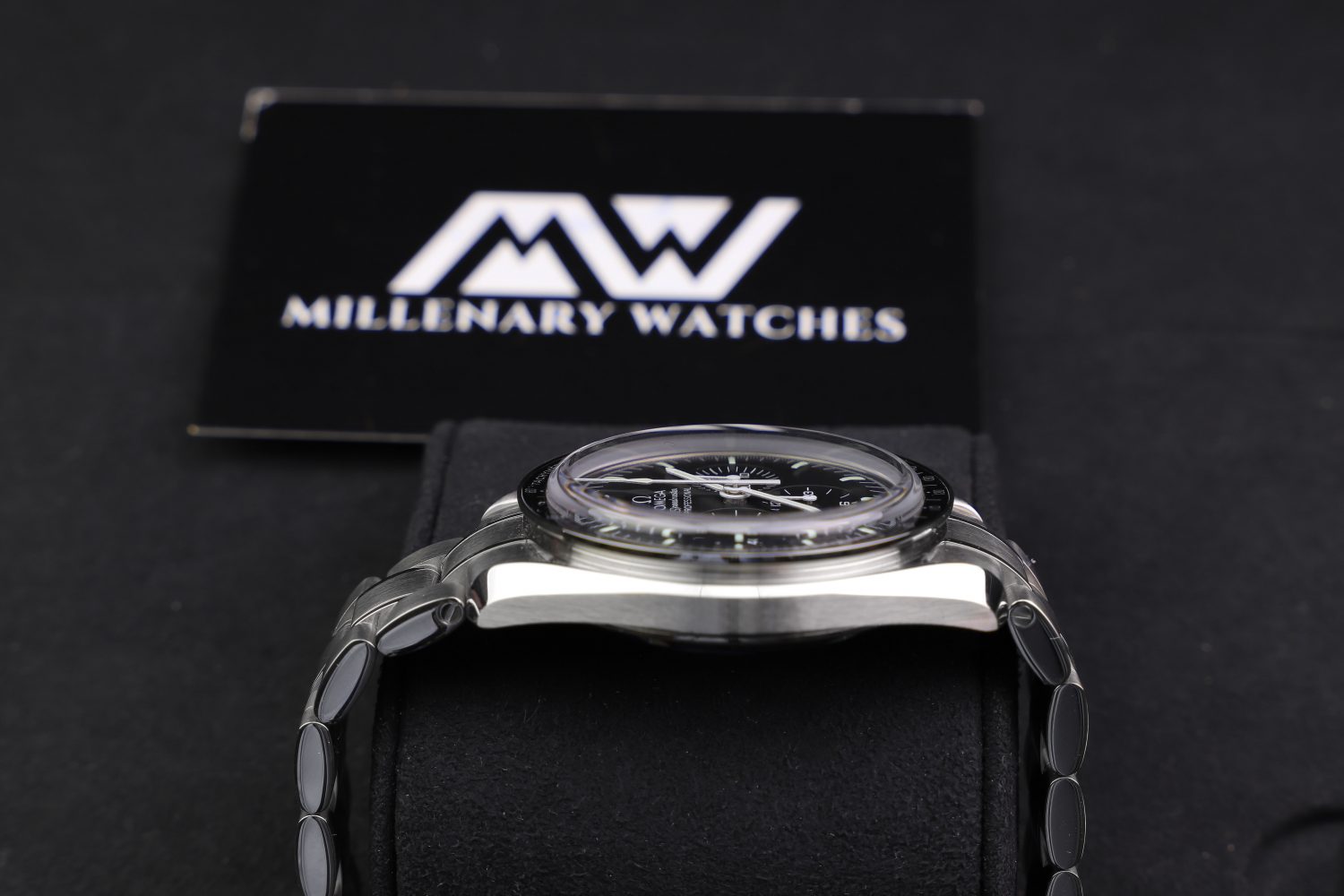 Yet still, most people choose the Speedmaster Hesalite version.
One of the reasons for this is that the sapphire has one flaw, and that is that the sapphire isn't as domed as the hesalite crystal, which has a more rounded, artificial-looking step. This has to do with the fact that because of the extreme hardness of sapphire crystal, it is much more difficult to shape. This is why most modern watches, like Rolexes, have flat sapphire crystals.
At the end of the day, it comes down to preference. Do you prefer a strong sapphire crystal that won't scratch, and at the same time get the benefit of a see-through case back? Or do you prefer the more classic and historic, and wearing something that is as close to the iconic and classic as possible?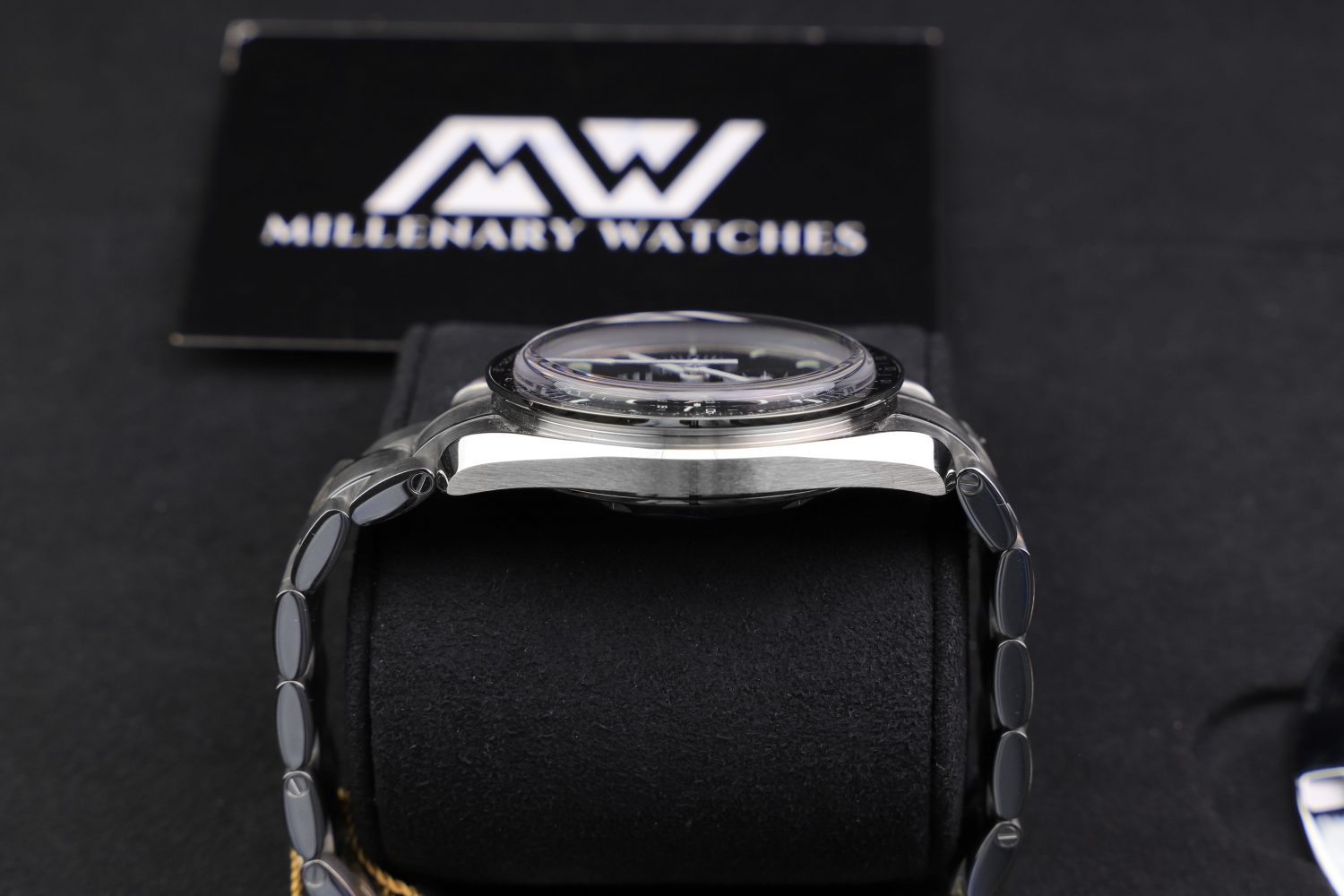 Do you want the authentic vintage feel of the watch, or do you want something a little bit more modern that also brings peace of mind in terms of scratches? Omega offers both of these watches in its collection, and this is because the decision is actually surprisingly difficult. But only you can decide.
Conclusion
It's safe to say that the Omega Speedmaster Moonwatch Sapphire sandwich 311.30.42.30.01.006 is a true classic. While it is not the closest watch in the Speedmaster production to the original Moonwatch, it is indeed still very iconic. The sapphire sandwich has been in production for decades, which goes to show just how timeless its design is.
If you are looking to buy a Speedmaster but want something more practical than an easily-scratched hesalite crystal, the Sapphire sandwich is definitely for you. Plus, you get a see-through case back which allows you to admire the beautiful movement.