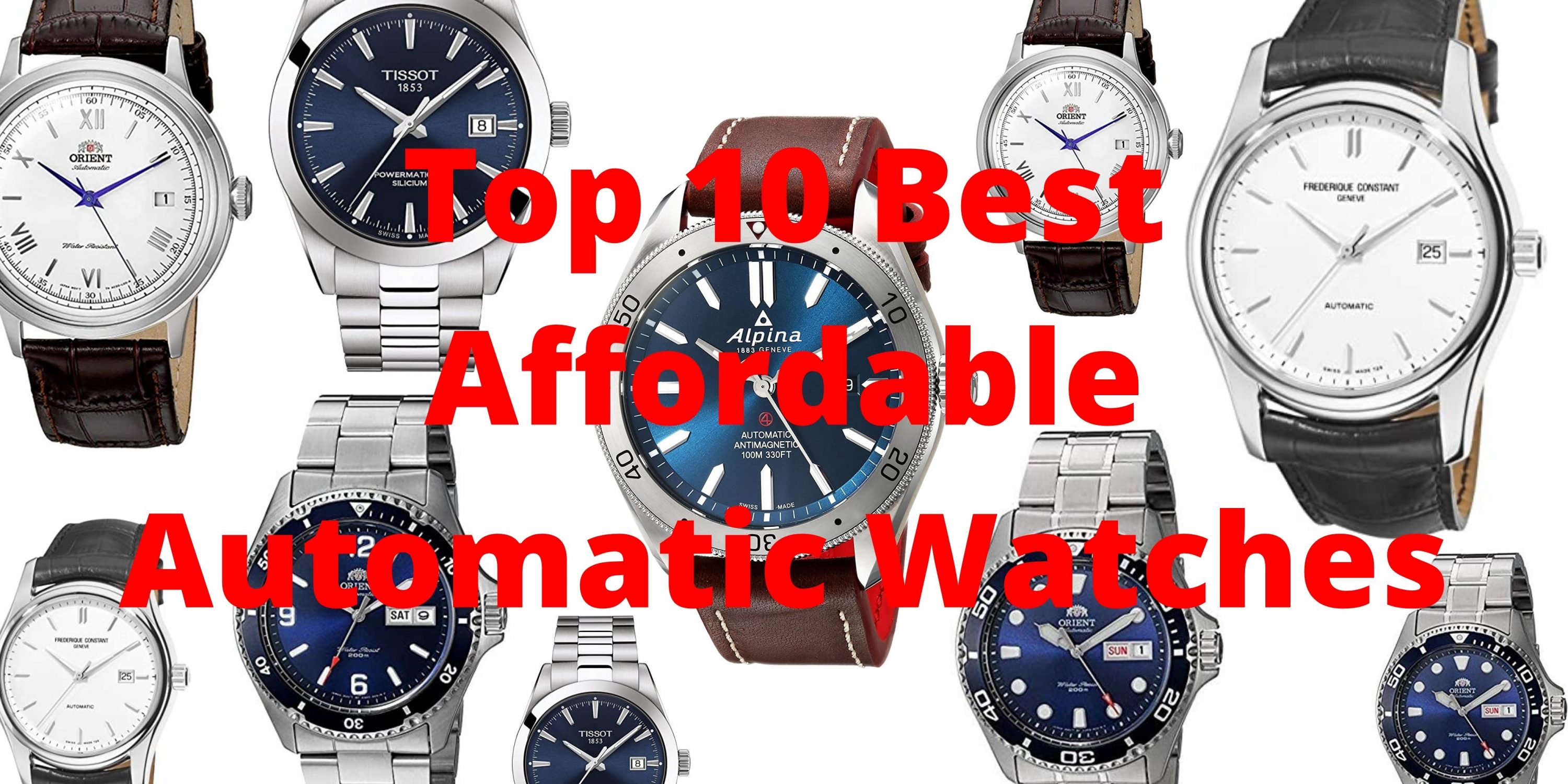 Top 10 Best Affordable Automatic Watches [List & Guide]
Are you looking for an affordable automatic watch that also offers great value for money? You've come to the right place.
What is an affordable watch?
There is a balance between affordability and quality that manufacturers always need to take into consideration. There is definitely no such thing as a fixed price or number that tells us what is affordable and what is not. This is because "affordable" has a lot to do with perception. Affordability is not about the price per se. The definition is "inexpensive; reasonably priced." But the fact is that many think that luxury watches for thousands of dollars are reasonably priced because they feel they offer great value in form of quality and finish. At the same price, others may consider watches that cost no more than 100 dollars as affordable.
But to get to the point, in this article, we will include watches in different price ranges, but keep them under about $1500 since different people have different definitions of what an "affordable" watch really is.
We have focused on watches that offer a great balance between affordability and quality. These are timepieces that have received excellent reviews and are considered great value for money.
What is an automatic watch?
An automatic watch is a watch that has a mechanical automatic movement inside. An automatic movement is a mechanical movement that is equipped with a rotor that rotates by movements, for example, whilst it is on the wrist. When the rotor rotates, it winds the mainspring, thus "charging" the watch with energy. The movement then uses the energy in the mainspring to power it and display the time.
The practical benefit of an automatic watch is that it won't run out of battery like quartz watches, meaning no need for battery replacements. Furthermore, you won't have to manually wind the watch either, like you have to with a manual watch.
Automatic watches are widely popular thanks to their combination of mechanical craftsmanship and also practical functionality.
What defines a good watch?
The definition of a "good" watch is all about value for money. In general, a 500-dollar watch isn't going to be as good as a 5000-dollar watch as there is usually a correlation between the price and the quality. But if you also factor in the price, that's when it gets more interesting. For example, a watch that costs 1000 dollars but gives an impression of low quality and has a cheap movement is simply overpriced and not "good". On the other hand, a watch that costs 200 dollars but gives more or less the same feeling of quality can be considered "good".
It's impossible to make a definition of a "good watch", but quality and finish are always two important things. Then, of course, comes functions, mechanical performance, durability, and so on. It also depends on what type of watch is and what you plan to use it for.
Top 10 Best Affordable Automatic Watches
---
With this said, if you are looking for an automatic watch, you're probably been overwhelmed by the endless options out there in all kinds of different price ranges. Is it worth paying slightly more for one watch than the other and can you be sure that you are getting a higher-quality watch? The answer is that a higher price does not always mean a better watch, so to help you in your decision, here are watches that are all great, regardless of which you choose.
Seiko SARB035 Automatic
Seiko is one of the most popular and respected manufacturers of affordable watches in the world. Seiko's watches are not only affordable, but they also offer great value for money.
The Seiko SARB035 is a watch that has received tons of praise and appreciation thanks to its impressive build quality and attention to detail.
The watch combines versatility with sportiness which makes it a great watch for everyday wear. The watch features an automatic movement with a power reserve of 50 hours, a stainless steel case with a diameter of 38.4mm, and a sapphire crystal on top. The water resistance is 100m/330 feet.
Specifications
Power reserve: 50 hours
Diameter: 38.4mm
Water resistance: 100m/330 feet.
Crystal: sapphire crystal, and Hardlex at its back for the see-through case back
---
Tissot Swiss Automatic Watch T1274071104100

Tissot is one of the most well-known Swiss watch brands in the world. Tissot makes affordable high-quality watches that are made according to Swiss watchmaking standards.
The stainless steel case measures 40mm and has a thickness of 11.5mm. What stands out about this dial is its beautiful vibrant navy blue dial with a sunburst finish.
Tissot is especially proud of the Powermatic 80 as this one has Tissot's newly invented "Silicum" balance spring. Thanks to the Silicum balance spring, the movement has an even greater resistance to magnetic fields.
Specifications
Diameter: 40mm
Thickness: 11.5mm
Movement: Powermatic 80 in-house with Silicum balance spring
Crystal: scratch-resistant sapphire crystal
Water resistance: 100m/330 feet
---
Seiko 5 SNK795 Automatic Stainless Steel Watch with Black Dial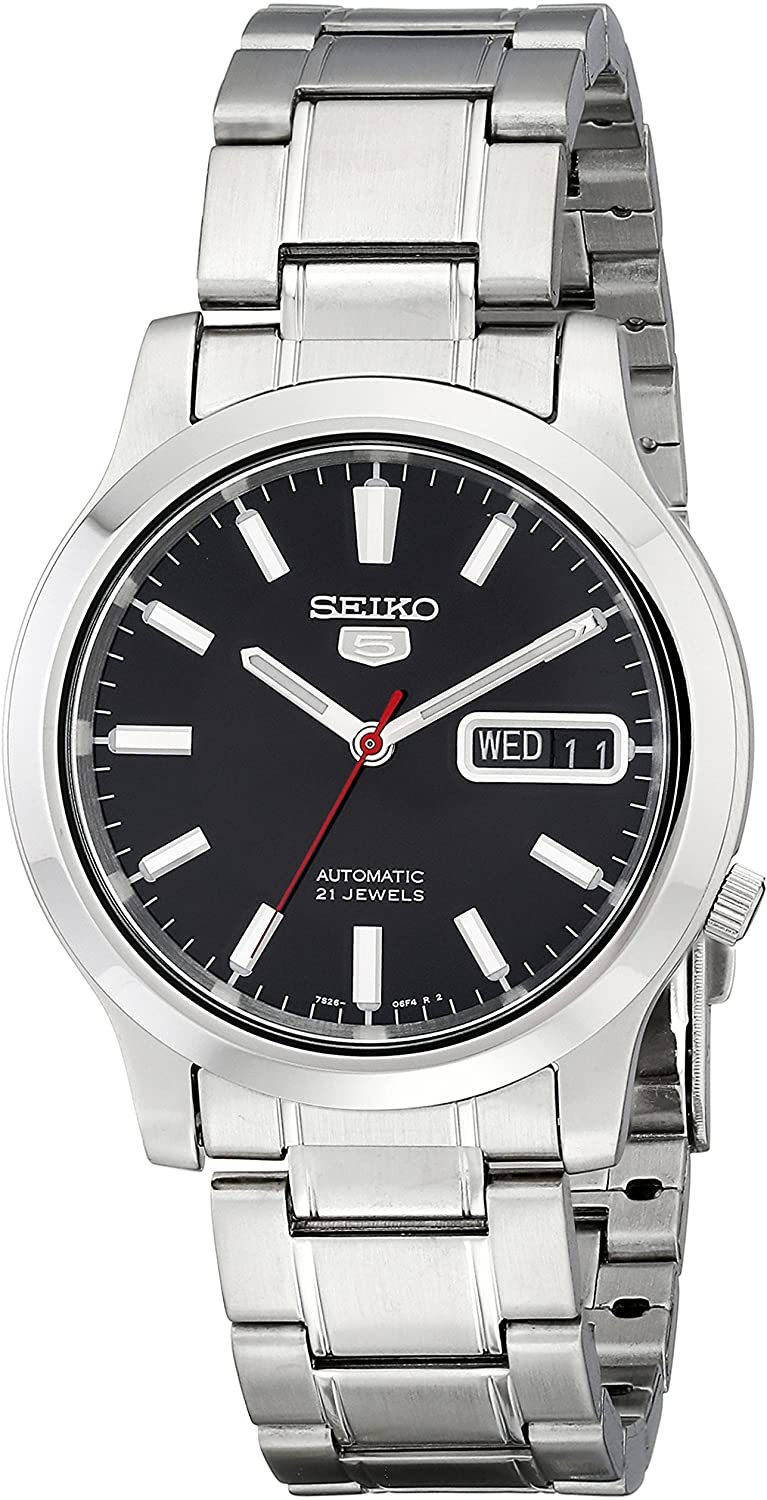 Seiko is probably the most popular brand of affordable automatic watches there is.
Seiko is widely known for making affordable watches that offer great value for money, and this also includes automatic watches. As a matter of fact, this is one of the most popular affordable automatic watches there is.
It is presented with a 37mm stainless steel case which will suit a wide array of wrist sizes. Furthermore, it has a see-through case back allowing you to see the movement inside. It has a clean and elegant dial which makes it very versatile for everyday wear.
Specifications
Diameter: 37mm
Crystal: Hardlex

Water resistance: 30m
---
Seiko 5 SNK809 Automatic Military Watch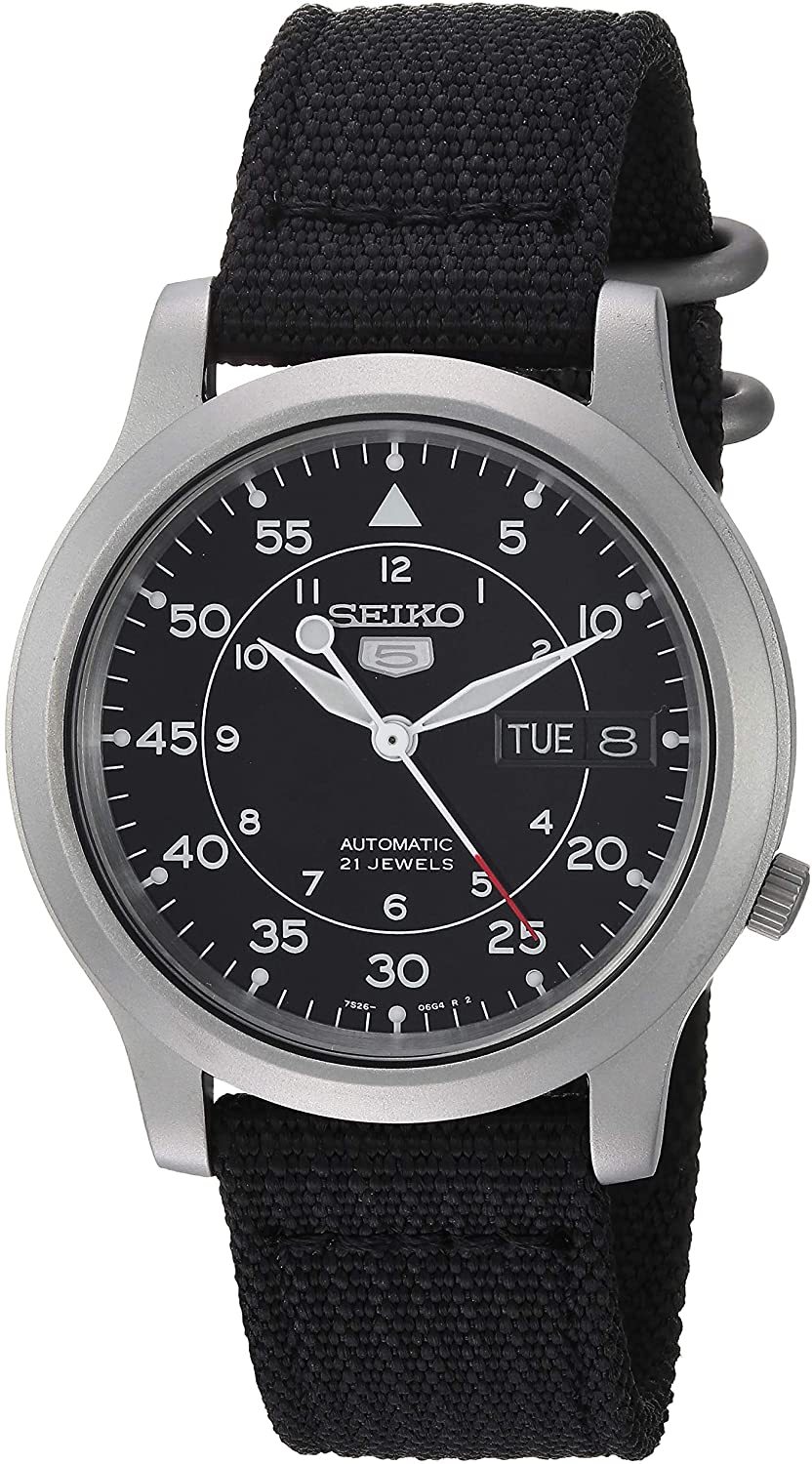 This is definitely one of the best automatic watches on the market if you factor in the price. This watch offers incredible value for money at less than 100 dollars and is powered by an automatic movement. This is very impressive.
It has a military-inspired design and is presented on a canvas strap. It has a stainless steel case that measures 37mm in diameter and has a thickness of 11mm. The water resistance is only 30 meters/100 feet, but this isn't a dive watch anyways.
It has a cool, sporty, and robust appearance with a military-inspired design which makes it great for everyday wear.
Specifications
Diameter: 37mm
Water resistance: 30 meters/100 feet
Crystal: Hardlex
Lug width: 18mm
Movement: In-house Seiko caliber 7S26 automatic with 40 hours power reserve.
---
Orient Ray II Automatic 200-Meter Diving Watch

Orient is another popular and well-respected brand of affordable and high-quality timepieces.
The Orient Ray II is one of the most popular watches from the brand due to its affordable price yet durable quality and classic design.
This watch has a sleek and elegant yet sporty appearance as it is designed to be a dive watch and has all the classic features of one. The watch has a diameter of 41.5mm, a thickness of 13mm, and a power reserve of approximately 40 hours. It is powered by the Orient caliber F6922 which is hand-winding, automatic and has hacking seconds.
It has a water resistance of 200m/660 feet which means it is suitable for diving.
It's easy to see why this is so immensely popular. It combines timeless design with robust build quality and long-lasting durability.
Specifications
Water resistance: 200m/660 feet
Power reserve: approximately 40 hours
Movement: Orient caliber F6922
Diameter: 41.5mm
Thickness: 13mm
---
Orient 'Mako II' Automatic Steel Diving Watch

The Orient Mako II and the Ray II as listed above are very similar, but they have a few visual design differences. Either way, they are both immensely popular sports/dive watches that are sporty, well-built, and have great performance.
As a dive watch should, it has a unidirectional rotating bezel, in this case with 120 clicks, and of course good water resistance. This watch has a water resistance of 200m/660 feet. It is powered by the in-house automatic caliber F6922 which has both hacking seconds and manual-winding functions.
The movement offers a power reserve of 40 hours.
Orient writes "Since the mid-2000s, the Orient Mako has been the most popular Orient series to date. With so many dive watches available, it could be said with confidence that the Mako is one of the top affordable mechanical dive watches on the market today."
Specifications
Power reserve: 40 hours
Water resistance: 200m/660 feet
Movement: in-house automatic caliber F6922
Diameter: 41.5mm
---
Orient 2nd Generation Bambino Ver. 2′

If you are looking for a watch that has a classy and elegant appearance, you can't go wrong with the Bambino Version 2. This model comes in different versions with different dial colors, case materials, and straps, so you should be able to find one that suits your taste and preference.
This is a classy, timeless timepiece that is affordable, but at the same time offers impressive details and specifications that other watches in this price range can only dream of competing with.
The watch is presented with a stainless steel case with a diameter of 40.5mm which makes it suitable for a large number of people with different wrist sizes. It is powered by the in-house automatic Orient F6722 caliber which has both hacking seconds and manual winding functions. The water resistance is 30m/100 feet, but this doesn't exactly come as a surprise considering that it is a dress watch.
The watch is well-built and is perfect for any occasion.
Specifications
Water resistance: 30m/100 feet
Diameter: 40.5mm
Movement: Orient F6722 caliber
---
Hamilton H64455533 Khaki King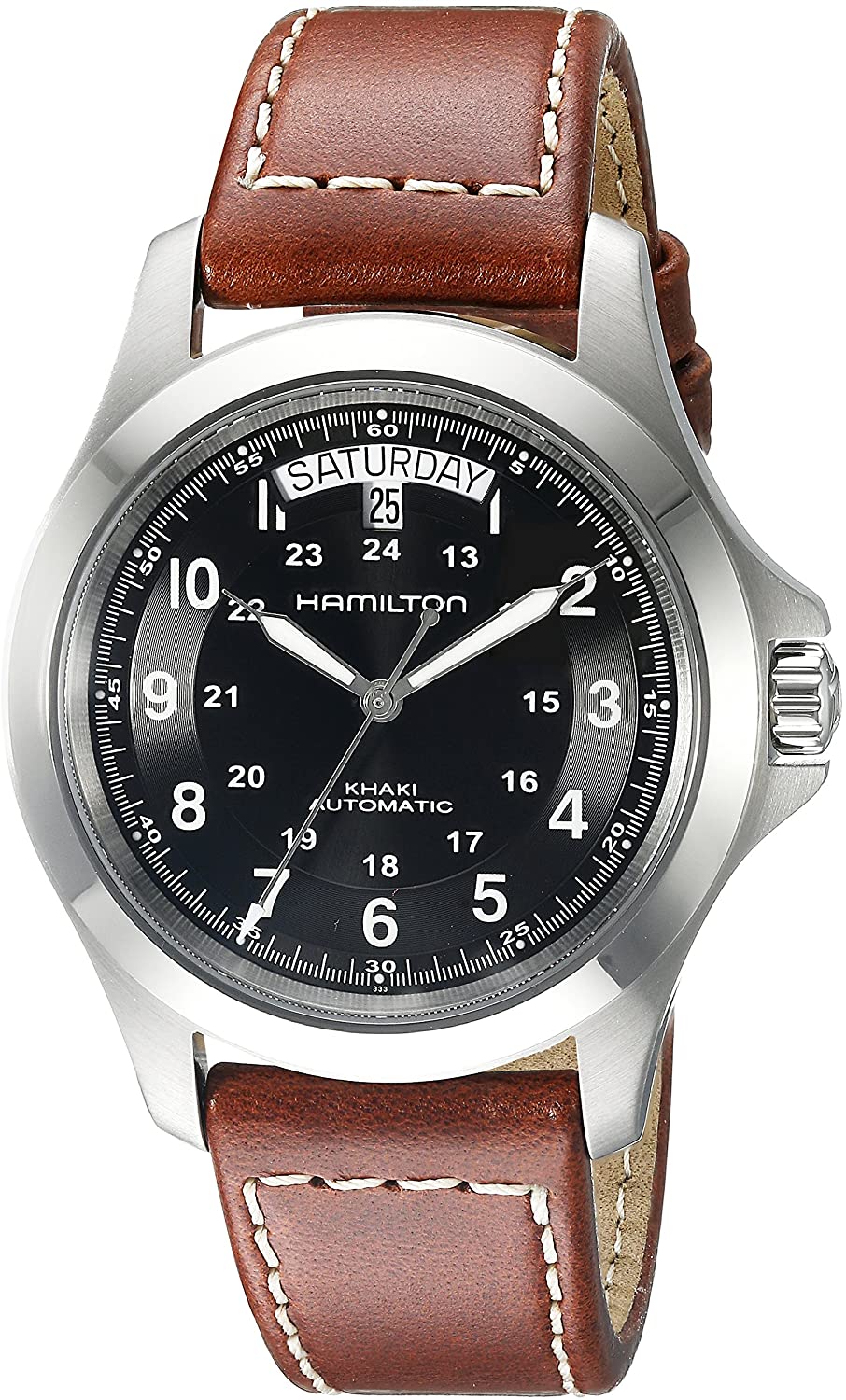 Hamilton is a brand that has increased in popularity over the years. Hamilton was originally founded in the US but later relocated to Switzerland after having been acquired by the Swatch group.
Hamilton is most known for its association with making military watches for the US military, and this is something that Hamilton has continued to build upon in later years to leverage its history. This is also why many of the brand's watches are military-inspired. Just like the H64455533 Khaki King.
This watch features a stainless steel case with a diameter of 40mm. On top of the case, it uses an anti-reflective sapphire crystal.
Overall, the watch has a casual, sporty, and tool-like appearance, so if you want a casual yet sporty timepiece, this may just be the perfect watch for you.
It features a black dial with printed white numerals for legibility, done in a similar way as military watches. The watch is water-resistant to 50m/165 feet so it is not suitable for diving, but can handle short swims.
Specifications
Crystal: Scratch-resistant synthetic sapphire crystal
Diameter: 40 mm
Thickness:11 mm
Water resistance: 50 meters /165 feet.
---
Frederique Constant Classics Automatic 303S6B6

Frederique Constant is a brand that should not be underrated. It is built on the idea and concept of making affordable luxury watches, and the brand has actually succeeded rather well in this. In addition, FQ is based in Switzerland and it is there that the timepieces are manufactured.
This watch puts elegance, simplicity, and class in focus. If you want a simple and clean watch that looks classy and discreet yet complements your style in a perfect way, this watch could be a great alternative.
The watch has a stainless steel case with a diameter of 43mm and a thickness of 10mm. The watch is presented with a sapphire crystal and a see-through case back. It is powered by the caliber FC-303 which offers a power reserve of 42 hours. On top, it has a sapphire crystal.
The water resistance is 10 ATM/100 meters/330 feet.
Specifications
Diameter: 43mm
Thickness: 10mm
Water resistance: 10 ATM/100 meters/330 feet
Power reserve: 42 hours
Crystal: Sapphire
---
Alpina Alpiner 4 AL-525NS5AQ6

Last but not least, here is another underrated watch brand that is worth looking closer at. Alpina is a Swiss watch brand that's existed for quite some time and manufactures its timepieces in Switzerland according to a great standard and quality.
This affordable automatic watch is a bit more expensive than many of the other watches on this list, but it is evident that it offers great value for money if you look closer.
The watch features a stainless steel case with a diameter of 44.5mm and is presented on a brown leather strap. This watch is meant to be a sporty watch, but its leather strap helps tone it down a bit and makes it more versatile. It is equipped with a unidirectional rotating bezel made in stainless steel, but the highlight of this watch is certainly its incredible blue dial with a stunning sunburst finish that reflects the light beautifully.
The watch is powered by an anti-magnetic automatic movement with anti-shock properties.
Diameter
Diameter: 44.5mm

Crystal: Sapphire
Dial: Blue sunburst
Water resistance: 100m (330ft)
---
Buyer's guide to the best affordable automatic watch
As mentioned, choosing the best affordable automatic ultimately depends on what you are looking for. But to help you define just that, and to look for the best possible watch for your needs, take into consideration the following:
Size and dimensions
The size and dimensions are obviously important in order to find a watch that sits nicely and comfortably on your wrist. If you have a large wrist, you'll likely favor larger and heftier watches, but if you have a small wrist, you should probably look for something smaller and sleeker. Do some research to find which size is ideal and then also factor in that not all watches wear the same depending on the design of the case and also things like thickness and lug-to-lug measurements.
Crystal
Watches use either mineral, acrylic, or sapphire crystals. Acrylic glass is essentially a form of plastic and therefore scratches very easily. Because this is the cheapest material of them all, they are usually found in the most affordable timepieces. Sapphire is the hardest material of them all and is extremely difficult to scratch. At the same time, this is the most expensive material, so you'll usually only find sapphire crystals in the more expensive alternatives on the market. If you want a scratch-free crystal, however, it is wise to opt for a sapphire crystal watch.
Design and purpose
This one is really important. Watches come in all kinds of different designs and styles, from dive watches to dress watches, sports watches, and everything in between. The design and purpose of the watch are something that is very important to consider in order to find a watch that goes well with the occasions on which you'll wear it but also to find a watch that can handle the situations you'll subject it to. For example, if you are going diving and swimming, you cannot wear a dress watch as it is not waterproof nor durable enough to handle these situations.
On the contrary, if you want something that looks great with a suit and works well on formal occasions, you should look for a sleek, classic, and elegant dress watch that goes well with your outfit and is suitable for the occasion. For example, a dive watch with a colorful rubber strap won't look very good with a suit, so it's not only a matter of durability and function but also a matter of style and fashion.
Bracelet or strap
In general, watches are available either with a metal bracelet or a strap, usually leather, fabric, or rubber. Metal bracelets are more durable, sporty, and versatile, whilst leather straps, in general, are more elegant and more formal. Keep in mind that if you plan on going swimming, for example, it is not ideal to wear a leather strap as it will deteriorate.
Water-resistance
The water resistance you need will ultimately be dictated by the way you intend to wear your watch. If you plan on going swimming, you need to have an automatic watch that has a water resistance that is good enough to withstand this. On the other hand, if you're just buying a dress watch and have no intentions of swimming with it, this is not as important.
Power reserve
This may or may not be important to you, but it's still something to consider. Automatic watches have what is called a power reserve. The power reserve is the amount of power an automatic watch can store before it runs out of energy and stops. If you constantly wear your watch, the movement of the wrist will rotate the rotor and keep it going. But if you put your watch down, the rotor doesn't rotate and therefore, the power reserve will ultimately run out of energy and stop the watch.
Some people have a better power reserve than others, and this can be practical for the times when you put down your watch and do not use it for a while. Affordable automatic watches usually have a power reserve of around 24 hours to 48 hours. The longer the power reserve, the better.
Movement
First off, you obviously need to be looking for an automatic movement (which all of the watches in this list have). But in addition, the quality of the automatic movement will vary a lot. Two of the most important considerations for any movement are accuracy and reliability. You want the movement to be robust, durable, and long-lasting. Of course, unless you're a watch nerd that knows everything about the ins and outs of movements, it can be a bit difficult. But in general, buying a watch from a well-known and respected brand like the ones we have listed in this article will ensure that you are getting a high-quality movement with excellent performance.
There are generally also two additional functions that you may or may not be able to find in an automatic watch, namely a hacking function and a manual-winding function. A hacking function is when the seconds hand stops when you pull out the crown. The purpose of this is to allow you to set the time accurately down to the seconds. The manual winding function means that you will be able to manually wind the crown in order to generate energy for the movement, in addition to having the rotor rotate when you have it on your wrist. The most affordable automatic watches do not always have these functions, but if they are important to you, it can be good to check if the watch you are interested in has these functions.
What are the best automatic watches?
As mentioned, it ultimately comes down to your needs, preferences, and budget. As you have seen, automatic watches come in all kinds of different designs and executions in all kinds of different price ranges, so you'll definitely be able to find one you like. But some of the most popular affordable automatic watch brands include Seiko, Tissot, Alpina, Orient, Frederique Constant, and Hamilton. These are all watch brands with a strong reputation, known for making high-quality watches.
Which is the cheapest automatic watch?
In general, automatic watches cost more than quartz watches due to the complexity of making them and the large number of tiny and delicate parts that are required to build the movement. When it comes to the most affordable automatic watches, Seiko is often on top of this list as they have some automatic watches that are priced at around, sometimes less than 100 dollars which is extremely impressive considering what you are getting. And still, they are known for their great quality and robustness, making them insanely great value for money.
Some of the cheapest automatic watches are the Seiko SNK809, the Seiko SNK795, the Seiko SNK385, and the Seiko SNKL55.
How long do automatic watches last?
Well, first off, we have the power reserve as discussed earlier. This is the amount of time the watch will last when fully charged and not in use so that the movement isn't getting any power from the rotor that rotates.
Then we have the question of how long automatic watches last until they break, and the answer to that question is not as clear-cut. Unless you drop it and the movement breaks due to force or shocks. Generally, automatic watches do not break first. Instead, they start to perform poorly and lose their accuracy. When this happens, an automatic watch needs to be serviced by a watchmaker who then exchange worn-out parts and lubricate the movement. This is usually done within a timespan of a few years, but it depends on how the watch performs. If you buy a really affordable watch, it may cost more to have it serviced than to replace it, so if your watch needs servicing, you can always consult with a watchmaker and get a quote to see if it is worth having it serviced.
The good news is that if you look after your automatic watch, it can last for many years.
Looking for more inspiration? Check out the video below: